What Would a Car-Free 14th Street Look Like?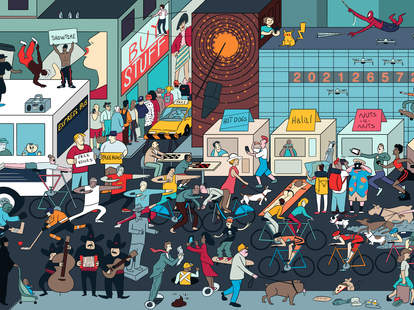 Since the MTA officially confirmed this summer that the L train will be shut down between Bedford Ave in Brooklyn and Eighth Ave in Manhattan for 18 months of repairs beginning January 2019, there's been much talk of alternative travel methods for the nearly 250,000 riders that will be displaced. Some potential ideas have included additional cars and extended service on the J, G, and M trains; a Bus Rapid Transit system using Uber's technology; an inflatable tunnel over the East River; and, perhaps even crazier, a car-free 14th St, keeping it open to busses, pedestrians, and bikes only.
In July, Mayor Bill de Blasio said the car-free 14th St idea would be looked into, a notion that the MTA seemed to echo last month. MTA spokeswoman Beth DeFalco told the New York Daily News the exhaustive process of "mapping out traffic flow models for the city and models for ridership overall" would be completed next spring. So, to speed things along we put our heads together to imagine exactly what a car-free 14th St, particularly around Union Square, would look like. Would there be food cart wars between all the halal and hot dog stands? Would pedestrians have to fight their way past street hockey, chess players, and even more "Free Hugs" guys than normal? Left subway-car-less, would the Mariachi bands and "Showtime" guys take their craft to the streets?
Have any other ideas? Let us know in the comments.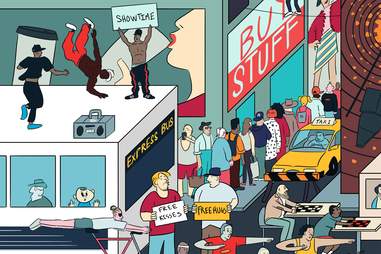 Jason Hoffman/Thrillist
After all these years, the "Showtime" guys finally get the stage they deserve.
Jason Hoffman/Thrillist
Open parking spots means tons of room for hot dog stands, halal carts, and Nuts 4 Nuts trucks. But could that lead to a full-on food cart war?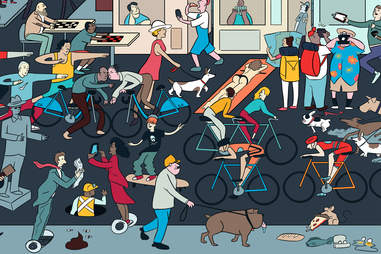 Jason Hoffman/Thrillist
Welcome to your new Tour de France training space! Just please, watch out for the hoverboarders making their way west.
Sign up here for our daily NYC email and be the first to get all the food/drink/fun New York has to offer.