In 2019, the MTA will suspend service on the L train between the Bedford Avenue and 14th Street/Eighth Avenue stations for 15 months. Various L train shutdown mitigation plans have been floated since the announcement -- a dedicated busway for shiny new diesel buses along 14th Street, additional protected bike lanes, and increased service on the J/M/Z lines. But the L is virtually irreplaceable, and hundreds of thousands of commuters need alternatives they can act on.
Earlier this month, urban design non-profit Van Alen Institute challenged straphangers to race from Union Square to Williamsburg while wearing mood monitoring devices. Participants were fixed with Multimer MindRider headsets -- freaky brainwave sensors that track wearers' heart rates and breathing patterns to determine anxiety levels and degrees of focus.
Headsets were connected to wearers' phones via Bluetooth. Data was collected on an app, and the recorded information was forwarded to Multimer Data HQ. Analysts will map the results to illustrate what commuters already know: The subway is stressful.
The rules of the game were simpler than the technology: Travel from Union Square to Teddy's Bar & Grill in North Williamsburg by subway, bus, or bike -- but do not board the L. And let the bot read your thoughts.
I chose the subway. An unsure biker with a lifelong aversion to bus transport, I figured the train might be the most tranquil route. And so, in 90-degree heat with a real feel approaching hell, my odyssey began.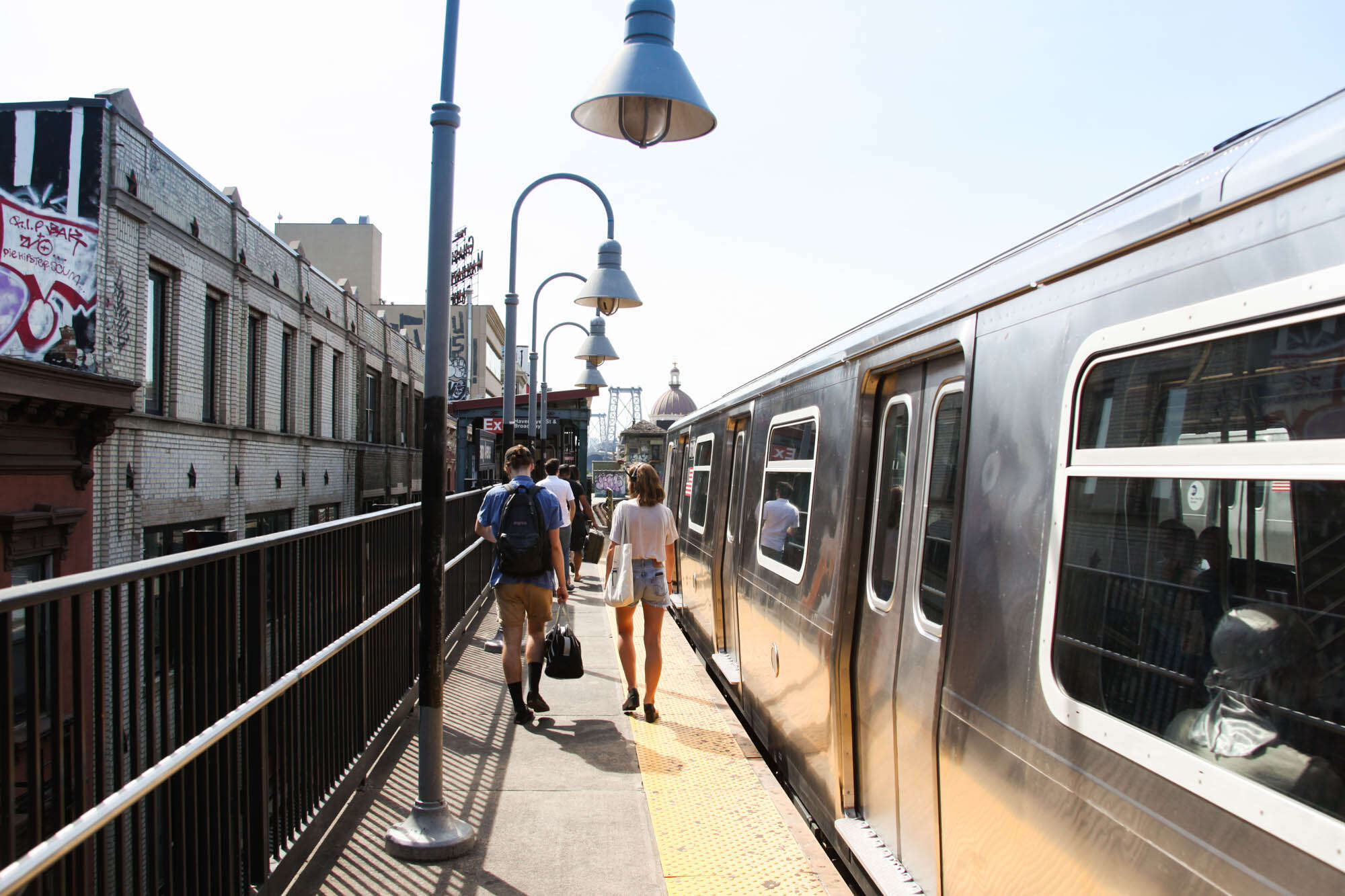 Escaping by subway
My strategy was simple: Catch the J/M/Z and coast into Williamsburg, win the competition, and sip free beer in air-conditioned glory. But my plan had a hairline flaw: Weekend Service Changes.
Along with my teammates, two Brown University urban studies majors, I boarded the Q. We'd transfer to the J at Canal Street. "This is like Escape the Room: Subway Edition," said Portland, Oregon-born Colin Kent-Daggett. An actual subway escape room may have, in fact, been easier: The J was not running from Canal.
I inhaled deeply to stabilize my heart rate, wondering whether or not the biosensor could detect my distress through the film of sweat glistening on my forehead. We punted: The next best option was the 6 to Broadway-Lafayette, where we might catch the M. With my core temperature rising, I worried that my new robot overlord would label me both a figurative and literal hothead. And my teammates were losing faith in my navigational abilities.
We trudged through the station towards the 6 platform, but once again, the MTA would get the best of us. I am chill, this is chill, I repeated in my head, wondering if my faux Zen would fool the brain bot. While we ambled our way through the requisite small talk, the 4 arrived -- masquerading as a 6. We boarded, too depleted from our commuter sauna to reconsider. This is chill, I am chill.
We exited at Spring Street, and walked eight minutes to Bowery rather than continue needlessly uptown. "This is the scenic route," said Phoebe Ayres, my second teammate, while we wandered through SoHo. Every commuter's dream.
"This is like Escape the Room: Subway Edition."
Red-faced and dripping at the Bowery J station, a paper sign announced that the J would bypass the station. I was concerned that the perspiration beading on my forehead might ruin my alien headgear. I was not financially fit to replace it. This made me sweat more.
We had spent 40 minutes traveling from Union Square to SoHo. I indulged in a surge of panic -- would we ever get there or were we sentenced to chase J trains for a month of hellfire Sundays?
We continued on foot, certain that we had already lost the race, determined to claim the free beers awaiting us at the finish line, and thirsting for the L. By the time we reached the Delancey-Essex station, we'd logged nearly 3,000 steps.
A J train arrived as our orange Van Alen participant's stickers peeled from our sweat-soaked T-shirts. We were finally hurtling towards Marcy Avenue, safely ensconced in he subway's artificially conditioned air. See, I'm calm. It's going to be ok. This is all according to plan, I told my monitor, checking my pulse. My teammates and I chatted more easily now, ignoring the glances of other commuters bored enough to notice our head bots. Showtime dancers soon outshone us.
Pulling into Marcy Avenue, for the first time since our departure, I felt a small sense of pride. We'd crossed the river. That was something. I hoped my mind reader thought so, too.
We finally arrived at Teddy's an hour-and-a-half after our departure -- a journey that takes 11 minutes on the L train. We were the last of the bunch. "I think I blacked out the last hour," Kent-Daggett said. We'd had a lark, but we had also spent over an hour traveling 4.5 miles.
We entered the backroom at the bar to a slow clap from our competitors, who'd long ago settled in with beers and commuter tales -- none of which were quite so blundered as ours.
Fuck you, I thought. Then, to my brain bot: just kidding -- just in case.
Escaping by subway with marginally more success
The second team of subway commuters barely beat us to the bar, arriving 10 minutes prior. Their journey took 85 minutes.
"Nothing brings strangers together like the mutual demonizing of an institution," said Ruth Starr, a museum educator at Cooper Hewitt. Starr and her partner, Meagan Mahaffy -- also an educator at Cooper Hewitt -- live in Williamsburg and are collaborating on a mobility exhibition. They'd hoped to gain some insight from the day's stunt. Instead, they'd determined that commuting between home (North Brooklyn), work (the Upper East Side), and just about anywhere else in the city, would be punishing.

Starr and Mahaffy walked from Union Square to the 14th Street F/M station at Sixth Avenue. The M wasn't running, and the A was running on the F line. After cracking the tangled code of the subway map, they figured the A would stop at Delancey, where they boarded the J, nearly giving up when they learned that Broad Street-bound J trains weren't running.
"It was easy to laugh about it because we were together," Starr said. "But if I'd been alone, I would have lost it at some point around Delancey."
"Thankfully, someone explained to us that Broad Street was not the direction we were going," Mahaffy said. "But it took an hour to cross the East River, so... RIP to my social life."
Traveling by bus
In a telling hack, the bus team had to add one train to their two buses in order to reach our destination. The two women were unable to determine a bus-only route from the start.
"I would not have made it by bus at all if weren't for my partner," said 35-year-old Ana Figueiredo, a social psychologist visiting from Portugal. "I kept plugging the address into my Google Maps, and the only result was the L train."
Figueiredo and her teammate, 40-year-old Crown Heights-residing digital strategist Shannon Jordy, took the M14A bus to the J train, to the B62 on the other end of the Williamsburg Bridge. The trip took them about 50 minutes.
"We got really lucky," Jordy said, "We happened to arrive just as the buses were pulling in. This has definitely not always been my experience with buses. But once you've boarded, not only are there traffic concerns, but getting from bus to train to bus again is a nightmare if you're in a wheelchair -- or physically impaired at all."
A tourist, Figueiredo joined the experiment on a friend's recommendation, hoping to see the effects of public transportation on mood. Jordy was more interested in assessing potential solutions to the L-pocalypse from an urban planning angle. Both claimed that their greatest stressor had been mapping their route without a reliable app.
"It's like Google Maps thinks you'd be crazy to actually take the bus from Manhattan to Brooklyn, or vice versa," Jordy said.
Navigating by bicycle
Two cyclists were the competition's matchless winners, having arrived at Teddy's in just 26 minutes -- at which point my team had been on the second step of our five-leg journey.
"Our anxiety levels were definitely pretty low," said Luc Nadal, a 58-year-old urban planner. "I never get tired of biking over bridges. It's elating."
Nadal rode along 14th Street to Second Avenue, zoomed towards Delancey, and crossed the Williamsburg Bridge. He had eclipsed all of us by avoiding public transportation entirely.
Raphael Laude, a 22-year-old urban planning intern from Montclair, New Jersey, had followed just behind on a Citi Bike.
"Other than the fact that we were super sweaty," Laude said, "the ride wasn't bad. It's just that you have to be pretty experienced. Fourteenth Street doesn't have bike lanes at all, so I wouldn't say it's safe, exactly, if you don't bike often. I mean -- it's not safe even if you do."
"I never get tired of biking over bridges. It's elating."
In a lesser cyclist, the monitor would likely have detected the fear attendant to balancing on two wheels between barrelling trucks and unsympathetic Uber drivers. "Biking without protected lanes can be terrifying," Laude said.
The results were troubling. The Van Alen employees who cruised into Williamsburg on the L train had been sipping foamy beers in the icy air-conditioning for over an hour by the time my team stumbled in. Even the cyclists had taken twice the L-commute time to make the trip.
The data
The Multimer headsets channel data into four possible moods: open-minded, fascinated, stimulated, and powerful/intense. At open-minded, wearers are neutral -- nothing has stimulated them, good or bad. You might register as open-minded while taking a shower or doing laundry. The biosensor registers a neutral read when subjects use 44% of their overall attention range, maintaining a heart rate of 77 beats per minute.
At fascinated, wearers display a "relaxed interest in a topic," using up to 57% of their overall range of attention, and approximately 82 BPM. This is how you might feel watching Netflix on mute, while on the phone.
At stimulated, wearers are more attentive than they are relaxed -- a state New Yorkers are most familiar with. More than 50% of the attention range is in use, and the heart rate exceeds 82 BPM -- which probably feels like trying to decode a service change announcement as you wonder if you're speeding toward the wrong borough.
At powerful/intense, wearers are in their most heightened state with around 44% of the attention range in use, and upwards of 84 BPM. This registers after a sustained period of stimulation. You're less focused, and more panicked -- an experience I associate with the math portion of the SAT', or, say, an hour-and-a-half commute. It's a gripping anxiety.
According the Multimer data gleaned from each of our respective headsets, only the bikers escaped the powerful/intense state. Nadal slid from open-minded to fascinated while coasting across the bridge. Laude has skirted into stimulation territory when he rode, unprotected, between streams of traffic along 14th Street, but he'd reached his destination before entering the power/intensity stage. He was, in fact, chill.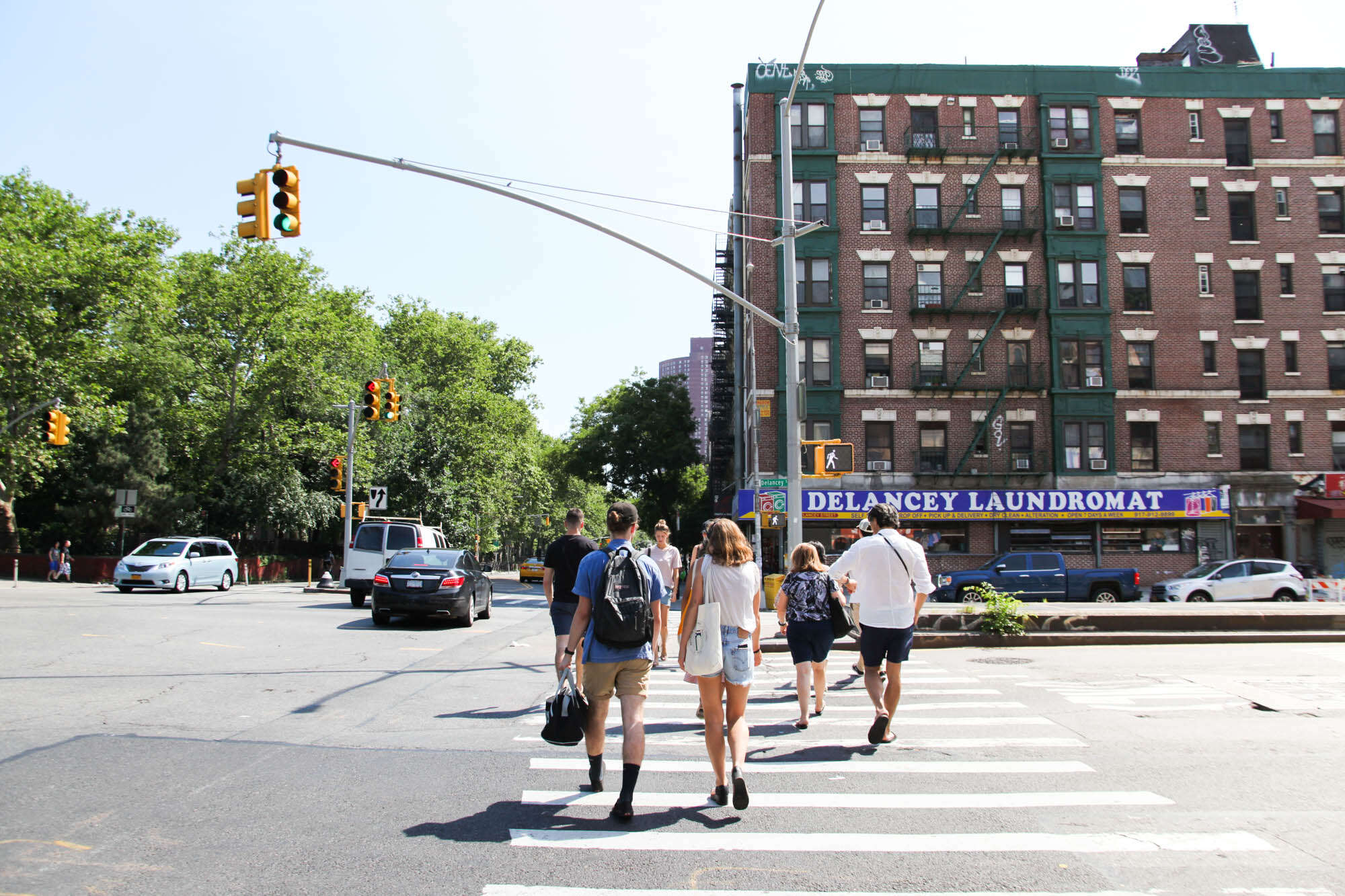 For the bus commuters, power/intensity had kicked in early on, when the two navigators scrambled to map a route. Their moods ticked down to stimulated/fascinated on each bus, spiking towards powerful/intense when they boarded the J train. Apparently, the subway was not the most tranquil route.
The Cooper Hewitt team remained calm until the M train no-show. As they negotiated their next move, their moods jumped to powerful/intense. They hit peak anxiety at Delancey-Essex street, wondering if they would make it at all.
My team registered as stimulated while we strategized, and our anxiety rose to powerful/intense as we boarded the 4 train, remaining there all the way to the J, where it finally dipped when we realized we would eventually reach our destination, however long it took.
New Yorkers do not need a modern-day mood ring to know that the subway's a nightmare. That's what Twitter is for. But the results of this small sample are bleak -- an L-free subway route from Manhattan to Williamsburg is apparently more stress-inducing than careening through unprotected bike lanes on a 45-pound, heavily used bicycle.
In an anxious city, largely dependent on public transportation, taking an entire line out of service -- while necessary -- gins up dread that projects like Van Alen's aim to slake.
"It's about efficiency, but more so, it's about creating meaningful relationships with our spaces," said Andrew Brown, Van Alen's associate director of research. "You want people to get where they're going, but you also want to know what spaces are cathartic, or relaxing, or totally the opposite."
Sign up here for our daily NYC email and be the first to get all the food/drink/fun New York has to offer.