An Evening With Legendary Cyphers, NYC's Weekly Freestyle Hip-Hop Troupe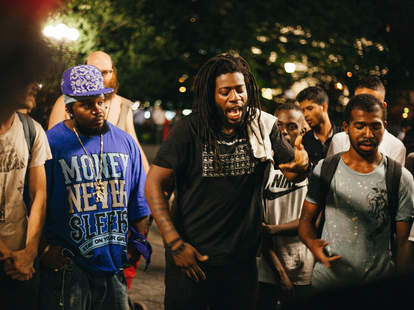 It's the second-to-last Friday in November, and the Legendary Cyphers crew has a problem. Normally, their weekly freestyle hip-hop event would start at 8pm in New York City's Union Square, but this week, they're being held up by the park's annual Holiday Market. The group is posted up in its normal spot in the southwest corner, opposite the Whole Foods on 14th St and next to the subway entrance with its green canopy. The organizers debate moving to another part of Union Square, then decide against it as more and more fans show up. By 8:30, the booths selling goods from Milk Bar and Saskia de Vries Designs are closed for the night, most of the shoppers are gone, and it's time for Miky Hustle to kick off the party.
As Hustle cues up an instrumental from his phone and blasts it out of a Beats Pill Bluetooth speaker, his fellow Resident MCs -- Palladium Philoz, Eli Black, and Bjorn Majestik -- announce that the latest edition of Legendary Cyphers, a four-hour freestyle communal rap party, is about to begin in a park where rappers have gathered for years: "Party people are you ready, ready, ready/If you're loving the cypher, then throw your fist up." A chorus of "hell yeah" follows.
This Friday, November 25th, marks the end of a bittersweet fourth season for the group, which usually gathers every Friday from the beginning of May until the end of November. Legendary Cyphers got its start in 2013, the brainchild of MC/activist Daniel "Majesty" Sanchez and videographer Dayv "Mental" Cino as a way for hip-hop artists of all talent levels and fans to gather and express themselves. This past October, Majesty passed away at just 35 years old while he was out in Las Vegas working on his debut album. "We're taking it hard," says Philoz. "The pain is deep, the pain is real, it hurts every day." Still, his fellow organizers are determined to carry on his legacy.
Unlike a rap battle, the cypher is much more fluid, like a jazz jam session except everyone stands and raps in a circle with no microphones. Majesty's basic idea was to start the cypher in Union Square Park, a longtime hotspot for rappers to gather and spit bars dating back to the earliest days of hip-hop. In his view, everyone was welcome, no matter their race, creed, or talent level. It was an extension of his activism in the Bronx, where he and other residents patrolled the streets to monitor police treatment of local minorities. He even brought the concept over to Palestine, where such an event could get participants arrested.
"The idea began to develop as we began to develop," says Black of the early days with Majesty. "It really started becoming organized and we realized it became an interactive experience to the people listening, the people watching, the more people participating. We didn't know what it was going to be like. We couldn't imagine it was going to be all of this."
Hundreds of people show up on any given week, organizers say. Most of the rappers are not widely known but their rhythmic gathering does attract the occasional celebrity. Past cyphers have featured pop-ins from Diddy, Kid Cudi, Saul Williams, and Camren Bicondova, the actress who plays Catwoman on Fox's Gotham.
To launch every cypher, Humble -- who stumbled upon the event in its early days, during his "troublemaking" phase and became a fixture -- uses his phone to start a beat and then anyone is welcome to jump in with their bars when they see fit.
There aren't really any rules for a Legendary cypher, outside of "don't look at the camera." Aside from the Beats Pill, a video camera or two is the only other equipment they use. "I never want people to feel like Legendary Cyphers is some controlled environment where you can't express yourself. That's nowhere close to the case," says Philoz. "If you look at the camera, it looks like we trying to do a music video. We're not. We're just documenting and trying to make it as candid as possible."
As resident MCs, the four men, along with resident-in-training Blake the Skorp, have a loose role that veers between facilitator and moderator. If the energy ebbs thanks to a rapper who's either struggling or not projecting loudly enough, they'll step in and bring the cypher back on track. They'll also handle any participants who get too disruptive, a risk they take by being in a central hub of Manhattan on a night where lots of people are out drinking. "If sometimes they're being a little hostile, I'll throw somebody out," Philoz says, noting that 95% of these tongue-lashings are done in rhyme form. "But we're never here to filter anyone." The other unwritten rule is that when the circle is getting too tight and one of the residents says, "Take two steps back and open up the cypher!" everyone listens.
The nature of the cypher is totally unpredictable. Some rawer, younger MCs falter early, while fixtures like Henny Mack, Osyrus Antham, and Mike Mezzl often dominate. Getting the floor can be tough -- at times, there are any number of rappers trying to start their next verse. Interruptions are common, sometimes to the detriment of some rhymes, sometimes to rescue them from petering out. More experienced MCs know when the time is right to jump in, while some of the younger ones seemed too timid or off their rhyming balance to effectively take over.
There's also plenty of battling and head-cutting, most of it feeling like friendly competition but at times it gets testy. One freestyler, a tall white guy in a Yankee cap, is told repeatedly to step back out of the circle when going face-to-face with a foe. A teen mentee of Hustle's gets too harsh after back-and-forth interruptions with Blake, who easily cuts him down to the laughter of the crowd. Making sure the kid's confidence isn't shot, Hustle schools him, telling him that "you gotta show love" even when things get heated. Blake, who became a cypher regular four months ago after going through a rough break-up, doesn't sweat it. "I'll sit there and I'll battle you and I'll say some shit and if you get mad, I'm going to be laughing in the end," she says.
"We don't discriminate. All we care is if you got bars, if you got flow. That's it."
Subject matter varies. There are the standards boast about sexual prowess and comparing rhyming ability to NBA stars. Blake drops a reference to Shakespeare and Iambic pentameter, which another rapper later brings back to talk about his soliloquies. There are maybe three or four references to President-Elect Donald Trump, a topic that, according to the resident MCs, hasn't been brought up as often as you might think ("Hip-hop started from struggle. Racism will never be over. Right now, it's just giving more fuel into racism," Hustle says with a shrug. "This is just another cycle of the same thing.") Gentrification, police brutality, incarceration, addiction, depression, and death all get their turn in the cypher, giving it a feeling of group therapy. But it always comes back to love, as directed by the MCs in charge.
After all, Legendary Cyphers is all about inclusion. The residents are black and Hispanic, hailing from the Bronx, Queens, Brooklyn, and LA. The freestylers are mostly black, with white, Latino, and Asian rappers of both sexes joining in. Some of them are on their way home from work, decked out in suits and ties, or at least the business casual wear of a modern media company. As subway commuters and pedestrians walk by, there's a white family of three, with their daughter nestled in her pink stroller, watching alongside a woman in her 70s next to some preppy gawkers who are trying to figure out if anyone famous is rapping tonight. (The answer is no.)
There's a 19-year-old named Josh from Maine who's here for the first time with his pal C.J., saying he can't believe he's actually going to freestyle tonight. A little girl, holding the hand of her older brother, giggles shyly and shakes her head when he says, "This is how people rap. Do you want to move closer?" Another aspiring MC named Joe, a fifth-grade English teacher in the Bronx, moved here from Houston. Decked out in a winter hat, glasses, and NASA sweatshirt, he says a friend, knowing Joe was looking for a place to share his rhymes, hipped him to the cypher a few weeks ago. "He pointed me over here, and that was that. I'm hooked! It's how this Jewish kid spends his Shabbats."
Though Black Friday is the last cypher of the season, due to the fact that it just gets too chilly to hang outside and rap past midnight in the winter, the crew still has plans to stay active, mostly working with students and teachers. "The educational program is one of our primary focuses, get into schools and teach young people about hip-hop," says Philoz. "If we're able to use to uplift young people and help them learn better through hip-hop, then by all means we're happy to do that. We basically do Legendary Cyphers in a much more different way that's tangible for academia. We'll do a seminar and then have a cypher at the end."
As they all tell it, Legendary Cyphers went from Majesty's loose idea to a "movement" to educate, uplift, inspire, and empower those willing to engage. "The love we spread goes to anybody," says Hustle. "We don't discriminate. All we care is if you got bars, if you got flow. That's it."
Now, the crew is galvanized by growing international recognition, thanks to press and social media, and the desire to honor the Majesty's legacy. "The beautiful part is that before Majesty passed away, he was almost preparing us to work on it without him," says Black. "He left us in a good space."
"He instilled in us the tools, the confidence, the determination to keep this thing going," says Philoz. "The resident MCs are up for the challenge. We here. We working."
Sign up here for our daily NYC email and be the first to get all the food/drink/fun New York has to offer.
Dan Reilly is a freelance writer living in Brooklyn. Rapper Ice-T once told him "you win the bozo prize" for asking a stupid question.
Follow him on Twitter: @DanReilly11.