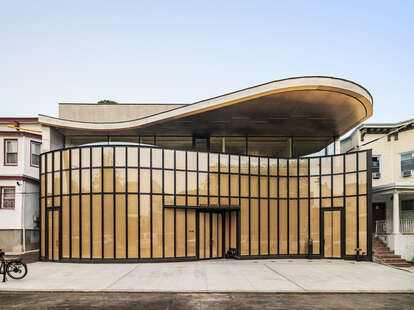 Exterior of The Louis Armstrong Center in Corona, Queens

| Photo courtesy of The Louis Armstrong Center
Exterior of The Louis Armstrong Center in Corona, Queens

| Photo courtesy of The Louis Armstrong Center
While he's known for his New Orleans roots, Louis Armstrong, the African American jazz trumpeter and iconic American musician famous for hits like "What a Wonderful World," eventually settled down in Corona, Queens in 1943. And together with his Bronx-native wife, Lucille, resided there until his death in 1971 (his final resting place is in nearby Flushing).
Now a National Historic Landmark and designated the Louis Armstrong House Museum, the couple's former home opened to the public in 2003, offering visitors access to Armstrong's archives and a glimpse into the nondescript 2-story residence, known for its Japanese-style garden and stylish interior—including colorful wallpaper and mirrored bathrooms—which Lucille helped keep intact until her death in 1983.
And on the 80th anniversary of the couple moving onto the block, the artist's legacy will further be preserved on 107th Street in Corona with the debut of the The Louis Armstrong Center.
Located across the street and set to open on July 6, the new state-of-the-art 14,000-square-foot center will be home to the 60,000-piece Louis Armstrong Archive (the largest on record for a jazz artist); a 75-seat performance venue; "Here to Stay," a permanent exhibit covering Armstrong's life; "Armstrong Now," an artist-in-residence program featuring contemporary Black artists; films; lectures; and much more year-round programming.
"This is a landmark moment for the Louis Armstrong House Museum," says Regina Bain, its executive director. "Standing on the shoulders of the jazz and community greats who have come
before us, the new Louis Armstrong Center invites today's musicians, neighbors, and global
fans to discover Louis and Lucille Armstrong's story from a new perspective."
When it comes to giving back to the community, The Museum currently has an outreach program providing free trumpet lessons to local schools.
Debuting on July 6, The Louis Armstrong Center will be open to the public from Thursday to Saturdays. It's located at 34-40 107th Street in Corona, Queens.