Independence Day means lots of flag-waving, hot dog-eating, beer-chugging, and a sudden passionate love for this country -- but that would all be nothing without absolutely insane fireworks. If you're looking to check out the Macy's 4th of July Fireworks -- which begin around 9:20pm over the East River -- these are all the best parks and parties available for your viewing pleasure. AMERICA!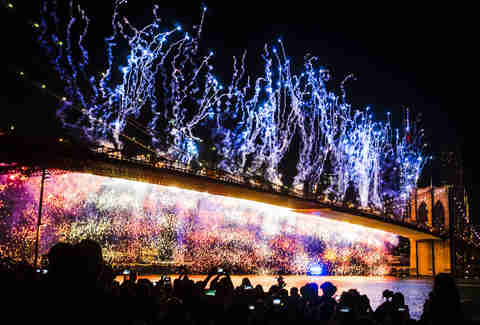 FREE
Brooklyn Bridge Park
334 Furman St
With almost 85 acres of urban greenery and nearly unobstructed views of Manhattan, BBP is one of the most popular spots to catch fireworks. For the optimal viewing experience, arrive before 6pm, bring your biggest beach blanket, and enjoy the patriotic show.
Brooklyn Heights Promenade
Montague St & Pierrepont Pl
This nearly 2,000sqft walkway above I-278 offers insane views of the fireworks, which means you should prepare for even more insane crowds. Snagging a bench seat is basically impossible, but if you're willing to arrive a few hours before showtime -- we're talking 6pm -- you can still score a decent standing-room view, so be sure to plan ahead.
East River State Park
90 Kent Ave
This waterfront park is low on glossy amenities, but the view is incredible just the same. Crowds are tamer here than other Brooklyn locations, so swing by one of the many local bars and restaurants -- Sweet Chick & Blue Ribbon are both nearby -- before carving out a spot around 8:30pm.
Grand Ferry Park
Grand St
This cozy waterfront spot in Williamsburg isn't the clearest spot to view fireworks, but the crowds are a bit calmer (personal space!!), so you won't need to get there as early (around 8:30pm should be fine), and you can still look up and enjoy the colorful display.
South Street Seaport
19 Fulton St
Festivities at the seaport begin at 5pm, so get there early to enjoy a huge selection of local food trucks, beer, live music, and crystal-clear fireworks views beginning around 9:20pm.
An apartment rooftop
Your place, your friend's, that guy from Bumble? Whatever!
If you have access to one, this is probably your best bet. All the space you could want! And no one but your friends around to judge you for drinking a box of rosé all by yourself.
TV!
Your couch
Just make sure to start watching at 9:20pm on the dot. Any earlier and you'll subject yourself to commercials.
TICKETED
34th Street Heliport
499 E 34th St
This private event starts at 6:00pm, and with GA tickets starting at just $60 a pop, you're going to get your money's worth. Perks include fully stocked bars and beer tents, tons of food -- BBQ, burgers, you know the drill -- and life-size versions of games like Jenga, ping pong, and chess. If that isn't enough to entice you, it's a dead-center view of the Macy's show, so you can't beat the location.
Watermark Bar
Pier 15, South Street Seaport
The 2nd Annual Freedom Fest begins at 6:30pm sharp, so arrive on time to make the most of all the benefits at this indoor/outdoor venue. $105 general admission tickets include a BBQ buffet, tons of booze, games, live music, and spectacular firework views, with the Brooklyn Bridge as the dramatic backdrop.
Mr. Purple
180 Orchard St
This early-bird special -- it starts at just 4pm! -- will be offering drinks like frozen margaritas and buckets of Bud Light, a traditional Sabrett hot dog stand, and tunes from resident performer DJ Phresh. But most importantly, you'll have unobstructed views of Lower Manhattan, and a pool to enjoy. Also, GA tickets are just $50.
Penthouse 808
8-08 Queens Plaza South
Situated atop Long Island City's Ravel Hotel, this sprawling indoor/outdoor space offers panoramic views of the Manhattan skyline, perfect for firework viewing/Instagramming. $65 GA tickets include standing-room viewing, access to the gourmet BBQ buffet (starting at 3pm), and a two-hour open bar.
Hotel on Rivington
107 Rivington St
$100-150 tickets to this LES penthouse rooftop party, which starts at 7pm, include panoramic Downtown views, an open bar, and a gourmet buffet.
Riverpark
450 E 29th St
Tom Colicchio's splashy waterfront restaurant is throwing a family-friendly fete for July 4th that includes high-end BBQ like wagyu brisket and whole-roasted pig, lawn games like bocce and cornhole, an open bar, and front-row firework views. Doors open at 6pm, and tickets are $275 with open bar, $200 without.
Industry Kitchen
70 South St
Starting at 7pm, this spacious indoor/outdoor waterfront space will transform into a VIP July 4th party, so be smart and get your $119 tickets early. Amenities include a premium open bar and assigned seating delegated on a first come, first served basis (so get there on time!).
East River @ 23rd St
Um… the East River at 23rd St
CookOut NYC™ presents this waterfront July 4th celebration with spectacular fireworks views and tons of entertainment to match. The party starts at 4pm, and includes upscale Southern fare from renowned Georgia chefs, a premium bar, and live music (GA tickets are $100).
The Brooklyn Barge
97 West St
This newly opened restaurant on a floating barge is pulling out all the stops for July 4th. Starting at 6pm, attendees can enjoy BBQ like Brooklyn Summer Ale pork sliders with Old Bay-seasoned fries alongside live music, a full selection of cocktails, wine, and beer, and sweeping East River views perfect for catching all the fireworks, all for $150-225.
The River Café
1 Water St
This swanky waterfront restaurant in Dumbo has crystal-clear views of the fireworks at the ready, plus a special four-course dinner menu starting at 6pm. Reservations for the pricy $695/person dinner are mandatory, and can be made via phone at (718) 522-5200.
On a boat
Pier 15, East River
It doesn't get more waterfront than this. Nearly every NYC cruise line (from the awkward office party kind, to cooler floating seafood shacks) is offering a July 4th sail (Hornblower, Manhattan by Sail, Circle Line Sightseeing, North River Lobster Company, and Fish Bar, to name a few).
Sign up here for our daily NYC email and be the first to get all the food/drink/fun New York has to offer.
Other Stuff You'll Like In America Week