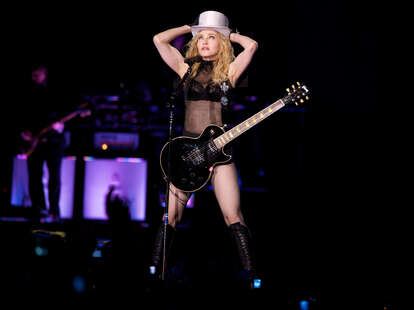 Madonna performs onstage

| andreynikolaev.com/Shutterstock
Madonna performs onstage

| andreynikolaev.com/Shutterstock
An icon, a legend, an eternal pop-music princess—we're talking about Madonna. And while most of us associate Madonna's superstardom with billboard hits like "Vogue", "Like a Virgin", and "Material Girl", a lesser-known fact is that the singer also tried her hand at acting.
Would we categorize this foray into film as successful? Well, beauty is in the eye of the beholder. What we can say is that since her first silver screen appearance in the 1980s, most of Madonna's filmography has fallen into the realm of cult classics. They're camp.
For those looking to brush up on this admittedly niche knowledge, Roxy Cinema in Tribeca's The Roxy Hotel New York will host a month-long film series dubbed Madonna: A League of Her Own. Starting on Thursday, July 27 and in celebration of the 40th anniversary of her first album release, the festival will include a wide selection of films starring Madonna including the comedy Desperately Seeking Susan (followed by a Q&A with director Susan Seidelman), Spike Lee's Girl 6, Shanghai Surprise with Sean Penn, and more.
At the Art Deco-inspired arthouse cinema, customers can accompany their film with purchases from a full bar serving wine, beer, and liquor, as well as classic concessions-stand treats like popcorn and candy. Afterwards, guests can also take advantage of The Roxy Hotel New York's other hotspots like the Roxy Bar or The Django jazz club.
Madonna: A League of Her Own will take place at the Roxy Cinema in Tribeca from July 27–September 2. Tickets for screenings are $17 per person.
Izzy Baskette is the New York City Staff Writer for Thrillist. Talk to her at izzy.baskette@voxmedia.com or find her on Instagram.