New Yorkers are tireless demonstrators. We watched women take to the streets in January, high school students and gun control advocates speak out in March, and in April, we'll flood the city once more for the sake of science.
Alarmed by the Trump administration's swift removal of the phrase "climate change" from the White House website, its dismissal of Obama's clean energy plan, and its general disregard for evidence in decision-making, science advocates were moved to action. The initiative was meant as a declaration that science is a non-partisan issue.
So, on April 22 last year, hundreds of thousands of scientists, science allies, and folks who would just like the world to be habitable for another few generations took to Washington and some 600 other cities to ask our government to be a little more like Agent Scully and a little less like Agent Mulder.
As Earth day approaches yet again, the march returns, too. As it turns out, global warming is not a hoax. Here's how to fight for your right to minimally breathable air.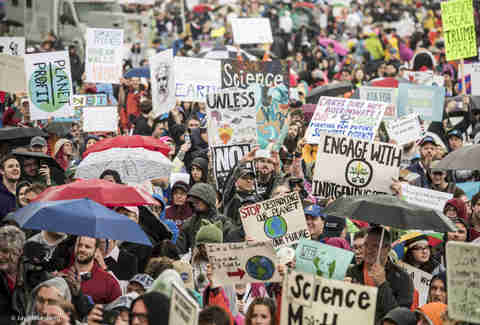 What is the March for Science?
Founded by a group of scientists skeptical about the Trump administration's decision making, the march spawned from a concerned Reddit thread responding to Trump's "war on science." A thriving Facebook group followed, which helped foment a mass movement.  
On Saturday April 14, for the second straight year, scientists, environmental activists, and concerned citizens will march in support of fact-based public policy. The movement is a global push to build a larger community of science advocates, increase public engagement with science, and protect the role of science in government.
When and where will the march take place?
The pre-march rally will take place on Saturday April 14, beginning at 9am in Washington Square Park. Speakers like NYU president Andrew Hamilton, and Climate Defense Fund attorney Lauren Kurtz will address the crowd, while organizations like Science for the People and 350 NYC host interactive teach-in sessions.
What is the route?
At noon, marchers will exit Washington Square Park via Waverly Place before turning onto Broadway. The route will continue along Broadway until dispersal at Zuccotti park on Broadway and Liberty Street.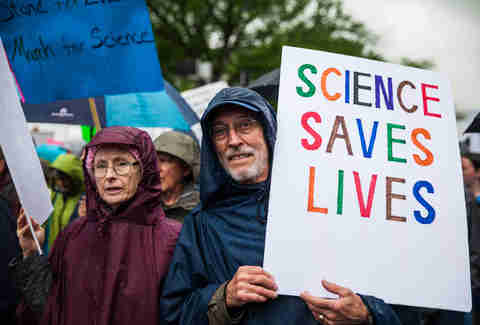 How do I get there?
Avoid above-ground vehicular transit. Ride a bike, take a jog, or rely on good ol' public transportation. To reach the starting point via subway, take the A, B, C, D, E, F, and M trains to West 4th Street, or the 1 to Christopher Street.  
What is the weather going to be?
Expect seasonably appropriate 70-degree sunshine. Dress accordingly, whatever that means to you.
Avoid backpacks, and stick to comfortable footwear -- you'll spend a lot of time on your feet.
Sunglasses make you look cool, and they'll also protect your eyes from those sweet, sweet UV rays. Grab an official March for Science T-shirt to show your support.
What do I bring?
Showcase your best science puns on a sign! Sticks and metal poles are prohibited, so be sure it's handheld propaganda. Use recyclable materials -- this is a rally for the Earth, after all. Bring along some sunscreen. This is the first time NYC has truly seen the sun in months.
Most importantly, bring water (in a reusable bottle). Fighting for science will make you thirsty.
How else do I show my support?
Beyond marching, recycling, minimizing waste, and using clean energy, there are myriad ways to support science.
You can register to vote, and help empower lawmakers to fight for science-based policies, and plan outreach events to keep the momentum going.
As always, contact your representatives and make your fact-based feelings known. And if you have the means, donate what you can.
Sign up here for our daily NYC email and be the first to get all the food/drink/fun New York has to offer.