Maxwell Social Club Goes Beyond a Glorified Working Space with Evening Hours and Communal Cooking
This Soho House alternative just opened in Tribeca.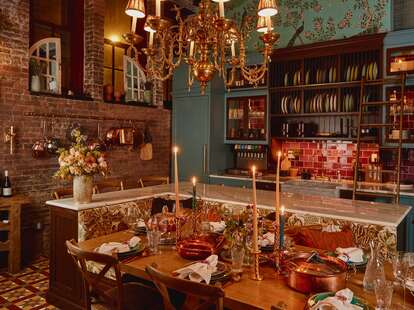 Interior at Maxwell Social in Tribeca

| Photo courtesy of Maxwell Social
Interior at Maxwell Social in Tribeca

| Photo courtesy of Maxwell Social
In a city with more than 8 million people, why does it feel like a Herculean feat to make new friends? It might be a hard pill to swallow, but being surrounded by people just doesn't equate to human connection. Not all hope is lost, though—stick with us here!
One straightforward approach in the search for platonic companionship is joining a social club, and one of the latest to hit New York City is Maxwell Social in Tribeca.
Co-founded by David Litwak, Joelle Fuchs, and Kyle Chaning-Pearce, Maxwell Social has carved out its own identity since opening in June by functioning as an intimate and member-focused experience. Compared to its popular predecessors like Soho House (where the membership count soars to more than 200,000), this promising newcomer has gathered about 100 members since debuting, and plans to cap its growth at 700 members.
"It takes a lot of energy to maintain friends in the city," Litwak tells Thrillist, "and we think by building a common watering hole, people can really feel like they belong in a spot."
But, what exactly does it take to qualify as a member at Maxwell Social? According to Fuchs, the key criteria they search for is "serious people who don't take themselves too seriously." While that might seem like a tricky characteristic to practice pre-interview, the lack of specificity lets each applicant approach the interview in a unique way. While building up Maxwell Social, it's been a goal for membership to be "cross-generational and cross-industry," adds Litwak. "We want to make sure that this doesn't end up a one-dimensional club."
Another distinguishing factor for the downtown community is its mostly evening-only operation hours. Open from 6 pm–1 am on weekdays, Saturdays from 9 am–1 am, and Sundays 9 am–5 pm, the goal is to refrain from falling into the anti-social trope of "a glorified co-working space," says Litwak. Instead, members can immerse themselves in a headphone-free space to spark connection.
Within the two-story space, which was purposely built without a full-service restaurant or bar, members are encouraged to cook up their own comforting dinners in the industrial kitchen, mix cocktails on the marble counters, and challenge friends to rounds of pool. For quieter moments, the fireplace and library are primed for private whispers. Wilder times manifest from the monthly parties which include live music and themes like murder mystery or summer camp.
"It's all the fun things you wish still existed in your life—from the fun house party, where you're jumping up and down, to the intimate dinner party, where you're having an in-depth conversation with a friend of a friend," Litwak mused.
Unlike other social clubs, Maxwell Social's business model combines the practice of monthly dues with an initial membership bond. According to Litwak, the thought process behind the buy-in membership "is so people actually feel like they're investing in the space. It's buying into the community."
With three tiers, the first level kicks off at a $2,500 one time buy-in. From there, the prices go up to $7,000 and $12,000, which include added bonuses of additional guest invites, private liquor lockers, and more. Oh, and don't forget the monthly $250 payment.
For those of us city dwellers currently wading through that summertime sadness, perhaps this is a shining beacon of hope. After all, can you really put a price on friendship? Well, apparently you can—and it'll cost you a few thousand.
Izzy Baskette is the New York City Staff Writer for Thrillist. Talk to her at izzy.baskette@voxmedia.com or find her on Instagram.