NYC's subways get a lot of shit from the locals -- mostly because they are ALWAYS delayed or there's some dude sitting next to you who is definitely not wearing pants. But let's not forget the actually great parts of NYC's subways, notably that they run 24 hours, are a flat fee, and are filled with hard-working, talented musicians who are out almost every single day looking to share their craft and make you smile. We chatted with five of NYC's best buskers to find out what they do, and where and when you can catch them doing it.
YAZ BAND
Grand Central Station, mezzanine of 4,5,6 train
Yasuyuki Takagi, a native of Osaka, Japan, has been living in NYC for more than 20 years. In 2002 he formed YAZ BAND, a four-piece group that plays R&B covers, as well as originals. YAZ BAND is an official member of MUNY, the MTA-sponsored Music Under New York series, and their new CD, Horizon, is set to be released soon. Their hours vary, but for the next few weeks you can catch YAZ BAND at GCS almost every day. Check their schedule here.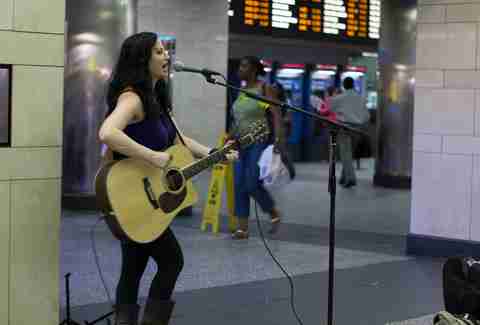 Nicola
Penn Station, Times Square, Union Square, Grand Central Station, and the Staten Island Ferry Terminal
Nicola is a singer-songwriter and guitarist who performs mostly original pop/rock/soul music with some cover tunes, as well. She started out in theater as a singer/actress and dancer, with a stint on Broadway, and toured with the company of Les Miserables. She left the theater to pursue music, playing in bars, nightclubs, cafes, and colleges. To hone her skills and reach more people, she joined up with MUNY and took her skills down into the subways. "After only one day of busking in Times Square I was hooked," she says. "The connection between you and the passersby is instantaneous, visceral, and magical. It really is like no other." Nicola generally busks on weeknights late or Saturdays and Sundays in the late afternoon/evening.
Matt Nichols
23rd and Park, Columbus Circle, Union Square, Times Square, West 4th St
Matt Nichols has been busking in NYC's subways playing guitar for 10 years. He was living out of his car in San Francisco when an offhand comment from a friend -- about whether or not he'd ever thought about playing train stations -- completely changed his life."My first time playing I made $65 in three hours. I'll always remember the first person to give me money. He went bonkers over my playing," says Nichols. And so began his 10-year journey under the streets of NYC. His time of day varies, but you can usually catch him around 5 or 6 in the evening.
The Underground Horns
Union Square, Grand Central, Times Square, and 34th St/6th Ave
The Underground Horns play mostly original music, written predominantly by saxophonist Welf Dorr. It's a mix of Afro beat, funk, New Orleans, reggae, and other groove music. The Underground Horns usually play Fridays and Saturdays between 3-6pm or 6-9pm.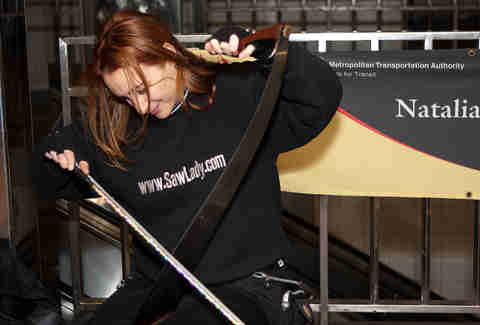 Natalia "Saw Lady" Paruz
Times Square, Herald Square, and Union Square
Natalia, master of the musical saw, used to sell souvenirs at a Broadway theater, which left a lot of free time at her disposal. She brought her musical saw to work one day, and was sitting outside the theater in an adjacent parking lot when a guy and his son stopped by and gave her a $5 bill. When she asked what it was for, he told her it was because they enjoyed her playing.
"I thought that was wild, so I told this to my co-workers," she says. "They said that I must play in front of the theater during intermission, because that is when buskers come to play for the audience who go outside to smoke." At first she was apprehensive, but her friends wouldn't take no for an answer. By the end of the 10-minute intermission she'd made as much money as she'd make at work that day. That was only the beginning. Natalia now busks Mondays, Wednesdays, and Fridays. Her hours are usually noon-3pm at Herald Square and 3-6pm at Times Square and Union Square.
Sign up here for our daily NYC email and be the first to get all the food/drink/fun New York has to offer.
Meagan Drillinger is a contributing writer for Thrillist and now knows the best way to circle Manhattan without ever seeing daylight. Follow her on Twitter, Instagram, and Facebook at @drillinjourneys.