New York can be a pretty scary place -- between cockroaches, rats, high rents, and subway woes, there's plenty to be afraid of in this city. The one thing you probably haven't considered fearing? Ghosts. Yes... on top of rodents the size of cats, we have to worry about the dead. The city (and its surrounding towns) are purportedly full of haunted buildings -- bedeviled old bars and banks, nefarious NYU dorms, and spooky Staten Island asylums -- many of which you can see for yourself this Halloween. Think of it this way -- maybe the paranormal will make your everyday life feel kind of normal?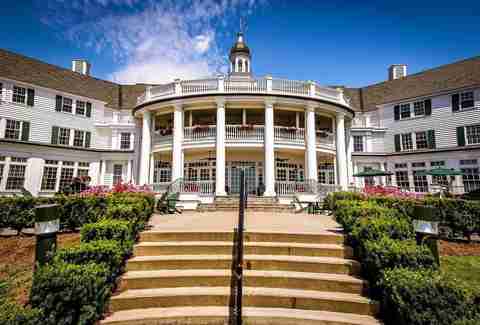 Lake George
Located on a private island on Lake George, the 135-year-old Sagamore Resort offers fresh mountain air, breathtaking lake views, and plenty of purported spirits. Stories of ghost sightings in the restaurants and golf course have circulated for years. During your stay, keep your eyes peeled for all sorts of ghoulish year-round residents -- the most famous of which is (allegedly) a little boy who sold lost golf balls to the pro shop and died after being hit by a car. You might just encounter his spirit accompanied with some hair-raising giggling.
Bed-Stuy
Finance is scary in and of itself. But add in some inexplicable, probably ghost-related activity, and your checking account's negative balance looks a lot more manageable. This 2,500-square-foot, 19th-century bank, which now houses Wintercheck Factory's furniture studio, is rife with spooky stories. "We continue to find small notes in the building, strange and sometimes menacing little pieces of paper with writing on them slipped into moldings and in between floorboards," says Kristen Wentrcek, who runs her business out of the space.
Astoria
Hollywood-style hauntings are rampant at this former Kaufman Astoria Studios commissary. Built in 1920, it served as a cafeteria for both movie stars and crew. Old-school actors like Rudolph Valentino, Mary Pickford, Gloria Swanson, and W.C. Fields all filmed here, and some may still be lurking. Visitors to what was previously called The Astor Room restaurant have reportedly spotted a woman with a vintage cigarette holder in the ladies' bathroom, who disappears after a second glance. Another mysterious woman dressed in old-fashioned clothing makes spooky appearances on the staircase. Valentino, the silent-movie heartbreaker who filmed at the studios and died at just 31 years old in 1926, allegedly still tries to sneak in some bar time by haunting the space, as well as many Los Angeles venues. Sounds like a really nice bicoastal life for a ghost.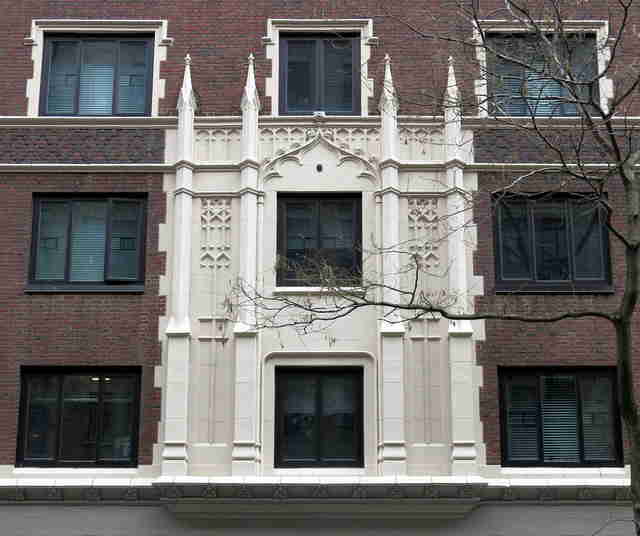 Greenwich Village
As if starting college weren't scary enough, NYU students placed in Brittany Hall have yet another worry to add to their list of stressors: hauntings. Washington Square Park, built on top of an estimated 20,000 bodies, and the surrounding area are certainly spooky, and this dormitory ups the ante. Students, building workers, and staff all have their own accounts of strange events in the building, like mysterious knocks and sounds coming from the ceiling, flickering lights, feelings of being watched, and possible visits from a little girl who died in a tragic elevator accident long ago.
Carmel
If you're looking for a satisfying meal served up alongside a spooky specter or two, head to Smalley's Inn in Carmel. The Putnam County landmark, which opened its doors in 1852 and later received a facelift following a devastating fire, has witnessed its fair share of paranormal activity. Elizabeth Smalley, whose life ended as a toddler, has been known to make appearances, peeking out from behind a pillar in the basement (her gravestone was even reportedly uncovered under the basement steps). Guests have felt their clothing tugged on, heard ominous footsteps, encountered peculiar presences, and on one night, every cell phone went off at the same time.
West Village
Taking a date out to a romantic meal may be the most terrifying thing you do all week, but that pales in comparison to the hauntings at this intimate steak and seafood spot. Housed in a former carriage house, this restaurant was once home to Vice President Aaron Burr's horses -- you know, that guy who killed the star of the world's favorite hip-hop musical sensation.
After Burr's daughter Theodosia was rumored to have been murdered at sea by pirates, and the Hamilton slayer died by stroke, the space served as a brothel before it was eventually repurposed as a $150 tasting menu destination. But does the father-daughter duo haunt the spendy venue? Staff is said to have been taunted by ghosts, and numerous guests have claimed to have their earrings pulled off while in the spooky dining room. Also scary: A side of carrots here costs $12.
West Point
While cadets come and go as they please from the United States Military Academy in West Point, some residents have apparently stuck around forever. In 1972, cadets claimed they saw a ghost, clad in an old-school uniform, in Room 4714 (which is no longer in use). Other supernatural beings -- namely, a female apparition -- also allegedly set up shop in Quarters 100, accommodations of the former Superintendent Colonel Thayer.
West Village
This old-school watering hole has a long history of attracting artists and writers -- Dylan Thomas, Jack Kerouac, Allen Ginsberg, and Jim Morrison were all customers, and some may still haunt the bar today. Legend has it that once, after drinking too much and getting kicked out of the bar, Kerouac saw the words "Go Home Jack" scribbled near the urinals. To this day, different versions of "Go Home Jack" or "Jack Go Home" are still found written mysteriously on the wall, perhaps by a peeing patron, but more likely, by a ghost with a Sharpie.
Greenwich Village
This historic, 1906 Greenwich Village firehouse was purchased and converted into a private residence in 2010 by no other than the silver fox himself, Anderson Cooper, who enlisted architect Cary Tamarkin to do a $4.3 million renovation. The lavish lifestyle doesn't come without everyday ghosts, however. In 1930, after discovering that his wife was having an affair, Firefighter Schwartz hung himself from the rafters of that very firehouse. Firefighters working in the building for decades to come reported hearing strange noises and even seeing the shape of a corpse hanging in mid-air. While Cooper is notoriously secretive about his personal digs, we'd guess that after a late night of CNN anchoring, he's had a few haunted run-ins.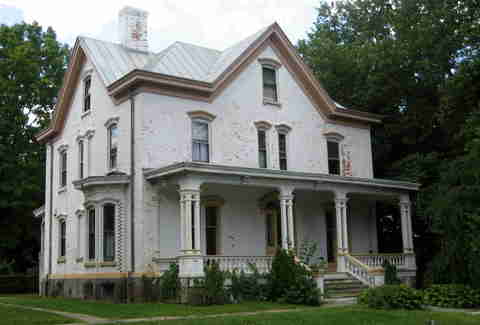 "Some of the most haunted spots in the city happen to be, perhaps unsurprisingly, in our least populous borough: Staten Island," says Andrea Janes, owner and founder of Boroughs of the Dead: Macabre New York City Walking Tours. "For some reason, and I can't quite figure out what it is, there's an enormously high concentration of eerie and haunted spots out there." The Conference House and the former Willowbrook Asylum, which is now part of the College of Staten Island, are both notorious for their hauntings.
For lesser-known haunted spots, just explore the borough: Janes says hauntings appear at "the oddest places" like Richmond Road in Graniteville, where a vaporous man in gray is said to drift in a wooded lot on the side of the road. Janes pointed out that this location also happens to be the spot where Polly Bodine allegedly murdered Emeline Van Pelt and her 18-month-old baby in 1843 (coincidence or not?). To add to the spooky factor, the location is also by the Moravian Cemetery, "where the Vanderbilt Tomb is said to be haunted by the luminous form of an unknown woman, as well as the shade of a man in a gray suit, who people swear is none other than old Cornelius Vanderbilt himself," says Janes. "Gray, it seems, is the sartorial color of choice for the departed gentleman in Staten Island."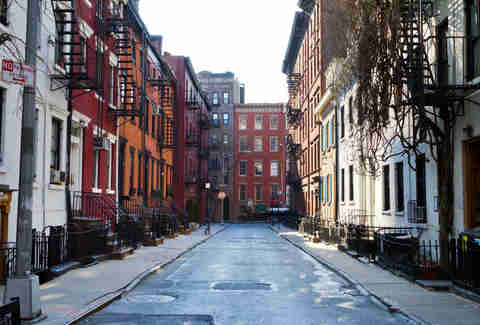 Greenwich Village
This short, curving street may be one of the most adorable in Greenwich Village, but it's also home to a fair amount of spooky sightings. Mayor Jimmy Walker housed his mistress, showgirl Betty Compton, at 12 Gay Street in the 1920s, at a site that was formerly home to a Prohibition-era speakeasy called Pirate's Den. While it's unclear whether Betty herself is haunting the building, that specific townhouse is said to be especially spooky, with a strange, restless energy reported near it, as well as mysterious footsteps at night.
Creepier yet, puppeteer Frank Paris, who created the seriously terrifying Howdy Doody marionette, lived at 12 Gay Street and reported odd paranormal activity, including an inexplicable smell of onions frying at odd hours when he was alone. 12 Gay Street was gutted and sold for over $4 million in 2007. Even if you're avoiding the townhouse, all of Gay Street has been said to be haunted with the ghosts of flappers, as well as the Gay Street phantom, reported both as a dapper man in coattails (perhaps the adulterous Mayor Walker?) and a slender woman who appears with a pill bottle in her hand and is said to have once made an appearance all the way up on 42nd Street. Nowhere is safe.
Fire Island
While you're sure to get a decent selfie at the Fire Island Lighthouse, you're also signing yourself up for potential encounters with sinister figures, eerie noises, and slamming doors. The lighthouse, which dates back to the 1800s and secured a spot on the National Register of Historic Places in 1974, stands at 167 feet above sea level and carries with it a haunted legacy. As the legend goes, one of the caretakers hung himself in the lighthouse and his ghost continues to lurk around the grounds today.
Everywhere
"The craziest stories are always the ones that customers tell me on my tours," Janes said. "These private, domestic ghost stories are often extremely intense, and quite emotional." One Upper West Side woman told Janes about waking up in the middle of the night to see her ex-boyfriend sitting at the foot of her bed. He'd committed suicide in her room the week before, shooting himself with her own gun. Nina Ruggiero, who lives in StuyTown, says that when she was little she'd wake up and see ghosts every so often, but after living in StuyTown for three years, she hadn't experienced the paranormal -- until recently. "I woke up and saw this blonde girl, it's never someone I know, she seemed to be around my age though, in her 20s. She was wearing a black skirt and black top and was just hovering in my bedroom by my door, looking down at the floor." Ruggiero notes the ghost was "an extra-stubborn one and wouldn't disappear, so I slept with all the lights on."
Sign up here for our daily NYC email and be the first to get all the food/drink/fun New York has to offer.