While Times Square is probably the most frightening place in New York City -- looks over shoulder for a disgruntled Elmo -- the abandoned ruins of Gotham are a close second. With a population of over 8.5 million, and the highest population density in the country, it's hard to imagine a place with zero people, zero noise, and the overwhelming hostility that comes with finding yourself truly alone in NYC. With that in mind, we've scoured all five boroughs, every alley and every island, to find the most insane abandoned places for New Yorkers to get their creep on.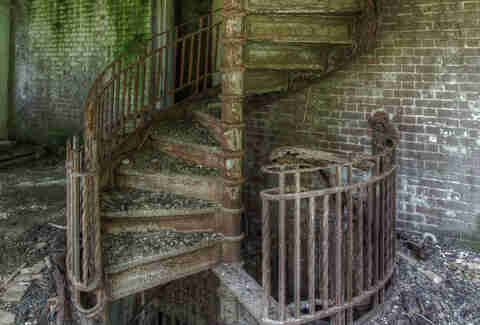 North Brother Island
Between Rikers Island and the Bronx
This abandoned island has a tumultuous history of quarantining people suffering from diseases like yellow fever and tuberculosis. More infamous, however, was the island's close proximity to the disaster of the General Slocum, a ship that caught fire and sank in the East River. More than 1,000 people died; their bodies washed up on the island for days. And while the island may be off-limits to the public today, Broad City fans hold it dear: It's the place that introduced us to "Garol," the creepy-AF but lovable yogurt-eating lady Abbi meets while trying to pick up a package.
Renwick Smallpox Hospital
Roosevelt Island
Eerily sitting at the entrance of the Franklin D. Roosevelt Four Freedoms Park, near the bottom of Roosevelt Island, the Renwick Smallpox Hospital first opened its doors to treat sick New Yorkers in 1856. Designed by famed architect James Renwick -- who also designed St. Patrick's Cathedral -- the hospital treated more than 7,000 smallpox patients a year before shutting in 1875. Designated an official landmark 100 years later, the city has preserved the building and, allegedly, the lingering ghosts among the 13,000 people who died in the hospital.
Loew's 46th Street Theater
Borough Park, Brooklyn
When this opulent theater opened for business on October 9, 1927, it's said that more than 25,000 people showed up to the 3,000-seat theater for the chance to experience the incredible design of a New York City movie palace. With the rise of multi-screen movie theaters, the theater eventually evolved into a concert hall, hosting the likes of Jefferson Airplane, before shuttering in 1973 and converted, as it remains today, into a furniture store's warehouse. And while it's not the sort of abandoned place you can explore today, photos from the inside show that there's definitely maybe some Phantom of the Opera shit going down in there.
New York State Pavilion
Flushing Meadows, Queens
Looking like some sort of dystopian space structure from an old movie, it makes sense that this iconic New York landmark was featured in Men in Black. Originally conceived for the 1964 World's Fair by famed architects Philip Johnson and Richard Foster, the life of the pavilion was short. It fell into decay, then closed totally. Attempts to restore the structure to its former glory come and go and then come again, though it did get a hefty new paint job in the age-old color American Cheese Yellow.
Red Hook Grain Terminal
Red Hook, Brooklyn
Basically dead upon arrival, the Red Hook Grain Terminal was a disaster that failed to recoup its investment, never fully functioned the way it was supposed to, changed hands multiples times, and was finally abandoned in in the mid-1960s. Not all was lost though. Pop superstar Lorde saw the building as a diamond in the rough, and used the grain terminal as the location of her "Team" music video where she and her friends awkwardly drink gallons of water and sing the lyrics, appropriately enough, "livin' in ruins of a palace within my dreams."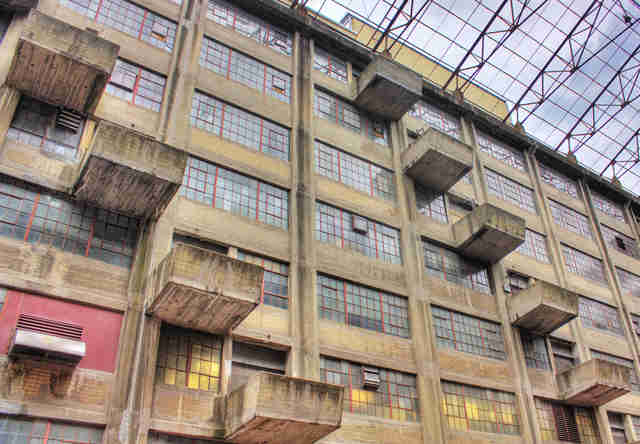 Brooklyn Army Terminal
Sunset Park
If you're thinking, "Wait, my friend works there. If that place is an abandoned ghost town… then that must mean Josh has been dead this whole time," then you're partially right, but also probably need to cancel your Netflix subscription. Originally, this space housed military supplies, and during Prohibition, it was chock full o' confiscated bootleggers' booze. It was abandoned in the '60s, but over the past few years, it's been getting the revitalization treatment, filling up with tenants like chocolatier Jacques Torres. Several of the terminal's impressive structures are also still abandoned, however, and are even available for walking tours.
Brooklyn Navy Yard Hospital
Brooklyn Navy Yard
In what feels like the return to Isla Nublar in The Lost World: Jurassic Park, parts of Brooklyn Navy Yard feel like they too were abandoned after scientists resurrected homicidal dinosaurs and had to flee. Maybe that's a little dramatic, but with hopes of a new life as a film production studio (hopefully sans dinosaurs) now's the chance to explore the 19th-century Navy hospital, and every overgrown and dilapidated nook and cranny, that's been mostly abandoned for over 50 years.
Seaview Hospital
Staten Island
Easily mistaken as a set from American Horror Story, the Seaview Hospital has remained largely abandoned -- save a few random institutions like a rehab center and a nursing home -- since the cure for tuberculosis in the 1950s lessened the need for hospital space. Today, the buildings truly feel like scenes from a horror movie: abandoned beds in the middle of hallways, X-rays littered throughout the building, and enough biohazard signs to make Chernobyl seem like a stroll in the park.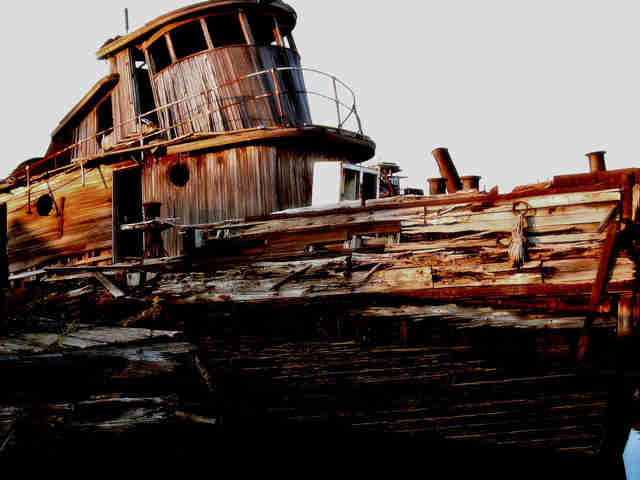 Staten Island Boat Graveyard
Staten Island
There are plenty of abandoned buildings around the city, but to find an armada of abandoned ships you'll have to schlep out to Staten Island. Located close to Fresh Kills Landfill (and soon-to-be park), getting around the area requires some sturdy shoes and the emotional stability to explore an area that probably inspired the History Channel show Life After People. Even better, your journey will likely include a trip on a ship, the Staten Island Ferry, that'll leave you wondering how the hell boats actually work.
Fort Wadsworth
Staten Island
From a bird's-eye view, the multi-tiered fort known as the Battery Weed -- which previously stood guard against naval attacks -- looks reminiscent of some ancient Roman structure where slaves duked it out with lions. But visitors to the island who have experienced supernatural phenomena -- like the woman who claimed she was transported into the body of a wartime nurse and back again -- will quickly let you know it was, in fact, a military installation. And if you do feel the need to experience some modern day Romanesque battle, you might recognize Fort Wadsworth in the final scene of the 2016 film Nerve -- where teenagers are willing to kill each other for the most horrifying reason of all: social media.
Jumping Jack Pump House
Unknown neighborhood, Brooklyn
Ask any serious NYC urban explorer about Brooklyn's infamous Jumping Jack Pump House and they'll give you a subtle, knowing smile. Ask them where it's at and that smile will quickly fade and they'll respond with a placid "that's a secret." Why New Yorkers, and the internet, are so set on keeping the location of this abandoned pump house (somewhere on the water... hint, hint) such a secret is probably an ode to how just how impressively creepy it actually is. And one explorer, Will Ellis' firsthand account show that the building, which he believes was abandoned in the '60s, is definitely worth the detective work.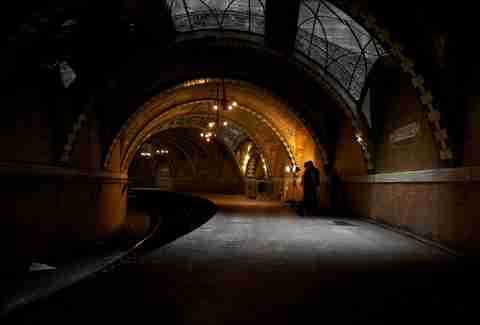 Old City Hall Station
Downtown, Manhattan
OK, OK, so maybe abandoned isn't the exact word for one of the city's oldest subway stations, but it certainly isn't truly accessible to the public anymore. The station, which opened in 1904, is one of the most beautiful in five boroughs (which isn't saying a lot), but with incredible vaulted ceilings, glass tiles, and freaking chandeliers, it's crazy to think this piece of old New York glamour is just sitting quietly beneath lower Manhattan. And while the station is occasionally opened up to the public, the easiest way (and the creepiest) is to catch a passing glance by staying on a 6 train after Brooklyn Bridge Station.
Sign up here for our daily NYC email and be the first to get all the food/drink/fun New York has to offer.