Cool Abandoned Places for a Spooky Adventure in NYC
Eerie (and safe) destinations perfect for a pre-Halloween outing.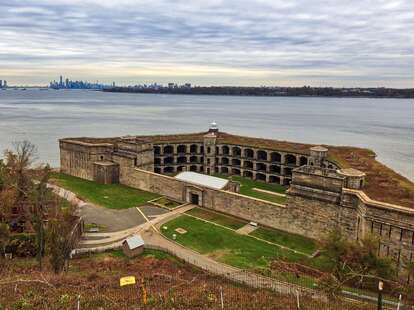 While innovative architectural marvels are constantly popping up across New York City, hidden among all that's new, bright, and shiny are remnants of the city's storied past.
Often, these crumbling (but very cool) structures disappear without a physical trace and are replaced with new development. But for some—although perhaps not as fortunate as the legendary Kings Theatre in Brooklyn, which underwent a multi-million dollar renovation that helped maintain the magic of its original essence—they're left standing, and transformed into reminders of a long-gone era.
From former forts and old subway stations to a graveyard of ships in Staten Island, here are our favorite abandoned (and safe) places to explore in NYC.
Sunset Park
Originally, the Brooklyn Army Terminal (aka BAT) was used to house military supplies, and during Prohibition, it was full of booze confiscated from bootleggers. After being abandoned in the '60s, the terminal has undergone a revitalization treatment over the past few years, transforming into a cool industry space filled with local small businesses, outdoor events, and more. Several of the terminal's impressive structures are still abandoned, however, and are even available for walking tours.
Fort Totten
Fort Totten Park, Queens
Once an impressive Civil War fortress, Fort Totten stands (mostly untouched) as a hauntingly beautiful relic. Built in 1862, the fort's original purpose was to defend the New York Harbor from enemies approaching via the East River and then for the subsequent century, the fort was used in different capacities by the US Army. After being largely decommissioned in the 70s, the ruins now stands as a centerpiece for the 60-acre Fort Totten Park. Head over for a day in the park and witness some undeniably gorgeous views, and drop by the Nature Center for more info.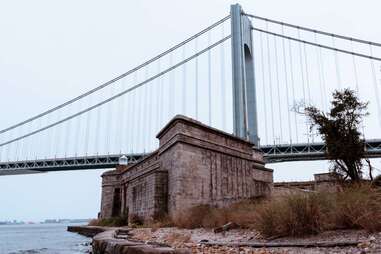 Staten Island
From a bird's-eye view, Fort Wadsworth looks reminiscent of some ancient Roman gladiator arena. But the multi-tiered fort located under the shadows of Verrazzano-Narrows Bridge on Staten Island is a 226-acre park with one-of-a-kind views of New York Harbor. Dating back to the early 1800s, it previously stood guard against naval attacks during periods like the War of 1812, and officially closed as an installation of the US military in 1994. The site is now operated by the National Parks Service and has a visitor center open from Wednesday through Sunday. On your next visit, walk through the ruins or find a spot to overlook the waterside views.
Neponsit Beach Hospital
Jacob Riis Park, Rockaway Beach
Neponsit Hospital sits directly behind what's historically been New York City's most popular LGBTQIA-friendly beach, Jacob Riis Park Beach. Opened in 1915, the hospital first treated children with tuberculosis before subsequently tending to World War II veterans, and was especially a big draw in thanks to its fresh sea air and sundecks. Following its closure in 1955, six years later, the grounds were reopened as a nursing home facility, which ultimately shuttered in 1998 due to controversial accusations of improper patient treatment. Now, the crumbling facility stands as a disheveled backdrop and well-known meeting point for sunbathers during beach season. Unfortunately, there's little chance of exploring the grounds, so gazing from nearby sandy waters will have to do.
Flushing Meadows Corona Park, Queens
Constructed for the 1964-65 New York World's Fair (the largest ever hosted in the United States) by architect Philip Johnson, for decades, the grand structures of The New York State Pavilion have stood vacant. While the rest of the fair has been demolished, the three concrete saucer-shaped observation towers and open-air arena—nicknamed "The Tent of Tomorrow"—have remained untouched. Head over to glimpse this golden era of New York architecture and technology and for a complete historical rundown, tickets for a self guided audio tour are available online.
Staten Island Boat Graveyard
Rossville
There are plenty of abandoned buildings around the city, but to find an armada of abandoned ships, you'll have to head out to Staten Island. Located close to Fresh Kills Landfill—which is currently being renovated into Freshkills Park and set to be complete by 2036—the Staten Island Boat Graveyard is a final resting place for maritime vessels and at one time was home to the skeletons of 400 tugboats, warships, and more. While there's no official way to tour this nautical cemetery, some have explored it via land during low tide or by kayak—but we recommend the route of the more cautious-minded explorer: Google Earth.
Old City Hall Station
Downtown Manhattan
When New York City's subway system first debuted in 1904, the City Hall stop was widely considered as the crème de la crème of stations. Designed with tiled arches and ornate skylights, it was one of 28 existing stops that ran from City Hall to 145th Street. By 1945, updated cars could no longer fit on the rails, so it was ultimately shut down and a newer City Hall station for the R and W lines currently exists. Luckily, the former station is not completely lost. Ride to the end of the 6 line, where an announcement will ask passengers to exit the train. Stay on, as the train takes the Old City Hall loop, and you might catch a brief sighting of the original stop. For a more in-depth tour, the New York Transit Museum is celebrating the 118th birthday of the subway system with a virtual tour of the station on Thursday, October 27; and is launching a new digital database on the same day.