Earlier this year, thousands of young, tragically fashionable urbanites heaved a collective sigh of defeat into their pour-over coffees and craft beers at the confirmation that the L train was, in fact, going to shut down. The MTA plans to completely halt the heavily trafficked subway line between Manhattan and Brooklyn for 18 months, beginning in January 2019. But before you get your plaid flannel in a bunch, let's rejoice in the fact that you still have two years to GTFO, and that this city is rife with other neighborhoods besides Williamsburg that will still satisfy all of your high-rise, reclaimed, small-batch, bike-friendly needs. None of these neighborhoods are exactly undiscovered parts of the city. In fact, they're all pretty well-known. But based on what you're losing by giving up Williamsburg, they all fill similar voids in their own unique ways. And with the average monthly rent of a one-bedroom in Williamsburg hovering around $3,200, some of them will even save you a few bucks to boot.
Downtown Brooklyn
Average one-bedroom: $3,000/month
Downtown Brooklyn often gets forgotten in the hype surrounding nearby neighborhoods like Brooklyn Heights, DUMBO, and Fort Greene. But the area is flush with new development and luxury buildings. While it doesn't have the same charms of its neighbors, it's only a matter of time before the cocktail bars and distressed mirrors make their debut.
"Downtown Brooklyn looks like an old commercial neighborhood that is in decline but might make a comeback. It has a lingering decay that gives it a patina that makes it more like a fringe neighborhood," says Chris Rounick, licensed real estate agent with Compass. "It sits in the bull's-eye center of hot neighborhoods but often gets passed over because it's such a commercial area. But it's booming with development and is a great value proposition because developers are competing with each other to push this inventory of rentals."
"The people who want to keep a luxe lifestyle with elevator buildings will probably go to Downtown Brooklyn because there is so much housing stock coming up, especially at 300 Ashland, which is the best, and well thought-out new buildings going up," says Kevin Kemble, a real estate agent with Citi Habitats.
Who should live here: People who appreciate an investment. The neighborhood is packed with luxury rental buildings with all the amenities. It doesn't have the nightlife of Williamsburg (yet), but it's close enough to plenty of neighborhoods that do. And with just about every single subway line nearby, it's an ideal neighborhood for commuters into Manhattan. It also is near the Atlantic terminal for the LIRR, so those who need their summer Hamptons fix won't have to fret about being farther from Penn Station.
East Village
Average one-bedroom: $3,200/month
Yep, you read that correctly. If you're looking for an alternative to Brooklyn, you might have to move back to Manhattan. And with average monthly rent comparable to that in Williamsburg, you won't be losing money. My, how the tables have turned.
"Williamsburg has long been associated with hipsters and that hipster vibe. It's the group of people who surfaced first in the great migration to Williamsburg and they would feel right at home in the East Village," says Lauren Riefflin, spokesperson for StreetEasy. "It has a comparable median asking rent, a 10-minute commute, and its share of 20-29-year-olds is nearly 30%."
Who should live here: People who appreciate the 24/7 vibe of New York. This is the type of atmosphere that Williamsburg embodies, and some might argue that stems from East Village culture. People who enjoy an overabundance of social options and cuisine will not be disappointed with the East Village.
Greenpoint
Average one-bedroom: $2,600/month
Call it Williamsburg-light: similar mindset, but much quieter. It's a hotbed of new restaurants and bars, flea markets, and the Brooklyn Night Bazaar. Still, it retains a more residential atmosphere than Williamsburg, and is only accessible via the G train or the Ferry. But even those limited transportation options are, at the very least, still in operation, which makes them an immediate improvement over the L train.
"I can see a lot of people going into Greenpoint. Although the restaurants, nightlife, and parks are on a smaller scale compared to that of Williamsburg, it has a similar vibe," says Kemble.
Who should live here: Young professionals who love the waterfront as well as local watering holes. It's not the all-night party that other neighborhoods offer, but there's enough action here to keep you from getting bored while at the same time also offering some peace when you need it.
Fort Greene
Average one-bedroom: $3,000
Tucked between Clinton Hill and Downtown Brooklyn, and bordered by the Brooklyn Navy Yard and Atlantic Ave, Fort Greene is one of the best-positioned neighborhoods in Brooklyn. Home to BAM, Fort Greene draws a cultural crowd, and an influx of new high-rise buildings shake up the traditional four-level environment that has characterized Fort Greene since the 19th century. An eclectic mix of restaurants and bars make this a social neighborhood, as well.
"Fort Greene has nightlife and easy train access, so it's not a stretch to see people who love Williamsburg migrating there," says Kemble.
Who should live here: Full-fledged and aspiring foodies can ramble along DeKalb Ave for its endless string of restaurants. Night owls will roost in local haunts, where the vintage and reclaimed vibes continue to remain staples. Culture vultures will love the endless calendar of events at BAM. And those who need their flea-market fix can check out the Fort Greene outpost of the Brooklyn Flea held on Saturdays from April through November.
South Williamsburg
Average one-bedroom: $2,400/month
Fun fact: The L train isn't the only train that goes to Williamsburg. South Williamsburg (south of Grand St) is serviced by the JMZ line at Marcy Ave. Though less centrally located than the L, the J, M, and Z are still viable options when getting into Lower Manhattan and the West Side. And if you're willing to walk all the way across Grand St, you don't even have to leave the 'hood. And you'll be saving a bundle.
"If people are really passionate about staying in Williamsburg, then South Williamsburg is a great option," says Riefflin. "The JMZ is a great transportation alternative."
Kemble suggests the L train situation could very well trigger a revitalization of the area, especially around Havemeyer and Roebling Streets. "I can see people going there because of the JMZ. It's still untapped and hasn't been renovated a ton, but who's to say that people don't start trickling down there to make it happen?"
Who should live here: Williamsburg residents who miss the rough-around-the-edges feel the neighborhood used to exude. South Williamsburg is still within walking distance (or at least a short Uber ride away) from all the north-side attractions, plus has its own lengthy list of bars, restaurants, and clubs. The vibe is slightly more laid-back and reminiscent of Williamsburg's good ol' days. And the views over the bridge into Manhattan are spectacular, especially when you catch an epic New York sunset.
Crown Heights
Average one-bedroom: $2,250/month
Crown Heights has been carrying the up-and-coming descriptor for quite some time, and as small-batch cocktail bar after small-batch cocktail bar continue to open, it is a title that certainly fits. Plus, its subway access, proximity to the park, and cultural mishmash of luxury high-rises, Caribbean bodegas, and synagogues make it one of the more eclectic parts of Brooklyn.
"The one tradeoff of Crown Heights is that you're inheriting a slightly longer commute, but you're saving on rent," says Riefflin. "It has a lower price point than Williamsburg, but in a lot of ways it feels like Williamsburg before it was the hot neighborhood. Still, there's a lot of new construction, so it could potentially blossom into Williamsburg today."
Who should live here: Those who miss the Williamsburg of yesteryear, and who perhaps had their eyes on Park Slope but don't want to dodge baby strollers for the foreseeable future. Crown Heights offers lots of new restaurants and retail openings, and its main drag, Franklin Ave, is always buzzing with activity.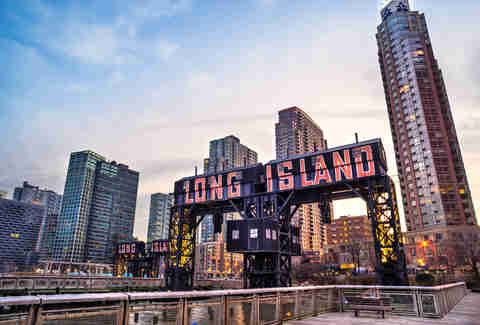 Long Island City
Average one-bedroom: $2,942/month
Far be it from a Brooklynite to ever consider moving to... Queens (gasp!), but LIC is an easy stepping stone into the borough. A waterfront district that seemed to grow out of nowhere, Long Island City is arguably the most luxurious section of Queens, as evidenced from the patch of fancy high-rises that have sprouted along the water. The main artery of Long Island City is Vernon Blvd, which is replete with bars and restaurants. Venture too far and you'll end up in a desolate warehouse zone. Still, pocketed away in corners of the neighborhood are treasures like the popular cocktail bar Dutch Kills, the innovative restaurant M. Wells Steakhouse, and MoMA PS1.  
"If you're really hell-bent on staying in a full-service high-rise with a view, then Long Island City should be considered," says Riefflin. "There has been a huge amount of developer attention in that neighborhood, and it's also a pretty easy commute into the city. It is extremely accessible with a killer view."
Who should live here: The crowd that adores their waterfront address in Williamsburg and everything that comes with that -- luxury apartments, Manhattan skyline views, ferry access, and flea markets. Long Island City hosts the LIC Flea, its own version of the Brooklyn Flea, on Saturdays and Sundays near the waterfront.
Sign up here for our daily NYC email and be the first to get all the food/drink/fun New York has to offer.