Although it's still technically summer, September is the best time to plan your apple picking adventure. The promise of fall is in the air, but it's still warm enough to enjoy a full day outdoors. New Jersey has an abundance of farms and orchards replete with pumpkin patches, corn mazes, hayrides, and, of course, rows and rows of apple trees ready to be harvested for your pies, tarts, and cobblers. Start your autumn early with a field trip to the best apple-picking destinations the Garden State has to offer.
Chester


If you're looking for a peaceful and simple apple-picking excursion, look no further than Riamede Farm. The farm's straightforward approach to apple picking means a more serene outing and better time appreciating Mother Nature's gifts in the form of over 34 apple varieties spanning over 68 acres. In September, expect ripe Ginger Gold, Gala, Cortland, Ruby, and Macintosh beauties. The farm recommends calling ahead of time if you're looking to get specific information about which apples are available for picking. Apple and pumpkin picking are offered daily, and hayrides are free on weekends.
Chester
In addition to apples, visitors to Alstede Farms can pick pumpkins, gourds, corn, and potatoes (prices vary depending on when you go). An on-site market sells baked goods, ice cream, produce, dairy, and wine. Weekend evenings bring harvest moon hayrides, live music, bonfires, and flashlight-guided corn-mazing for the brave.
Morristown


Fall comes alive on the weekends at Wightman, with a variety of activities to choose from including apple picking, a corn maze, games, and a pumpkin slingshot. Seven dollars gets you a membership card that lasts all season (you'll pay for what you pick), and the $20 Ultimate Farm Experience gets you a hayride, pumpkin and apple picking, a walk through the corn maze, and a cider doughnut.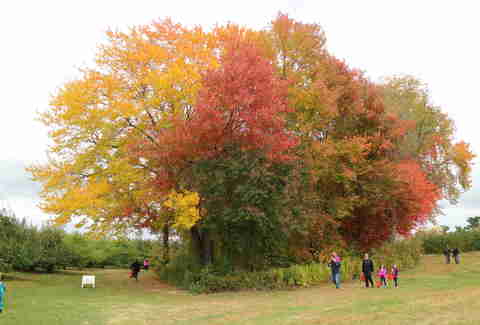 Freehold

Owned and operated by four generations of the Applegate family (really), this farm offers apple and pumpkin picking to visitors daily through October, with hayrides available on weekends. Be sure to check out the farm's Facebook page to get up-to-date information on pricing (apples and pumpkins are sold by the pound) and see which variety of apples are available for picking, or peruse the farm's many apple recipes to make sure you are getting the best use out of your haul.

Princeton
Terhune is open for fruit picking year-round, and fall, of course, is apple season. Check out their guide to to see what available apple varieties are best for eating, cooking, and baking. The farm hosts harvest festivals with live music, food, mazes, and wagon rides every weekend till Halloween. Festival admission is $10, but orchard-only access is free. Guests can also pick pumpkins, visit barnyard animals, and sample wine in the Terhune tasting room.

Colts Neck
Another farm that keeps things on the simpler side, Eastmont Orchards offers apple picking daily through the end of October. Apples are priced by the pound, and visitors can also pick pumpkins, gourds, or purchase specialty honeys and jams. Check out the farm's Facebook page to get updates on which apples are available for picking, and be sure to look over its recipe page, which includes tips and secrets to baking the best apple pie.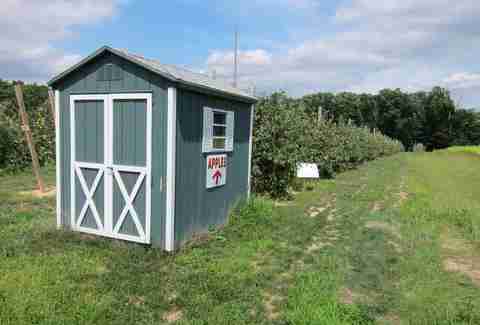 East Brunswick
On top of more than a dozen apple varieties, Giamarese Farm & Orchards also offers pick-your-own pumpkins. Picking passes are $7, including a $5 fruit credit. (Apples and pumpkins are priced by the pound -- $1.99 and $.69, respectively.) The farm is open daily for the month of October, and has a slew fall harvest festivities on the weekends, including hayrides, a corn maze, and food vendors. It also sells mums, corn stalks, gourds, and specialty goods in its market.
Califon & Oldwick
With more than 20,000 apple trees, Melick's Town Farm claims to be the largest apple grower in New Jersey. It offers two different orchards to choose from; one in Califon and another in Oldwick, meaning visitors have a collective 250 acres and over 20 varieties of apples to choose from, with picking available through the first week of November. Horse-drawn wagon rides, barnyard animals, and fresh-baked goods are featured at the Califon location, with homemade apple cider (along with cider press demonstrations) and hard cider available by the bottle, can, glass, or growler available at the Oldwick location.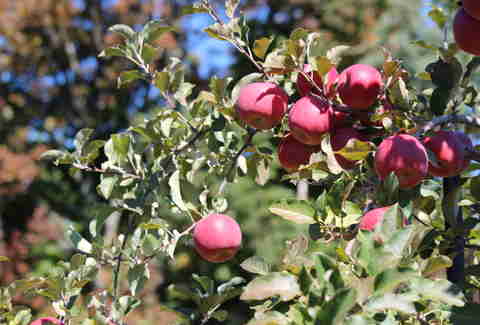 Randolph
Pick apples and pumpkins daily from September 15 through the end of October at Sun High. Produce is priced by the pound (call ahead for market rate and availability), and guests receive a complimentary bag for collecting the fruits of their labor. Weekend hayrides are $1 per person, and mums, corn stalks, and fall decorations are available for purchase. Pack a lunch and lounge at a picnic table, or grab soups, salads, homemade ice cream, baked goods, and hot spiced cider from the market kitchen.
South Brunswick
Open daily from Mid-September through Halloween, VonThun Farms' South Brunswick location offers a lineup of fall activities including apple and pumpkin picking, a corn maze, hayrides, lawn games, and barnyard animals. Apples are $2.99 per pound, and pumpkins go for $.69 per pound. If you're looking to stretch out your day into the evening, VonThun Farms also offers moonlight corn maze visits and campfire rentals with s'mores kits. Check out the farm's website to get more information about pricing and evening activity packages.
Vernon
Pochuck Valley Farms' deli serves breakfast, lunch, and fresh-baked goods daily, so you can fortify before you collect your bushel. Pick-what-you-wish is open every day through Halloween, and includes pumpkins, gourds, and winter squash. The requisite apples run $30-$35 for 20-pound bags. Grab a free sample of the homemade cider. Maybe it'll inspire you to do something with all those apples.
Check out our other guides to the best apple picking and orchards to visit in New York and Boston.
Sign up here for our daily NYC email and be the first to get all the food/drink/fun New York has to offer.