Jersey Celebrities Ranked by Their Jersey Pride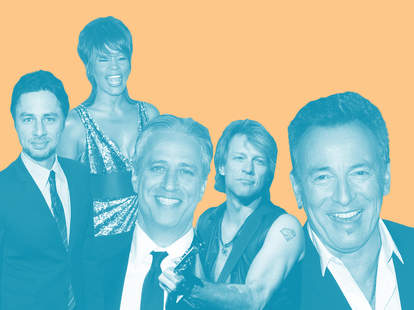 Shutterstock/Oren Aks/Thrillist
Jersey-born-and-bred celebs are an interesting breed; there's something inherently more human and relatable about a famous person who grew up off the Garden State Parkway and had to go through life defending their state against a moniker like "the armpit of America" than one who grew up in, say, Los Angeles.
But not all Jersey celebrities are created equal -- the ones who really stand out are those who are truly proud to call Jersey their (past or present) home. With that in mind, we've put together a list of actors, singers, and comedians who know and love the Garden State, and ranked them not by their fame, but by their Jersey pride. The real question is: will The Boss come out on top?
<a href="http://www.shutterstock.com/gallery-842284p1.html?cr=00&pl=edit-00">s_bukley</a> / shutterstock
9. Wyclef Jean
Wyclef Jean might have been born in Haiti, but he was raised in East Orange and moved into a
mansion in Saddle River
after he made his rapper millions. He also famously made a bid for the
Haitian presidency
back in 2010 but was rejected on the grounds that he hadn't lived there long enough... because you know where he was living? NEW JERSEY.
<a href="http://www.shutterstock.com/gallery-751606p1.html?cr=00&pl=edit-00">Joe Seer</a> / shutterstock
8. The Jonas Brothers
It's a pretty well-known fact among the Jonas Brothers fan community that the Jonai were raised in New Jersey. They were living in Wyckoff when they transformed their brotherhood into a boy band, but more or less ditched the Garden State when they became rich and famous (Disney) stars. Kevin settled back into suburbia when he married a New Jersey native a few years back, and has been living there ever since, which earns the family name a spot on this list. However, his
Boonton mansion
is currently on the market, and there's no telling where he'll go next.
<a href="http://www.shutterstock.com/gallery-1296406p1.html?cr=00&pl=edit-00">Ovidiu Hrubaru</a> / shutterstock
7. Stephen Colbert
There's a six-degrees-of-separation-like game circling around northern New Jersey regarding Stephen Colbert. Colbert has lived in Montclair for many years, and almost everyone in the surrounding towns claims to have -- or at least knows someone who has -- seen him. Here are my anecdotes: my sister
almost
went to the same high school that his daughter went to AND my friend's mom saw him at a movie theater, and the verdict was that he's "very nice." He's not that outright about his Jersey pride, but he
is
a big supporter of the Montclair Film Festival -- he's a
donor
, and his wife is on the
Board of Trustees
.
<a href="http://www.shutterstock.com/gallery-842284p1.html?cr=00&pl=edit-00">s_bukley</a> / shutterstock
6. Jon Stewart
Why does Jon Stewart get ranked higher than Colbert? Well, he grew up in New Jersey -- in Lawrenceville, right next to Princeton -- and Colbert did not. Then there's this
totally random
fact: Stewart and his wife own an animal sanctuary farm in Middletown, and they chronicle the lives of their two rescued pigs on a Facebook page. Seriously, it's called
The Daily Squeal
, check it out.
<a href="http://www.shutterstock.com/gallery-487966p1.html?cr=00&pl=edit-00">Debby Wong</a> / shutterstock
5. Jack Antonoff
You know who's from New Jersey and is proud of it? Jack Antonoff, guitarist of fun. and Lena Dunham's boyfriend. Here's some proof
in his own words
: "I take a lot of pride in being from New Jersey… [it] has an incredible legacy for everything that people think only comes from New York City, bagels and pizza to music and art." Antonoff gets more pride points for starting a Jersey Shore-based music festival,
Shadow of the City
, that's dedicated to bringing quality music acts to fans who would otherwise have to trek into New York. But alas, Antonoff currently lives in Brooklyn, not New Jersey.
<a href="http://www.shutterstock.com/gallery-842284p1.html?cr=00&pl=edit-00">s_bukley</a> / shutterstock
4. Zach Braff
Born and raised in South Orange, Zach Braff gets a pretty high ranking on the list for a few reasons. He wrote, directed, and starred in
Garden State
, the 2004 indie movie that's a loosely autobiographical story about a guy who returns to his New Jersey hometown for his mother's funeral. He's also given speeches at
his old middle school
and the
College of New Jersey
. Finally, there's this
SNL monologue
in which he so beautifully sings about being in a New Jersey State of Mind. Thing is, Braff's love of New Jersey is mostly nostalgia-based -- he hasn't lived there for years (and he's a partner in one of New York's most beloved restaurants, The Mermaid Oyster Bar).
<a href="http://www.shutterstock.com/gallery-903976p1.html?cr=00&pl=edit-00">Shelly Wall</a> / shutterstock
3. Jon Bon Jovi
No one is debating whether or not Jon Bon Jovi (né Bongiovi) really loves New Jersey. He was born and raised in Sayreville, and gets extra hometown pride points for marrying his high school girlfriend in the '80s and staying with her ever since. They also built a
pretty insane French-style mansion in Middletown
in the '90s... BUT the Bongiovi family reportedly spends most of their time in New York. However, JBJ's still very much tied to Jersey: he started
JBJ Soul Kitchen
, a philanthropic restaurant with locations in Toms River and Red Bank that allows diners in need to volunteer in the kitchen in lieu of payment. His band also literally has an album called
New Jersey
. But as much as JBJ loves his home state, he'll always be second-best to you know who…
<a href="http://www.shutterstock.com/gallery-1214321p1.html?cr=00&pl=edit-00">Brian Patterson Photos</a> / shutterstock
2. Bruce Springsteen
There's probably no celebrity more famously associated with a state than Bruce Springsteen is with New Jersey. He was born in Long Branch, grew up nearby in Freehold, and famously played music in Asbury Park -- first at the Upstage Club in 1969 and later at The Stone Pony in the '70s. It was at that infamous rock 'n' roll venue where Bruce met his current wife, Patty Scialfa, and the E Street Band, whose name is taken from a street in nearby Belmar. Springsteen's debut album was called
Greetings from Asbury Park
, and well, the rest is music history. The Boss reportedly owns a few homes in New Jersey, including
a horse farm in Colts Neck
and
an estate in Rumson
. He's also quite literally the most vocal about his roots in his lyrics, most of which unite around his working-class New Jersey upbringing. Case in point, the opening lyrics to "Wrecking Ball," a tribute song to the old Giants Stadium:
"I was raised out of steel here in the swamps of Jersey, some misty years ago."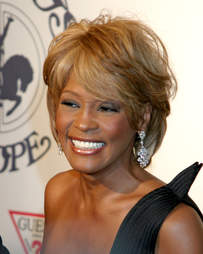 <a href="http://www.shutterstock.com/gallery-564025p1.html?cr=00&pl=edit-00">Helga Esteb</a> / shutterstock
1. Whitney Houston
Sorry folks, I couldn't do it -- Bruce might be the ostensible choice for state mascot, but what about the celebrities who are DL ride-or-die New Jerseyans? And so, I offer up the top spot to the late, great, Whitney Houston, who posthumously turned out to be the proudest Jersey celeb of all. Houston was born in Newark and raised in East Orange, and even after she became the biggest diva of all, she still lived in New Jersey. According to the pastor of the Newark church she attended growing up -- and where her funeral was held -- Houston occasionally came back after she became famous to
sing at Easter Sunday services
. She didn't live too far away, after all: in 1987, the same year her eponymous album came out, she built a 12,500sqft house in Mendham that reportedly was
architecturally inspired by Newark Airport
(if that's not state pride, I don't know what is). She famously married Bobby Brown at a wedding on the estate, and after she died in 2012,
a superfan bought it
. Governor Chris Christie flew New Jersey's flags at half-staff when she died, and though he was widely criticized, he defended his decision by calling her a "
daughter of New Jersey
." Houston's spirit literally lives on in the Garden State: she's buried in a cemetery in Westfield, which, full disclosure, is this author's hometown.
Sign up here for our daily NYC email and be the first to get all the food/drink/fun New York has to offer.
Elaheh is the Restaurant Venues Editor at Thrillist. She grew up in New Jersey and is a former Jonas Brothers superfan.