Jason Hoffman/Thrillist
Jason Hoffman/Thrillist
Whether or not you believe that tortured souls stalk houses, creep through forests, lurk in lakes, and terrorize clock towers in a supernatural effort to right the wrongs they wrought in life, it's still neat to visit supposedly haunted places around Halloween. And these accursed New Jersey locations are all prime spots to catch a thrilling chill during the spookiest time of the year.
Novice ghost hunters be warned: To experience these ghoulish delights, you'll have to traverse Shades of Death Road, cower at the Devil's Tower, and even slip into another dimension devoid of cell service. But who ya gonna call, anyway?
Westfield
You may remember The Watcher from our roundup of the creepiest urban legends in every state. A family moved into their new million-dollar dwelling and began receiving notes from "The Watcher," a disembodied entity who just wanted to let the family know that his obsession with the house drove him to track their every move. There are plenty of theories regarding the real-estate afficianado's identity, including the truly chilling hypothesis that he's just some adult dude still living with his parents in the neighborhood. In any case, maybe keep your young-blooded kids away from this one -- take 'em to see the stunning fall foliage at Nomahegan Park, instead.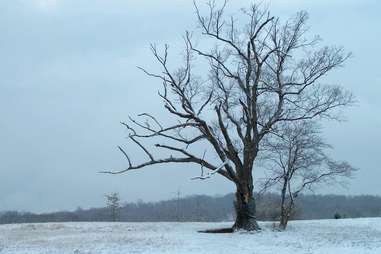 Basking Ridge
Solitary trees elicit different images for different people; while I imagine Rafiki painting Simba onto a massive baobab tree, you might envision a suicide by hanging. And at the Devil's Tree, at least, your psychic take would be closer to the truth. It's said that an area farmer once murdered his family and hung himself from the bedeviled perennial. Legend has it, his death was followed by others, and the presence of these souls makes it impossible for snow to stick to the tree's periphery. Maybe check it out before the first frost to keep that magic alive, then calm your nerves at a nearby escape room or Brewing Company.
Warren County
Ghost Lake hike starts at the end of Jenny Jump State Forest's Summit Trail, but undead vibes begin on your drive to an access point on Shades of Death Road. The "ghosts" in this lake are not suicidal jumping Jennys, but rather a combination of dearly departed Native Americans, victims of highway bandits, decapitated women, and maybe even the violent cats that have reportedly prowled the area. The lake's association with Great Meadows fog adds some cinematic mist to the equation.
Somerset
Raritan is purportedly haunted by an elderly librarian. Locals claim to have seen her peering out, perhaps SHHing a giggle, or practicing psychological warfare on poor, unfortunate souls. Reports of flickering lights strike fear into the hearts of book lovers -- it's rather hard to read in the dark. Once you get antsy sitting around, waiting for erudite frights, rent a bike and explore Duke Farms' nearly 3,000 acres.
Secaucus
Snake Hill was once home to a "lunatic asylum," and while developments in modern medicine helped shut down such institutions, they did little in the way of clearing bad juju; During road construction in 2002, thousands of human remains were discovered on the property. Those spirits are understandably pissed. Now their wrath is palpable in what has since been renamed Laurel Hill State Park. The summit, a graffitied rock with waterfront views, will make a trip all the way to this unmarked burial ground worth it. Ish.
Alpine
This cursed 1900s clock tower anchoring a thriving residential neighborhood is allegedly haunted by its builder's wife. As the predictable legend goes, she took to the tower to admire the view, only to see the dastardly dickens snogging another lady. The poor wife was jilted so hard, she jumped to her death and has haunted the spot ever since. If you're into Bloody Mary rituals, try walking backwards around the tower a few times to summon the wife. Then get the hell out of there and enjoy the Palisades Interstate Park.
Port Monmouth
This centuries-old home, formally known as the Seabrook-Wilson House, is famous enough to attract countless "paranormal analyzers" searching for signs of drunk Redcoat soldiers spilling Revolutionary War secrets an innkeeper who was all too happy to listen -- and report back. Of course that might all be made up, but supernatural snoops should still keep an eye out for ghost children, furniture that seems to move on its own, and a mysterious woman in white.
Asbury Park
Though it's lacking in unexplainable deaths, the former home of revered writer Stephen Crane emits much spookier vibes -- those of the Misunderstood Artist. Syfy's Ghost Hunters failed to confirm apparitions here, but visitors have reported unsettling feelings when approaching the house, creepy sounds and voices, and full-blown ghost sightings. Dive deeper into the other side nearby at the late Madam Marie's fortune telling booth, where Bruce Springsteen learned he'd one day become The Boss. Then, contemplate your own future on the shores of Sunset Park, and drink those terrible visions away at Wonder Bar.
Multiple counties
New Jersey's dedicated spawn of Satan is also an avid outdoorsman. The New Jersey Devil is said to haunt the Pine Barrens, a sandy-soiled forest that extends through seven counties. There were enough sightings in 1909 to keep the legend alive through present day, though buzzkills speculate that Jersey's Lucifer is just a large mammal. Indian Cabin Road runs through the Pinelands, so you can deal with the devil from the safety of your vehicle and make a quick getaway when things get dicey. And if you accidentally swap your soul for sandwich, you can abscond to nearby Ong's Hat, which might just be home to an interdimensional portal.
Burlington County
Burlington County Prison is a hotspot for sociology, architecture, and criminal law buffs, so maybe keep your amateur thermal cam and DIY EMF meter tucked away during the tour. The prison was open from 1811-1965, and even the Boston Strangler is said to have done time here. Some believe it's still occupied by a tall dude in uniform, and a few particularly unruly permanent residents who probably thought life in prison was harsh enough.
Sign up here for our daily NYC email and be the first to get all the food/drink/fun New York has to offer.
Ruby Anderson is an editorial assistant at Thrillist and, impressively, a direct descendent of someone who reads Sherwood Anderson.