The Jersey Shore is famous for many things: expansive beaches, boardwalks, saltwater taffy, and Snooki. There are dozens of beach towns to visit, from picturesque, Victorian Cape May to small town, fishing-oriented Barnegat Light. But there's one place down the shore that's wholly unique for its artsy, offbeat vibe and rich history: Asbury Park.
While this central coast destination is in the popular consciousness outside Jersey in large part due to Bruce Springsteen, Asbury Park has drawn a younger, city-dwelling set of visitors to its shores in recent years. What followed has been a deluge of hip new artisan coffee shops, boutique hotels, and NYC-quality restaurants. And thanks to the boardwalk, Asbury, in a similar way to Coney Island, has a decidedly democratic, everyone's welcome vibe (unlike say, the Hamptons, people from all walks of life can be found here).
Located about 60 miles from Manhattan, Asbury Park can be visited for a day trip. Driving can take upwards of 90-120 minutes considering traffic, and New Jersey Transit offers service directly into Asbury Park. The Seastreak Ferry offers service from Manhattan to Highlands, which is about 15 miles north of Asbury Park.
A couple of important FYIs: Beach passes are mandatory and can be purchased at the beach office or on the Viply app, chairs and umbrellas can be rented when you get there, and more information can be found on the Asbury Park website. Here are a few of our favorite reasons to make the drive down the shore to Asbury Park this summer.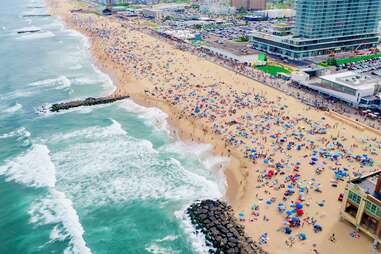 The beautiful beach and boardwalk
The beach is the main reason to visit the Jersey Shore, obviously. Asbury Park's beach is, similar to most on the Jersey Shore, deep with soft, light-colored sand. At Asbury going to "the beach" also includes the experience of walking the boardwalk and taking in the sights, sounds and smells. Local radio station 94.3 The Point broadcasts live from the boardwalk on weekends, and there are restaurants (check out Maruca's Tomato Pies), bars (Iron Whale, Asbury Oyster Bar), and scoop shops (Eddie Confetti's and nearby vegan-friendly spot Cookman Creamery), to sample from, too. The town is also known to attract eccentrics and artsy types, so the people watching on the beach and boardwalk is all part of the fun.
Asbury Park is also home to the popular surfing school Summertime Surf. Take a lesson and hit the waves all in the same day!
High-quality restaurants and bars
No visit to Asbury would be complete without a visit to some of the best food and drink establishments, and there are many.
Before hitting the beach, swing through Asbury Park Roastery—there are three locations!—a spot locals love and travel to from towns away to visit. Also pop into Purple Glaze Donuts for one or a few of their creative concoctions. After a couple of hours in the sun you'll need a break so head to the boardwalk or down Asbury or Cookman avenues for a bite. Grab Korean tacos at Eat Mogo or a sandwich and a CBD drink at the new Cardinal Provisions. For drinks, the Asbury Festhalle & Biergarten opens at noon on weekends, or swing by seminal LGBTQ bar Georgies, open since 1999, or the more posh, oceanfront cocktail bar, Watermark.
For dinner, try the artisan pizza at Talula's or sample new Grandma-style pies from the gang there at the brand-new Alternate Ending craft brewery. For seafood, try the middleneck clams or the fish and chips at The Bonney Read.
Similar to Atlantic City just down coast, this seaside destination was built up as a summer attraction. But while AC is known for its casinos, Asbury was apparently at one point a "dry" municipality as it was founded by members of the Methodist community in neighboring Ocean Grove. In the late 1800s, the boardwalk was built, followed by a number of hotels, and grand Victorian homes that helped the area flourish.
Development took off in the 1920s when the Convention Hall and the adjoining Paramount Theatre and Grand Arcade were built. These beautiful, historical buildings still stand alongside the boardwalk and beach today, and play host to events, concerts, and shopping.
After the area experienced decades of economic depression and racial division, a rebirth began in the '90s and '00s thanks in large part because of the influx of vacationers from the LGBTQ community. The area today is vibrant and artsy; gentrified, even. But still, it's truly a haven for creative people on the Shore.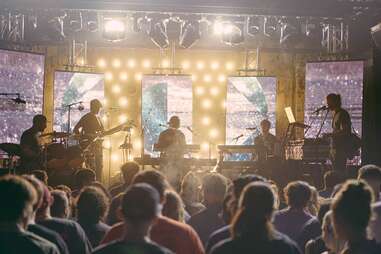 It's a destination for rock and roll lovers
The most famous venue in Asbury Park is surely The Stone Pony—where the Boss, whose debut album is called "Greetings from Asbury Park, N.J.", got his start. It's still open today, playing host to shows by local as well as more well-known touring acts. Upcoming shows include Limp Bizkit, Kesha, Parquet Courts, and the Springsteen cover band, Tramps Like Us.
The Paramount Theatre also books big shows, and The Saint is a smaller, more intimate live music venue. More recently, the legendary punk venue Asbury Lanes, got a facelift and new ownership by iStar in 2018. The combo bowling alley and music venue now hosts top-tier acts on a weekly basis, and the attached eatery, Asbury Lanes Diner, is set to reopen on August 1 with NJ local and Per Se alum, chef Mike Dunston, spearheading the relaunch.
The Wonder Bar, which also hosts live music, is a beloved local dive with a happy (yappy) hour for dogs. You can't miss this spot; Asbury's unofficial mascot "Tillie" is emblazoned in a mural on the facade.
Arts and culture, shopping
The Silverball Museum Arcade is another Asbury Park destination that's popular for the young and old alike. Home to pinball machines that date back to the 1930s, it's a quirky spot that's worth a visit. Or, if you're more inclined to get spooky, check out the Ouija Wall or the haunted objects and dolls at Paranormal Books & Curiosities. (Tip: reservations required for most exhibits.)
Asbury is also known for its lively arts scene, and the area surrounding the beach is emblazoned with murals. The Wooden Walls Mural Project is responsible for many of them; the Mermaid by local artist Porkchop located near the Convention Hall is a favorite. Galleries as well as public art and exhibits can be found all across town.
For shopping, Cookman Avenue is home to antique shops and boutiques like Rebel Supply Co., where you can grab some great vintage finds.
Cool hotels and places to stay
Much of the oft-discussed Asbury Park renaissance focuses on new residential and hotel developments. In 2019, the Asbury Ocean Club opened. Towering over the cement-block building that houses the Wonder Bar, the 17-story glass tower contains a mix of million-dollar residences and hotel rooms which run in the $600-800 range.
Nearby is the more hipster-focused boutique hotel, The Asbury, complete with a rooftop movie screening area, bar and pool, and lobby decked out with art, records, and live music. Rooms range from around $300-600.
A more affordable option is the Berkeley Oceanfront Hotel with many rooms below $200. This 100-year old Beaux Arts building also overlooks the ocean.
Georgia Kral is a writer, editor, and professor of journalism. She lives in New Jersey with her husband and two kids, and is currently obsessed with Jersey hot dog culture
.