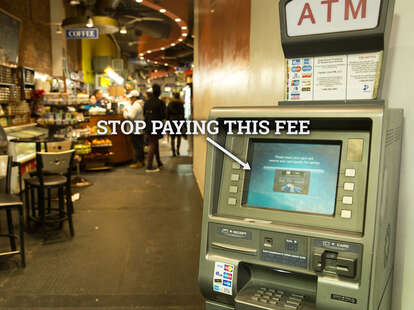 Lili Sams/Thrillist
Lili Sams/Thrillist
Do people still make New Year's resolutions, or is that the stuff of ancient myths? This year, why not start a little closer to home, and tackle these resolutions specifically for New Yorkers. Though, let's be honest, canceling your Seamless account is going to be about as difficult as any of your best intentions.
1. We resolve to leave the city once a month (or... just once. At all.) and go hiking somewhere like Cold Spring.
2. We resolve to finally visit the new Whitney, which we've totally been telling everyone we've already been to when we're actually just going to Brass Monkey.
3. We resolve to stop taking cabs home/to work/to a location that is faster by foot or train.
4. We resolve to cancel our Seamless account and finally start buying groceries.
5. We resolve to stop staying out 'til four in the morning just because the bars are open that late.
6. We resolve to stop going to expensive bars that have great happy hours when it's not happy hour.
7. We resolve to actually go to the gym that we pay a ridiculously expensive monthly fee for.
8. Or, we resolve to cancel that gym membership and do hip-hop yoga.
9. We resolve to finally go out to Flushing for Chinese food.
10. We resolve to stop perpetuating pizza rat/selfie rat mania, and let NYC rats just be good old NYC rats.
11. On that note... we resolve to finally take care of our apartment's mouse problem.
12. We resolve to pregame before going out to save at least a little bit of money.
13. We resolve to stop taking out cash from bodega ATMs/paying an exorbitant fee when our bank has a branch literally around the corner.
14. We resolve to actually go to Central Park or Prospect Park at least once when it's warm out.
15. We resolve to make coffee at home and work instead of buying $4 lattes twice a day at La Colombe.
16. We resolve to take advantage of all the free places to eat in NYC instead of spending $15.50 on a make-your-own salad.
17. We resolve to stop smoking cigarettes (yes, even when we're drinking), because basically everyone everywhere else has (barring Europeans).
18. We resolve to stop going home with people from Niagara and Union Pool.
19. We resolve to stop cursing under our breath at slow-moving tourists in Soho (this one is honestly debatable).
20. We resolve to stop saying we're going to move to San Francisco or Portland or Austin, because we're not.
Sign up here for our daily NYC email and be the first to get all the food/drink/fun New York has to offer.
Lucy Meilus is Thrillist's New York Editor and thinks you're perfect, don't ever change, have a great summer. Follow her on Twitter and Instagram.