Congrats, NYC, You Just Got a Night Mayor. She Needs Your Nightlife Suggestions.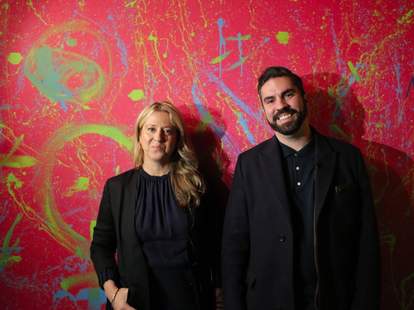 There are cool job titles and then there are cool job titles. Earlier this month, Manhattanite, longtime venue operator, and former community board member Ariel Palitz was finally named Night Mayor after a lengthy search for what has got to be one of the most enviable gigs in the city. OK, technically her title is "Senior Executive Director of the Office of Nightlife" -- but that just makes the appointment sound even more like it comes with a kickass costume and cocktail making gadgets on top of a posh secret identity.
Lawmakers created the office and premier position to ease and manage some of the difficulties that nightlife professionals and nightlife enthusiasts -- that would be you, specifically -- face in NYC. Orlando, Pittsburgh, and Iowa City have installed officials over after-dark entertainment, and night mayors have been a thing in Europe for a while. But the appointment of an NYC night mayor is, in a lot of ways, uncharted water. Here's what she's going to do.
Who is our newly appointed Madam Night Mayor?
"I'm a native New Yorker, born and raised -- and nightlife raised me, for the most part," Palitz said. This was at her first public appearance before a panel discussion at Brooklyn's Secret Project Robot, where she was nighted with a sash emblazoned with pink block letters reading NIGHTLIFE. "It's in my heart and soul. And it's what I've always felt I was put on this earth to preserve and protect, and will continue to do that."
Her priorities include keeping venues safe, legal, and up to code, and improving relations between venues and the neighborhoods they inhabit, Palitz said. She issued an invitation to all New Yorkers: "My door is really open; I want to hear from everyone. For a little while I really just want to listen more than really share any ideas, because right now, even though I've worn so many hats, it's really a new world."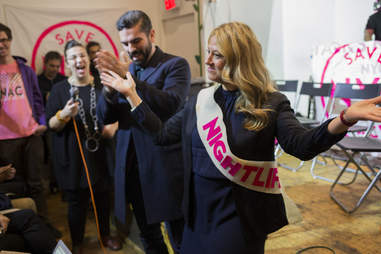 Palitz at Secret Project Robot

| Courtesy of NYC Artist Coalition
A DIY kind of gig
Earlier in the evening, the Night Mayor toured nearby Silent Barn -- a DIY arts collective in Bushwick set to close at the end of April after a five-year battle to stay alive in NYC's constantly changing arts and nightlife climate. Grassroots youth program Educated Little Monsters has launched an effort to take over the space.
"This story really happens in many places throughout this city and deserves our attention and our support," Palitz said. "DIY, underground culture is New York, is where a lot of the creativity and the inspiration that reaches out to all corners of the earth are born.
"Really being able to create a fertile ground that's supported and creative and lets people breathe and be creative of all ages is imperative to our identity and to the entire spectrum of what New York has to offer, from the underground all the way up. We need it, we support it, we love it, it's New York."
This role is new to both Palitz and the city
Even for a native New Yorker who has owned a nightclub and served on a community board, this is uncharted territory. "I want to really be able to get a real sense of what the issues are, where the commonalities are, where the common pressure points are and where the potential solutions are," Palitz said. "Every place I go I listen. Taxis, restaurant, bars, on the street, everywhere -- my listening tour has begun, and it's everywhere I go.
"My top priority is to listen to all voices and to start seeing where the concerns and the pain points and pressure points intersect and to really get a sense also of all the agencies that are available, already doing great things," she continued. "And to see how we can all work together, and sort of to be the missing link that really has been missing to bring all the concerns and the creators and the solutions together."
Courtesy of NYC Artist Coalition
So, what, exactly, will she do once she gets rolling?
The conflicts she sees are a nexus of vibrant nightlife, residents who don't want to listen to your 2am karaoke, businesses trying to fill the needs of night owls, and city regulations. Her role, as she sees it this early, will be to untangle the inevitable knots between those stakeholders.
"That really remains to be seen since it's really the first of its kind and I'm really in my first week in the position," she said. "There's a lot of opportunity to be creative, to define what that is."
As Palitz continues her listening tour and New Yorkers begin to understand her role, we can look to other cities' successful Night Mayors for a hint at what comes next. In Amsterdam, for example, the local nachtburgemeester began assembling what amounts to a nightlife district away from city center and its long-suffering residents. London's so-called "night czar" helped LGBT venues vulnerable to closure stay open. And stateside, Pittsburgh's Nighttime Economy Coordinator has supported efforts to make her city a live music destination.
As NYC Night Mayor, Palitz could set her sights on noise complaints, untenable rent, or disappearing service industry jobs, to start.
"For me, New York, what defines us is that we really are the best. We have the best restaurants, the best nightlife, and we have very high standards," she said. "I want to keep our standards high, whether it's in the DIY or the most elegant white tablecloth restaurant, I want operators with great visions of hospitality and creativity to be able to deliver what New Yorkers demand, which is the best -- and what the world demands -- and to make that easier to deliver: The best."
Now the good stuff: What does a Night Mayor do on her night off?
"I wouldn't want to pick out any one place in particular, but you know, I think the diversity of what New York has to offer, for me is always a perfect nightlife," Palitz said. "You know, being able to see a live band, have a great meal, get a great drink, and hang out with my friends, like everyone else."
Sign up here for our daily NYC email and be the first to get all the food/drink/fun New York has to offer.
Amber Sutherland-Namako is Thrillist's New York Editor. Follow her on Twitter