Comic Con Invades NYC as Cosplayers Take Over the Streets
It takes a lot to turn heads on the subway, and while unleashing a box of worms and crickets most certainly set a new bar for seeing/saying something, straphangers are relatively nonplussed even by the showiest of showtimes. But if you're heading anywhere near the Hudson Yards station this weekend, you might have to prepare yourself for an actual double-take. The nearly sold-out New York Comic Con is taking over the Javits Center and the 7 Train will be packed with masked vigilantes, caped crusaders, anime fanatics, and every strain of cosplayer that's been working on their costume since last year's convention.
Even in its 11th year, NYCC keeps the non-nerd community scratching their heads about whether Halloween has indeed come early or if this is some sort of Santa-Con spinoff. The convention has quickly grown from a place to score deals for your graphic novel collection and back issues of Uncanny X-Men to a massive, multi-media event full of film and TV panels and screenings. But it's the cosplay community that continues to take the show to the next level of "if-you're-into-this-really-specific-nerdy-thing, well-then, you-can-find-it-here." 
Still confused? Our advice: enjoy the people-watching, play "Count-the-Harley-Quinns," and watch out for all the swords. And even if you've got no intention of actually going to the convention, you can still enjoy some of these early-bird cosplay standouts, who took to the streets of NYC just as the big event was getting underway this week…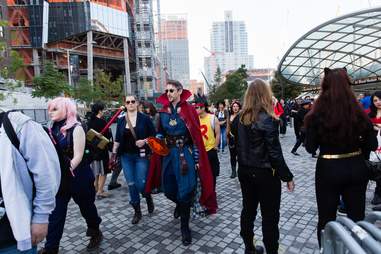 Cole Saladino/Thrillist
Dr. Strange: Earth's Sorcerer Supreme and ZogSports Ultimate Frisbee Champion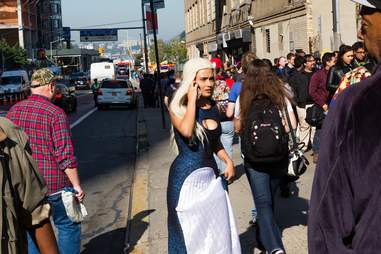 Cole Saladino/Thrillist
When your dragon Uber is 10 minutes late and you got seven damn kingdoms to conquer.
Cole Saladino/Thrillist
Apparently DR has a "No shirt, no shoes, no Shredder" policy.
Cole Saladino/Thrillist
Headless Rick and Morty haunting the 7 stop.
Cole Saladino/Thrillist
Best "Construction Worker Costume" or just a construction worker? You make the call!
comic con nyc 2016
Even Gods of War need to moisturize before heading into battle.
Cole Saladino/Thrillist
That's so Raven! In fact, it actually is Raven from Teen Titans.
Cole Saladino/Thrillist
Unicorn-helmeted cosplayers also run (or at least walk) on Dunkin'.
Cole Saladino/Thrillist
Things are looking up for Spiderman's nemesis Venom, here in mid-transformation.  
Cole Saladino/Thrillist
Life lesson: when you dress like the Joker you're going to sit alone.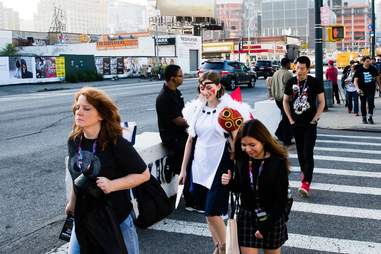 Cole Saladino/Thrillist
Princess Mononoke in the wild.
Sign up here for our daily NYC email and be the first to get all the food/drink/fun New York has to offer.
John Mihaly is the Deputy Cities Editor at Thrillist and hosts a podcast called Galaktacus about all sorts of nerdy things like Comic Con.
Cole Saladino is the staff photographer at Thrillist and often wears his Jon Snow cloak out… for warmth.