10 New Yorkers on the Moment They Became 'Real New Yorkers'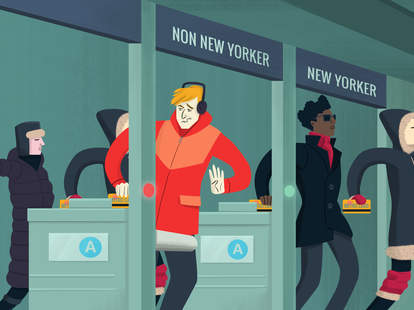 There was a moment, during my fourth year in New York, when I arrived home from a few days away to find that a pair of pigeons had moved into my kitchen. "Are those mine?" I wondered, looking up at them, before realizing that, no, they were not mine, because they were pigeons. This was not the moment I first felt like a New Yorker. The moment I first felt like a New Yorker came after I had wrestled the pigeons out of my apartment (Do you know how big pigeons are? They are very big), when I went to the bodega across the street to buy 1) several rolls of paper towels, 2) a gallon of bleach, and 3) a single beer. It was 1 in the morning. I expected a reaction. The bodega guy didn't bat an eye.
According to common lore, transplants officially become New Yorkers when they've been here 10 years. That is possible. I would not know (I am two years short). But the first flicker of belonging -- that can come at any time. We talked to New York transplants from big towns, small towns, and everywhere in between about the moment they knew they'd officially gone native.
When I became a regular
"My favorite restaurant is Joe's Shanghai at 9 Pell Street in Chinatown. I go once a week at minimum, usually with different friends. The service is abysmal and rushed -- the waiters use the hot tea to clean the tables -- and they barely look you in the eye when they're taking food orders or ushering tables. After about my 50th visit, a lanky waiter who works the back corner table, Marvin, finally recognized me as a repeat customer. At the end of our meal, he brought us a plate of fried dough and dipping sauce for dessert, on the house. Now I get complimentary desserts whenever I go and Marvin waits on me. It's the only place I've ever been a regular." --Matt, 29
When election night went our way
"I was a freshman at The New School in 2008 when Obama was elected. My dorm was a few blocks from Union Square, and after the results were called, I joined the celebration under the giant flag spread over the south side of the park. I know it's corny, but I felt connected to my fellow city-dwellers in a way I've rarely felt since (though I came pretty close a couple months ago, just in the opposite direction)." --Liam, 27
When landing at LaGuardia felt right
"[I knew I was a New Yorker] when I flew into LaGuardia sometime during my second or third year in New York and felt a distinct sense of relief for the first time." --Lindsay, 31
When I realized I had feelings about Leonard Lopate
"Sometime in the first year I was in the city, I went to a comedy show at Housing Works and the host -- whose name I don't remember but who probably has his own show on Seeso now or something -- opened up with an entire bit just savagely dragging WNYC host Leonard Lopate. He was really lacing into him, calling him a vestige of Upper West Side elitism and a dull drag on the cultural progressiveness of New York. You could tell he really hated him. He said something like "Brian Lehrer? Love him -- mayor of New York. But Lopate? Fuuuuck that guy." I found myself nodding along and laughing to everything he said, fully immersed in all the references and attitudes he was channelling, taking my own joy in this comedic dissection of a particular corner of the NYC micro-universe I hadn't even known existed a year before. After that, I remember thinking, 'Oh shit, I guess I must be becoming a real New Yorker, I have strong opinions about Leonard fucking Lopate.'" --Tim, 35
When I saw the city through disaster
"It wasn't really until Hurricane Sandy that I realized that not only did I love New York, but that I was a New Yorker. The day after the storm, I was sitting in front of my laptop, scrolling through social media, looking at videos and photos of the capital-D destruction of the city. I saw a post looking for volunteers at the local YMCA, a nine-minute walk away, and it hit me: this wasn't destruction on the news. This was the destruction of my city, my home, my neighbors. I put on my coat, stuck a can of chili in my pocket (kind of dumb), and rushed to the Y.
I thought I'd be ladling soup or something, but my job was to escort patients to stalls, sanitize hands, and make sure the bathroom stayed clean. So there I was, watching nude older women bathe in sinks at the Y, offering soap, assisting women with walkers and placing them on the toilet, lifting them up when they were done with their business. I did it for four hours. That's the sort of thing you swear you will only do for family. And that day, my family became New York." --Kate, 28
When emotions outweighed pest problems
"I think the moment I first really felt like a New Yorker was the first time I killed a waterbug. But I was also thinking the other day that maybe a person isn't really a New Yorker until s/he cries on every train. I've lived here for six years. So far, I think I still have a couple left to baptize with my tears." --Molly, 28
When I realized my longest relationship was with the bar below my apartment
"There was this craft beer bar below my apartment. It wasn't that loud when the bar was open, but then people would leave, and the staff would turn up the music from 12 to 2 in the morning. It would be this crazy death metal or club music -- definitely something vibration-focused. My entire bed would vibrate, and I'd have to call. Like, you had to say something. And they'd always pick up. Every night, they would let it ring for 5 or 6 rings -- you could hear it ring from my room -- they would pick up, and I would say 'hi' in this sweet voice, and they would act like they didn't know who I was. It was this weird dance that we would do: I would ask them to turn it down, and they'd be like, 'Oh my god! Of course!' Every night for five years.
When they went out of business, I was a little bit sad. It was something that would no longer be. It was a five-year relationship at that point. That is the longest I've ever had. Once they left, I spent a really long time trying to figure out what happened. I went deep into the internet. I needed to know! I needed to know why we broke up." --Abby, 34
When I faced off with a cabbie
"I landed at LGA last December, returning from a trip home to the Texas Hill Country. As I'm getting in line for a yellow cab, one of the cab drivers asks me where I am going. I tell him Bushwick. He starts asking down the line, and the couple behind me says they are also going to Bushwick. As it turns out, their daughter lives two blocks from me. At a rate of $50, we will share his car and share the cost. Fine.
So we schlep our bags across the arrival pick-up traffic and over the median to his car. He tells me, 'it will be $50 for you.' I say, '$50 for me? But you said that was the cost for the car.' He says I am wrong. I say, 'I am from here, you are cheating us!' He calls me a bitch and tells me I am not from here, that I barely live here. I relay to the parents what is going on and tell them they need to get out of the car. They do. And now we're to the moment when I felt like a New Yorker:
Driver: 'Go ahead, you stupid cunt.'
Me: 'Fuck you!'
We are yelling at each other like people who have been in a much longer relationship. I have never yelled at a stranger this aggressively. There is a lot of pointing and scowling, and spitting, I imagine. I am pulling my bag across the median. I am now in front of traffic.
Driver: 'No, fuck you!'
Me: 'You could have made some money, now you can go fuck yourself! What a fuckin' idiot!'
There. That was the moment." --Tamsi., 32
When I gave directions
"I'd been here about a year at this point. I was rushing from my day job in Brooklyn to go work my night job as a theme waiter in Times Square. I'm catching up with my dad on the phone, and someone in Dumbo asks me for directions in Spanish. I say excuse me to Papa and give the stranger help with confidence, honestly thinking not much of it at that point. When I go back to the phone, my dad is laughing like crazy at the idea of me, super small town kid, giving a stranger directions in New York. And that's when it really stuck for me. --Conor, 26
When I was either mugged or gave a stranger $160
"I'd been here maybe 5 weeks, staying on the floor of some friends who lived right off the 125th Street 1 stop in Morningside Heights. I was coming back from the interview at this hotel where I'd gotten a job as a bellhop -- which was good, because I was down to my last $200 -- listening to my iPod, feeling like I'd had my first New York triumph.
"I got off the train, and noticed this guy on the landing. And I remember thinking, it's weird that guy's just standing on the landing, let's give this guy a wide berth. But as I walked past him, I had this feeling I'd bumped into somebody. I turned around, and it was the guy, standing right behind me, holding this pair of glasses, and I see one of the lenses is broken. He says, 'Hey man, you broke my glasses.' And I was like, 'I'm sorry?' And he's like, 'You broke my glasses. I just got these glasses fixed, so you owe me a new lens. Give me $150.' And I said I really didn't think I did, and also I didn't have $150. But he kept advancing on me. At this point, we were on the street, right outside this bodega, so he tells me to go in and get $150 and bring it to him. And I was like... okay? But you can't actually take out $150 from an ATM, so I took out $160, which meant that I now had $40 left in the world. I handed it to him, and he said, 'Hey, thanks man!' And then he gave me this big hug and walked away.
None of it made any sense at all. The only adults I knew in the city at this point were my friend's parents. If I was at home and I'd called my parents, they would have been like, 'okay, we'll come and we'll pick you up, and we'll have an ice cream, and we'll talk about what happened!' But his parents were like, 'Welcome to New York. Honestly, we're glad this happened, because you can't be walking around here all wide-eyed. You gotta be looking out for number one all the time.'" --Sam, 34
Sign up here for our daily NYC email and be the first to get all the food/drink/fun New York has to offer.
Rachel Sugar is a writer in New York. Her friends still make fun of her Michigan accent. Follow her on Instagram and Twitter: @rtsugar