What makes NYC apartments different from everywhere else in the country? Well, 60% of your income goes to rent. So there's that. And then there are these other 14 things that stick out worse than your Midwestern parents visiting you in Williamsburg. Except we've actually come to love and appreciate the charm that these quirks bring to our lives, and absolutely none of them should give your fanny pack-toting parents annnnything to worry about...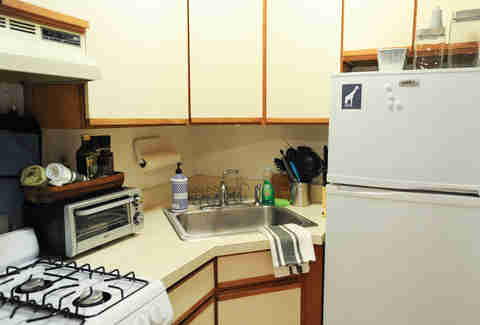 A kitchen without a microwave
You use your oven for storage, so that's out of the question too. But it's totally fine, because when have you ever let your Seamless get cold anyway??
 
No counters
Still, it's not like you are ACTUALLY preparing anything. Who needs all that extra space, right?
 
A shower in the kitchen
You all laughed at Kramer's shower salad… but this is actually a thing. Multitasking made easy!
No window in the bedroom
You have this room if your roommate sectioned off a corner of his massive one-bedroom in order to have a roommate so he could afford to live in a luxury building. Unfortunately for you, you now live in a cave with zero ventilation. But at least you're extremely warm in the winter! 
  
A bedroom accessed via another bedroom
A "railroad" apartment means you're walking through one room to get to the next. And if any of these rooms have real doors, then consider yourself lucky. But, honestly, what a great way to bond with your roommate! There's really nothing like being woken up by another person's middle-of-the-night bathroom trip to bring two people together!
 
Murphy beds
Realistically, you've probably only nearly knocked yourself out two or three times TOPS when trying get your bed out after a night of drinking, and the space you save when it's tucked away totally makes up for the fact that you don't have any kitchen/bathroom/living room/bedroom space (which again, you're in no way bitter about! New York is a great place to live, Mom!!).
A window with a view of a brick wall
You have to make the big bucks for floor-to-ceiling windows with unparalleled views. Just tell everyone your apartment has gorgeous exposed brick!
   
One teeny, tiny closet
New Yorkers are far too materialistic as it is. This is just helping us remember what's important.
 
No closet
Luckily IKEA has a lovely selection of armoires! And, because you definitely don't have a car, you can make a fun day of it by carrying 15 separate boxes of heavy furniture on the ferry. A workout with a view!
Floors that slope
Slip'N Slide anyone?! (Don't do this.)
  
Irrelevant rooftop "alarms"
Sure, the door to your rooftop looks terrifying with a giant sign broadcasting "ALARM WILL SOUND." But, spoiler alert: it will NOT sound (usually…), meaning you probably have rooftop access you just didn't know about. If it does sound, just run.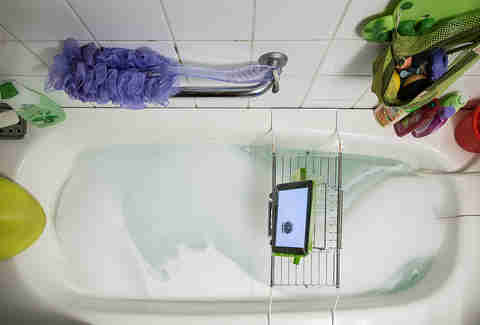 A tub with no shower
If you stock up on enough bath salts and candles, you can consider this a luxury.
  
Barred windows
How many times have you stared up at your second-floor apartment from the street and thought, "Wow, it would be super easy for someone to climb up this fire escape"? Those bars that make you feel like you live in an actual prison are actually a gift from GOD.
 
Temperamental temperatures
You'll use your A/C all the way through January because those heating pipes in the kitchen and bathroom are always set to "Hell Fire." Or you'll wear thermal underwear through April because your landlord conveniently doesn't pick up his phone when you call to remind him that, legally, the heat should be on when the outside temperature drops below 55 degrees. But hey, we New Yorkers love seasons! That's why we don't live in LA!
Sign up here for our daily NYC email and be the first to get all the food/drink/fun New York has to offer.
Meagan Drillinger is a freelancer for Thrillist and heats up her Seamless leftovers on her George Foreman while gazing out of barred windows at an alley. Follow her on Twitter, Instagram, and Facebook at @drillinjourneys.