Your boy did it. He found The One. And The One, for some reason, wants to keep him -- go figure. He's probably as baffled as you are, but he's definitely ready to party hard about it. And if you're as much his boy as you claim to be, you'd better be ready to make sure that happens.
The good news is you live in New York, where, if anything, there are TOO many potential choices. And they're necessary, too -- bachelor and bachelorette parties these days are more accurately described as gender-based pre-nuptial excursions, so if you're not flying the man to New Orleans for Jazz Fest and a good ole Bourbon Street blackout, you damn well better do better than just a night out at a strip club.
There's no defaulting to the man-cave allowed here. We've put together five flexible and diverse possible schedules for a killer outing with your bro-groom. Also, fellas, take your lead from the ladies on this one and get Google Sheets-level organized, because let's be real: Not only will you need a headcount for almost all reservations, but by the time you're done spending on that Grand Old Time, you'll be too in your cups to want to even think about receipts.
 
Recommended Video
Proof That Iceland's Ring Road Is the World's Most Beautiful Road Trip
For the Geeky Groom
Honestly, you figured he was already married to his Nintendo Switch. No judgment! Breath of the Wild is hella hard to put down. Slap it out of his hands and get to truly celebrating his impending nuptials (which, we hope, won't be Red Wedding-themed). Here's how.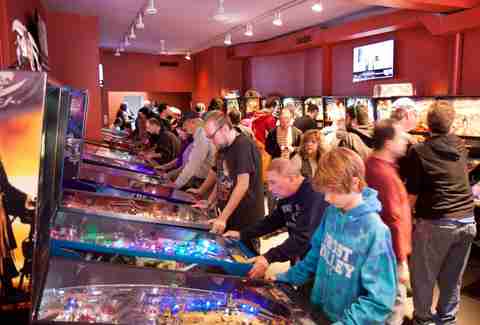 Kips Bay
Your gamer groom's button-mashing fingers are already itching. Fret not -- this place is absolutely stacked with 250 old-school pinball and arcade games, and even has some newer selections for the contemporary nerd. (Including, yes, the Game of Thrones pinball machine.) Book a private or a semi-private party if you want the joint to yourself.
Williamsburg
Billing itself as "America's only comic book, science fiction, and video game theme restaurant," this place is the pick for the discerning geek to grab a bite while prepping for celebratory drinking. Not only does Action Burger have terrific burgers, fries, and boozy shakes, but you're likely to stumble onto a Super Smash Bros. tournament or anime binge streaming.
 
Indulge his LARPer tendencies at The Way Station
Prospect Heights
Dr. Who fans love this queer-friendly neighborhood joint for its TARDIS-shaped bathroom (it's actually bigger on the inside) and autographs from a variety of the cult show's stars. It also has cocktails named after all of your favorite characters: the 10th Doctor blends lemon vodka, OJ, and blue curacao; the Dark and Stormageddon mixes rum, ginger beer, and lime juice. The bar hosts regular karaoke (sorry, "Nerdeoke"), and "drink and draw," an immodest modeling session for the artistic of wrist.
East Village
This spacious EV institution rocks arcade video games, plus pool tables, dart boards, Skee-Ball and -- you guessed it -- more pinball. There's also a giant 3D picture of a werewolf across from the bar, just to add to the weirdo vibe. Plus you really can't go wrong with $3 PBRs. Especially not if you're saving up for cocktails later. And you should.
For the Gastro Groom
A man of refined tastes, your soon-to-be-hitched pal knows exactly what he likes -- for him, exceptional food and quality drink ARE the party. New York is the perfect place for a foodie fest, too -- and you can get some entertainment baked into the deal.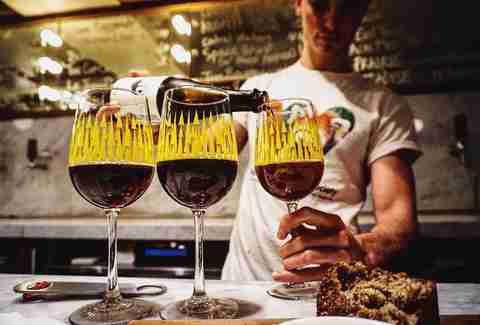 Greenpoint
Get started at this wood-paneled drinking heaven right off the Nassau G stop, where endlessly creative Danish brewer Jeppe Jarnit-Bjergsø of the phantom brewery Evil Twin keeps this beer bar stocked with terrific offerings, including delicious small plates and some of the best-tasting beers around. The taps rotate daily, and you're as apt to find a crisp New England IPA from Massachusetts as a Flemish sour red. Or maybe a Champagne-infused beer? It would certainly be appropriate.
Long Island City
One of the city's hottest breweries, LIC Beer Project is the perfect place to continue saisons. This brewery's roots are Belgian, so farmhouses and plentiful saisons form the core of their offerings -- although they've branched out into Berliner Weisses, sours, and even IPAs and barrel-aged beer of late. The vibe is easygoing -- order food to the premises, if you want. Or wait, 'cause…
Take a 7-train food crawl
Jackson Heights, Elmhurst, and Flushing
… Queens really is the best place to eat. You could get all fancy and take him to a tasting menu somewhere -- Williamsburg has a few -- but why bother when a whole train line could be your tasting menu, and for many, many dollars cheaper? Jackson Heights, Elmhurst, and Flushing have some of the most flavorful and authentic examples of Latin American and Asian cuisine in the States, and you can't throw a tennis ball in any of those neighborhoods without hitting a terrific restaurant -- be it Tibetan momos or Venezuelan arepas in Jackson Heights, Thai in Elmhurst, or Chinese food of all stripes in Flushing: Hunanese, Cantonese, Sichuanese… the works. Make sure to stop by Spicy & Tasty for that last one. It lives up to his name -- so much so that he won't be able to tell if he's sweating from the spicy peppers and numbing peppercorns or the nervousness at his impending nuptials. It's OK either way, though -- he's about to wash it all down.
Flushing
The name Mikkel Borg Bjergsø, the endlessly creative Danish brewer behind Mikkeller Brewing, might sound familiar. That's because… he's Jeppe of Tørst's twin brother! He's also the brewer with the longer history in beer-making. (They reportedly hate each other. Does the name Evil Twin make sense now?) He's opened up a brewery only one subway transfer away from his brother's beer bar -- and it's part of Citi Field, too. It's the perfect place to end a celebratory day filled with delicious tastes. Plus, if the groom is a baseball fan, you can usually score Mets tickets on the cheap.
For the Dive Guy
This is the kind of man who never wants to go to a bar where he can't bring his dog, and who can blame him? The simple pleasures are often the best, or so they say. Well, there's an entire Brooklyn neighborhood custom-built for this kind of groom. It's called Red Hook. Let's get acquainted.
This casual indoor-outdoor harborside eatery has some of the finest seafood in the city. Get the crabs. Duh. They've also got games galore: mini-golf, bocce, and cornhole, plus one heck of a view of the New York Harbor from the top deck. Just make sure to make a reservation -- this place can get crazy busy, especially during the summer months.
You couldn't fly him to Florida for a beach weekend, but the good news is Florida came to him in the form of Steve's Key Lime Pie which sits, like much of Red Hook, right near the water. Get the swingle: a slice of frozen key lime pie on a stick that's been dipped in dark chocolate and sometimes has a raspberry filling. Walk down to Louis Valentino, Jr. State Park and Pier and enjoy them under the watchful gaze of the Statue of Liberty, who can serve as a gentle but firm reminder of the freedoms he has been afforded -- and those he'll give up when he takes those vows.
 
Don't let him wallow too long, though! Instead, bring him down to Pioneer Works, where the nonprofit arts and sciences foundation of the same name holds a variety of exhibitions in its massive exhibit hall and a few smaller, enclosed exhibition spaces. Plus there's the backyard garden, which not only boasts a chill half-acre of greenery, but has room for picnicking, sculptures around the premises, old shipping containers housing a welding and fabrication studio, and a bar-restaurant that's open during events and performances. Try to catch one of those, by the way.
Sunny's
There is a very strong argument to be made for Sunny's as the best bar in all of NYC. For one, it's historic -- the place has been serving thirsty customers since the 1890s when it was a longshoreman's bar -- and has the nautical-themed tchotchkes to prove it. For another, it survived Hurricane Sandy and price hikes that many feared would cause it to close. But its true treasure is its character. Sunny's is filled with young Brooklyn newcomers and salty old townies alike, and there's almost always some sort of live music or a bunch of folks who just met sharing a smoke and a pizza (it's BYOF) in the courtyard out back. It's the perfect place to celebrate with old friends and meet some new ones. Just don't let him hazily invite them to the wedding.
 
For the Frat Bro
You know your bro, bro. He doesn't just want to go out -- he wants to bro out. That means an old-school crazy time out on the town where the meat is grilled, the drinks are strong, and the music is bumping all night long.
 
Take a booze cruise
Hudson River
Drinking in places where you're not supposed to is a strong New York tradition -- but in this case, drinking on the ferry is encouraged. Several companies host booze cruises on New York's harbor and rivers, and luckily we've already rounded up many of the best boats to down beers on. If none of those scream "party" enough for you, Hornblower is certain to have something to the groom's liking.
Flatiron
What better way to celebrate your bro's impending nuptials than by bringing him to the club that Jay-Z built, now in its 15th year in Manhattan's Flatiron district. Dig the live music, televised sports, and patrons who are at least celebu-jacent. The joint even has a bona fide bachelor party package, replete with cigars, Champagne, souvenir photos, and food platters. But you might not want to let him eat too much, because…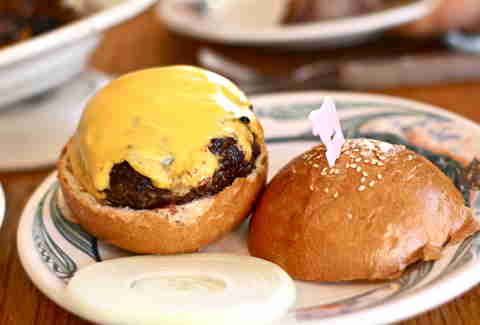 Embrace the classics at Peter Luger
Williamsburg
… he's about to have some of the best grilled meat of his life. There are plenty of steakhouses in Manhattan. And some of them are as good as Peter Luger. But this is really the classic joint -- old-school as hell -- serving a porterhouse that would make any groom-to-be wonder why he wasn't just marrying it instead. Williamsburg is a good spot to be, too -- once a hipster haven, the place is now almost Soho 2.0, and it's got the nightlife to show for it. And by this point, he'll definitely be ready for that bachelor party classic…
Face the inevitable at PUMPS
Williamsburg
… the strip club. This one's a bit of a twist on the concept, ditching Manhattan's extravagant, absurdly priced gentlemen's club vibes for what has been billed as a "hipster strip club." Don't let him get too hung up on that, though -- or on the "If you ain't got no money, then get your broke ass out" sign hanging above the door. Not only is this a cheaper alternative to the bigger-name clubs (and if you've been partying with Jay-Z and eating steaks all day, all the groomsmen will surely appreciate that), but it's an unpretentious place where your bro can just have a good, old-fashioned, grand old time with the ladies, before settling down for good.
For the Classy Creative
Unfortunately, no matter how much you would love to, there's just no way to assemble the ghosts of Miles Davis and Bill Evans to musically accompany the ghost of Frank O'Hara as he reads "Having a Coke with You" to your friend on the corner bar stool at the legendary and now-shuttered Elaine's. You can, however, set up a stylishly artsy bachelor bash in New York, even in 2018. Just like this.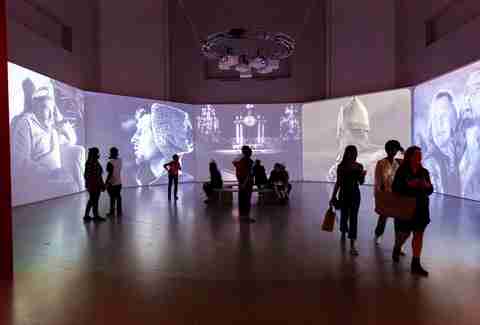 Prospect Heights
This museum boasts a collection of 1.5 million works, but because it's not called the Met or MoMa -- and because it's much closer to Prospect Park than to Central -- it tends to draw smaller crowds. The art here is every bit as spectacular as you'll find in Manhattan, including the terrific permanent Egyptian collection and rotating collections like the current David Bowie exhibit, which runs through mid-July. If Bowie doesn't kick off a party in style, what will?
Prospect Heights
A homebrewing shop not far from the Brooklyn Museum, this is the place where crafty New York lushes learn how to brew their own beer. And what better creative activity is there than one that ensures you can drink your work? Introductory classes run two to three hours for $55 a head, and he'll be able to bring home a drink he brewed with his own hands. It'll make for a heck of a surprise gift for the betrothed -- or it'll go down great shared with his groomsmen. (Don't worry, you'll get your own beers, too.)
West Village
This place is just perfect for a classy groom for so many different reasons. It's in the traditional arts haven of the West Village. It's visually stunning, with wide windows above the bar opening on Prince Street, white brick walls, and an oak-embellished oyster bar worthy of Amsterdam. (Don't forget to Instagram.)  It's a hangout for high-ranking creatives from New York's biggest industries. And the food is superb. Make a reservation for the back room and shell out for some celebratory caviar before wrapping the evening up in the classiest way imaginable…
Haunt downtown jazz clubs
West Village
… with live jazz. New York is still, in many ways, jazz's capital city, and the live music spots around Christopher Street are some of the best in the world. Historic spots like the Village Vanguard and Arthur's Tavern, which have hosted such geniuses like Charlie Parker and John Coltrane, sit next to funkier, comparatively newer joints like Smalls and 55 Bar. Covers and drink minimums almost never top $40 total per person. It's the perfect end to a bachelor party so classy it will leave your buddy thinking he's Humphrey Bogart reincarnated.