After only a few days of freezing winter weather, cases of cabin fever are already on the rise, citywide. It gets dark outside before happy hour even begins, you have to wear the sartorial equivalent of a sleeping bag just to pop out to the bodega, and the solitary Netflix-and-sofa sessions are losing their charm. You need to get out and get moving.
In the throes of the cold weather doldrums, even the heartwarming notion of simply going to the bar isn't enough to shake those seasonal chills. But you don't have to wait until spring to get active and hit the town: You can toss back a tipple or two and practice your breast stroke in a heated pool, pummel an opponent in a virtual boxing match, or hit the indoor links at the best bars with activities in NYC.
Wall Street Bath
Financial District
Want to swim in a heated pool? How about soak in a hot tub? Or is sweating in a baking cedar-paneled Russian sauna more your speed? What about sitting in a warm-and-misty eucalyptus steam room? This "schvitz" has it all. It's easy to spend an entire day here, rotating between two-floors of bath house adventures and Matryoshka, the bath's adjacent bar/restaurant. Matryoshka's menu includes serves wine, Russian beers, vodka, and traditional bites like borscht, steamed pelmeni dumplings and veal tongue stroganoff.
Entrance fee: $50
Kick Axe
Gowanus
Ax-throwing has become a thing in NYC, and you, too, can invoke your inner lumberjack and hurl some weaponry at Kick Axe. It's just like darts, but instead of aiming a winged needle at a bulls-eye, you'll toss real-deal axes at a wooden board. Newbies can skip the $35 game fee and gawk at the action over sips of beer and wine (no hard stuff) from the bar. Don't worry -- there's plenty of supervision during each game: The fee includes an ax coach who supervises 75 minutes of play. Kick Axe will mix and match smaller groups, so be prepared to make a few new friends.
Game fee: $35 per person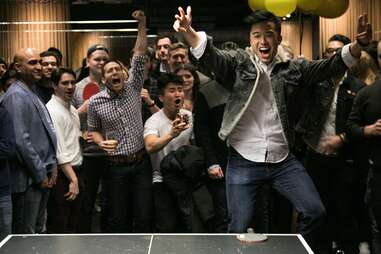 SPIN
Gramercy
Spin is a lounge, bar, restaurant, dance-floor hybrid, but folks flock here for the ping-pong: rows upon rows of of tables are available to rent in 30 minute intervals. Take a break from your low-impact athleticism, sink into a cozy lounge chair, and nosh on dry-aged beef sliders and shrimp bao buns that are better than they need to be.
Ping-pong table rental: $29 for 30 minutes during peak hours (after 5pm and weekends); $19 off peak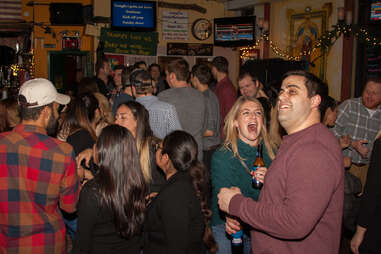 Iggy's
Upper East Side
Head to this dive bar's back room, and you'll find a stage, a sizable dance floor, and nightly karaoke that's lightyears livelier than the typical heartbreak ballad bunch. Nobody's hiding out in private rooms here: Takes on vintage Britney, classic Cash, or the musical meme of the day are all in full public view at Iggy's. Prepare to break a sweat synching your tunes to some moves on stage, and getting down to the sounds of your fellow amateur crooners on the dance floor.
Karaoke fee: $2 per song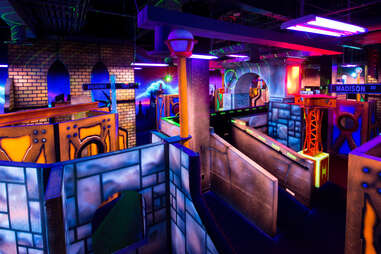 Bowlmor
Chelsea
Inside this tricked out bowling alley/arcade/bar/restaurant lays an attraction that's hard to find in any of the five boroughs. There are a few kid-friendly laser tag arenas outside of Manhattan, but Bowlmor is where grown-ups go to drink and zap their friends with beams of light. It's like paintball without the unsightly bruises. Unleash your inner seventh grader after downing a few "Large Marge" margaritas in glow-in-the-dark environs. The ambiance here is indulgence, so chip in for the $54 "Behemoth Burger," made with five pounds of ground meat, in between rounds of play.
Laser tag fee: $10.19 per person for 15 minutes
The Cobra Club
Bushwick
Welcome to the rare New York City space that marries a weekly Vinyasa yoga class (Sundays at 3pm) with tipples. The booze doesn't start flowing until Happy Hour, so yogis have to stick to caffeinated pleasures, tea or hot chocolate until after class. Come 4pm, discounted cocktails and $4 pints flow until 9. Make your post downward dog treat a We Are 138 -- a mix of bourbon, elderflower liqueur, lemon, and honey simple syrup.
Class fee: $13 for a 90-minute flow
Five Iron Golf
Flatiron
When it's too cold to hit the links IRL, combine one part imagination with one part technology for the next best thing. Big screen simulations include nearly 100 championship courses, so you can try your luck at some of the same holes the pros play. Then, undo that modicum of exercise with burgers, quesadillas, sandwiches, beer and wine.
Driving range simulator rental fee: 30 minutes for $32.50 during peak hours (after 4 pm and on weekends); 30 minutes for $25 off peak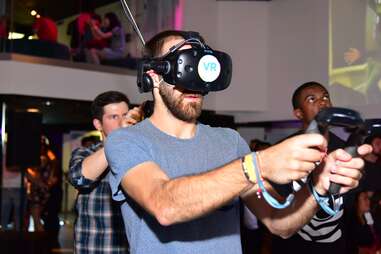 VR World
Koreatown
Creed: Rise to Glory sounds like an innocent, silly, virtual reality video game where you get to take a turn as Michael B. Jordan's Adonis Creed, but it's a full-blown, sweat-drenched workout. Expect your heart rate to rise as soon as you put on the virtual reality headgear and boxing gloves and increase as you pummel a virtual opennent who is trying to knock you unconscious. Before you know it, your shirt is wet with perspiration and your triceps are burning up. Go find salvation at the ground-floor bar and toss back something cold -- water, beer, a rum-and-Coke, or the soothing libation of your choosing.
Gaming fee: $44 for a two-hour pass
Gutter Bar
Long Island City
This is the classic boozy activity mashup. There are myriad options citywide, and Gutter's chill vibes and happy hour options make it a best bowling bet. Roll in after work for $3 off pitchers of beer like Jack's Abby House Lager and Alewife Marzen from 5-7pm weeknights, or swing by from 11pm-2am Sunday-Wednesday for late night 2-for-one bowling specials. The kitchen sling bowling staples like nachos and chili cheese dogs.
Bowling fee: Games are $7 per person; shoes are $3 per pair
Sign up here for our daily NYC email and be the first to get all the food/drink/fun New York has to offer.