There are about 25,000 bars, and restaurants, and all-around good time establishments in New York City. Since you're here, you've probably been to 24,999 of them. And if you've ever swayed, shimmied, or even danced with more than two of your friends, guess what, you super-cool risk-taker: you've likely broken a city law.
For nearly a century, group dancing was illegal at any establishment without a proper license, in the city that supposedly never sleeps. "It was kind of like Footloose. It was ridiculous!" says Jeff Blanchard, the owner of metal bar Lucky 13 Saloon in Gowanus.
In late November, Mayor Bill de Blasio repealed what's known as the Cabaret Law -- essentially a dancing ban that allowed the city to ticket bar owners for your cha-cha. "Years from now we're going to look back at tonight and realize that we actually started a nightlife revolution," said New York City Council member Rafael Espinal, who introduced legislation that led to the law's repeal. And like Kevin Bacon, people are ready to kick off their Sunday shoes.
"Everyone's gotta have more assitude."
The bottom (ha) line: New York is about to get more fun
The repeal could change the very culture of going out to local bars and restaurants: who we talk to, what we listen to, and how we spend money.
"When the music moves you, it's nice to be able to shake your hips," says Debbie Peck, who was engaged in a solo shimmy to a DJ spinning Motown at the spacious, resort-themed Royal Palms Shuffleboard Club in Gowanus one cold winter weekend. "I'll definitely be taking advantage of it. I'll bust a move. I'm gonna shake that ass. Everyone's gotta have more assitude."
Ashley Albert, Royal Palms' owner, is newly empowered to allow patrons to dance. "We never had plans to become a dance club," she says. But now, "when dance parties happen spontaneously, we're on the up and up."
"We might be a little bit more encouraging in our advertising and social media about coming to the club to get down," she says. "As the night goes on, it does get bumping in there."
Dancing "breaks down social barriers more easily," says Zubin Hubner, a London expat who lives in Brooklyn and was stunned to learn that he couldn't bust a move at a local bar, Lowlands. "It's almost become the modern-day opposite of everyone sitting at the bar hypnotized by their phones."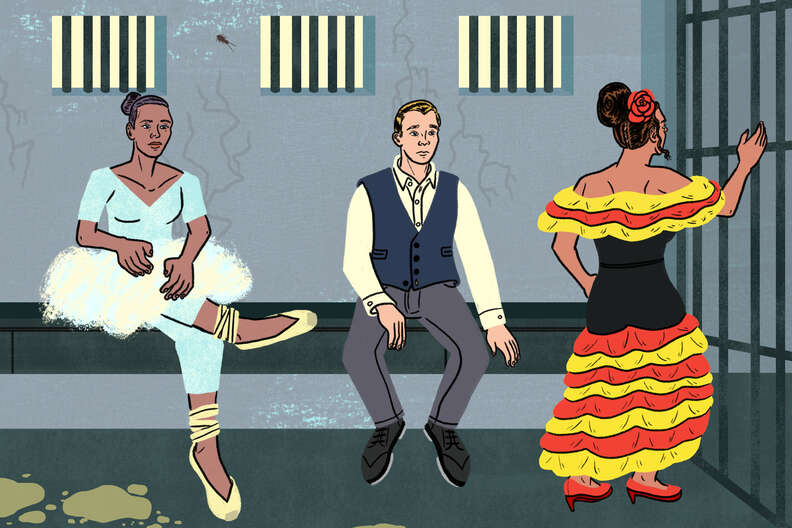 Yes, the Cabaret Law played a role in filling our dynamic city with sedentary smartphone zombies. It siphoned the spontaneity from our favorite local spots. People largely couldn't salsa in the Bronx, boogie at a big fat Greek wedding in Queens, or mosh during a show at Lucky 13 in Brooklyn. It helped give rise to the steep cover charges for clubs where you were allowed to dance. And it prevented local bars from advertising DJ sets.
It made "social dancing illegal in all but fewer than 100 places in NYC," New York City Artist Coalition member Jamie Burkart testified to city officials at a hearing in September. "I'm talking about birthday dancing. I'm talking about the first dance at a wedding."
A little-known law's sinister beginnings
But -- freeze frame, record scratch -- you're probably wondering how we got into this situation in the first place. How, for this long, out of the tens of thousands of venues where we fall in love, break hearts, cut deals, and burn bridges, we were legally allowed to dance in less than 1% of them.
Put your hands together like an old-time movie director and picture this: The roaring '20s. Speakeasies. Cigarette girls. It's easy to romanticize Prohibition's aesthetic, but it was a chilling time in New York City history.
The Cabaret Law was enacted in 1926. A committee report justified it this way: "When strangers came to New York City they wanted to 'run wild' ... The 'wild' strangers are not at all interested in our great museums of art and history, in our magnificent churches and public libraries, our splendid parks and public monuments. They are interested in speak-easies and dance halls."
In short, city leaders wanted to crack down not on dance per se, but on people who dance -- people who were, then as now, a demographic younger and less homogenous than the people making the rules. The Cabaret Law was enacted during "the height of the Harlem Renaissance," argues a 2014 lawsuit against the city by Andrew Muchmore, a bar owner and lawyer. "History leaves no room for ambiguity as to its purpose: to clamp down on inter-racial dancing and inter-racial mingling in Harlem jazz clubs."

Most people thought the law was too silly to be real.
And as with so many of the racist measures of the 20th century, we're still living with the very stupid consequences.
"Most people, even now, cannot believe that this was ever a law, let alone that it was still being actively enforced," says Adam Snead of the Dance Liberation Network, a group formed, in part, with the goal of snuffing out the dancing ban.
Even years after the law was enacted, it targeted "marginalized groups under the pretense that somehow they were more dangerous than anyone else," Snead says. "Basically anything the NYPD deemed dangerous, this law was used to get in those spaces and shut them down."
Through its history, the ban was used to prey on vulnerable and disenfranchised communities. "During the Stonewall movement, the LGBT community was targeted," Espinal, the council member, said. "On the Lower East Side, especially during the rock 'n' roll revival of the late '90s and early 2000s, a lot of music venues were being shut down."
At that time, bars citywide were padlocked when staff was caught allowing dancing, as The New York Times reported piecemeal.
Those "no dancing" signs weren't just for show
Getting a cabaret license has always been a tough, murky process for a local spot that couldn't spend "Applebee's money," as Kenneth McPartland, the owner of Irish pub Glenroy's in the Bronx, says. And while McPartland's Mott Haven bar has had a cabaret license since the '90s, he says, "it had no benefit" because of the city's on-again, off-again enforcement.
That capricious enforcement meant many people didn't even know the law existed. Mayor Rudy Giuliani dusted it off during his "broken windows" policing. Muchmore says one of the judges hearing his case "stated that he had danced in bars and never heard of it."
Bar owners and bartenders certainly knew about it. And for decades they intentionally tamped down the dance music to prevent legal citations. For dancing queens who were caught in random acts of rhythm, the worst penalty was a little embarrassment after being asked to stop by bar staff.
But the legal process and fines -- which could add up to thousands of dollars -- were tough on owners. Muchmore's eponymous Williamsburg bar was fined in 2013 because he allowed some patrons to "sway" to some music, according to the citation. (He dropped his lawsuit when the law was repealed, and now plans to hold regular dance parties.)
Another business owner, who asked not to be identified for fear of government reprisal, says he got fined $300 in 2015 when police showed up at his venue. "If I had to guess, it was around four people," he says. "Just a couple people bopping around. There was a DJ. It was the end of the night."
The dollar amount that night was modest, but business owners know that fines have a cumulative effect that can bring about their demise.
Many of the venues on this DNAinfo map of establishments that paid cabaret fines were shuttered after police cited them. People "thought it was some sort of antiquated quirky law that seemed too silly to be real," says Snead, of the Dance Liberation Network. "But once they see venues being shut down it becomes all too real."
De Blasio signed the repeal into law at Elsewhere, a sprawling multi-purpose venue in Bushwick. "When freedom of expression is not allowed, it's not New York City anymore," he said at the time. "Imagine how insane it was that you needed a license to allow people to dance."
Everybody cut loose! ... but not just anywhere
Like a manifest destiny of disco, group dancing will technically still only be allowed in certain edges of the city zoned for manufacturing. This includes parts of Flushing, Jackson Heights, and Sunnyside in Queens, and areas of Red Hook and Gowanus in Brooklyn.
But some bar owners seem hopeful that the repeal just means the law won't be enforced anymore, period. Take Long Island Bar, a restored 1950s-era Cobble Hill establishment that rocks a neon blue sign inside that reads, "No Dancing."
After the repeal, the bar posted a photo to Instagram of the sign edited to obscure the "No" -- and a comment with a link to a New York Times article about the repeal.
"Yes!! We are free," one patron wrote. Another commented: "Our day has come! 💃💃💃"
The repeal has bartenders at Gowanus' Lowlands -- a dark local spot that serves up strong beer and cocktails -- ready to amp up the dance music. Like Lucky 13 and Royal Palms, Lowlands is zoned to allow dancing once the law goes into effect.
"There's a certain type of night with a certain type of crowd and people start coming up and requesting songs and usually these are dance songs," says bartender Julien Levy. "Whitney Houston's 'I Wanna Dance With Somebody' is a banger." In years past, he might not put that song on because he knew people would get up to get down. "Usually we had to keep it more relaxed," he says.
Red Hook's 40 Knots is a divey spot with a pool table and a penchant for getting people riled up on karaoke nights. It, too, is zoned to allow dancing under the repeal.
"All you want to do is release some tension and get your groove on."
"I haven't gone dancing in years," customer Stephanie Flores says at the bar. "I don't even know where people go dancing. I want to see if it's something people do again."
Many proprietors already risked it. Dirty Precious co-owner Katipai Richardson-Wilson, for example, says that her bar had a "zero intervention policy" when it came to dancing.
"Dancing is one of the best things you can do to release endorphins and work up a sweat and it makes people so happy," she says, "which is a good thing because happiness is the ultimate goal, right?"
That, and saving a buck, and having dance music choices. Say goodbye to the thump-a thump-a thump-a of Meatpacking District club music when what you're looking for are neighborhood jams.
Under the Cabaret Law, "if you want to go dancing, that means going to a club and going to see whichever DJ is playing that night and it becomes very cost-prohibitive," Richardson-Wilson says. "Then there's a whole bottle service thing and suddenly you can be spending [hundreds of] dollars when all you really wanted to do was just release some tension and get your groove on."
Food and drink specialist Wendy Crispell says the repeal will change the way bars promote different events. "They won't have to worry about prohibiting dance," she says. "I always thought the ban was completely insane. Dancing is fun -- it's old New York. We need more old New York -- not more Duane Reades and banks."
Back in Bushwick, de Blasio sat at a desk on stage at Elsewhere and began signing away what he called "a law that didn't make any sense." A small, tinny tune rang out from the crowd, seemingly from someone's smartphone.
"Everybody dance now!" C+C Music Factory commanded.
"This bill is now law," the mayor declared. And at least three people began to dance.
Sign up here for our daily NYC email and be the first to get all the food/drink/fun New York has to offer.
Amber Sutherland-Namako is Thrillist's New York Editor.