Who Are NYC's Christmas Tree Vendors?
Look: the nearest Christmas tree farm is in, like, Connecticut and you obviously don't have a car. So unless you managed to secretly grow a fir in the 5in of "yard" outside your apartment, you're getting your holiday centerpiece from a dude on the sidewalk. But who are these mysterious Christmas tree barons who show up on our streets for one month only? We asked five Manhattan vendors to tell us their super-abridged life stories, and also about all the times they shoved trees up Soho elevator shafts. Hey, at least they left the place smelling pine-fresh.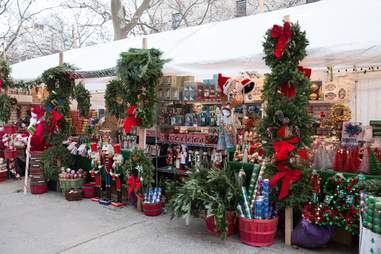 Lili Sams/Thrillist
Candy McCarthy
Sells trees at: 20th St and 2nd Ave
How long have you been doing this, and how did you get into it?
I've been doing this for two years. I'm working for the owner, George, who's dating my daughter. So I said, yeah, I could make a few bucks on the weekends. And I'm sure that's what a lot of the other guys are doing, too. They might have seasonal jobs and they're doing something for the weekend or week.
How do the trees get here?
We started off with some pretty big deliveries. He orders the trees through vendors in Canada and North Carolina. He can call and ask for more and they'll be delivered as we need them.
Have you had any memorable customers?
Oh yeah. We had a place in Soho and I don't know what blocks he's on now, but we sold a tree to Jimmy Fallon. It was great. George said he was a lot of fun. A nice guy. I enjoy it. I'm exhausted, and sometimes I get cranky because I'm tired, but the people are 95% wonderful. They're normal, they're happy, they're cheerful. One lady was offering me a little wine one year. It's that kind of thing.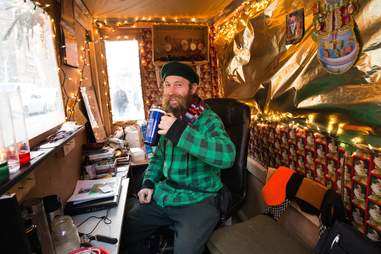 Lili Sams/Thrillist
Jonathan Papillon Blanc
Sells trees at: 5th St and 1st Ave
How long have you been doing this, and how did you get into it?
It's been five years. I was traveling and I stopped by New York to see a friend. I was hanging out on the street and seeing all these people from Canada doing this job. A lot of the stands are run by French-Canadians because we're used to cold and used to trees. We have many skills that make us good at that job. So I met a company and the next year I called it. I did two years in Harlem and then took two years off. I did one year in Queens and now it's my second year in the East Village. I'm not someone who is only thinking of money, so even though I could maybe make more Uptown, I like this neighborhood. I liked being in Harlem, too. In the boroughs it's a bit more boring.
So where do you stay when you're here?
We rent a truck by the side of the road with a heater and electricity in it. It's not hard to find furniture in New York. It's everywhere on the street. We bring our own bed, though, so we don't get bedbugs. The city provides the rest.
How are you selling so far?
It's about 200 a week and then by the end of the season, 800 trees? It can be maybe 1,000.
How do the trees get here?
By big trucks! It's part of this company, Evergreen, that serves different locations. We have new stuff coming in every two to three nights. We get them from different farmers. Most of the trees come from North Carolina. We also have some from Tennessee, from upstate, and from Canada and Nova Scotia.
Have you had any memorable customers?
There's an old lady who comes every two or three days because she just wants some branches. There are also lots of young people ordering our "Charlie Brown trees" or the tourists passing by who go, "Oh I don't live in New York, I can't buy anything!" So I sell them our tree in a bag. I've been doing this for many years. It's basically a potpourri bag. You can put it in a bowl or a vase and it's very fragrant.
Lili Sams/Thrillist
Richard Wynder
Sells trees at: Union Square (outside the Christmas market)
Do you live around here?
I live in Brooklyn.
How have you been selling?
Fairly well. Not bad. On average, probably a couple hundred a day.
Have you had any memorable customers so far?
One lady bought a tree and said, "I'm going to pay for it, because my husband is [inebriated]. And when he comes here, he's going to curse you out and tell me not to buy a tree from you." So she bought the tree and left it. And when she came back with her husband -- she actually came with another dude. Then her husband walked up on them, but she was [inebriated] and he wasn't! Then she went and peed in the middle of the street. I can't make this up. The husband was a really nice dude. I don't know, she must have some money or something, because I wouldn't put up with her.
Cole Saladino/Thrillist
Audrey P.
Sells trees at: Astor Place between Broadway and Lafayette
How long have you been doing this, and how did you get into it?
It's my second season. I had friends who needed another person on their team and I was interested. [In the off-season], I usually travel or do other seasonal jobs.
Do you live around here?
I'm from Quebec.
So where do you stay when you're selling trees?
We actually sleep in the van next to the stand, because we need to be here 24 hours a day. This year's been nice because it's warm! There's three of us, but it's never all three of us in there because someone is always working.
How do the trees get here?
Every night or so they're delivered. Sometimes every two nights. We can receive over 200 in one night, or just 60.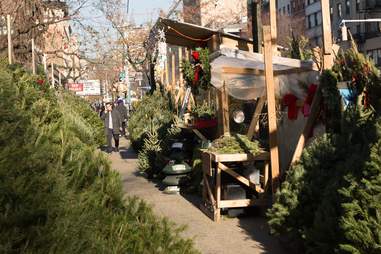 Joseph Schommer & Edward Chin-Lyn
Sell trees at:10th St and 2nd Ave
How long have you been doing this, and how did you get into it?
Joseph: This is our fifth year here. I worked for someone else for one year, and then the two of us went on a bike trip to Philly. I mentioned it to him on our way back.
Edward: It was pouring rain and like 42 degrees. We just had this epic journey on the way back. You know that feeling when you do something super hard, but super gratifying? So we were like, "Wow, that was super gratifying! What are you working on? What do you want to do?" Joe came up with the idea and I was like, "Yeah, I'm on board for this. We can figure that out."
What do you do on the off-season?
Joseph: We're all performers. We're all actors, singers, dancers, drummers.
Do you all live around here?
Joseph: Yeah, we're all from this area.
How do the trees get here?
Joseph: We go down to Virginia in the summer and personally tag them all. Then we go down and harvest them all ourselves, too, and bring them back. We harvested them a week ago, so they're super fresh.
Have you had any memorable customers so far?
Joseph: Our night guy got spit in the face recently. It's not all bad, though. We get a lot of fun people. There are some people who have been coming here all five years and their kids are growing up, we get to watch them grow up and change every year. It's a nice snapshot every year of the neighborhood.
Edward: We have a lot of memorable deliveries.
Joseph: Up an elevator shaft.
Edward: Like inside an elevator shaft with a 14ft tree.
Joseph: We got on top of the elevator, which is a hand-operated elevator, and he rode it up and we dropped it down and through the doors.
Edward: Opens into the loft, like an old-school Soho loft. So we had to like drop the elevator down and pull it out. [Laughs] But the thing is we couldn't let go of the tree at all because it would break the cage! You can't replace those things.
Sign up here for our daily NYC email and be the first to get all the food/drink/fun New York has to offer.
Kristin Hunt is a freelance writer for Thrillist, and seriously considered one of those Charlie Brown trees. Follow her to holiday indecision at @kristin_hunt.