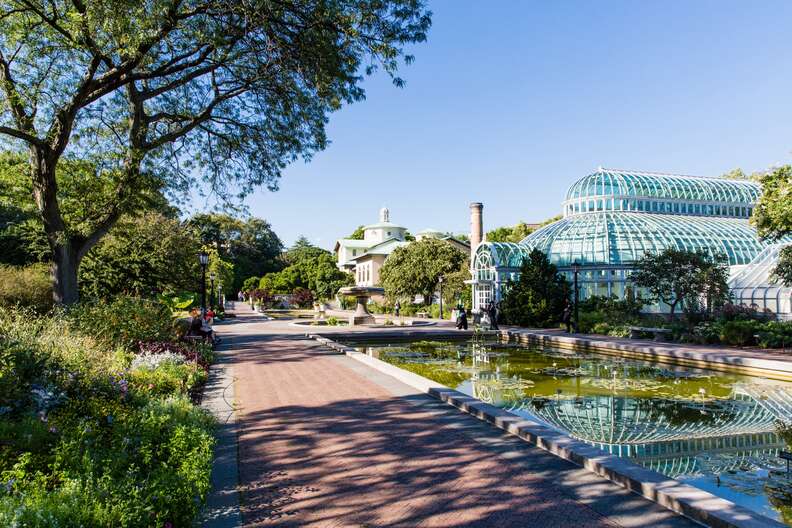 Cole Saladino/Thrillist
Cole Saladino/Thrillist
For some New Yorkers, a library card is a vintage accessory, tucked into a wallet between a half-full coffee shop punch card and a CVS receipt. With the introduction of Culture Pass, that old library card is like a golden ticket. To culture!
Here's how it works: Get a library card in Manhattan, Brooklyn, or Queens if you don't have one already. Browse this list of museums and cultural institutions citywide, including the Guggenheim, the Whitney, the Brooklyn Botanic Garden, the Frick, the Met, the MoMA, and 27 other attractions, many of them among the best museums in NYC. Log onto the Culture Pass site, book up to two locations at a time in advance, and go -- for free. Start with the expensive spots.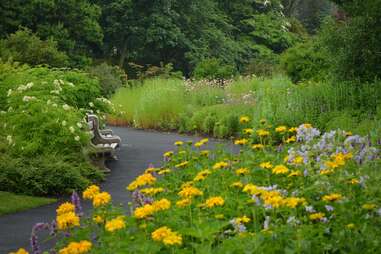 Ducks! Water lilies! Rows and rows of roses! Wander the Brooklyn Botanic Garden and you'll find some of the most idyllic tableaus in the five boroughs. Time your visit to an Interesting Insects tour and learn about butterflies, dragonflies, and less cute creepy-crawlies. Regular admission is $15.
The BCM offers year-round exhibitions focused on history, science, and nature, with more than 30,000 artifacts on display. You might lose your kid in the collections, but you won't get bored. Regular admission is $11.
Dating to 1863, and housed in a dazzling National Historic Landmark, the Brooklyn Historical Society is probably haunted. The museum/library/educational center pays homage to 400 years of Brooklyn history, but not the spirits who tidy up the place at night. Regular admission is $10.
The Brooklyn Museum hosts some of the hippest special exhibition galleries in the city. Currently on view, find "Radical Women: Latin American Art," "The Dinner Party" by Judy Chicago, and studies in the color blue. Regular admission is $16.
CMM emphasizes early childhood learning. Let your kid splatter paint at the instruction of this month's artist in residence. She might be the next Jackson Pollock. Regular admission is $14.
The Children's Museum of the Arts is a West Village staple for collaborative youth-focused art experiences. No need to worry about restless rugrats -- the museum aims to inspire youngsters to produce art side by side with artists, rather than quietly contemplate Catholic fashion at the Cloisters. Regular admission is $13.
Cooper Hewitt is your go-to when you've tired of passively gazing. Design your own sound effects in the museum's Process Lab, explore experimental installations in an exhibit intended to trigger each of your senses, or study "The Allure and Science of Color." Regular admission is $16.
Founded by an assistant drawings curator at the MoMA, The Drawing Center is a sketcher's paradise. The SoHo museum showcases emerging and established artists -- exceptional inspo for subway illustrators and their ilk. Regular admission is $5.
Pittsburgh industrialist Henry Clay Frick's collection boasts a roster of European sculpture and Old Master art works. Regular admission is $22.
Historic Richmond Town is the destination for Colonial cosplay. The Staten Island hideaway is a township time forgot, with artifacts dating to the 17th century, complete with a courthouse, a general store, and authentic old-world homes where you can get stoked about tinsmithing. Regular admission is $8.
The ICP serves as the world's leading institution for the study and exhibition of photography. And they have a photo booth. Regular admission is $14.
Unlike most popular New York museums, the Intrepid Sea, Air & Space museum floats on water... because it's a boat. At pier 86, spectators can wander through the USS Intrepid, before boarding the adjoining cruise missile submarine, two separate planes, and one badass space shuttle. Regular admission is $33.
Built to resemble a Tibetan mountain monastery, the Jacques Marchais Museum of Tibetan Art is likely NYC's most zen locale. Check out the library and the collection of Tibetan artwork, or take a seat in the scenic gardens, and work towards Nirvana. Regular admission is $6.
Founded in 1904, The Jewish Museum was the first of its kind in the United States. It houses an enormous collection of ancient art and ceremonial objects, alongside contemporary exhibitions exploring modern-day Jewish culture. Plan a trip, and make your bubbe proud. Regular admission is $18.
Travel back in time to Louis Armstrong's "Wonderful World" at the late jazz great's former home in Corona, Queens -- a national and city Historic Landmark. Regular admission is $12.
You might have heard of the Met -- the Upper East Side haunt internationally renowned as one of the world's greatest art museums. Not only is it the largest in the states (with more than 2 million works in its permanent collection), but it's also home to a killer rooftop bar. Regular admission is a suggested $25.
The Morgan Library & Museum is a must-visit for bibliophiles, and folks who just adore the smell of old books. Packed with rare tomes and manuscripts, the gallery began as a passion project of J.P. Morgan Sr. Leave your Kindle at home. Regular admission is $20.
By day, hit Midtown west, and drink in the impossibly cool, wildly diverse selection of contemporary art at the OG MoMA. By night, trek to Long Island City, where you can drink in a beer along with some culture: the museum's outpost hosts a night galleries, DJs, and dance parties. Regular admission $25 at MoMA, $10 at PS1.
This cultural institution is a glowing hub of Chinese-American history. Funded in part by a grant from the Carnegie Corporation, the museum is an excellent resource for intel on Chinese heritage, and local history. Regular admission is $10.
This is among the most powerful, engaging memorials you'll find in the city. Through personal narratives from real Holocaust victims, patrons learn intimate, horrifying details of the bleak reality of the time. Regular admission is $12.
If you had any doubt New York is the greatest city in the world, this Upper East Side venue will surely convince you. Celebrate Gotham's past, present, and future with informative exhibitions in a stunning Colonial-Revival building. Regular admission is $18.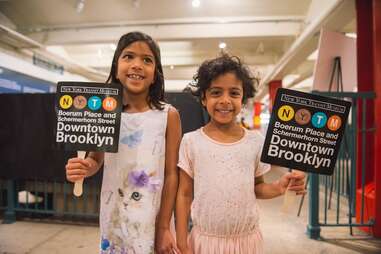 Are you sick of hearing about the subway?? That's a trick question -- New Yorkers are never tired of hearing about the subway! So take present-day transit to the city's mecca of transportation intel, and see how vintage train cars measure up. Regular admission is $10.
If The Life-Changing Magic of Tidying Up is your bible, have we got a museum for you. Designed by Japanese-American artist Isamu Noguchi, the dual-floored gallery space is rife with clean, contemporary sculptures, arranged tastefully throughout the minimalist interior space, and the adjoining sculpture garden. Regular admission is $10.
Tucked inside one of Queens' few remaining 18th century homes this historical society is the borough's go-to for historical research and devoted community documentation. Regular admission is $5.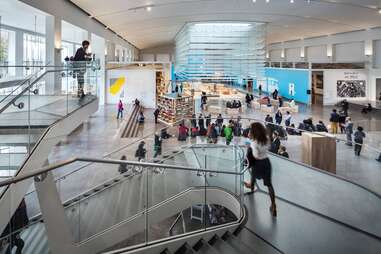 Constructed for the 1939 World's Fair, the Queens Museum is home to large collection of Tiffany glass, and the Panorama of the City of New York -- a massive architectural model including every building in every borough constructed before 1992. Regular admission is $8.
Drawing most of its artwork from India and the Himalayas, the Rubin is your spot for stunning Eastern photography, detailed textiles, a killer weekly meditation course, and damn good cocktails at the resident Cafe Serai. Regular admission is $19.
Founded as "The Clay Club" in 1928, SculptureCenter is an impressive pocket of innovative, contemporary, three-dimensional art works in Long Island City. Regular suggested admission is $5.
Under the umbrella of the Smithsonian Institution, and housed in a Beaux Arts-style building downtown, this expansive collection of handsome native objects is bolstered by written testimonials focused on native culture and heritage. Regular admission is free.
Instagram has rebirthed a love of illustration (bless you, Julie Houts) -- but the Society of Illustrators has been a shade ahead since 1901. If Norman Rockwell's historical images make you snooze, hit the designated comic and cartoon art wing. Regular admission is $15.
Guggenheim is fun to say (Frick ranks number two) and its building looks like a spaceship. Inside, find works by modern masters. Regular admission is $25.
Sugar Hill's Museum of Art and Storytelling is as much a community space as it is a gallery. Families are welcome for art classes, storytelling hours, group meals, and dance parties. Regular admission is $7, and kids under 8 are free.
Wave Hill's 28-acres of gardens overlooking are the Bronx's horticulture highlight. Regular admission is $8.
This is the sexy one at the end of the Highline with the Danny Meyer restaurant inside. The American art hall has a capital C Cool collection of contemporary art, produced right here in the States. Regular tickets are $25.
Sign up here for our daily NYC email and be the first to get all the food/drink/fun New York has to offer.
Eliza Dumais has been a proud card-carrying member of the Brooklyn Public Library since 1999. Follow her for content that has nothing to do with libraries.