NYC can feel like a concrete-tropolis, especially at its coldest, but if you look closely come late March, sneaky signs of natural life abound. If there's ever a time to suspend your city cynicism and adopt the naivete of a starry-eyed recent transplant, it's now. Lush little hidden gardens, Central Park's rare and historical American Elms, and tangles of ivy entwining brownstones will sprout and bloom. Like New York's native fauna, you should come into the light as the season changes.
Throw open your shutters and stop waiting for summer, for the weekend, for your barista to finally text you, and make the most of right now. Soon enough ideal outdoor grazing weather will arrive, a new arts center will hopefully add some value to Hudson Yards, and the Pride Parade will turn 50. Here is absolutely everything you must do in NYC this spring.
3/23-24
Greenpoint
Join 75-plus international purveyors at the Coffee & Tea Festival NYC to sip, slurp, and savor some of your favorite day-time drinks. While you're busy tasting, get schooled in the art of brewed bevs at a seminar. Topics include Ethiopian coffee culture, the Italian take on iced coffee and tea, and the storied connection between tea and coffee. Just pace yourself, or prepare for shaky hands and an elevated heart rate.
Cost: General admission $25; food available for purchase.
3/23, 3/30, 4/5, 4/6, 4/12, 4/13, 4/19, 4/20, 4/26, 4/27
The Bronx
Colorful orchids captivate by day, and their sensuality is pronounced by nightfall, especially when illuminated by a display of dazzling lights. Experience the New York Botanical Garden's Orchid Show: Singapore evening series in 21-plus setting under the spell of darkness. Sip a Singapore Sling, see a dance company perform to a live DJ set, and feast on Asian buns from C Bao at a Bronx Night Market pop-up.
Cost: $38 for non-members; $28 for members; food and drink available for purchase
Starts 3/23
Upper East Side
Awestruck by George R. R. Martin's imagination? How he dreamt up the world of the Seven Kingdoms and all its interlocking stories? Game of Thrones devotees and casual viewers alike can explore the inspirations behind the wildly popular franchise through the Met's halls at The Completely Unofficial Thrones Tour, a tribute to the show's final season. Highlighted stops include Damascus Steel Daggers and an astrolabe similar to the one in the show's credits.
Cost: $59; museum admission included
3/30
Hell's Kitchen
Pull your summer whites out of storage a little early this year and celebrate Holi -- the Hindu spring festival of colors -- at Stage 48 dance club's Holi in the City party. You'll eat, drink, and dance your way through the megaclub's four floors, and get doused in colorful powder in every shade of the rainbow.
Cost: General admission starts at $35; cash bar
4/3
Bushwick
No matter how much effort you put into your extravagant, exhibitionist House of Yes costumes, the pro dancers always catch the most eyes. It's hard not to envy them. Live out your spotlight stealing fantasy at Amateur Burlesque Night. Send your act idea to takeitoff@houseofyes.org (subject line: I WANT TO TAKE IT OFF) to try your luck for an opportunity to grin and bare it on stage.
Cost: Free with RSVP
Opens 4/5
Chelsea
Hudson Yards' rapid expansion will reach the city's arts scene when its on-site cultural center opens this spring. The Shed gets going with the five-night concert series Soundtrack of America, and keeps going with art, dance, music, theatre, film, and literary programming into the foreseeable future.
Cost: Soundtrack tickets start at $40.
Break a sweat for Planet Earth
4/12-4/28
Citywide
April 22 -- recognized globally as Earth Day -- falls on a Monday this year, but community cleanup projects span several days before and after. Help beautify Forest Park or Fort Tyron Park; plant trees with a Girl Scout troop along the Bronx River; or join One Tree Planted, a nonprofit committed to global reforestation, on one of their volunteer days in the Bronx, Manhattan, Queens, or Brooklyn. Don't be lazy this year... the planet needs you.
Cost: Free; check event pages for registration info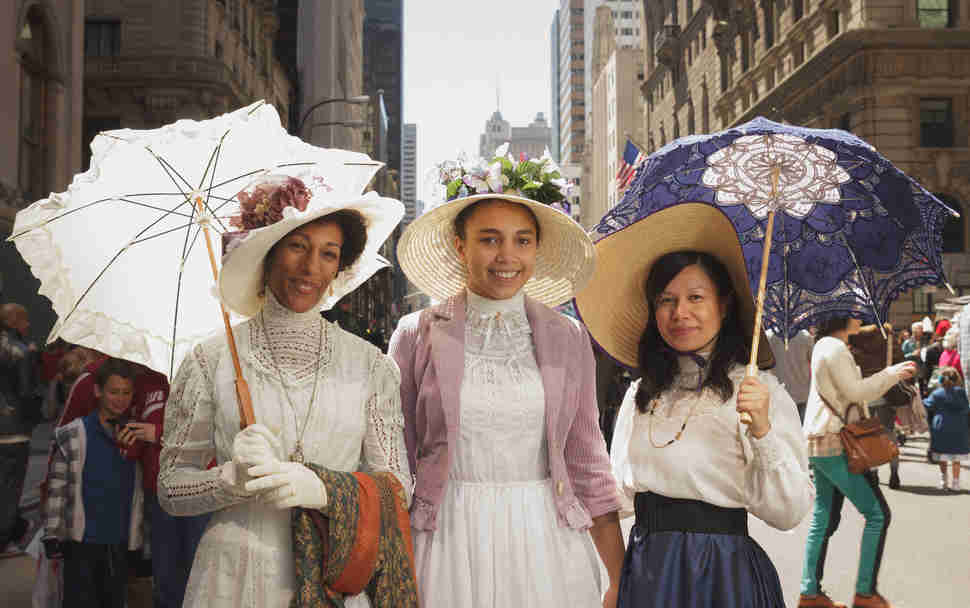 Bunny hop to Easter's biggest celebrations
4/21
Citywide
Easter Sunday in NYC is a choose-your-own-adventure kind of deal: Attend mass at St. Patrick's Cathedral, sport a wacky hat at the Easter Parade and Bonnet Festival, enjoy a massive brunch at Ambassador Grill & Lounge, or take your youngest relatives to an egg painting party in Crown Heights. Play your cards right and you won't have to pick just one.
Cost: Activities range from free to $80; check each event's website for details
4/27
Lower Manhattan
Late-night pub crawls are fun, but the all-day Margarita March? That's what dreams are made of. The self-guided margarita tour, which begins at noon, gives you 10 hours to order a specialty marg from each of the eight participating venues. If noon on a Saturday sounds more like wake-up time than drink-up time, there's some flexibility: As long as you pick up your drink pass by 3pm, you're good to go.
Cost: $65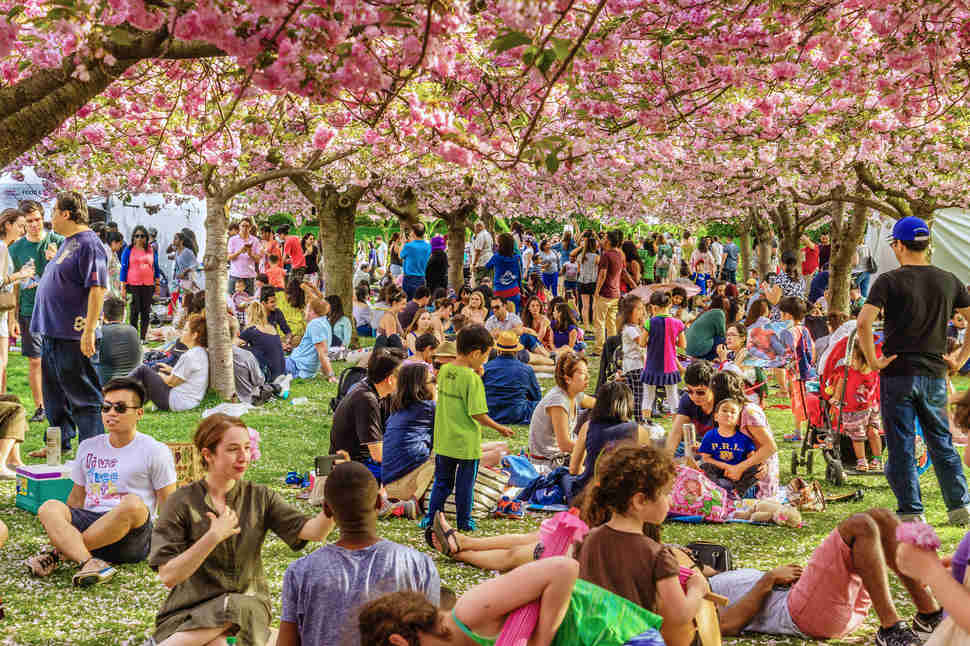 4/27-4/28
Prospect Park
Sakura Matsuri, the Brooklyn Botanic Garden's annual cherry blossom festival, is peak spring in NYC. Celebrate Japanese culture under the bloom of cherry blossom trees with almost 60 performances, demonstrations, and activities to choose from throughout the weekend. If this year's festival doesn't fit into your schedule, keep an eye on the trees' blooming patterns and stop by the Brooklyn Botanic Garden on your own time for some IG-worthy photo ops.
Cost: Check back for last year's ticket prices; the 2018 festival was free for members and $30 for non-members, with discounts available for children, seniors, and students
5/4
Midtown
A fulfilling Cinco de Mayo requires two things: tacos and tequila. Now, you could hit the town to get your fix and end up plastered on a Sunday night -- no judgment -- or you could take Cinco celebrations into your own hands a day early and learn some Mexican cocktail recipes to make at home with friends. The Shake It Up cocktail class will teach you how to make three tequila-based drinks, just in time for you to host a classy night in and flex your new mixology skills.
Cost: $45
5/6-5/12
Multiple locations
The PEN World Voices Festival brings groundbreaking writers and activists from all over the globe to present their work in NYC over the course of a week. Dozens of literary events will pop up around town, each with the goal of sparking dialogue about human rights issues. Catch a panel, discussion, film screening, lecture, reading, or any combination thereof.  
Cost: Most events run $0-20
5/12
Flushing
There are plenty of brunchworthy spots in NYC suitable for Mother's Day morning, but if you're willing to try something a bit different, take your queen to Queens for a farm-to-table garden experience at the Queens Botanical Garden. The menu includes hot dishes from local caterers along with coffee, tea, and assorted baked goods. If you want to really show her you care, stop by the garden a day early and make the mom in your life a fresh flower bouquet.
Cost: $55-65 per adult, $25-30 per child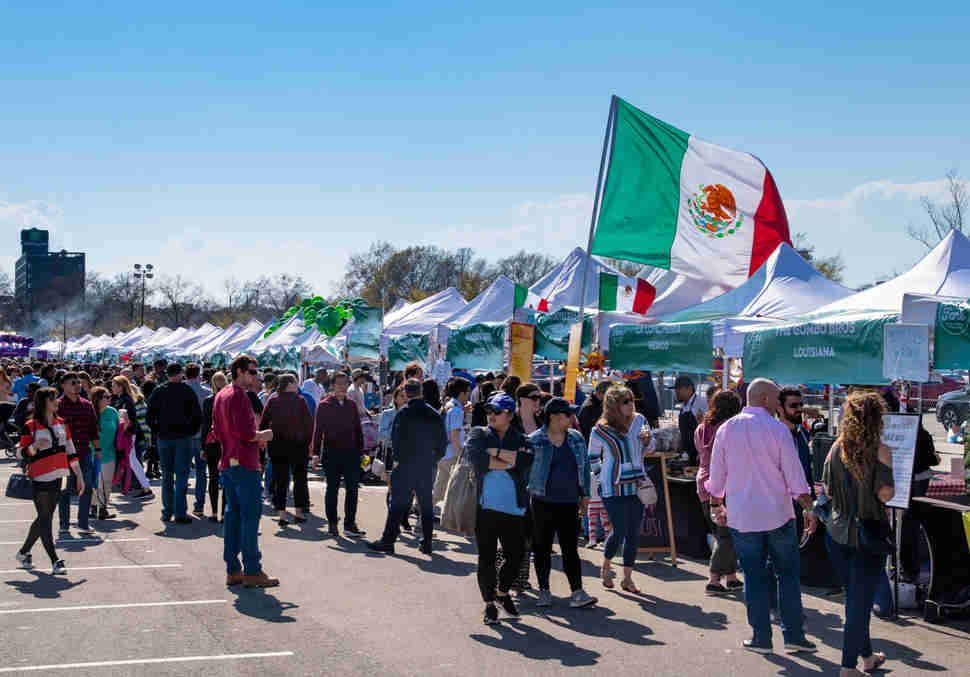 5/18-5/19
Flushing Meadows
NYC's fast-rising international food fair is coming back to Citi Field for a second year, and it's even bigger than before. You'll get a taste of the boroughs' best ethnic foods, access to international brews and cocktails, and entertainment in the form of music, dance, and art at The World's Fare. Admission does not include food, so bring along some extra cash.
Cost: General admission is $19; GA plus 12 beer tastings and one cocktail is $49
5/24-5/27
Midtown
It's easy to forget, when you're surrounded by your bump 'n grind, disco-finger peers, that people in the world actually professionally dance, compete, and win things. This Memorial Day Weekend brings international dancers and instructors to the midtown Hilton for impressive performances and lessons for different experience levels. The schedule includes a blend of workshops, dance shows, live bands, and open dancing with salsa and bachata DJs.
Cost: $50 for single night pass, $150 for day pass, $200 for full pass
6/1-6/30  
Various locations
Fifty years ago, in what would be etched into history books as a major moment in the gay liberation movement, New York City's LGBTQ community rioted in response to a police raid of the Stonewall Inn. This year, the city hosts World Pride, starting on the first of June and ending with the beloved Pride Parade on June 30th. Aside from the usual string of pride-themed events at our favorite gay bars, you can catch Pride's opening ceremony, celebrate queer film at OutCinema, indulge in a colorful culinary fundraiser, and wear your pride flag around your shoulders in any and all public spaces.
Cost: Varies
6/9
Fifth Ave
If you can't make the trip down to PR, the Puerto Rican Day Parade is your next best shot at a mouthwatering mofongo. One of the largest cultural celebrations in the United States, the festivities fill Fifth Avenue with stars, stripes, and triangles, as well as multitude of pop artists, salsa dancing, and traditional cuisine.
Cost: Varies, but definitely bring $10 for the mofongo
6/13
Upper East Side
There are museum goers, and then there are people who just don't really love looking at stuff most of the time. Museum Mile Festival is the ideal time for these types to come together -- at a discount -- to checkout the art institutions along Fifth Ave. Admission is free to seven participating locations, including the Guggenheim and the Jewish Museum. On top of free entry, you'll enjoy chalk drawing, live music, and general block party splendour along the 23-block stretch.
Cost: Free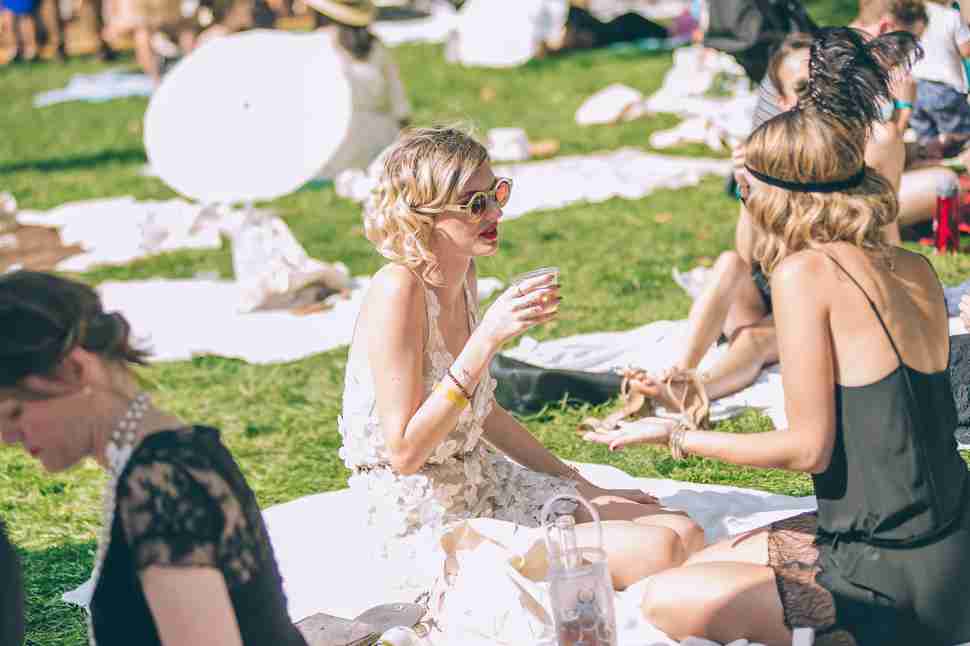 6/15, 6/16
Governors Island
People are really obsessed with this musical lawn party. So is the New York Times. It's basically a jazz-age dance orchestra performance, hosted by Michael Arenella & His Dreamland Orchestra and featuring art deco performances like the flapping Dreamland Follies. Some things to know: Picnicking and outside food are permitted, the event is Prohibition-inspired, but your alcohol consumption will only be restricted if you try to BYOB, and tickets always sell out, so jump on it.
Cost: GA is $40, Children are free!
6/22
Coney Island
Anatomically speaking, mermaid attire isn't the most ideal for parading anywhere -- but that's never stopped New Yorkers from putting on their flashiest fins and marching through Coney Island. Last year, more than 500,000 folks dove into the brilliant floats and clothing designs at the Coney Island Mermaid Parade. This year, the 37th annual event starts at West 21st Street and Surf Avenue, and runs into the sea. Just kidding, it ends at Steeplechase Plaza. Unless Neptune needs you back for dinner.
Cost: Free for spectators
Sign up here for our daily NYC email and be the first to get all the food/drink/fun New York has to offer.