18 Great New York Excuses for Not Responding to a Text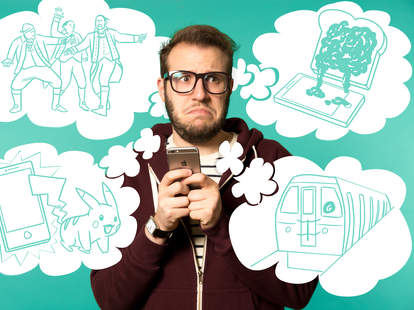 Jason Hoffman/Cole Saladino/Thrillist
New York cell phone etiquette is a peculiar thing. We're a city of people who leave our phones face up on the table through dinner dates; clutch onto them on the subway despite the fact that we're literally underground; and nearly get hit by cars while simultaneously catching Pokémon, ordering Seamless, and crossing the street. Still, as ever-present as our phones may be, we're notoriously terrible texters. Yes, plenty of text messages go unanswered across the country, but there's probably no worse offender than a New Yorker. So, in the spirit of trying to make us all better people, if you absolutely must ignore a text (and sometimes you must), at least have one of these excuses ready:
I accidentally dropped my phone into a cup of nitro cold brew
I was drinking at a speakeasy-themed, barrel-aged-cocktail bar in Queens where they don't allow cell phones. Really, there's a sign.  
I can't afford data anymore because I need to pay rent
I sweat so much waiting for the F at West 4th St that I literally caused water damage to my phone in my pocket
I left my phone on the table at Veselka after losing myself in a 3am pierogi pick-me-up
Sorry, my phone was in my bag -- I was at a Drake-themed hot yoga class
I drained my battery rapidly Tindering off the Lorimer stop
I have abandoned my phone as part of a media fast in order to avoid radical political Facebook statuses from my politically uninformed aunt
I dropped my phone when I collided with a dedicated team of Pokémon Go players
I spent the last six hours waiting for the G train
I was 90% certain I saw Leonardo DiCaprio vaping on my street corner but it was actually my landlord and we ended up in an hour-long discussion about moon landing conspiracy theories
I'm saving my battery for Ubers because I don't remember how to hail a taxi
I dropped my phone because my hands were slippery with avocado toast residue 
I was at a Prospect Heights sake bar that is literally under the ground
My phone died while I was busy copying my Snap Story over to my Instagram Story, so my entire social media audience could see the soup dumplings I just ate
I was busy waiting for Two Hands to call and tell me there was finally room to seat my party on a Saturday morning
I'm saving my battery to continue checking whether or not I've won Hamilton tickets in a series of different online raffles
New phone, who dis?
Sign up here for our daily NYC email and be the first to get all the food/drink/fun New York has to offer.

Eliza Dumais is a Brooklyn native and a generally terrible texter.