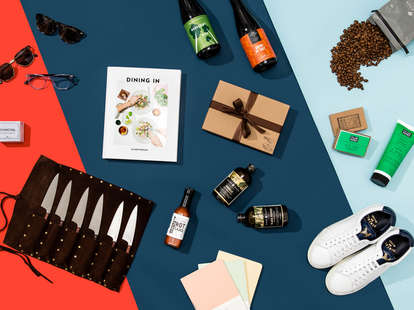 Cole Saladino/Thrillist
Cole Saladino/Thrillist
Has all of the lingering anxiety of 2017 delayed your holiday gift-purchasing? First of all, you're incredibly rude and thoughtless. But also, we've got you covered. This holiday season, wear your New York complex with pride, and get everyone on your list something that's actually made right here in NYC. Spring for chef-recommended culinary tools, an array of locally made food and drink, or philanthropic goods -- and goose your city's economy while you shop. Here are all of the best New York City-made gifts to buy for everyone who made it through 2017 without getting cut from your holiday list.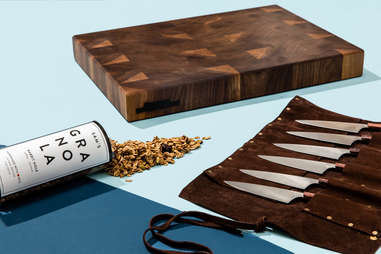 Cutting board from Brooklyn Butcher Blocks
Price: $20-$325, depending on the cutting board
Where to purchase: Brooklyn Butcher Blocks
"I would recommend a cutting board from Brooklyn Butcher Blocks. Nils Wessell puts a lot of love into each board, and they are as smooth as glass when you receive one." -- Alex Stupak, chef/founder at Empellón
Gift card for AfterWork Theater
Price: Your choice!
Where to purchase:AfterWork Theater
"AfterWork Theater is an amazing NYC-based organization that allows literally anyone to be in a show -- regardless of talent or experience. There's a fee to participate, so think ZogSports for theater geeks. They assemble professional directors/choreographers/musicians and put together fully staged musicals, boot camps, and musical reviews -- no audition required. It's a really fun experience and quite unique in NYC. Gift cards can be used for participation, merchandise, or simply attending a show." -- Jon Snyder, founder of Il Laboratorio del Gelato
Sam's Granola
Price: $10
Where to purchase: Online, or at a number of locations including Chelsea Market Baskets and BKLYN Larder
"For the holidays, my favorite gifts are the things that come with heart and soul, and those are items like Sam's Granola. Sam Henderson is an example of a highly skilled fine-dining chef who, at the end of the day, just wants to make simple, healthful, delicious food. And her granola is small-batch, truly local (produced in Bed-Stuy), and the perfect tasty gift for sweet and toasty holiday snacking." -- Simone Tong, chef at Little Tong Noodle Shop
Wet stones
Price: $9.95-$77
Where to purchase: Korin
"Wet stones are always a good idea, and they're actually pretty affordable. Nobody wants to buy them for themselves, but we know we all need them." -- Laurence Edelman, chef at Left Bank
Any of the breads from She Wolf Bakery
Price: $5-$12, depending on the bread
Where to purchase: The Greenmarket at Union Square, 97th & Columbus, Fort Greene, McCarren Park, and 78th & Columbus; or Marlow & Daughters
"I'm a big fan of the beautiful breads from She Wolf Bakery, based in Brooklyn. We use their sourdough for the cheese plate at our restaurant. Not only are their naturally leavened breads delicious, but they also last several days due to their complex fermentation." -- Diego Garcia, partner at Gloria
Grimm Artisanal Ales and Transmitter Brewing beers
Price: $11-$12 for a 500ml bottle, or $15-$18 for a 700ml bottle
Where to purchase: Grimm Artisanal Ales and Transmitter Brewing, or Westside Market
"I spend a lot of time seeking out great craft beer for the Bruno Pizza list, and I especially love when beer and art intersect. Joe and Lauren Grimm were both art students when they started making beer. I especially like the Grimm Kinetic Cloud sour and Super Spruce gose. Anthony Accardi, one of the co-founders of Transmitter Brewing in Long Island City, also has an art background. The F7 Farmhouse Sour is particularly delicious, and the S8 Rice Saison is crisp and sharp. Go to Westside Market on 3rd Avenue and ask for Martin, the in-house beer guru. He'll help you pick out a mix-and-match set of Grimm and Transmitter bottles." -- Demian Repucci, chef/owner of Bruno Pizza
Aprons from Rafter T
Price: $42-$125
Where to purchase:Rafter T
"They use great fabrics and fit nicely. Plus, they're all made by hand right here in Williamsburg." -- Missy Robbins, chef/owner of Lilia
Knives from Chelsea Miller Knives
Price: $650-$800
Where to purchase: Chelsea Miller Knives
"One of the best purchases I have ever made was an amazing Japanese knife, which I have had for over 15 years. When cared for, a well-made knife can last for generations. These chef knives from Chelsea Miller are made by hand in Brooklyn. Chelsea is a second generation blacksmith, bringing powerful elegance to the knives she makes." -- Nick Morgenstern, owner of Morgenstern's Finest Ice Cream
Hometown Bar-B-Que gift card
Price: Your choice!
Where to purchase: Hometown Bar-B-Que
"Hometown Bar-B-Que in Red Hook is a laid-back place with absolutely delicious food. It's my go-to Saturday spot to hang out with friends, and I can never get enough of their tacos and brisket." -- Aldo Sohm, wine director at Le Bernardin and Aldo Sohm Wine Bar
Famous Wool Pullover from Best Made Co.
Price: $248
Where to purchase:Best Made Co.
"Best Made Co. is one of my favorites. Their clothes are sturdy and well-made, the perfect staples for your wardrobe." -- April Bloomfield, chef/owner of The Spotted Pig, The Breslin, The John Dory Oyster Bar, Salvation Taco, and White Gold Butchers
Pat LaFrieda beef
Price: Depends on the cut/weight
Where to purchase: Online
"I am a huge fan of the Pat LaFrieda butcher shop, which has been around since I was a kid. Their beef is our go-to at Black Tap. Anything from there would be an ideal gift for meat lovers!" --Joe Isidori, chef/owner of Black Tap Craft Burgers & Beer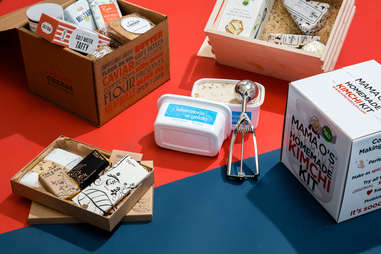 Large Cheesemonger's Choice
Price: $125
Where to purchase: Saxelby Cheesemongers
Allow the boutique Saxelby Cheesemongers to curate a box of artisan and farmstead cheeses, so you don't have to. The wooden gift box comes stuffed with five wedges of cheese (think gooey camembert and goat cheese finished with a blackened rind), a box of olive oil, and sea salt crackers from The Fine Cheese Co.
Katz's Taste of New York
Price: $150
Where to purchase: Katz's
Skip the tremendous tourist-packed line that curls down Houston Street and opt instead to send your out-of-town relatives a package that tastes like quintessential New York: a pound of pastrami, corned beef, salami, rye bread, sour pickles, frankfurters, mustard, sauerkraut, and bagels. It's all of Katz's best-sellers in one box, to be devoured by six to eight people (or fewer -- we're not here to judge).
Mama O's Kimchi Kit
Price: $45
Where to purchase:Mama O's
Having established a reputation for jarring some of the best kimchi in Brooklyn and beyond, Mama O's has decided to give you private access to the back-end with their very own packaged kimchi lab. Containing everything needed to make a fresh batch of original, super-spicy, or vegan kimchi in just 10 minutes prep time, this is the optimal gift for the foodie-turned-scientist in your life.
Fat Witch brownies
Price: Starts at $2.99
Where to purchase:Chelsea Market or order online
A Chelsea Market staple, Fat Witch bakery makes brownies that are the flavor equivalent of a Roald Dahl story: exciting and charming, without resorting to gimmicks. Buy 'em individually or in several gift box options -- and don't forget to buy some for yourself too, even if your name is not Augustus Gloop.
BKLYN Larder's Made in Brooklyn box
Price: $89
Where to purchase:Pick up in store or order online
Send a small piece of Brooklyn to your very un-Brooklyn cousins in the Midwest, so they can really see how sweet it is. BKLYN Larder's Made in Brooklyn box comes packed with house-made treats, including Sam's Granola, Raaka chocolate, Tin Mustard, Stagg's banana jam, and salt water taffy -- all in thoroughly hip packaging.
DeKalb Market Hall gift card
Price: Your choice!
Where to purchase: DeKalb Market Hall
Downtown Brooklyn's City Point complex might not be somewhere you'd usually get excited about visiting, unless you're really into Target and Trader Joe's. But it's also the home of DeKalb Market Hall, featuring an offshoot of Katz's, Ample Hills ice cream, and Wilma Jean fried chicken, among many others. A gift card really is a gift that keeps giving -- to the stomach.
Manhattan Rooftop Honey Flight
Price: $65
Where to purchase: Bee Raw
Whether it's for the tea drinkers, bakers, or just bona fide honey lovers in your life, Bee Raw's Manhattan Rooftop Honey Flight showcases the best of New York's rooftop beekeeping movement. Tucked into the box you'll find four varieties of honey, each from a family-run apiary in a different Manhattan locale: Hell's Kitchen, Central Park West, The High Line, and Harlem. The vials come hand-corked and sealed in beeswax.
Il Laboratorio del Gelato Holiday Gift Pack
Price: $75
Where to purchase: Il Laboratorio del Gelato
The weather may be dismal, but even snow storms and a deep freeze can't put an end to ice cream season. And if there's any ice cream you should be shipping out to friends and family, it's from Il Laboratorio del Gelato. The shop offers over 300 different flavors -- including basil, eggnog, and salted caramel -- and this holiday box comes with four pints of your choosing, a T-shirt, spoons, and a cooler bag.
Anarchy in a Jar condiments
Price: From $8.25
Where to purchase: Anarchy in a Jar
Brooklyn-based Anarchy in a Jar makes a myriad of preserves, jams, and condiments (think grapefruit smoked salt marmalade, salted caramel apple butter, umami shiso fine mustard, and pear jam). They'll make a perfect pairing with slices of cheese, a hunk of toast, or spread on fish and meat.
Fine & Raw chocolates
Price: Individual bars from $8.50, gift sets from $15
Where to purchase:Fine & Raw Chocolate
Crafted in East Williamsburg by a pair of cocoa wizards, these raw chocolates are richer and darker than their dairy-filled counterparts, with coconut sugar and cacao butter producing a hint of caramel. Choose from gift boxes, single art-paper-wrapped bars, or bow-topped boxes of truffles.
Threes Brewing Holiday Gift Kit
Price: $50
Where to purchase: Online or at Threes Brewing in Gowanus or Greenpoint
Choosing the right bottles for the beer lover on your list can be tough, so Gowanus' Threes Brewing has come up with a ready-to-go, easy-to-carry gift set. Available in a few different configurations, the set includes three or five bottles and two beer glasses. We recommend the Grain of Salt, a saison with Amagansett sea salt, brewed specially for Eleven Madison Park.
Greenhook Gin
Price: Bottles from $28
Where to purchase: Find your closest location here or order from Drizly
Gin sure is classy -- the Queen of England still drinks it everyday… and she's 91. So keep your friends in check -- and maybe alive as long ol' Lizzy -- with a bottle of a fragrant and fresh Greenhook Ginsmiths' American Dry Gin, crafted in the heart of Greenpoint.
Small-batch maple bourbon bread & butter pickles
Price: $8.35 per jar
Where to purchase:Brooklyn Brine
Brooklyn Brine may only make their small-batch pickles in Sunset Park, but the team ships nationwide, so you can share that crisp tang with your loved ones who are used to phony, very un-New York pickles. These bite-sized pickle chips straddle the line between sweet and sour, with a sugary fix from the maple syrup with a boozy kick from Finger Lakes Distilling's McKenzie bourbon.
Russ & Daughters New York brunch
Price: $115
Where to purchase: Russ & Daughters
Brunch is more than just a lifestyle in New York -- it's almost woven into our soul. And what's more quintessentially "brunch" than smoked salmon and bagels from Russ & Daughters? The historic Lower East Side deli ships this brunch box nationwide (packed with nova, cream cheese, bagels, chocolate babka, coffee, a mug, and tote), allowing the classic New York brunch to escape the island.
Morris Kitchen cocktail mixers
Price: Individual bottles start at $10
Where to purchase:Morris Kitchen
The craft cocktail epidemic is both blessing and curse: fun to drink, hell on your wallet. Help your friends out this year by gifting them cocktail mixers from Morris Kitchen so they can partake in drinks other than whiskey-gingers, affordably.
Seed + Mill tahini
Price: $10 per jar, or two for $18
Where to purchase: Chelsea Market or order online
Here's what you get for your friend who is obsessed with alternative nut milks: Seed + Mill's organic tahini. Made from ground sesame seeds, tahini can be added to smoothies, baked into sweets, eaten on its own, or drizzled over pretty much anything (or anyone, with their consent).
Widow Jane Four Bottle Cigar Box
Price: $95
Where to purchase: Widow Jane
You could easily walk by the Widow Jane distillery without noticing -- it's tucked away in an unassuming factory in Red Hook -- but you'd be missing a trick, because inside they're making the finest farm-to-bottle, small-batch bourbon whiskey in NYC. This gift set comes in a wooden cigar box with four bottles: Bloody Butcher, Bloody Butch High Rye, Wapsie Valley, and chocolate malted barley bourbon.
Hard cider-making kit
Price: $40
Where to purchase:Brooklyn Brew Shop
Brooklyn Brew Shop launched in 2009 with a simple mission: to create a home brewing movement in the unlikely setting of NYC-sized apartments. With the holiday season in mind, they've created a cider kit, to help you make the most of an apple-picking trip outside the city. And if you're not sure which apples make the best cider, we've got you covered.
Brooklyn Grange hot sauce
Price: $16 for two bottles
Where to purchase: Local retailers (like Bedford Cheese and Lula Bagel) or order online here
Hot sauce is an essential for every kitchen, and lucky for New York, Brooklyn Grange is producing two distinct, addictive flavors on the rooftops of Brooklyn's Navy Yard. Made with a delicate mix of farm-fresh peppers, organic vinegar, and New York pride, the red and green sauces are guaranteed to add spice to your Christmas shopping list.
Blank Slate simple syrup sampler
Price: $50
Where to purchase: Blank Slate Kitchen
Founded by acclaimed chef Alex Sorenson (formerly of Colonie), Blank Slate brings restaurant-quality ingredients into the pantries of everyday people (that's us). The Syrup Sampler collection is a sophisticated gift for the home cook (or cocktail connoisseur), that comes with four flavors: bird's eye chili, black pepper, vanilla, and palm sugar.
Toby's Estate coffee beans
Price: Bags from $13.75
Where to purchase: Pick-up at any Toby's Estate Cafe or order online
You don't have to be coffee-crazy to appreciate Toby's Estate's ethically sourced, single origin blends, but if there's a caffeine addict on your list then look no further. From the full-bodied bitterness of the Manhattan Blend to the orange blossom sweetness of the Bedford Espresso Blend, these beans make the morning routine a whole lot tastier.
Soft pretzel and beer cheese kit
Price: $25
Where to purchase: FarmSteady
The holiday season may warm your heart, but your belly needs warming, too. There's no better way to do that than by gathering your closest friends and making homemade pretzels and beer cheese. FarmSteady, part of Brooklyn Brew Shop, helps New Yorkers say auf Wiedersehen to the biergarten and guten Tag to some homemade carbs in the comfort of your own kitchen.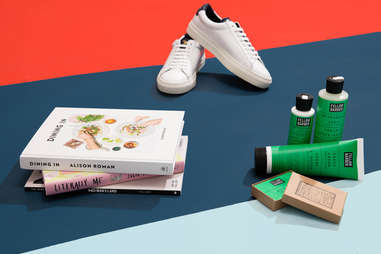 No Man's Land Issue 01
Price: $18
Where to purchase: The Wing Shop
The Wing -- the city's premiere female-only co-working space/girl gang haven -- has finally come out with the first edition of its brand new imprint No Man's Land, and it is in everyone's best interest to get and give as many copies as possible. Read a personal essay from Remy Ma, a Q&A with a Girl Scout cookie-selling mogul, and notes on Nora Ephron's best cake recipes, all in an oh-so-pretty publication.
Tenement ornament
Price: $19
Where to purchase: Tenement Museum Shop
If you've already shattered a number of your hosts' glass orb ornaments this season, you can certainly make up for it with this fire escape model. Nothing says Christmas (and New York) like laundry drying out the window of a fourth-floor tenement walk-up (in ornament form).
Boob planter
Price: $65
Where to purchase: Group Partner
Apparently, plants make people happy (or less actively sad), so do your friends a solid and invest in their mental health with this naked boob planter. Crafted by small-scale Brooklyn ceramic company Group Partner, the pots come in multiple skin tones and a spread of different bathing suits (we like the banana suit best), if you don't want a pair of naked boobs staring out from your coffee table (for some strange reason).
Fellow Barber Shave Regimen Kit
Price: $64
Where to purchase: Any Fellow Barber location or online
Let's get one thing straight: Shaving sucks. Nobody wants to drag sharp pieces of metal across their chin, but it's a reality most men face every day. Make it a whole lot more bearable for that hirsute special-someone with a high-quality kit from Fellow Barber, including shaving cream, aftershave tonic and lotion. Pro tip: Add a gift certificate to Fellow Barber for a fresh cut as well.
Simple Fare cookbook
Price: $35
Where to purchase: Simple Fare
In a nutshell, Simple Fare is coffee table food porn. The large-format, soft-cover book is filled with beautiful food photography, delectable seasonal recipes (like roast chicken with fermented lemon and black garlic) and clever illustrations. It's the winning gift for the wholesome, market- fare-driven chef, or the Seamless-devoted collector of coffee table literature.
Bibliotherapy session
Price: $200 per session
Where to purchase:A Novel Approach
Unlike traditional talk therapy (which would not be an appropriate gift), NYC's resident bibliotherapist only requires one session with each of her clients. At the end of the appointment, in place of a Xanax prescription, she offers her clients a 12-book reading list, based on what she has determined about their current circumstances. As an upgrade, spend an extra $100, and have the center mail your loved-one a book from their prescribed list every month for a year.
Alison Roman's Dining In cookbook
Price: $30
Where to purchase: Your favorite local bookstore or online
If you've got a friend with a viral food Instagram, odds are they've taken a tip or two from Alison Roman (whether they know it or not). The cookbook, filled with writing from Roman herself, is packed with go-to cooking tips, impressive food photography, and personal stories -- in addition to a roster of home-cooking recipes, of course.
Broad City sex toys
Price: Vibrators start at $17
Where to purchase:Love Honey
This holiday season, give the ones you love what they most deeply desire: a sex toy designed by the lovely ladies of Broad City. Choose from a range of options including the pink Yas Queen vibrator, the Mind My Vagina water-based lubricant, or the pocket vibrator disguised as a lipstick, and make some lucky soul very, very happy.
Dot Mugs
Price: $35
Where to purchase: Recreation Center
It's no use having a holiday hot drink if you don't have a good mug to drink it from. The handcrafted ceramic mugs from Recreation Center have yellow rubber-encased handles and a charming speckled gray/polka dot glaze. It's the perfect excuse to banish that freebie TD Bank mug to the back of the cupboard, once and for all.
Sweet Nothing choker
Price: $154
Where to purchase: Catbird
Jewelry is a sure-fire hit when it comes to gifts, but it can be difficult to settle on the best (affordable) piece. Brooklyn's Catbird has the solution: delicate, locally-made pieces in simple, striking designs. The staff, both in person and over the phone, will do everything they can to help you actually feel confident in your purchase, without breaking the bank.
Custom Stick & Poke Tattoos
Price: Starting at $100
Where to purchase: Bluestone Babe
Why give temporary gifts like apparel and jewelry when you can offer your friends something that literally lasts a lifetime? Bluestone Babe is Brooklyn-based artist who can make an impressively detailed (and painless) stick and poke tattoos for your loved one as a gift. All you have to do is email her and arrange accordingly.
Nitehawk Cinema gift certificate
Price: Your choice! (But the minimum is $25)
Where to purchase: Nitehawk
Most folks will gladly spend a few hours in a cushioned movie theater seat watching a film of their choice while waiters dart in and out, bringing gourmet food and cocktails. So for the friend you have no idea what to get, settle on a Nitehawk Cinema gift card. They'll get to pick their own menu items and choose a movie -- both new and old flicks are screened at the vintage-styled Williamsburg theater.
Literally Me by Julie Houts
Price: $25
Where to purchase:Indie Bound or a local bookstore
You'd be hard-pressed to find someone who won't enjoy this book of hand-captioned illustrations by hilarious Instagram celeb Julie Houts. Not only is every page laugh-out-loud funny, but the clever, self-deprecating caricatures are almost guaranteed to resonate with you and/or your gift-receiving peer.
Wine & cheese 101 tasting course
Price: $90
Where to purchase:Murray's Cheese
Drinking wine and eating cheese are two of life's simplest pleasures, so treat your favorite hedonist to a two-hour session at the iconic Murray's Cheese in the West Village. They'll get to explore their palate, navigate pairings, and, naturally, consume copious amounts of wine and cheese.
Kinfolk x Zespa sneaker
Price: $280
Where to Purchase:Kinfolk
Teaming up with celebrated French sneaker brand Zespa to inject some French suave into their laid-back New York style, Kinfolk has crafted a fashion-forward sneaker we can't stop looking at. With a snow-white body, navy tongue and insole, and gold embossed lettering, these shoes are the gift to toss your friend who probably already has three pairs of white sneakers, but is always on the hunt for more.
Washington Square Watches
Price: $155
Where to purchase: Washington Square Watches
Every New Yorker should wear a watch. Why? What if your phone dies, what if there's another blackout, what if the only clock you can find is that disastrous one with a thousand digits in Union Square? Named after some of the most iconic spots in the city, Washington Square Watches are a blend of modern minimalism and sleek New York cool. So no matter what borough or hood your giftee reps, know they'll always be on time with this timeless gift.
The Brooklyn Kitchen cooking class
Price: Classes start at $95
Where to purchase: Brooklyn Kitchen
Brooklyn Kitchen offers an actually enjoyable cooking class for both your most and least culinarily accomplished friend. Attendees will sip wine, socialize, and make their way through recipes of their choice with hands-on, step-by-step instruction. Choose from courses in dumpling-making, cocktail prep, Italian sauce, or even a Julia Child-centric masterclass.
Dapper Dentist tie
Price: $89
Where to purchase: Jacques Elliott
Events and parties run rampant at this time of year; luckily Jacques-Elliott crafts ties that make it easy to look the part. The Dapper Dentist variety, with multicolored dots on a sleek black fabric, is a balanced combo of "Yeah, I'm festive" and "No, I don't need another freaking tacky Christmas sweater party."
For All Womankind illustration poster
Price: $45
Where to purchase:For All Womankind
Two reasons to put this poster on your shopping list: A) significant portion of the proceeds goes to a woman-oriented organization like The Center for Reproductive Rights or Emily's List; B) it's darn pretty.
Warby Parker sunglasses
Price: Starts at $95
Where to purchase: Online and in Warby Parker locations around the city
"Almost one billion people worldwide lack access to glasses, which means that 15% of the world's population cannot effectively learn or work," say Warby Parker, the company that distributes a pair of glasses to someone in need for every pair they sell. And while in New York, sunglasses are typically used to say "don't freaking talk to me," a pair of Warby sunglasses is also saying "I actually do care about the other 7 billion people on this planet (but still don't talk to me)."
New York Woman T-shirt
Price: $40
Where to purchase: Prinkshop
For the New York woman in your life (we hope there are several), this tee is a guaranteed hit. Hand-printed by the badass female artists at Prinkshop, the classic news-font stamped shirt will get plenty of wear. And better yet, Prinkshop donates 30% of proceeds to Lady Parts Justice. New York women, rejoice!
Embossed Public Supply notebook collection
Price: $86
Where to purchase:Public Supply
As any self-respecting writer, reader or daydreamer knows, there is no such thing as too many notebooks. So rather than madden yourself over selecting the perfect journal color, spring for a box set of the sleek, minimalist books from Public Supply. Each collection comes with six embossed paper notebooks in a spectrum of colors (the site offers just about every Pantone imaginable), and Public Supply will channel 25% of the profit into a fund for teachers in underprivileged high schools.
Charcoal bar soap
Price: $20
Where to purchase: The Adventure Project
If you've ever thought about gifting coal to your ex, you actually can this holiday season, with Apotheke's charcoal soap. It's made with bamboo charcoal powder (a natural disinfectant) and infused with coconut, olive, and organic palm oil. The best part? For each soap purchased, a woman in Kenya is given a charcoal stove, a huge asset that prevents her from spending time collecting firewood and inhaling smoke from open fires, which kills 4 million women and children per year. So even if that lump of coal is targeted at someone who's been naughty this year, at least a Kenyan family can benefit.
Planned Parenthood donation
Price: Your choice!
Where to donate:Planned Parenthood
If there's anything we've learned over the past year, it's that Planned Parenthood can use donations more than ever. Instead of purchasing that unremarkable bottle of wine (again!), give a more meaningful and actually (re)productive gift: an honorary donation in someone else's name (it can be a one-time payment or monthly).
Sign up here for our daily NYC email and be the first to get all the food/drink/fun New York has to offer.