The Actual Salaries of Hot Dog Vendors, Subway Conductors, and Other Quintessential NYC Jobs
<a href="http://www.shutterstock.com/gallery-51987p1.html?cr=00&pl=edit-00">Vladimir Korostyshevskiy</a> / <a href="http://www.shutterstock.com/editorial?cr=00&pl=edit-00">Shutterstock.com</a>
You already know that New York is a bonafide ant farm, and we are but ants boroughing through the streets and busting our asses every day so that we can buy things like cheese and reclaimed wood furniture. So there's no doubt that while working your 9-5, or 10-6, or odd hours on the weekends, you've thought about how much others in New York make -- especially those New Yorkers doing quintessential New York jobs -- like cab drivers, subway conductors, and hot dog vendors. Really, how many hot dogs does that dude have to sell to pay his rent?
Well, we found out. And guess what? A lot of them make more money than you. Now please excuse me while I update my LinkedIn profile.  
 
Horse carriage driver
$40,000-$100,000
Yes, that's a major gap. But it's from the horse's mouth! It can even be more, depending on whether or not you own it (and are thus able to avoid fees). And of course, how many trips around the park your noble steed makes, weather, and time of day all play pretty enormous factors. Ideal scenario for most tips: sunny day + engagement in the carriage is a success + 15 trips minimum.  
 
Cab driver
$33,346
Now obviously, if you really bust your ass like this guy did, working 12-hour shifts five days a week, it can be closer to $85,000. But for the most part, shifts tend to be about half of that. Either way, given some of the terrible riders these guys have to endure, this could arguably be the worst deal in the city.
 
Uber driver
$40,000
Uber claims its drivers in NYC make an average salary of $90,000, but that was apparently total bullhonkey. For one, that doesn't factor in the expenses -- and there are a lot of them. From the rental price of the car (if they don't own it) and insurance to gas, tolls, and the occasional maintenance (those cars DO always smell nice), we're talking thousands per month. Now do the math now you know why that 90K is basically cut in half.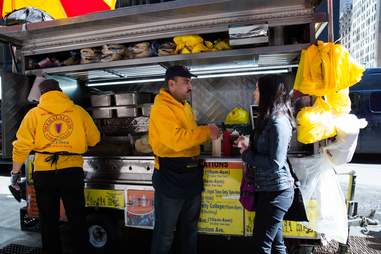 Sarah Anderon/Thrillist
The Halal Guys
$100,000 (2.37 million gross)
So this one is mostly a rumor, but it's fair to assume that one of the biggest success stories in New York brings in a lot of cash. We may not know the exact figure, but the carts and brick & mortar locations are always open (365 days/year), and are considered a New York staple while still being affordable, meaning they have locals and tourists on lock.
 
Hot dog vendor
$100,000
Yep, as we've already told you, these guys make bank. But they have to sling a lot of wieners -- like 200 a day -- to hit that number. Meaning, your cart better have a money spot.
 
MTA subway conductor
$65,000-$100,000
Conductors reportedly start around $20/hr, and tend to make most of their money in overtime. To make near the 100K mark, they have to get that time and a half for 12 hours a day pretty much every day and have no life outside of work. So in other words, just your average NYC job.
<a href="http://www.shutterstock.com/gallery-487966p1.html?cr=00&amp;pl=edit-00">Debby Wong</a> / <a href="http://www.shutterstock.com/editorial?cr=00&amp;pl=edit-00">Shutterstock.com</a>
A Rockette
$78,000
Getting a coveted spot in the lineup is nothing short of impossible, and the schedule is no picnic (five shows a day!), but it can pay off. And according to a Radio City Music Hall show producer we talked to, the seasoned Rockette dancers -- i.e. the ones who have been kicking it for several Christmas Spectaculars -- can make up to $200,000 annually.
 
A stagehand
Up to $400,000
You heard us. Stagehands reportedly often surpass what some of the show's stars make. But before you go filling out your applications, we're talking about the ones who are in charge of the sets for the big guys like Carnegie Hall, Metropolitan Opera House, Koch Theater, Samuel J. Friedman Theatre, and Radio City.
Sign up here for our daily NYC email and be the first to get all the food/drink/fun New York has to offer.
Liz Newman is a freelance writer for Thrillist, and will soon be pursuing a new career as a Halal Guy. Follow her journey on Twitter and Instagram at @lizn813.