Lesbian bars are on life support. New York City has four -- four more than you'll find in Los Angeles, Boston, Washington, DC, and Philadelphia. Combined. Blame the internet, which made it easier for LGBTQ people to meet potential partners without a dedicated physical space. Also, straight people are increasingly comfortable with queer-friendly spaces in general, so same-sex couples aren't restricted to the windowless, dungeon-like hiding spots LGBTQ folks were relegated to during your parents' lifetime. Yes, things have gotten much better. But when you're part of any minority group, sharing a space with people who share your identity is priceless.
Roving parties and pop-ups for lesbian, bisexual, and queer women in New York City aim to solve a problem all adult New Yorkers face: making friends. Even in the mainstream, that's a challenge. It's even tougher to find and genuinely connect with people who share your minority sexuality, especially when events catered towards LGBTQ people are often about drinking, dancing, and hooking up. You don't go to a weeknight party called Choice Cunts to make a cool new queer pal.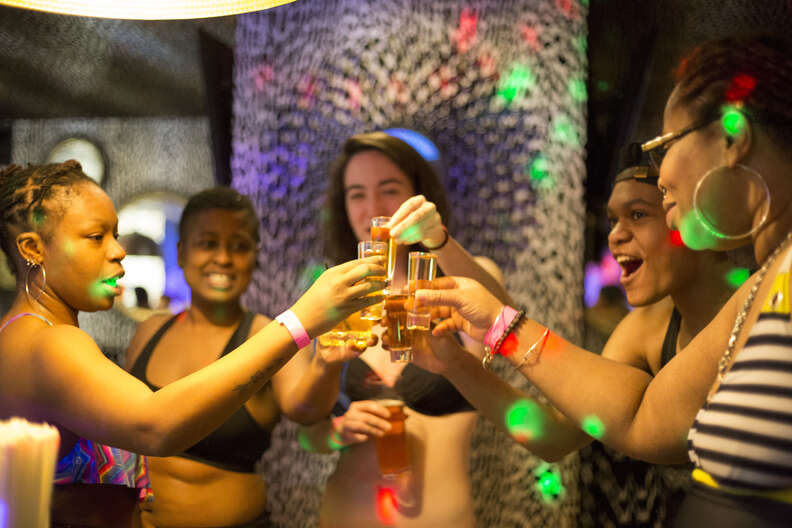 Lesbian parties revive LGBTQ nightlife
So at 10pm on a Wednesday night, I find myself floating on an inflatable rainbow unicorn in the pool at a Times Square hotel. Pink lights illuminate women of all ages, backgrounds, and (apparently) relationship statuses as they slink into the small but festive body of water.
"This is the most L Word I have ever felt," my friend chirps over the sound of a song by some lady-fronted pop band streaming from the DJ stand. We agree that this, LezSwim, is definitely better than the summer we spent pretending to get along with the (much older, at the time... not so much now) cast members of The Real L Word in the backyard of Metropolitan. In some ways, the party seems too good to be true: It's the type of casually queer women-only gathering that seems to only exist in the fantasy of premium cable TV. And yet, this type of ticketed, roaming gathering exclusively for LGBTQ women is popping up across the boroughs, led by people who feel passionate about community and friendship.
You don't go to a weeknight party called Choice Cunts to make a cool new queer pal.
This party is distinctly different from other lesbian-specific nights at bars, like Hot Rabbit, Misster, or Lesbo-a-GoGo (RIP my youth) -- for the most part, attendees are here to make friends rather than hook up. Or, at least, to spend a few hours with folks in a safe space amid an otherwise straight environment. Expanding their network and social circle of LGBTQ women is a bonus.
"A lot of people are moving away from traditional parties -- it's so much fun to be around gay women outside of a party club scene," says Simone Davis, the 32-year-old Bushwick-based organizer of Girl Social, which hosts LezSwim, as well as LezzerTag, LezBrunch, and other lesbian events. She considers her Girl Social's events to be a type of "adult recess" that allow LGBTQ women to unwind, to play. "Mental health for queer people is a big deal: LGBTQ people suffer from a lot more [mental health issues] at higher rates," Davis says. And something as simple as a "shared experience" can slake that stress.
Ladies move offline and back into the real world
Pre-Tinder, lesbian-dedicated spaces were primarily hookup joints. This new, growing circuit of pop-up parties and socials prioritizes community over going home with the cute girl you've been stalking on Instagram (but that can happen, too). The guests at Girl Social's events include groups of friends, couples, and solo attendees. At LezzerTag, Davis has guests wear name tags, and those who are single (and looking to mingle) can add a green dot below their name. "If you tell me you're shy, I'll introduce you to people or set them up to talk with one of my bubbly friends," Davis says. "The whole point of this event is to come make new friends -- whether you're single or otherwise."
Davis likens her daytime and evening events to others around the city: Babetown, Queer Bazaar, and many more. Events catering to specific interests and hobbies like dining, drag, bowling, or dancing, make it easier than ever to meet and befriend like-minded queer women in dedicated spaces. "It's almost a natural progression of people really coming into their queerness, and queerness being more accepted in society," she says. "We're coming out of nightlife and want to do things in daylight."
Pre-Tinder, lesbian-dedicated spaces were primarily hookup joints.
Babetown is a broad daylight (and often later) pop-up brunch and dinner series lead by Alex Koones, a 29-year-old Dumbo chef who has worked for Jean-Georges among other restaurants. "I'm not always good at expressing emotion, so I feed people instead," says Koones, a self-described lifelong party-thrower. In 2011, she started Brunch Me Baby, a donation-based, BYOB, bi-weekly queer pop-up.
The series paused when Koones moved to New Orleans (home to zero lesbian bars); but after returning to Brooklyn, she resurrected Babetown in 2016 as a ticketed event. Two years later, spots sell out fast. "I can't get my head around how big it's become," she says. A connection through Girl Social helped Koones find a space (a hurdle to accomplishing anything in New York City) to host her meals. Her first menu consisted of comfort food like brisket and roasted carrots, co-prepared by her mom.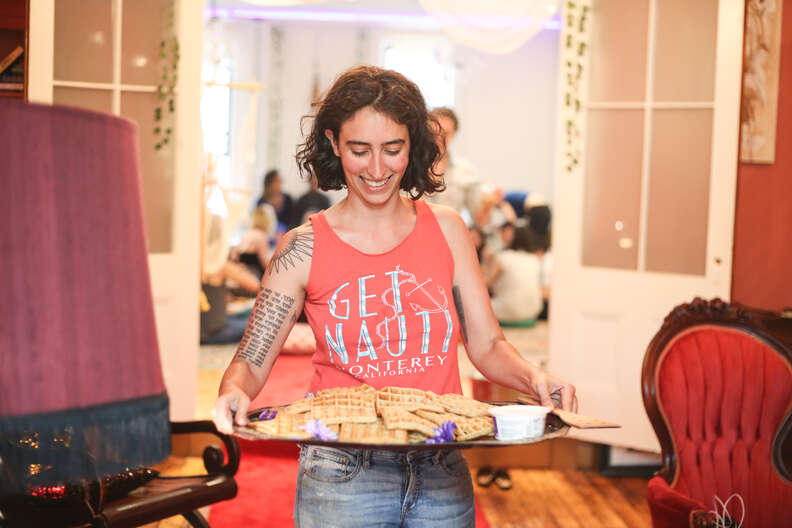 Twice a month, Babetown's events include such draws as a whiskey tasting, a vegan BBQ, "Babesgiving," a Passover Seder, tasting menu-style dinners featuring up-and-coming queer chefs, game night, and a Long Island pool party. Volunteers who open their homes to the pop-ups are given comp tickets. Similar to Girl Social's events, the crowd is a blend of young professionals, creatives, singles, and couples of various backgrounds and ages.
"People have been able to come alone and make a million friends. It's very nice," says Koones. "We try to put people in an environment to be their best selves. It's all about broadening the community." Koones is planning a video series where she'll demonstrate how to host a Babetown-esque event. "We're moving away from just dancing and drinking," Koones says, noting the range of events she's seen lately: an open mic, a softball night... and the "power lesbian experience" at Ellis Presents.
Ellis Presents was founded last year by four 20-something women, and it's a different sort of model. Invite-only, Ellis seems to deal in exclusivity, a twist in this proudly inclusive community. The concept is reminiscent of
The Dalloway
, a swanky SoHo gastropub run by
America's Next Top Model
's Kim Stolz and
The Real L Word
's Amanda Leigh Dunn from 2012-13. The Dalloway remains ingrained in my and other queer women's memories (informal survey) as being pretentious and elitist, with the best sections of the bilevel bar often reserved for the owners and their well-coiffed, well-funded friends. Even we fancy New York lesbians (hi!) don't always jive with a haughty scene.
After graduating from college and returning to their native New York, Ellis founders Kelsey Hunter and Sage Fuchs (who are a couple), and Jane Goldstein and Blaire Preiss (who are also a couple) wanted to meet queer women like them. They found the two lesbian bars in the West Village weren't quite the right surroundings. "We wanted to make friends," Goldstein, a 24-year-old who works in marketing, emphasized to me when I met with the four co-founders in Fuchs and Hunter's stylish West Village apartment.
This is the "power lesbian experience."
"Other queer women friends," specified Preiss, 23, who works in talent management. She noted the difficulty of meeting other queer female pals in spots traditionally designed for hookups, especially when you're coupled.
"We love going to the lesbian bars," Goldstein says. "But we wanted a new, fresh environment where no one felt like it was their turf. Taking people away from the space they're most comfortable in can encourage people to be open and meet one another." Ellis started with a list of 200 invitees. That roster of potential guests has ballooned to more than 2,000, just by word of mouth. They've hosted an East Hampton bonfire beach party, a movie night, a secret concert, and in April, a one-year anniversary gathering.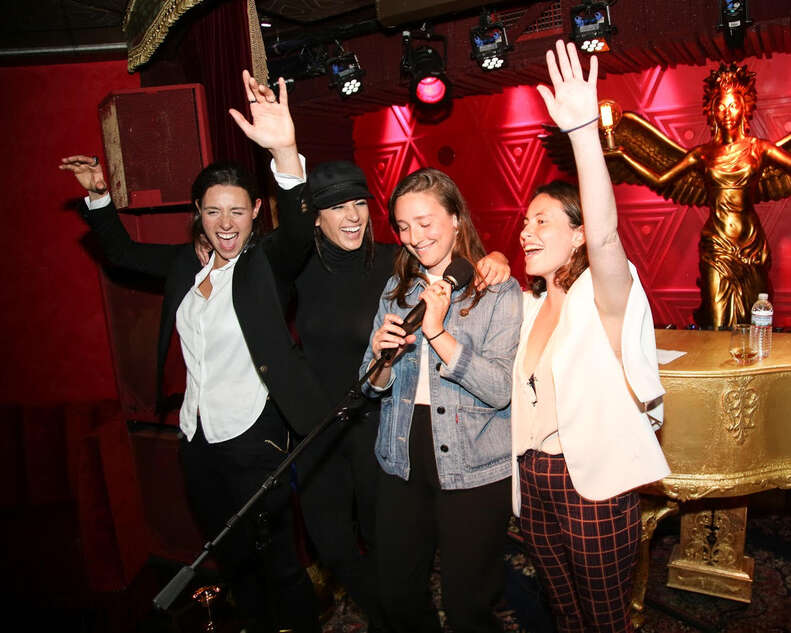 Barbra Silvosa became friends with the Ellis founders after scoring her first invite from a friend who was handling the collective's PR at the time. "It's not something that excludes people, but rather, gathers like-minded girls in cool venues," says Silvosa, noting that she likes how each event is distinct and yes, exclusive-feeling. "I expected it to be the same as the other girl parties, but Ellis was different. The crowd is definitely friendlier and more attractive, and the Ellis hosts are so welcoming and warm."
Allie Shulman, a 27-year-old Brooklynite who works in the music industry, discovered Ellis via Instagram. When she was invited to a rooftop party, she was skeptical. "I wasn't really keen on going at first," she says. "There had been so many people trying to put on the 'next best lesbian party,' but after going to a few, they all seemed the same: late-night drinking in a dark room, not really getting to know anyone else."
"It reminds me of The L Word."
Finally, during a bout of gorgeous weather and feeling especially single, Schulman made the trip to the rooftop and found herself entranced. "Ellis events offer an atmosphere that encourages people to talk to people you don't know," she says. "I don't really know how -- maybe because at Ellis you're at a great location with like-minded people. You don't want to go in and out or leave early like other bars. There's always a desire to go to the next one. It feels good to be able to walk into these events and see people who you've seen before."
Tali Schwartz, a 25-year-old photographer living in Brooklyn, scored a first-round invite to Ellis last year. "It kind of reminds me of The L Word, how all the lesbians end up connecting because we know someone that knows someone else that invited you to Ellis," Schwartz says. She scored her invite by chatting up Hunter and Fuchs in a West Village pet shop, proving that, truly, any space can be a queer space for making friends.
Sign up here for our daily NYC email and be the first to get all the food/drink/fun New York has to offer.
Melissa is a writer based in Brooklyn. Most nights, she hosts her own lesbian social club called order takeout and stay home.