Start spreading the news: New York City consumes more marijuana than any other metropolis on the planet. We're top of the list, king of the hill, a-number-one, know what I'm saying? According to a recent study, we smoke, vape, and swallow in gummy bear form 77.44 metric tons of cannabis a year. That's twice as much as those lightweights in LA, and 12 times more than the supposed Mile-High City of Denver. And gangsters that we are, we accomplish this with weed still being mostly illegal in our state. Yes, we do have a medical law, but it does not account for any kind of combustible green matter. So that means that all that hazy/skunky smoke that drifts down our streets from the Bronx to the Battery is technically being blazed on the sly.
 
Recommended Video
Turn Your Old Fruit Into Booze With This New Gadget
And where is all this weed coming from?
While street dealers still exist (as any walk through the northwest corner of Washington Square Park can attest to), these days delivery services are the dominant retailers on the scene. In my experience it's always been a hipster with a padded briefcase filled with rectangular plastic boxes containing precious dried buds and other sundries. And it ain't cheap. Through a process of forensic analysis and examination of empirical data (read: I called my guy Kyle), I have concluded that kind bud goes for about $50-$60 for 3 grams, 1-gram cartridges of oil run up to $100, edibles like chocolate bars and cookies are $10-$25 depending on the size, and three "big, potent" gummy bears can be purchased for $20.
According to Kyle, the majority of the product comes from California, which has seen marijuana prices drop in recent years due to an overabundance of supply. Growers seeking greater compensation for their wares are feeding the black markets in non-legal states, and New York City has been only too happy to take that burdensome kind bud off of the left coast's sticky hands. In fact, there is so much quality marijuana looking for a home in New York City that door-to-door pot services are popping up all over. "I'm not sure why... maybe the TV show High Maintenance?" Kyle reckoned. "It seems to be a normal thing to have a delivery guy. I've even heard of a few services that have apps where you can schedule your delivery."
How do you get a number? Siri can't help you here. Usually someone has to introduce you to a service in some way. Statistics vary, but it is said that anywhere between 8 and 12% of New Yorkers smoke pot, so chances are you know someone, or know someone who knows a guy who used to date a girl whose brother goes to a lot of Phish concerts... You get it, right?
But what about the medical stuff?
Unlike, say, Venice Beach, California, where buxom nurses in pot-leaf emblazoned uniforms stand on the boardwalk offering to help you get your pot prescription, medical marijuana in New York is pretty serious business. However, it's not too difficult to get approval. The New York State Department of Health website is extremely helpful and contains a list of 1,557 certified doctors who can help you get started. Conditions which qualify one for the program include cancer, HIV infection or AIDS, ALS, Parkinson's disease, MS, spinal cord injury, epilepsy, IBD, neuropathy, Huntington's disease, chronic pain, or posttraumatic stress disorder. Once you get the recommendation, Jah willing, you can get a card in as little as a week. Voted into law back in 2014, the program currently has 50,483 registered patients who are served by 20 dispensaries throughout the state.
When we asked Ken Weinstein of Cannabis Doctors of New York whether he encounters people trying to fake their way into pot scripts, "No!" was his emphatic response. "There are a lot of people with chronic pain who want to get off opioids and NSAIDS," he explained. "They tell me they don't want to get high. Since there is still so much stigma attached to cannabis, people often come to me as a last gasp. They have tried everything else, and nothing has worked."
What can I buy with a medical marijuana card?
A New York medical card only enables you to purchase oil, capsules, and tinctures of varying strengths and THC/CBD ratios, as well as topical ointments and transdermal patches. (One company we spoke to, Etain Health, is introducing a water-soluble powder.) There's no Sour Diesel, Purple Kush or Green Crack on the menu, and prices for legal cannabis in New York tend to be higher than that for equivalent but unregulated products available on the black market. So you might want to think twice before you go through the effort of trying to convince your doctor that you need a pot prescription to help you cope with the impending Summer of Hell II. And it's bad news for all you green thumbs out there -- growing weed at home, even if you have a medical marijuana card, is still illegal.
Where can I find weed dispensaries in NYC?
Dispensaries serving New York City include Columbia Care and Etain Health in Manhattan, Pharmacannis in the Bronx, and Vireo Health in Queens. But stop the presses! On April 20, 2018, a newcomer hits the scene. MedMen, the supposed billion-dollar marijuana chain store, opened a flagship location on Manhattan's Fifth Avenue. And while the 2,000-square-foot Apple Store-ish space in Midtown is undoubtedly meant to announce the mainstream arrival of the world's most ostracized plant, old-school New Yorkers might find irony in the fact that it is located a block from Bryant Park, a place where, in the pre-Giuliani years, intrepid stoners used to purchase dime bags of weed, or, as was sometimes the case, very expensive oregano.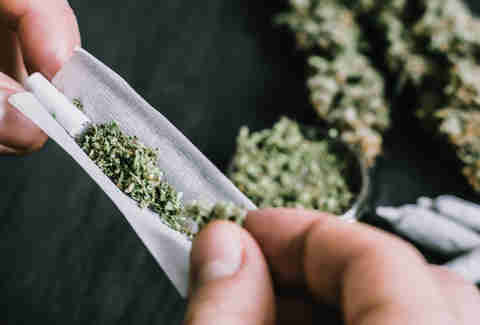 I used to sling eighths and quarters in my dorm room. How can I open my own legal pot store in New York?
Any chance your dad's name is on the Forbes 400 list? If the answer is yes, you are one step closer to certification, but still miles away. In 2014, after the medical marijuana bill was signed into law by Governor Andrew Cuomo, 43 companies applied for certification, and five were chosen. Applicants paid a non-refundable $10,000 fee and a $200,000 deposit just to be considered. Then the real costs began. Basically a company's infrastructure had to be in place, staff picked, leases signed, etc. All companies in the program are vertically integrated, which means plans had to be laid out for growing, harvesting, manufacturing, and selling the product.
Following that, businesses vying for approval hired teams of lawyers and lobbyists to argue their cases. Yes, teams. It's estimated that the five groups that were ultimately chosen had spent a combined $50,000,000 dollars to get there. And these companies are not exactly doing dab hits and kicking a hacky sack around with one another. They are highly competitive. In fact, when the state decided to register five more companies, the original five, in an effort to preserve the hegemony of their medical cannabis cartel, sued to block the authorization of their competition. That suit was tossed, allowing now for a total of ten legal companies in New York state. As for future openings, a representative of the Department of Health told Thrillist that "no new registrations are being contemplated."
And FYI: Under the current statutes, anyone with a felony pot conviction on their records can kiss any hopes of being a part of New York's legal medical marijuana industry goodbye. So much for the healing of the nation.
So what are the laws in New York anyway? What happens if I get busted smoking a joint in Union Square Park?
New York decriminalized in 1977, meaning that if you're carrying up to 25 grams of pot on you without it being publicly visible, it's a violation punishable by a fine. But if you're smoking a joint, and it's visible to the public, that's actually a misdemeanor, so you can face up to a year in jail. In New York City, smoking weed is supposedly a low-priority enforcement measure, but the 17,880 people arrested last year for low-level pot offenses might not see it that way. At least they've speeded the process up a bit.
"In the old days, it would often be 24 hours before you got through the system and were arraigned," says David C. Holland, executive and legal director of the Empire State chapter of the National Organization for the Reform of Marijuana Laws. "Now, they're just taking people back to the precinct and writing them a desk appearance ticket for the violation," he says. "It's a summons telling you to go straight to court without the detour through central booking. You're processed, but you're released from the precinct in a matter of a couple of hours."
The most likely outcome, if it's your first smoking offense, is an adjournment in contemplation of a dismissal, which means if you don't get arrested again for six months then the case will be dismissed as if it never happened and it comes off your record. While pot arrests are down from their height during the Bloomberg administration, they are still pretty high when you consider how drastically the attitude of the country is changing on this issue. Compounding this is the disgraceful fact that 86% of the folks arrested in New York City last year for low-level marijuana offenses were people of color, and only 9% were white.
It's an issue that was seized upon recently by Cynthia Nixon (who used to play a lawyer on Sex and the City) as she announced her challenge to unseat incumbent Governor Cuomo on the Democratic ticket in this year's gubernatorial race. "We have to stop putting people of color in jail for something that white people do with impunity," she explained in a video posted to Twitter. "In addition to ending a key front in the racist war on drugs, regulating and taxing marijuana would generate hundreds of millions of dollars of tax revenue for our people and create important agricultural opportunities for our state."
So when will recreational use be legal in New York?
That's a tough call. Governor Cuomo recently called for a study to examine the effects that legalization of marijuana would have on the state. This move is seen by some marijuana proponents as an attempt to kick the can down the road until after 2020, when he is expected to run for president. An Emerson College poll taken last year found that 62% of registered voters in New York support legalization for adult recreational use. With legal states Vermont, Massachusetts and potentially New Jersey hot-boxing New York on three borders, and Cynthia Nixon blowing political shotgun hits in the governor's face, some see the potential for Cuomo to pivot on the issue.   
In the meantime, Cheech and Chong are doing a special 4/20 show at the Capital Theater, and on May 5, you can let your freak flag fly at the annual NYC Cannabis Parade and Rally. New York City offers some pretty awe-inspiring and relatively inexpensive activities for those who choose an elevated consciousness -- the Empire State Building, the Metropolitan Museum of Art, the Museum of Natural History, the Bronx Zoo, Mets and Yankees home games, Green-Wood Cemetery, or a free sunset ride past the Statue of Liberty on the Staten Island Ferry. On top of that, there's pizza freaking everywhere. So enjoy yourself, just watch your back.
Sign up here for our daily NYC email and be the first to get all the food/drink/fun New York has to offer.