Well, we did it. We made it to the end of 2019. Or rather, our bodies made it -- our souls might have simply vanished into vape plumes, having grown weary of reading this year's endless stream of news and watching teens throw tortillas at their dads on TikTok. But we made it -- and we made it in the hardest, greatest city in the world -- and that's certainly something to celebrate.
 
New York City has more than 2,020 ways to say "Thank you, next" to 2019. You can go old school and watch the ball drop with the crowd in Times Square, set your intentions for the new year in a midnight meditation session, or jump into the ice-cold Atlantic Ocean with a crew of new, frozen friends -- we've rounded up some unforgettable ways to ring in 2020 on New Year's Eve and New Year's Day in NYC.
New Year's Eve
Greenpoint
For those of us who prefer to wear jeans to parties, Brooklyn brewery Threes Brewing is hosting a laid-back, speakeasy-themed New Year's Eve. There'll be prohibition-era drink specials, a live DJ and dancing, giveaways every hour from 9 through 11, and food to keep you up till midnight from Greenpoint-based Purslane. If you RSVP in advance, look out in your email for a password that scores you entrance to the party's secret second-floor speakeasy. 
Cost: Free to enter; food and drink available for purchase
New Year's Eve
Midtown
Party on top of New York City at The Roof at Le Meridien Central Park, where you'll get glasses of bubbly and Instagrammable views of the fireworks over Central Park. Your ticket gets you a shot at the passed appetizers, but you might want to grab a slice of pizza before you show up -- it's a Tuesday night, after all. There will be a live feed of the Times Square ball drop so you can count it down while staying high above it all.
Cost: $85; drinks available for purchase
New Year's Eve
East Village
Ring out 2019 with an all-you-can-eat dim sum dinner at this Yunnan province-meets-New York City restaurant. The meal will be served on a classic dim sum-style push cart, so you can pick and choose from small plates like house-made dumplings and spring rolls. There are only two seatings (don't worry, you'll still get two hours to eat everything in sight), and the second ends at 10:30, so you can be out in time to count down until midnight. Or, you know, just go home and lay on the couch. 
Cost: $68 per person; reserve online
New Year's Eve
Times Square
Strap on your diaper and your warmest gloves and head to Times Square, where one of the world's biggest parties will be in full swing. Over one million people will there, wearing funny hats and glasses and staying (mostly) within the NYPD's barriers. There's no alcohol allowed --  and the cops will search your bag -- so leave anything you don't want them to see at home, kapeesh? The best views are on Broadway between 43rd Street and 50th Street and along Seventh Avenue up to 59th Street, so get there early to secure your spot. 
Cost: Your dignity
New Year's Eve
Greenwich Village
At film-buff-fave Film Forum, you can catch a 9:40 showing of the aptly-titled "Midnight," a 1939 film about an American ingenue in Paris who poses as a Hungarian countess while falling in love with a cab driver -- the more things change, the more they stay the same, huh? They'll pass out glasses of bubbly for everybody to toast the New Year, so you can start out 2020 as glamorous and tipsy as a faux countess. 
Cost: $15; includes a glass of bubbly
New Year's Eve
Chelsea
Join over 250 strangers as you meditate your way into the new year. Held at the Kadampa Meditation Center, this New Year's Eve practice offers a guided meditation to help you let go of the past, set your intention for 2020, and offer peace and understanding up to the universe. It kicks off at 9pm with vegetarian and vegan hors d'oeuvres, then settles into a 90-minute meditation to take you, centered, towards midnight and beyond. 
Cost: $50
New Year's Eve
Upper West Side
Now in its 35th year, the New Year's Eve Concert for Peace was founded by Leonard Bernstein. The choir and orchestra of the Cathedral of St. John the Divine will be joined by Paul Winter, Jamet Pittman, Jason Robert Brown, and David Briggs for a moving performance that calls for peace on Earth. Just like the ball drop, the concert is a New York City New Year's Eve tradition -- unlike the ball drop, it'll send you into 2020 with a sense of beauty and calm. 
Cost: Reserved tickets are $40; as room permits, the concert is free and open to the public
New Year's Eve
Prospect Park
If you can't bear to take the subway out of Brooklyn on New Year's Eve, head to the park to watch the sparks fly. Now in their 40th year, the Prospect Park New Year's Eve fireworks are a beloved tradition for Brooklynites (well, except the dogs -- they freakin' hate it).  Bundle up and head to the park, where the celebrations will kick off at 10:30pm -- there'll be live entertainment right up until midnight, when the fireworks begin. 
Cost: Free
New Year's Day
Coney Island
Every New Year's Day, the Coney Island Polar Bear Club jumps into the freezing cold Atlantic Ocean for the annual Polar Bear Plunge. Face your fear of shrinkage, put on your teeniest bikini, hold your breath, and take the leap with them -- it's a bracing start to the year, and a good way to shake off your last hangover from 2019. They leap at 1pm sharp, so meet at the boardwalk at Stillwell Avenue by noon. 
Cost: Free; register here
New Year's Day
East Village
If your resolution for 2020 is to be more cultured, kick it off with a New Year's Day spent at a poetry marathon, where over 150 poets, artists, and performers will read from 2pm until midnight on the following day. To help you maintain your stamina, there will be snacks from Butter Lane Cupcakes, Otto's Tacos, Porto Rico coffee, and more. All proceeds from the marathon will help fund The Poetry Project, which holds readings and events all year long. 
Cost: Tickets are $20 in advance and $25 at the door; food and books available for purchase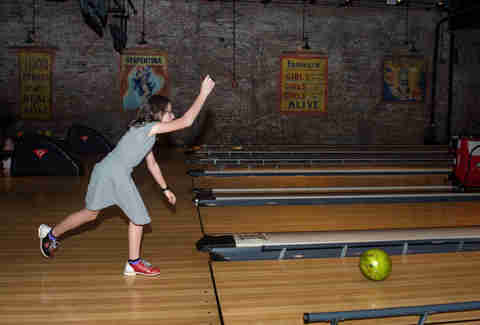 New Year's Day
Williamsburg
You could spend your Wednesday day off laying in bed and dreading the rest of the week (and, perhaps, the year), or you could pick yourself up, pull on your socks, and take yourself bowling. Brooklyn Bowl's New Year's Day Family Bowl goes from noon until 6, and they'll be serving brunch -- a 10" stack of fried chicken and buttermilk waffles just might be the sugar rush needed to send you rolling into 2020. 
Cost: No cover; $25 per lane, per half hour. Shoe rentals are $4.95. Food and drink available for purchase
New Year's Day
Midtown
Unlike the Met, the reimagined Museum of Modern Art is open from 10am to 5:30pm on New Year's Day. You can explore printmaker Betye Saar's 1969 piece "Black Girl's Window," a group exhibition of works concerning the Gulf War, and works in the museum's collection dating from the 1880s to the present. Spend a day wandering the galleries, put 2019 into history (where it rightly belongs), and step into the New Year with a renewed perspective and some creative inspiration. 
Cost: Adult tickets are $25
Sign up here for our daily NYC email and be the first to get all the food/drink/fun New York has to offer.