June marks Pride Month in New York City and across the United States, and that means plenty of parties, parades and more for LGBTQ people and their allies. Most notably in NYC, Pride Weekend officially kicks off on Friday, June 24th at 5pm, culminating in the massive annual Pride March on Sunday at 12pm. To prepare you for the March (including where to go when, and who will be there), we've put together this guide to everything you need to know.
The history
On June 29th, 1970, a year after the Stonewall Riots, New York City's first semblance of a pride march took place, when "thousands of young men and women homosexuals from all over the Northeast marched from Greenwich Village to the Sheep Meadow in Central Park... proclaiming 'the new strength and pride of the gay people,'" according to the New York Times.
Over the next few decades, the march grew from thousands to tens of thousands to hundreds of thousands of participants and spectators, becoming more organized and official.
Now run by the nonprofit Heritage of Pride, the annual Pride March has celebrated the pending legalization of same-sex marriage in New York (2011), last year's Supreme Court ruling permitting same-sex marriage nationwide, and continues to serve as a celebration of LGBTQA+ identities, as well as a protest for equal rights and treatment for all people regardless of sexual orientation and gender.
While many equate Pride with the annual parade down Fifth Ave on the last Sunday of June, events throughout the month allow millions of New Yorkers to celebrate, demonstrate, and more. Pride weekend begins Friday night with a rally at Hudson River Park commemorating the Stonewall riots, followed by a performance from RuPaul's Drag Race winner Bob the Drag Queen, a candlelight vigil at Sheridan Square, and memorials and protests that continue throughout (and after) the march.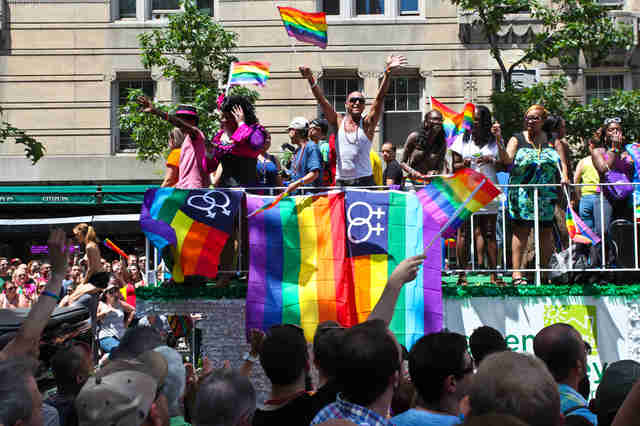 When it is
The NYC Pride March begins on Sunday at 12pm at 36th St and Fifth Ave. Get there early if you want to see the start of the parade, and be sure to stand on the side of Fifth, closer to the subway you'll want to take afterwards. Like any event with street closures in New York City, you're pretty much stuck where you started.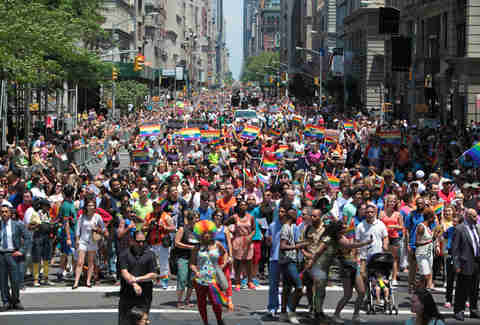 Where to stand
The march begins at 36th St and Fifth Ave, and marches down to Christopher and Greenwich Sts throughout the course of the day. As a general rule, the farther south the March goes, the rowdier it becomes. Those with kids, pets, or a need for personal space may prefer to watch from Madison Square Park while those ready to dance, day drink (opaque water bottles, obviously), and maybe get pulled up on a float should plan to participate below 14th St. Special-needs seating will also be available at 24th St and Fifth Ave.
Major crowds will be at the four stops with announcers -- 36th St & Fifth Ave, 25th St & Fifth Ave, 8th St & Fifth Avenue, and Christopher & Bleecker Sts. If you want a prime spot, come in the early hours of the morning to stake out your Pride real estate -- otherwise, aim for a few blocks north or south of these hotspots.
PrideFest at Abingdon Square in the West Village will be happening at the same time as the Pride March, hosted by Bianca del Rio of RuPaul's Drag Race fame. This annual LGBT street fair features food vendors, pride-inspired souvenirs, and plenty of free goodies from corporate sponsors.
Who will be there
This year's three Pride marshals leading the march are perhaps the most diverse of any of the parade's previous leaders. Jazz Jennings, the 15-year-old trans icon and star of TLC's series I Am Jazz as well as the author of the recently released memoir Being Jazz: My Life as a (Transgender) Teen will serve as a marshal along with Subhi Nahas, a Syrian refugee who founded Syria's first LGBT magazine, and Cecilia Chung, a prominent HIV/AIDS activist.
What to bring
In addition to your friends -- good luck getting cell service along the parade route once everyone starts Snapchatting -- bring beverages, sunscreen, comfortable shoes, and clothes that can get wet/dirty/glittery, plus a bag for all that free swag (condoms, candy, chapstick... ) tossed off the floats. Have some cash on you for cooler water (or not-water), donations, tips, and whatever else you use cash for. Attendees can also bring posters, costumes, pets in costumes, and pretty much anything that shows of your pride.
Sign up here for our daily NYC email and be the first to get all the food/drink/fun New York has to offer.