GoFundNYC: Should Locals Support Crowdfunding for Small Businesses?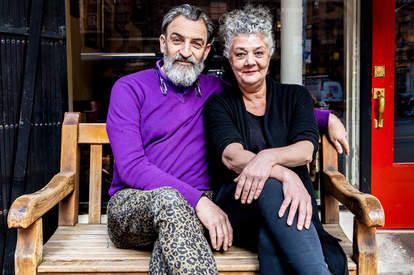 The Arsenal Football Club match plays on a laptop on behind a candy-cluttered counter as longtime Tea & Sympathy employee, Rob Allen, 37, arranges jars of jam and aligns packets of biscuits. A customer enters, her teenage son in tow. "Yes, love," Rob greets her in his East London accent. "What can we do for you?" She describes the tea she's after as Arsenal takes a shot on goal and misses. "What're you doing?!" Allen erupts, hands on his head. "You play football," he says to the teenage son. "Can you tell me what hell they're doing?!" The son smiles sheepishly, shrugs. "Not enough," he says. "Cheeky," Allen says, mom smiles, and they get back to business. All this neighborhood warmth sounds like a treacly Lipton ad, but it's a typical transaction at the shop.
Tea & Sympathy has been supplying sundries and quirky charm from across the pond to Greenwich Village for nearly 30 years. "We opened in '91 for $40,000," says co-owner Nicky Perry, 60. "That's bloody unheard of now. Impossible. But you could do that then."
It's the latest small business in NYC to resort to crowdfunding to keep itself afloat.
In the intervening years, Tea & Sympathy has become the place to go for tea poured from pots fashioned after an adorable little house, or the Queen's head; to pick up your Marmite, Cadbury chocolate, Digestives; to sit down for beans on toast, mince pie, bangers and mash, and fish and chips. And, like so many mom and pop establishments unable to keep up with perennial rent hikes and crushing tax burdens, it's the latest small business in NYC to resort to crowdfunding to keep itself afloat.
Cole Saladino/Thrillist
"We have stood by and watched all of the local businesses who made the West Village what it is today lose to landlords and buyouts and profit losses," its page reads. "We are trying so hard not to be added to that list." Since November 14th, they've raised more than $40,000 of their $100,000 goal. The uptick in visitors who may have never heard of the tea shop, or simply forgot it existed, is the icing on the cake.
"The landlords own my business," Perry says. "They make way more on it than I do. So I've paid my taxes for this year, but my rent's gone up so we'll see how it goes. But we've been busier since [the crowdfunding page] went up, which is brilliant. I hadn't expected that." Whether the buoying effect is permanent or palliative is unknown.
Perry and her British expat, co-owner husband Sean Kavanagh-Dowsett, 52, insist that the need for outside financial intervention is not owed to waning popularity, but rather an inhospitable small business landscape.
New Yorkers are accustomed to saying goodbye to seemingly popular august institutions and little-known mainstays alike.
"It's just untenable these days," Kavanagh-Dowsett says. "You've got to consider economies of scale. We seat 25 in our dining room, but even if we had it full every single night, we'd still be in trouble."
Tea & Sympathy's conundrum is nothing new. New Yorkers are accustomed to saying goodbye to seemingly popular august institutions and little-known mainstays alike. Maybe you think commercial nostalgia is misplaced. Maybe you never set foot in CBGB, Videology, Lee's Art Shop, Hogs & Heifers, Sunshine Cinema, Limelight, Coffee Shop, or Tea & Sympathy. But consider your favorite place; the place where you go to bask or to dwell; the place where everybody knows your name; the place that holds your spare key or accepts your packages. If your place closed, would it change the neighborhood's energy? Would you have a fleeting fear that it might be replaced by a Warby Parker? Would you want to kick in a few bucks, even just to keep the place on life support? Would it feel like charity, or a modest investment in the city? When a business can't succeed on its own merits, whose responsibility is it to keep "New York," New York?
"I feel like crowdfunding should be for a noble cause," says Gene Gerovich, 33, a Brooklyn bar owner and Coney Island native. "As a bar, we're a for-profit business so it'd feel a little selfish to ask for charity if I was profiting." It's a bridge he'd have to cross when he came to it, Gerovich says. "I don't know. Maybe if I was in [Tea & Sympathy's] position, I'd feel differently," he says. "It would be a last resort."
Cole Saladino/Thrillist
Under normal circumstances, in a normal town, supply and demand would be the free-market indicator of a business' utility and popularity. Except New York City real-estate is so undeniably screwy that it's almost a joke at this point. The little guy is always punching upward, and a little part of the city dies every time a beloved neighborhood shop turns into a chain.
Perry remembers vividly the day that the owner of another erstwhile neighborhood favorite sought refuge at Tea & Sympathy after losing his business to a rent-hike. "He sat outside on that bench," she says. "He cried on Sean's shoulder. The landlord had the real-estate agent showing the property the next day! [The business] was there for 35 years -- that's a person's life!"
Locals are increasingly relied upon to keep "New York" New York
Places like Tea & Sympathy make "New York" New York, and locals are increasingly relied upon to keep "New York" New York -- not just by giving their business, but now also by giving something that looks like a cross between charity and a neighborhood investment. It's no longer a matter of eschewing the slightly more convenient chain in favor of the mom-and-pop shop, but rather staying engaged enough in the community to make an informed decision about what's worth saving, and then putting your money where your social media laments are.
Beloved Red Hook redoubt Sunny's Bar is the gold standard of small business crowdfunding life support. It faced closure after extensive damage from Hurricane Sandy, but was able to reopen its doors thanks to a successful Kickstarter campaign. A few years later, after the death of owner Sunny Balzano sent the surviving owners into a tailspin once again, a second successful crowdfunding campaign provided relief. Safe and sound, Sunny's owes the most recent of its its 100-some-odd years in existence to those who felt that a New York without it was no New York at all.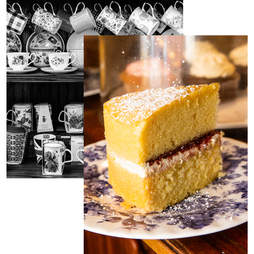 Cole Saladino/Thrillist
Both the Mayor and the City Council are pushing ideas that could ease some of the burden on small business owners, without relying on the kindness of strangers. Mayor Bill de Blasio recently called on Albany to institute a tax on landlords who maintain vacant storefronts, and the revival of the Small Business Jobs Survival Act would protect businesses against landlords during lease renewals and rent disputes. But a political solution does not appear to be near enough on the horizon to move the needle for businesses owners trying to keep the lights on today.
It remains to be seen whether Tea & Sympathy will shutter, scale back, or replicate Sunny's Lazarus-like return and continue peddling British wares on Greenwich Avenue. But at least Perry and Co. will be able to tell that proverbial fan with his hands on his head, wondering what the hell they're doing, that they think they've done enough. And Perry is prepared to carry this long game into overtime.
"I ain't gonna accept defeat," she says. "I'm going into massive debt, but this is what I've built. That's what America's about, yeah?"
Sign up here for our daily NYC email and be the first to get all the food/drink/fun New York has to offer.