Water-Efficient Hydrant Caps Are Being Installed Across NYC
Keep an eye out for these whimsical water savers.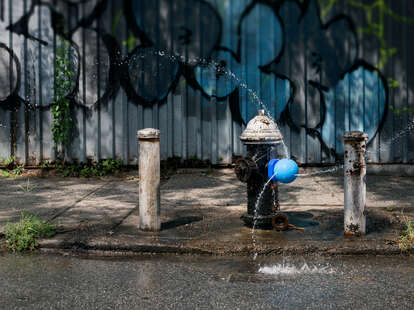 Pinwheel Splash Spot

| Photo courtesy of Splash Spots
Pinwheel Splash Spot

| Photo courtesy of Splash Spots
Squeals of happiness, bursts of laughter, and wet pavement are the telltale signs that an open fire hydrant is nearby. For as long as anyone can remember, dancing through the spray of hydrants has been the quintessential way for New Yorkers, young and old, to cool down when temps creep over 90 degrees.
Now, in an effort to improve accessibility for locals, as well as preserve our city's water supply, Zulu Alpha Kilo and Group Project have created a modern alternative to the hard-to-use fire hydrant caps, dubbed Splash Spots. Made using "machined metal for optimized durability and safety," the invention "features an on/off function and releases approximately 50% fewer gallons per minute than a traditional capped hydrant."
According to Tim Gordon, executive director and partner at Zulu Alpha Kilo, the inspiration behind Splash Spots is also deeply rooted in bringing a sense of light-hearted fun to New York neighborhoods. "[They] bring whimsy, joy, and play to every corner of the five boroughs. It's our belief that every neighborhood should be able to have beautiful ways to keep cool, while still practicing water efficiency," says Gordon.
Currently, there are four, brightly colored types of Splash Spots in production: Sunshine, which is the classic, all-directions spray; Blossom, which emits water via mist; Jump Rope, which produces a rotating line of water for users to hop over and under; and Pinwheel, which utilizes three revolving streams.
In the future, the brand's goal, "is to produce Splash Spots at scale and ideally work with the Department of Environmental Protection to make them available to as many communities and fire houses that want them," tells Gordon.
Also, we have it on good authority that more events will be coming our way soon! Keep up to date with news on Splash Spots via IG.
The next Splash Spots location is slated for September 9 at 2219 Frederick Douglass Blvd in Central Harlem.
Editor's Note: A previous version of this story reported a new Slash Spot would be opening in Harlem. That opening has been postponed.
Izzy Baskette is the New York City Staff Writer for Thrillist. Talk to her at izzy.baskette@voxmedia.com or find her on Instagram.