The Most Fascinating Abandoned Subway Stations in NYC
Your Metrocard won't work here.
Sponsored By

At 117 years old, the NYC subway is one of the longest-standing public transportation systems in the world. It's also one of the most used, and boasts more stations than any other metro. So it's no surprise that over the past century, many of them have been retired—and for some, even strategically shuttered as casualties of a continually changing transit layout.
Due to the pandemic, take note that face coverings are currently required when taking the NYC subway. And although the following ten stations are empty of life or passengers, as you read on and envision yourself there in the apocalyptic stations, we recommend even wearing a mask when doing so. From an exemplar of turn-of-the-century architectural glitz to an unfinished shell-turned-illegal art gallery, here are the most fascinating abandoned subway stations in NYC.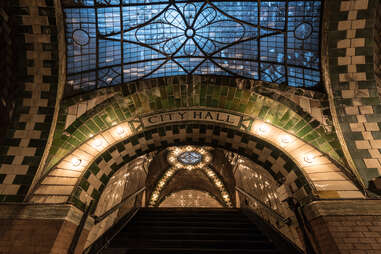 Old City Hall
When NYC's subway system first opened in 1904, the City Hall stop was widely considered as the crème de la crème of stations. Designed with tiled arches and ornate skylights by engineer Rafael Guastavino, it was one of 28 existing stops that ran from City Hall to 145th Street. By 1945, updated subway cars could no longer fit on the rails, so it was ultimately shut down and a newer City Hall station for the R and W lines currently exists. Luckily for us, the former station is not completely lost. Ride through it in an original train car with a ticket from the New York Transit Museum to experience all of its vacated glory.
Date closed: 1945
Worth Street
Similar to the old City Hall stop, the Worth Street station is also visible from the 6 line. If the train moves slowly enough between Canal Street and Brooklyn Bridge, you can spot the station's name on its tile-clad support columns, as well as a few terracotta W's adorning the walls—both tributes to the Mexican-American War major-general William Jenkins Worth. The third northbound station built on the original IRT (Interborough Rapid Transit) line, it was decommissioned in 1962 to accommodate the northward expansion of the Brooklyn Bridge station. If you manage to sneak a peek now, expect some extensive (and impressive) graffiti art covering the walls.
Date closed: 1962
18th Street
The 18th Street station near Gramercy Park is yet another abandoned station turned graffiti canvas. When the neighboring 14th Street-Union Square and 23rd Street stations underwent platform extensions, the station shuttered its doors. But because of its fairly standard design, it was continued to be used for publicity photos. Its two salient features—a naturally lit glass ceiling and a set of ornamental motifs—come courtesy of Heins & LaFarge, the same Gotham-based architectural firm responsible for the opulence of the City Hall stop.
Date closed: 1948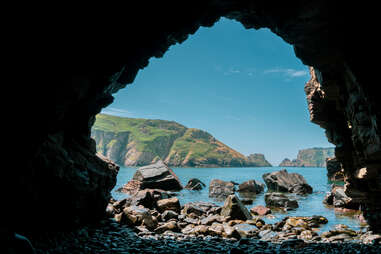 Secrets are great, when you're in on them. Luckily, it doesn't take an inside connection to get a great rate on insurance. State Farm® helps you keep more of your hard-earned dollars with surprisingly great rates. Getting the right coverage for your budget — with no secrets required — means more to spend on your preferred adventure. Like a good neighbor, State Farm is there.®
91st Street
Now covered in graffiti and yet another victim of neighboring platform extensions, this station is visible from the 1 train between the 86th and 96th Street stops. While currently fairly empty, it's highly regarded that the station was once a haven for squatters. A New York Times writer lucky enough to gain access to the eerie spot in 1999 once wrote: "The platform was filled with trash: broken beams, old cardboard and a litter of foam cups. This wasn't just the detritus of a subway station, but the leftovers of mole people."
Date closed: 1959
Court Street
Unlike other decommissioned stations, Court Street in Downtown Brooklyn remains fully operational—thanks in part to its reincarnation as the New York Transit Museum. To this day, vintage trains are moved into and out of the museum using the station's tunnel and the outer tracks of the neighboring Hoyt-Schermerhorn Street stop. The station opened in 1936, part of a plan in which local trains would operate within boroughs and express trains between them. Due to its proximity to so many other Downtown Brooklyn stations and the fact that it was reachable only by transfer, it got little traffic and closed in 1946. In the 1960s, the station began to make its way into movies, most famously the 1974 thriller The Taking of Pelham One Two Three. The station reopened to the public for the first time on July 4, 1976, housing The New York City Transit Exhibit in honor of the United States Bicentennial. The exhibit was so popular that it stayed open permanently, morphing into a full-fledged museum that showcases the history and technology of the city's public transportation.
Date closed: 1946
Myrtle Avenue
Myrtle Ave was a local station on the Brooklyn-Manhattan Transit line located between the Manhattan Bridge and DeKalb Ave. Closed to allow the reconstruction of a flying junction that would increase the line's capacity, its southbound platform was removed, while its northbound platform was abandoned. Since 1980, the remaining platform has been home to Masstransiscope, a trippy installation by film artist Bill Brand. Structured like a zoetrope (a 19th-century optical toy), the work consists of 228 hand-painted panels that cover the full 300ft length of the station and are seen through a series of vertical slits. Hop on a Manhattan-bound B or Q train at the DeKalb stop and, as the train moves in front of the panels, you'll witness the illusion of a 20-second animated movie. Check out this video for a behind-the-scenes peek at the installation's 2008 restoration and to hear from the artist himself.
Date closed: 1956
Dean Street
This twice-closed elevated station in Brooklyn's Bed-Stuy may have been doomed from the start, earning its distinction, as the New York Times once said, "in ways more often grim than glorious." First opened in 1897, it went relatively unused and was closed two years later. Local property owners were so outraged that the station was opened again in 1901 and, though it continued to lose traffic to the nearby Franklin Ave station, it was upgraded to accommodate six-car trains in 1924 along with the rest of the Franklin Ave line. The station gradually fell into disrepair until it was shuttered in 1995.
Date closed: 1995
Sedgwick Ave
Located near the Harlem River in the Bronx, the Sedgwick Ave station opened in 1918 as an extension of the 9th Ave El, NYC's first elevated railway famous for its 90-degree "Suicide Curve" at 110th St. The station was built as a point of transfer from the El to Metro-North predecessor, the New York Central Railroad. It was also an important stop along the shuttle between the old Polo Grounds and Yankee Stadium, a train service beloved by baseball fans—which gave rise to the term "Subway Series." The shuttle was discontinued in 1958 when the New York Giants jumped ship to San Francisco and the Sedgwick Ave station became obsolete. Its elevated steel structure was removed, but the platform and tunnel remain. Take the 4, B, or D train to 161 St, and walk across the footbridge over Sedgwick Ave and the Major Deegan Expressway. There you'll be able to make out the ground-level portions of the old station hiding under the highway.
Date Closed: 1958
76th Street
Most of NYC's abandoned subway stations sport at least a minor air of mystery, but this one's very existence has been hotly debated for years. "The station cannot be found on any map, however, nor can it be reached by any train," the New York Times wrote in 2003. The station was rumored to be part of a plan to extend the A line to 229th Street in the Cambria Heights area of Queens and to lie behind a tunnel that was sealed off in 1952—meaning that even if it does exist, it's near-impossible to access and there is next to no visual documentation of the station.
Date closed: Unknown
South 4th St - The Underbelly Project
Beneath Williamsburg's South 4th Street lies a six-track station that was once intended to be a major point of transfer for the IND Second System. When its construction was halted by World War II, it was left without tunnels or lighting, its stairwell and poured concrete walls unfinished. But in 2009, the station was brought back to life when street artists PAC and Workhorse invited 103 peers from around the world to adorn the space with their own creations, mostly large murals painted directly onto the barren walls. One of the largest exhibitions showcasing this type of work in a single space, The Underbelly Project was illegally mounted and reachable only, as one intrepid New York Times reporter explained, by "waiting at an active station's platform until it's empty, slipping from it into the damp and very dirty no man's land beyond, and traversing that to get to the old station's entrance." The space has since been sealed off by the MTA who claims to be protecting the artworks, but that hasn't stopped some more recalcitrant urban explorers from attempting to sneak in. If you'd prefer to get a glimpse of the space without getting arrested, check out this video.
Date closed: Never opened