Panna II Garden has been quietly serving mediocre food in the East Village for 35 years, but only recently have crowds slammed the place to the point where you'll wait 90 minutes for a table on a Saturday night -- even with a reservation. So why are tourists and New Yorkers beating down the door to get into a spot with middling food and coarse service? Because its luminous, rainbow-hued interior looks incredible on Instagram. The decor doesn't just make up for the food; it justifies its existence.
Opened in 1983, Panna II Garden might be NYC's most successful millennial. It's one of four Indian restaurants perched two-by-two on First Avenue between East Fifth and East Sixth Street -- the last vestiges of downtown Manhattan's "Curry Row." Panna II's BYOB policy, relatively cheap menu, and tangle of chili pepper lights have been delighting birthday girls, big groups, and under-21 NYU students for decades. And now its long lines are grieving the very people who do it for the 'gram, not the garam.
Instagram exploded with #pannaii pictures of influencers and wannabe-influencers lit red and gold and green.
Over the years, waiters would stand outside each restaurant at dinnertime, shouting about the superiority of their food, their service, their prices, their lights. If you paused to consider eating there, you risked being physically grabbed off the street and marched to an empty table. The competition and year-round Christmas cheer turned Panna II and the other three restaurants -- Milon, Spice Wala, and Royal Bangladesh -- into East Village institutions.
Then, in December of 2017, High School Musical star Vanessa Hudgens posted four Instagrams posing under Panna II's chili peppers for her 30.4 million followers. ("What a trip," one of her captions read.) Soon, Instagram exploded with #pannaii pictures of influencers and wannabe-influencers lit red and gold and green. The hashtag, which now has more than 2,000 posts, is an endless scroll of colorful lights with hardly a samosa in sight.
Panna II was poised to join the ranks of over-hyped, over-Instagrammed restaurants. By the time Emily Ratajkowski celebrated her 27th birthday there in a sheer bodysuit in June of 2018, it required the patience of a saint to get a table.
"A lot of people are coming in and taking pictures. In '17, it got popular on Instagram, and it still is today. It's still famous. You get all these international people who come because of Instagram," says Boshir Khan, Panna II Garden's 44-year-old current owner.
At 9:30pm on a recent November Saturday, it's a biting 35 degrees and the staircase up to Panna II is more packed than an L train platform.
"I don't care about the food. I'm in it for the lights and the drinks and that's it."
Alexandra Lacorne, who's been waiting an hour to celebrate her 27th birthday with a group of girlfriends (just like a certain sheer-bodysuit-ed someone), can't wait to get inside. "It's my first time at Panna," she says. "I don't care about the food. I'm in it for the lights and the drinks and that's it."
The waiting crowd is shoulder to shoulder, making it nearly impossible to move up or down the stairs. The Sprite-sipping doorman, dressed in a sports coat and scarf, shouts down to the street every five minutes to reassure those with reservations that they'll be seated in five minutes.
At street level, the line splits in two directions; a young drunk girl sways dangerously, evading her date's grasp, and then falls backwards into the bike lane. Her date looks up at the line, defeated, then leads her reluctantly away to find some pizza.
"The line literally made us stop in our tracks," says Allison Hall, 28, from Jersey City, who has paused on First Avenue to gawk at the waiting crowd. "I've lived in the area my whole life, and I had no idea this place even existed. We just passed by Punjab Deli, the Indian restaurant where all the cab drivers eat, and it had eight people in it."
The Panna II crowd is mostly 20-somethings, with coats and hats obscuring crop tops and color-coordinated outfits. Tourists make up a majority of the line. Antonio Romero, 29, and Laura Garcia, 28, are visiting from Spain for five days; they picked Panna II for their first dinner in New York. "It looked extravagant on Instagram," says Garcia, "But I don't think we're going to get inside."
There are some New Yorkers in line, too. Natalie DeWan, 32, a hair colorist at Bumble + Bumble, is waiting with Emily Nemeth, 26, a freelance social media consultant who recently moved to Denver. They're back at Panna II to indulge in some nostalgia. "When we were broke and living together in East Harlem," says Nemeth, "we would come here because it's so cheap."
"In the beginning, we felt like we discovered this place, and then the word got out."
DeWan, who's dressed for the night in a plush teddy bear coat and matte mauve lipstick, is frustrated by the long wait. "In the beginning, we felt like we discovered this place, and then the word got out."
The line is the longest they've ever seen it, so they decide to eat elsewhere -- but not at any of the other three Indian restaurants, where the wait is 10 minutes. "It's the attraction that you can't go to any of the other ones," says Nemeth. "That's part of the hype. But so many restaurants have a lot of hype and no depth."
Panna II's late in life, juggernaut success makes it vulnerable to the internet's seemingly unending supply of armchair reviewers. A search of its 902 Yelp reviews offers 66 results for "terrible," 37 results for "horrible," 110 results for "bad," 76 for "worst," and, blessedly, only one result for "diarrhea." (Milon, Royal Bangladesh, and Spice Wala have 487, 192, and 27 total reviews, respectively).
"A lot of people want to come in to take pictures, so we get more reservations than we can handle."
Panna II's website boldly asserts: "we serve the best food in town," and Khan swears up and down that it's true. He says the negative Yelp reviews may be from people who couldn't get a table. "People come and wait in line for hours," he says. "Sometimes they get nasty, but I don't have any room. The weekdays are fine, but the weekend is killing me. A lot of people want to come in to take pictures, so we get more reservations than we can handle."
If you crack open the odometer and dial it back to 2005, five years before Instagram and its influencers would make even simple things like sipping a mug of cocoa, staring into the middle distance, and having dinner aspirational, Panna II's first Yelp review is a little more forgiving, tapping into the spirit of the place.
"Not the greatest food but I still award it FIVE stars," wrote Lara S. "Thousands of christmas lights make it a really beautiful fire hazard - worth a visit. Come on your birthday and they will sing to you. Remember to bring your own wine."
"Panna II is like those Instagram pop-ups, like the Museum of Ice Cream and the Color Factory."
Shayan Saghari, 31, who left a 2-star Yelp review, visited Panna II in September of 2018. "I didn't even check reviews to see if the food was good," Saghari says. "I saw it on Instagram and was like, 'Oh, we're going there.'" She gave them an extra star because it was easy to make a reservation. "Panna II is like those Instagram pop-ups, like the Museum of Ice Cream and the Color Factory. They create these really photogenic spaces that make you look cool by being there, but that's all it really is."
Once plucked from the line and hustled inside, it becomes apparent why Panna II is so photogenic. Flags of the world are twisted into lit-up plastic chili peppers and lanterns and fairy lights still in their styrofoam packaging hang heavy -- nearly neck-height -- so low you need to duck your head on the way to your table. It feels like being inside of a jewel box, or tripping on Robitussin.
The restaurant itself is the size of a subway car and nearly as claustrophobic. Diners eat elbow to elbow, negotiating space between the chairs. No one gets a napkin, although you do get complimentary papadom, crisp and laced with whole cumin. A club remix of "Ring the Alarm" is pumping. Occasionally, the waiters turn off the overhead lights, leaving diners to eat by the colorful glow -- all the better to snap a 'gram.
"Everybody's just here for the fucking 'gram."
Panna II's BYOB policy leads to interesting food-and-booze pairings. A party of four drinks Smirnoff Ice; a party of eighteen cheers with splits of pink prosecco; and a group of three young women by the door have made their way through two-thirds of a handle of Tito's vodka. When a waiter arrives with a fresh mixer, he pecks one of the Tito's girls right on the mouth. She looks briefly surprised, then turns back to her phone.
"Everybody's just here," bemoans Morgan Bean, 26, a fellow diner who works in fashion, "for the fucking 'gram."
But not everyone who eats at Panna is just here for the 'gram. Jude Vaghjiani, a physician at Columbia University Medical Center, came all the way from Westchester to eat at Panna II for Diwali -- a four-year tradition she and her husband can't seem to quit. "The whole thing is pretty unpleasant," says Vaghjiani. "Every year it's chaos. We go and do the exact same thing: forget our cash, forget our wine, and eat bad Indian food. At this point, we have to go forever."
Vaghjiani's husband, who is Indian, was resistant to eating at Panna II, although he's since come around to their Diwali tradition. "Since getting married and cooking Indian food all the time," says Vaghjiani, "I've realized the food at Panna is really not good. My husband said, 'This is what I've been telling you for all these years!'"
Although the food appears to be beside the point, one still must place an order. Onion naan, though browned, is raw inside; a finger pressed into the dough leaves deep impressions. Water is not forthcoming. A reporter is called "sweetie," although she avoids being kissed on the mouth.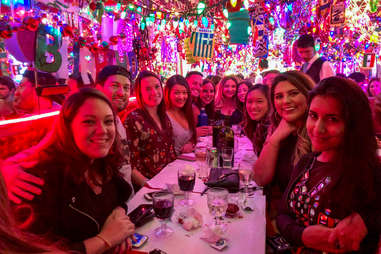 Groups over five are brought a prix fixe menu for $25/person (not including tax and mandatory tip). The food goes largely untouched in favor of drinking and scrolling. "These days, everybody's on the phone. Even me," says Khan, the owner. "It bothers me when you put a dish down and they're texting. They're spending 10 minutes on the phone and not noticing it's on the table."
In the fresh night air again, just after 11, the temperature has dropped and the line is down to 15 people.
"Is it good?" someone on line shouts at a woman leaving the restaurant.
"Honestly?" she shouts back. "It's overrated."
A circle of girls who've just finished their meal are shivering on First Avenue, deciding where to go next. "My parents used to come here," says Lily Rosenthal, 23, a photographer from New York, looking up at Panna II's lit-up windows. She and her friends had to wait an hour and 10 minutes outside the restaurant; inside, they waited another 20 before they were finally seated. "This was my spot. And now it's over."
Sign up here for our daily NYC email and be the first to get all the food/drink/fun New York has to offer.