Whether you're a local or a tourist (or somewhere in between? A tourcal??), there's a very good chance you've been doing all the wrong things in Queens. Well, we say it's time you change that, starting with the essentials. This is your new Queens bucket list, complete with 31 things you need to cross off before you make your way to the big 7 train in the sky.
1. Eat the wontons #6 in Flushing
You can find almost any cuisine here, and you should find them all (especially Flushing for East Asian food; Jackson Heights for Indian, Himalayan, and Colombian food; Astoria for Greek food; Thai Town in Elmhurst; Little Manila in Woodside; and Bukharian Broadway in Rego Park), but don't you dare leave Queens without a Styrofoam container of the shockingly white and crazy-delicious wontons #6 from White Bear in Flushing. There's nothing else like them.

2. Hit up Warm Up
LIC's groundbreaking summertime music and sound extravaganza at contemporary art space MoMA PS1 features DJs spinning sweet tunes and the best in experimental live music and sound from artists that hail from around the world. Locals in zips 11101-11109 can often get in for free, too. (Also: check out the eye-popping art installed in the courtyard each year -- it's created by the winner of PS1's Young Architects Program/usually really cool.)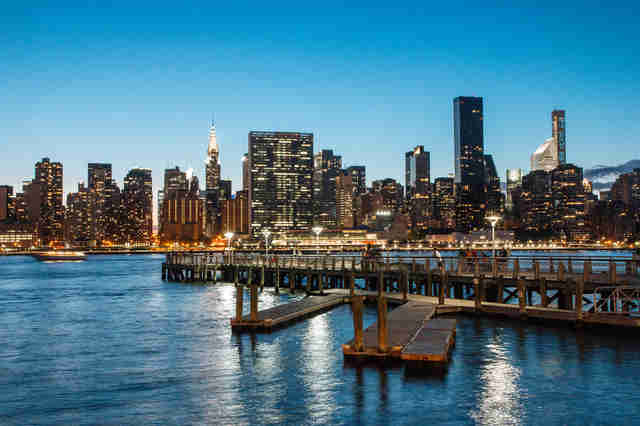 3. Look at the gorgeous Manhattan skyline from Gantry Plaza State Park
Seriously gorgeous. This is the best place in NYC to catch views of the historic UN building, plus superstars like the Empire State and Chrysler Buildings, all from the comfort of the LIC waterfront. Plus: Manhattanhenge.

4. Watch the Home Run Apple rise during a Mets game at Citi Field
There are very few experiences in sports that compare to seeing the iconic Home Run Apple rise in center field when one of the Mets hits a homer. This is a must.
5. Spend a day at Flushing Meadows Corona Park
The largest park in Queens (and the fourth largest in all of NYC!) has some serious history in it -- originally, it was the site of The Great Gatsby's "valley of ashes," and later it was chosen to be the home of two world's fairs (1939 and 1964). Visit what's left from those days, including the Queens Museum, NY Hall of Science, and Queens Theatre.

6. And of course, gawk at the Unisphere
Built for the '64 world's fair, the Unisphere was the symbol of the fair's theme, "Peace Through Understanding." This massive stainless-steel depiction of the globe -- which is still the largest global structure in the world (at 140ft high and 120ft in diameter) -- is more or less the symbol of the park and greater Queens.
7. Suck on an Italian ice at the Lemon Ice King of Corona
The Lemon Ice King of Corona has been making the gold standard of Italian ices in NYC here in Queens for more than 60 years. Mmm... gold standards.

8. Change your life with an arepa from the Sainted Arepa Lady
Queens has a lot of street food, but Maria Cano, the Sainted Arepa Lady, is the most bucket list-y one. The only negative: she'll ruin arepas from anyone else for you pretty much for life.

9. Visit Louis Armstrong's home and walk the Queens Jazz Trail
Jazz trumpeter Louis Armstrong called Corona, Queens home for many years, and now his home is a landmark and museum. Take a guided tour of the home, relish the decor, and learn plenty about this great jazz man. He is but one of a slew of famous musicians who lived in the borough, including Ella Fitzgerald and James Brown, each highlighted on the Queens Jazz Trail.
10. Watch the NYC Marathon
Here at the halfway point in LIC, the runners are still feeling good -- they're just at that point where they're loving life before they hit the gnarly uphill of the Queensboro Bridge and head toward the eventual agony of mile 22. If there's any prime viewing location for the NYC Marathon, this would probably be it.

11. Drink at Gottscheer Hall in Ridgewood
The German-speaking Gottschees -- a dwindling Germanic ethnic group in their home region -- found their way to NYC, specifically to Queens, last century. Along with their hopes and dreams, they brought their tasty beer and food with them, and established places like Gottscheer Hall in Ridgewood, where you too can enjoy deliciousness with a side of history.
12. See some Grand Slam tennis
There's nothing like watching the biggest names in tennis duke it out on the US Open's famous hard court during the biggest tennis tournament in America. NOTHING, GUYS.

13. Hug the Queens Giant
The oldest and tallest tree in NYC, dubbed the Queens Giant, is located in Alley Pond Park. At 133.8ft, this enormous tulip tree has been around over 450 years, which means it was around when the Dutch came to Manhattan/Pogs were cool. Just watch out for the poison ivy nearby.

14. Be a giant in Queens
While you're at the Queens Museum, visit the magnificent Panorama of the City of New York, which lays out the entirety of NYC in front of you from a bird's-eye view. NYC's most infamous urban planner Robert Moses came up with the idea for it for the 1964/65 world's fair, and it contains 895,000 buildings at a scale of 1:1,200 (1in equals 100ft). All five boroughs are depicted.
15. Get hopped up at Western Queens breweries
Ones you're required to check off by Queens bucket list law: Big Alice; SingleCut; Transmitter; Rockaway Brewing Co.; Bridge and Tunnel; Finback Brewery; and the newest kid on the block, the LIC Beer Project.

16. Order a cocktail at Dutch Kills Bar
Sit down at the best cocktail bar in Queens, and enjoy what will no doubt be one of the best cocktails of your life. Bonus points if you get to watch them cut the ice by hand.

17. Celebrate your independence by watching people blow things up
Make a day of it and head to the LIC waterfront for a front-row seat at the Macy's 4th of July Fireworks show. Spectacular doesn't begin to describe it -- we're referring to both the fireworks and the sea of humans surrounding you.
18. Bone up on your street mural appreciation
The Welling Court Mural Project in Astoria is considered the best "aerosol art" alternative in Queens since 5 Pointz (RIP) was destroyed. It's perhaps a more refined "Institute of Higher Burning," but the quality of the Welling Court art will impress as it did at 5 Pointz -- and yes, it's ready for your Instagrams, too. Artists from around the world contribute their time and talents to neutralizing blight in Western Astoria with their art. So if you want to see the latest leading display of Queens street art, start near the intersection of 30th Ave and Welling Court.

19. Drink at the oldest bar in NYC
Neir's Tavern in Woodhaven claims to be the oldest continuously operating bar in the five boroughs, having opened in 1829. Take that, McSorley's. Plus, they filmed Goodfellas here.

20. Rise up and honor the dead
Queens is home to the most cemeteries in NYC, and they occupy the highest ground in the borough (they were there before the neighborhoods were developed). It's rumored that there are more people dead than alive in the Queens "cemetery belt." Team Six Feet Under includes famous folks like Mickey Spillane and other gangsters in Calvary Cemetery; musicians Scott Joplin at St. Michael's Cemetery and Louis Armstrong in Flushing Cemetery; and magician Harry Houdini is at Machpelah Cemetery (OR IS HE?!?).

21. Learn how to cook something new
The League of Kitchens offers the opportunity to experience the vast cultural diversity of Queens (130 languages are spoken here!) through the lens of food. It produces classes by immigrants in their own homes, with hands-on participation. Learn how to make food from another culture from someone who's lived it all their life. Geen. Yus.
22. Check out MoMI
Astoria's Museum of the Moving Image is a movie lover's dream. It houses one of the world's largest collections of movie-related objects, archives, and artifacts, and was the first place ever to do so. Industry insiders regularly praise its theater as being one of the premier screening spaces in NYC, plus the theater's entryway looks like you're entering the world of TRON. Go to there.

23. Visit Bukharian Broadway
Along with the aforementioned Gottschees, the Bukharian Jews also immigrated to NYC last century. 108th St, nicknamed "Bukharian Broadway," is a thriving commercial strip lined with shops, bakeries, and restaurants that cater to the kosher dietary needs of the local population; with that in mind, the place is a ghost town from sundown Friday to sundown Saturday in honor of the Jewish sabbath. In particular, stop by Carmel Grocery for dry goods and Salute Kosher Restaurant for a delicious Central Asian meal.

24. Eat kanafeh at Al-Sham Sweets in Little Egypt
Bright-orange kanafeh -- a mild white cheese sandwiched between two layers of thin pastry and soaked in sugar syrup -- at Al-Sham Sweets on Steinway St is one of the best you'll find anywhere. Located in the heart of Little Egypt, one of Astoria's important immigrant communities, this Middle Eastern bakery also offers a variety of baklava and other MidEast cookies like ma'amoul (filled with dates) and ghorayebah (butter cookies). During Ramadan, the area is particularly lively at night, and at the same bakery you can get katayef, a typical post-fasting sweet that fills little pancakes with nuts or cheese, is deep-fried, and gets sweetened with sugar syrup. (Bonus item: while you're there, head to nearby Little Morocco for an incredible merguez sandwich, then walk along the street and smell the sweet hookah smoke wafting out the door.)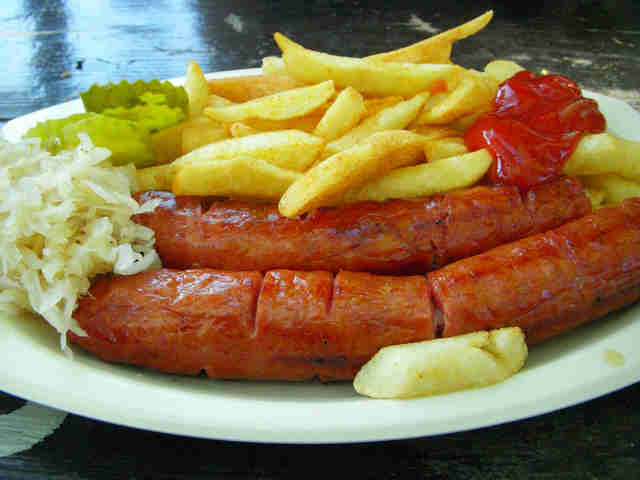 25. Hang out at NYC's oldest beer garden
Astoria is also home to the city's oldest beer garden, Bohemian Hall and Beer Garden. The big yard is full of picnic tables, the taps flow freely with Czech beer, and the menu is full of tasty Czech and Slovak fare, including grilled klobasa, potato pancakes, and schnitzel. It's the perfect place to spend an afternoon drinking, eating, and playing Cards Against Humanity. And drinking.

26. Do a museum twofer
Within a block or two of each other are two important art spaces: the Noguchi Museum and Socrates Sculpture Park. The Noguchi Museum houses the world's largest and most extensive collection of artist Isamu Noguchi's work, including sculpture, drawings, and stage designs. Socrates is one of the most incredible examples of successful reuse -- it was a literal dump before artist Mark di Suvero led the charge to transform the space into a place for art; these days it's recognized internationally as the place to see large-scale exhibits in NYC. Famous artists have shown their work here, and the park has kick-ass waterfront views.

27. See birds, birds, and more birds
The Jamaica Bay Wildlife Refuge, which happens to be the only wildlife refuge in the national park system, is known internationally as one of the most important birding locations in the entire world. More than 325 species of migrating birds have been spotted taking a break here -- that's A LOT of birds. Don't leave without watching the ospreys, too.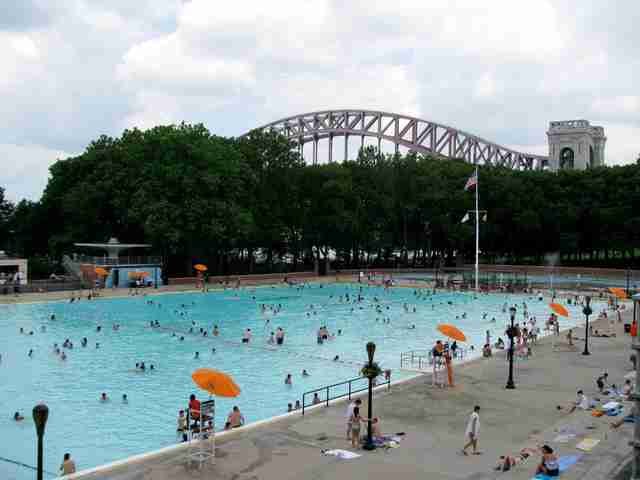 28. Take a dip in a gigantic pool
Swim in the largest WPA-era pool -- Astoria Pool in Astoria Park -- for free. It's approximately the size of four olympic-sized pools next to each other, and served as the location for both the 1936 and 1964 Summer Olympic Trials. While you're there, gaze at the gorgeous Hell Gate Bridge, which they say would be the last bridge to fall if humans were removed from the Earth.

29. Have a cholado at Las Americas Bakery in Jackson Heights
Because of the huge Colombian population in Queens (it's literally the largest outside of Colombia), you'll be able to find the cholado -- a Colombian shaved ice concoction that is a super refresher on a hot summer day -- in Jackson Heights. It starts with a base of hand-shaved ice topped with tangy maracuyá and mora fruit syrups, chopped fresh fruit (strawberries, mangoes, pineapple, papaya), coconut flakes, and a healthy dose of lechera (thick, sweet milk).

30. Witness a Steinway piano being built
Forbes calls the Steinway Factory Tour in Astoria one of the top three factory tours in the nation. See all the stages in the making of one of the world's most famous instruments, and brag that you saw the making of a cultural icon.
31. Have a beach day in the Rockaways
Summer is the high season in the Rockaways, when New Yorkers descend upon this skinny peninsula for good food, good waves, and good times. Embrace your inner hipster at Playland; surf in the Atlantic between Beach 67th and Beach 69th Sts; get tacos at Tacoway Beach or really any of the vendors along the boardwalk; or just be a beach bum anywhere along the beach for a day.
Sign up here for our daily NYC email and be the first to get all the food/drink/fun New York has to offer.
Meg Cotner loves Queens, avocados, and is a budding cheesemaker; her apartment is slowly becoming a fermentation fun house. Follow her on Instagram and Twitter for details on her latest adventures in food preservation, and her new obsession with pawpaws.