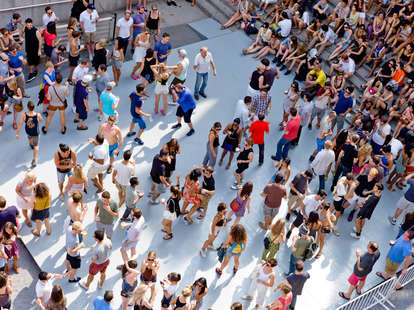 MoMa Ps1

| Flickr/Atomische * Tom Giebel
MoMa Ps1

| Flickr/Atomische * Tom Giebel
When planning after-work dinner or drinks, weekend outings with friends from far-flung boroughs, or sightseeing tours for out-of-town guests, it's easy to fall back on Manhattan. It's usually central -- a relatively painless compromise for factions of your party going home to Brooklyn, the Bronx, or wherever. But why not consider the city's largest borough, its most ethnically diverse, birthplace of luminaries of the arts, backdrop for television shows both loved and loathed, the land of airports -- why not consider the county of Queens?
Well bless your bridge-and-tunnel hearts, have we got a guide for you! And it is full of places that seasoned New Yorkers may have forgotten about or never even heard of. So grab your MetroCard, ferry ticket, or kayak and head over to Queens.
1. Eat something. Eat everything!
Queens is not only the most diverse county in America, it is a world food destination with myriad international dining options. Flushing has become a larger Chinatown than its more famous downtown Manhattan counterpart. Corona is home to Mexican restaurants for as far as the eye can see from above or below the 7 train. Elmhurst is your spot for any sort of spicy, peanutty, basil-y Thai food you can dream of. Jackson Heights will fulfill any Indian cravings. Astoria is home to the most Greek restaurants outside of Athens, as well as Peruvian, Tibetan, Egyptian, Colombian, and Japanese offerings. If the world cooks it, you can eat it here.
2. Dance in an art museum
MoMA PS1, a beloved extension of Midtown's Museum of Modern Art, serves as a dance floor on summer weekends. The live, outdoor music series, Warm Up recently finished its 20th season, hosting some of the best upcoming live and electronic musicians including the likes of ASAP Ferg and newly minted superstar Cardi B. Instead of going to the beach, or a dank, dark club, New Yorkers party with their beers in the air, and faces in the sunshine. And Long Island City residents can test out the scene with one free ticket during the season (with proof of residency).
3.Take in killer views of the Manhattan skyline
Hop on the 7 train or the East River Ferry and head to Gantry Plaza State Park in Long Island City. Walk along the riverfront and stop for an Instagram with the original 1936 neon Pepsi-Cola sign, an NYC landmark. Stroll south to grab a coffee, beer, or wine at outdoor cafe LIC Landing. Sit and watch the sun set between the Manhattan skyscrapers, and wait for the real light show to appear as the United Nations, Chrysler and Empire State buildings all come alive with lights scattered across the sky.
4. Watch the Home Run Apple rise during a Mets game at Citi Field
There are very few experiences in sports that compare to seeing the iconic Home Run Apple rise in center field when one of the Mets hits a homer. This is a must.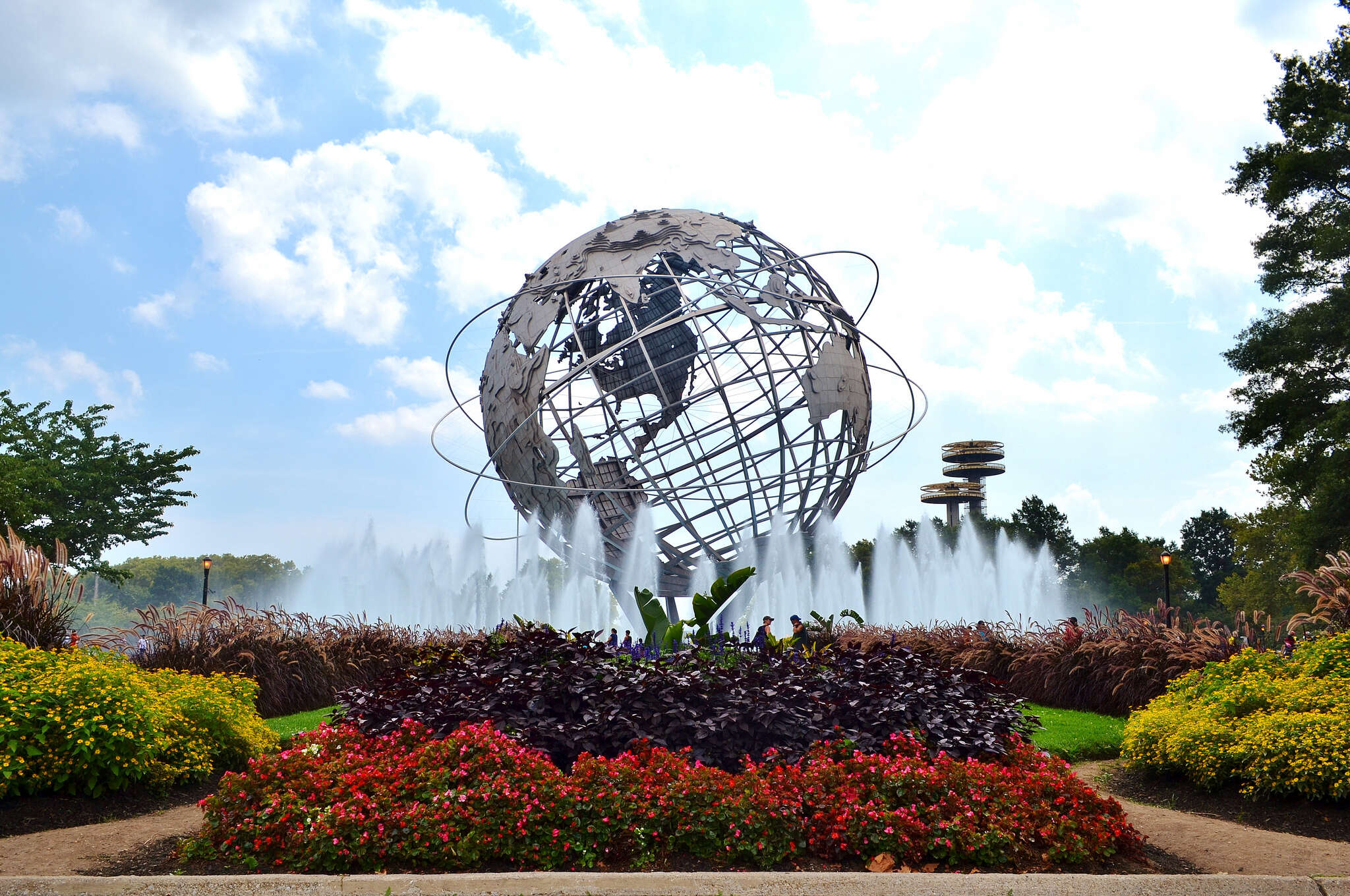 5. Spend a day at Flushing Meadows Corona Park
The largest park in Queens (and the fourth largest in all of NYC!) has some serious history in it -- originally, it was the site of The Great Gatsby's "valley of ashes," and later it was chosen to be the home of two world's fairs (1939 and 1964). Visit what's left from those days, including the Queens Museum, NY Hall of Science, and Queens Theatre.

6. And of course, gawk at the Unisphere
Built for the '64 world's fair, the Unisphere was the symbol of the fair's theme, "Peace Through Understanding." This massive stainless-steel depiction of the globe -- which is still the largest global structure in the world (at 140ft high and 120ft in diameter) -- is more or less the symbol of the park and greater Queens.
7. Suck on an Italian ice at the Lemon Ice King of Corona
The Lemon Ice King of Corona has been making the gold standard of Italian ices in NYC here in Queens for more than 60 years. Mmm... gold standards.

8. Change your life with an arepa from the Sainted Arepa Lady
Queens has a lot of street food, but Maria Cano, the Sainted Arepa Lady, is the most bucket list-y one. The only negative: she'll ruin arepas from anyone else for you pretty much for life.

9. Visit Louis Armstrong's home and walk the Queens Jazz Trail
Jazz trumpeter Louis Armstrong called Corona, Queens home for many years, and now his home is a landmark and museum. Take a guided tour of the home, relish the decor, and learn plenty about this great jazz man. He is but one of a slew of famous musicians who lived in the borough, including Ella Fitzgerald and James Brown, each highlighted on the Queens Jazz Trail.
10. Watch the NYC Marathon
Here at the halfway point in LIC, the runners are still feeling good -- they're just at that point where they're loving life before they hit the gnarly uphill of the Queensboro Bridge and head toward the eventual agony of mile 22. If there's any prime viewing location for the NYC Marathon, this would probably be it.

11. Drink at Gottscheer Hall in Ridgewood
The German-speaking Gottschees -- a dwindling Germanic ethnic group in their home region -- found their way to NYC, specifically to Queens, last century. Along with their hopes and dreams, they brought their tasty beer and food with them, and established places like Gottscheer Hall in Ridgewood, where you too can enjoy deliciousness with a side of history.
12. See some Grand Slam tennis
There's nothing like watching the biggest names in tennis duke it out on the US Open's famous hard court during the biggest tennis tournament in America. NOTHING, GUYS.

13. Hug the Queens Giant
The oldest and tallest tree in NYC, dubbed the Queens Giant, is located in Alley Pond Park. At 133.8ft, this enormous tulip tree has been around over 450 years, which means it was around when the Dutch came to Manhattan/Pogs were cool. Just watch out for the poison ivy nearby.
14. Feel like kings and queens of New York
Have you ever wanted to look down on certain New York neighborhoods? The Panorama of the City of New York at the Queens Museum can make that a reality. Conceived for the 1964 World's Fair, the 9,335-square-foot exhibit houses all of the city's bridges, skyscrapers, and alleyways in miniature form. If buying an apartment in New York sounds like some sort of fantasy, you can indulge in your daydreams for $100 through the Museum's Adopt-A-Building program. Your contribution gets you a fun little title deed and goes toward continued maintenance of the tiny town.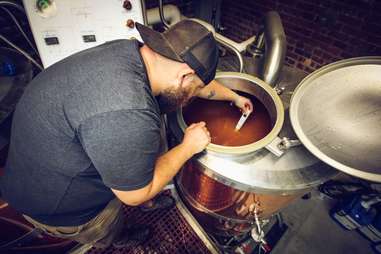 15. Enjoy New York's best local suds
Western Queens boasts seven breweries within a 3-mile radius. Brewery crawls were made for this neighborhood. You can visit Rockaway Brewing Co. for a simple sour; ICONYC Brewing for an iconic tasting room; Transmitter Brewing for some farm-to-table saisons; SingleCut Beersmiths for a relaxing night of Connect 4 and a wide variety of IPAs; Big aLICe Brewing for a quality kolsch; LIC Beer Project for quality take-home cans; and Fifth Hammer Brewing Co. for pale ales and live music. Visit all seven on foot or via a few very cheap rideshares. And just like everything else in New York, these breweries make sure their beer is the best.
16. Order a cocktail at Dutch Kills Bar
Sit down at the best cocktail bar in Queens, and enjoy what will no doubt be one of the best cocktails of your life. Bonus points if you get to watch them cut the ice by hand.

17. Celebrate your independence by watching people blow things up
Make a day of it and head to the LIC waterfront for a front-row seat at the Macy's 4th of July Fireworks show. Spectacular doesn't begin to describe it -- we're referring to both the fireworks and the sea of humans surrounding you.
18. Bone up on your street mural appreciation
The Welling Court Mural Project in Astoria is considered the best "aerosol art" alternative in Queens since 5 Pointz (RIP) was destroyed. It's perhaps a more refined "Institute of Higher Burning," but the quality of the Welling Court art will impress as it did at 5 Pointz -- and yes, it's ready for your Instagrams, too. Artists from around the world contribute their time and talents to neutralizing blight in Western Astoria with their art. So if you want to see the latest leading display of Queens street art, start near the intersection of 30th Ave and Welling Court.

19. Drink at the oldest bar in NYC
Neir's Tavern in Woodhaven claims to be the oldest continuously operating bar in the five boroughs, having opened in 1829. Take that, McSorley's. Plus, they filmed Goodfellas here.

20. Pay your respects to the famous and departed
It may seem kind of creepy, but when people die in New York City they have to be buried somewhere -- not just dumped in the East River. Queens is home to 15 cemeteries; the oldest, Calvary Cemetery, was established in 1848. And because New York is the home to some of the world's greatest, you can visit some of the greatest places of rest.
St. John Cemetery in Middle Village is the burial site for former New York Governor Mario Cuomo, crime boss Charles "Lucky" Luciano, and America's first female Vice Presidential candidate from a major party, Geraldine Ferraro. Head on over to Flushing Cemetery to pay homage to jazz legends Louis Armstrong and John "Dizzy" Gillespie.
21. Learn how to cook something new
The League of Kitchens offers the opportunity to experience the vast cultural diversity of Queens (130 languages are spoken here!) through the lens of food. It produces classes by immigrants in their own homes, with hands-on participation. Learn how to make food from another culture from someone who's lived it all their life. Geen. Yus.
22. Absolutely wallow in video pop culture
The Museum of the Moving Image is one of the best museums in New York made even better by its location slightly off the beaten path. If you have any sort of affection for television, movies, or even video games, you need to make a trip here. Visitors can take a pic with Big Bird at the permanent Jim Henson Exhibition and check out filmmaking equipment dating back to the late 1800s. And those video games? Yeah, you can try to remember what life was like before VR and wireless controllers by grabbing a joystick and diving into the likes of Centipede, Frogger, and Mortal Kombat.
23. Visit Bukharian Broadway
Along with the aforementioned Gottschees, the Bukharian Jews also immigrated to NYC last century. 108th St, nicknamed "Bukharian Broadway," is a thriving commercial strip lined with shops, bakeries, and restaurants that cater to the kosher dietary needs of the local population; with that in mind, the place is a ghost town from sundown Friday to sundown Saturday in honor of the Jewish sabbath. In particular, stop by Carmel Grocery for dry goods and Salute Kosher Restaurant for a delicious Central Asian meal.

24. Eat kanafeh at Al-Sham Sweets in Little Egypt
Bright-orange kanafeh -- a mild white cheese sandwiched between two layers of thin pastry and soaked in sugar syrup -- at Al-Sham Sweets on Steinway St is one of the best you'll find anywhere. Located in the heart of Little Egypt, one of Astoria's important immigrant communities, this Middle Eastern bakery also offers a variety of baklava and other MidEast cookies like ma'amoul (filled with dates) and ghorayebah (butter cookies). During Ramadan, the area is particularly lively at night, and at the same bakery you can get katayef, a typical post-fasting sweet that fills little pancakes with nuts or cheese, is deep-fried, and gets sweetened with sugar syrup. (Bonus item: while you're there, head to nearby Little Morocco for an incredible merguez sandwich, then walk along the street and smell the sweet hookah smoke wafting out the door.)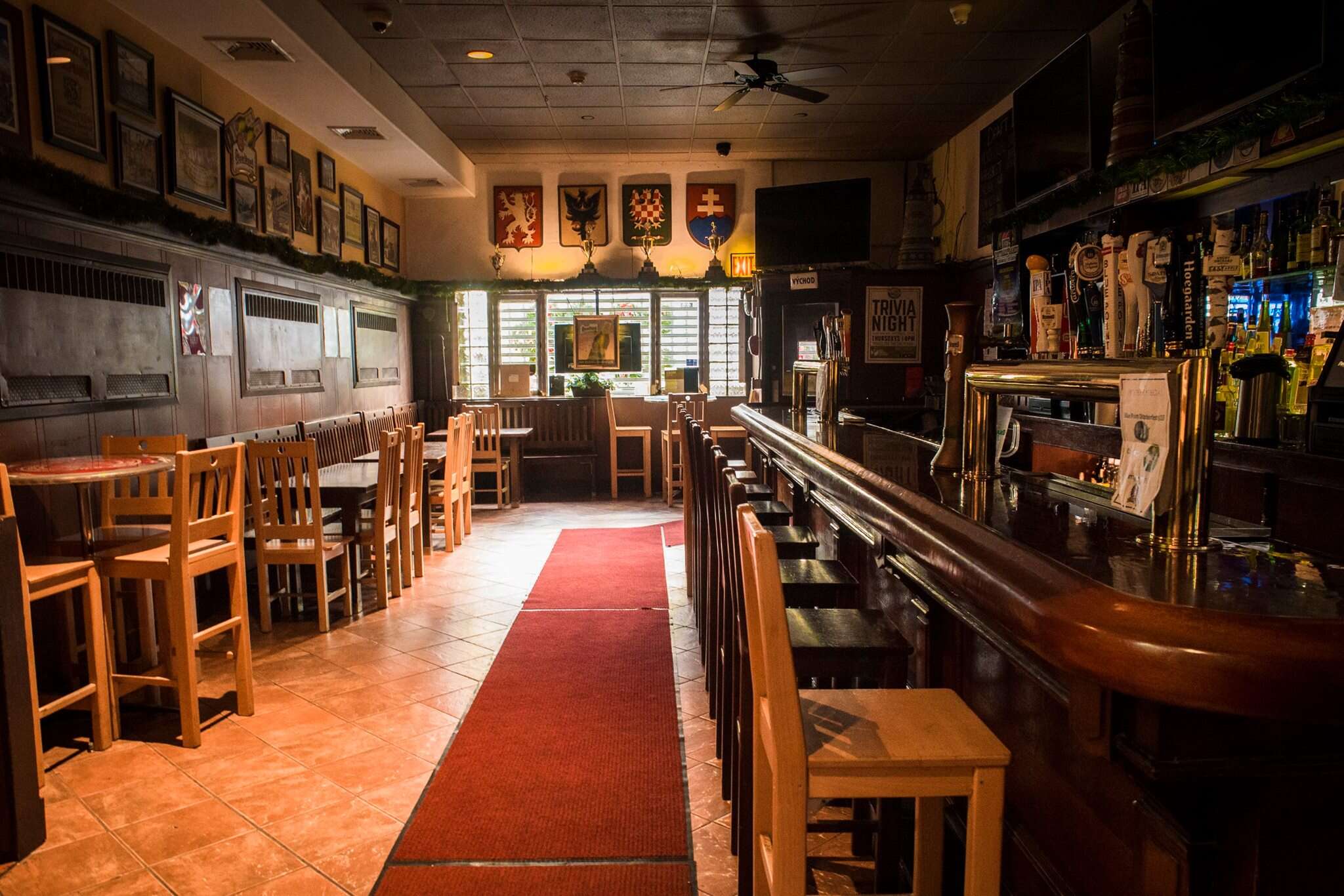 25. Hang out at NYC's oldest beer garden
Astoria is also home to the city's oldest beer garden, Bohemian Hall and Beer Garden. The big yard is full of picnic tables, the taps flow freely with Czech beer, and the menu is full of tasty Czech and Slovak fare, including grilled klobasa, potato pancakes, and schnitzel. It's the perfect place to spend an afternoon drinking, eating, and playing Cards Against Humanity. And drinking.

26. Do a museum twofer
Within a block or two of each other are two important art spaces: the Noguchi Museum and Socrates Sculpture Park. The Noguchi Museum houses the world's largest and most extensive collection of artist Isamu Noguchi's work, including sculpture, drawings, and stage designs. Socrates is one of the most incredible examples of successful reuse -- it was a literal dump before artist Mark di Suvero led the charge to transform the space into a place for art; these days it's recognized internationally as the place to see large-scale exhibits in NYC. Famous artists have shown their work here, and the park has kick-ass waterfront views.

27. See birds, birds, and more birds
The Jamaica Bay Wildlife Refuge, which happens to be the only wildlife refuge in the national park system, is known internationally as one of the most important birding locations in the entire world. More than 325 species of migrating birds have been spotted taking a break here -- that's A LOT of birds. Don't leave without watching the ospreys, too.
28. Take a dip in a gigantic pool
Swim in the largest WPA-era pool -- Astoria Pool in Astoria Park -- for free. It's approximately the size of four olympic-sized pools next to each other, and served as the location for both the 1936 and 1964 Summer Olympic Trials. While you're there, gaze at the gorgeous Hell Gate Bridge, which they say would be the last bridge to fall if humans were removed from the Earth.

29. Have a cholado at Las Americas Bakery in Jackson Heights
Because of the huge Colombian population in Queens (it's literally the largest outside of Colombia), you'll be able to find the cholado -- a Colombian shaved ice concoction that is a super refresher on a hot summer day -- in Jackson Heights. It starts with a base of hand-shaved ice topped with tangy maracuyá and mora fruit syrups, chopped fresh fruit (strawberries, mangoes, pineapple, papaya), coconut flakes, and a healthy dose of lechera (thick, sweet milk).
30. Escape to a quiet New York wilderness
All year round, the Rockaways is a strange, magical place for all things natural and sometimes unnatural. Near Jacob Riis Park, abandoned buildings dot the shoreline, including an empty bathhouse and Fort Tilden, which used to house nuclear missiles. If urban decay is not your forte, stroll down the boardwalk, where you may run into Patti Smith, the so-called punk poet laureate whose memoir, M Train, details her love of the area. Between the sand and concrete, Rockaway hosts a softer side. It's home to Jamaica Bay Wildlife Refuge, a home for more than 300 birds and rare animal species intertwined in salt marshes, fields, ponds, woods, and bays. Go ahead and visit this wildlife via one of the park's many trails.
31. Bet on the ponies
There are several sporting options to cheer for in Queens: the Mets; the US Open; old men playing bocce in the park. But the Mets will break your heart, Open tickets are expensive, and it might get weird cheering for someone else's grandpa. So why not root for a furry friend with four legs who can win you some cool cash at the Aqueduct Racetrack? You may witness the making of the next Secretariat here. And if the track isn't risky enough for you, there's plenty more gambling at Resorts World Casino next door.
Sign up here for our daily NYC email and be the first to get all the food/drink/fun New York has to offer.
Meg Cotner loves Queens, avocados, and is a budding cheesemaker; her apartment is slowly becoming a fermentation fun house. Follow her on Instagram and Twitter for details on her latest adventures in food preservation, and her new obsession with pawpaws.