True Tales of NYC Bar Bathroom Hookups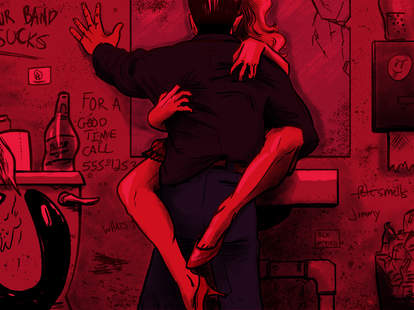 You never know when the mood for sexy time is going to strike, and when you're out drinking, chances are you're gonna be doing it in a bathroom. Sometimes you're propelled by the tequila shots, other times you have zero intention of waking up next to the person you're with. Regardless of the reason, it would appear that tons of New Yorkers are hooking up in bar bathrooms (proximity to a toilet be damned!), and they've got these real stories to prove it.
Editor's Note: Interviews have been lightly edited for clarity and brevity.
The Night Before the Wedding 
"At a friend's rehearsal for her upcoming wedding we gathered outside the church to meet the groomsmen. I happened to notice one in particular. As I took my position walking down the aisle of the church and into my seat I could feel him eyeing me up and down. Afterwards, during the rehearsal dinner, we drank and chatted the entire evening. After dinner he asked me to come back to his side of town for another drink. We went to Session 73, a bar/club on East 73rd, where we continued to drink and kiss. Next thing I knew I was in the bathroom with him. Afterwards, I said to him, 'This is going to be a fun wedding tomorrow.' He looked at me and said, 'Oh, um... I'm going to be there with my girlfriend so we won't be able to talk.'"
The Concert
"I was at Roseland Ballroom. I think I was seeing Phish, or maybe Blues Traveler. I can't remember. I was dancing with some girl and we started hooking up. We went into the bathroom and began mauling each other. She was really aggressive and took my pants down and started going down on me into the open area of the men's bathroom. People were coming in and she didn't care, so I took us into the stall. We started to do more than just kiss. Finally a security guard came in and banged on the door and we had to walk out shamefully."
 
The Post-Breakup
"I had just dumped my boyfriend and a cute nameless guy was buying me drinks at the Sixth Ward, which has since been shut down (hopefully unrelated to my bathroom shenanigans). There's a back hallway next to the bathrooms where they take the trash out (wow, I'm feeling so classy reliving this), and I pulled him back there to make out with him. I ended up going down on him, until one of the busboys caught us, at which point we thought it would be more courteous to move to the handicap bathroom. Luckily there was one of those NYC Condom bowls on the wall outside so we grabbed a cherry flavored one, and he fucked me over the sink until I saw myself in the mirror and was like, 'Damn I gotta get out of here.'"
The Birthday
"I was dating one of the maitre d' at Le Bateau Ivre, a wine bar in Midtown. She couldn't get the night off to celebrate my birthday, so I came by the restaurant and had a few drinks. Since the place wasn't that busy, she asked her boss if she could take a break to go outside to smoke. She needed to grab her coat to go out, so I told her I would stop by the bathroom first. The coat rack was near the bathroom. So she sneaked in with me. As I was getting my birthday 'present,' we noticed the music in the place was getting louder. She figured she could make some noise as we wrapped things up. Just when she let out her loudest 'HAPPY BIRTHDAY TO YOU' shout, her boss knocked on the door. 'Is everything OK in there?' We both walked out of the place, super embarrassed to find out that a big party had arrived and was sitting looking toward us. That was the last time she worked there."
The Press Event
"It was a press event in NYC to promote tourism to a certain country. One of the hoteliers from that country caught my eye. We flirted throughout the event. After the event was finished, he asked me to go out for a cocktail, or two. We went to the W Hotel in Times Square, back in the day when the restrooms were unisex. After a few shots, I found myself in an [inebriated] lip lock in one of the restroom stalls." 
The Long Shot
"I went to a BBQ at my friend's place and was hanging out alone. A girl walked in and I was immediately drawn to her. I laid down my best game, which didn't do much, and I left the BBQ not expecting to see her again. Two or three months later she came out to see me play bluegrass in Astoria, and again didn't seem interested. Randomly on Memorial Day she texted saying she didn't want to be at work so I convinced her to come day drink with me. After a few hours of drinking we went into a place called Monte's, which no longer exists. She and I and a small group of my friends went in, and we were gifted many shots of whiskey.
"The girl then went to the bathroom. As she was walking out, I was stumbling into the bathroom hallway. In my [inebriated] state I had already started undoing my pants to speed the peeing process up, and then I saw her. She looked at me giggling as she saw my pants were falling to my ankles. I started laughing too and then grabbed her and started to kiss her. Then I brought her into the bathroom, where we proceeded to have sex. When the deed was done, we both exited and rejoined our group. I invited her back to my place, I ordered in pizza, put on Arrested Development, and we've been dating ever since."
 
The '90s
"In the early '90s there was a bar, the Black Bass, on Columbus Ave, across from the Museum of Natural History, that had dollar drafts. It wasn't fancy. It rocked. I met a gal and we hit it off. We walked into the 'ladies room' and she pulled her underwear down onto one ankle, flipped up her skirt, bent over, clutched the sink, and looked in the mirror at me. Like two hours later we walked back into the bar and resumed our conversation. I miss the '90s."
Sign up here for our daily NYC email and be the first to get all the food/drink/fun New York has to offer.
  
Meagan Drillinger is a contributing writer for Thrillist and would consider doing it in a bathroom if not for the horrible lighting.