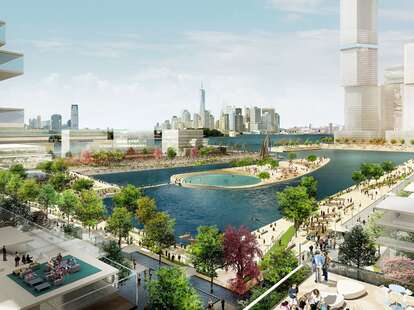 As the first chill of the fall season settled over Red Hook, Barry O'Meara stood outside his bar, the Bait & Tackle, in a thick knit cardigan, pondering the future. "I have two years left on my lease," he said, as the sounds of live music emanated from inside. "Is it profitable? Not at all. But it's a hell of a lot of fun."
The question now is whether the same type of fun can continue in a part of town where massive change might be afoot.
For the last several decades, this relatively isolated Brooklyn peninsula that juts into the New York Harbor has managed to sustain the hushed vibe of a small seaside village where, as O'Meara said, "Everyone knows your name and what you had for breakfast before you get out of bed." But last month, the specter of progress threatened to change everything. AECOM, a global engineering firm, released an elaborate 61-page "framework to explore potential development scenarios of Southwest Brooklyn" -- with much of the focus on Red Hook. The document calls for a massive buildup of new housing and three new subway stops.
In a far-flung neighborhood of roughly 11,000 people, located more than a mile from the nearest subway station -- about eight minutes by car, 15 by bus (without traffic) -- the idea of developers swooping in and disrupting everything is understandably controversial.
"There's a lot of mixed emotions," said Billy Durney, who opened Hometown Bar-B-Que here in 2013. "People talking about skyscrapers and trains, it's like coming into a little pond and throwing down a tsunami."
Of course, Red Hook knows a thing or two about massive sea flooding. In 2012, Hurricane Sandy devastated the area. But it was that small-town ethos of the community, where everyone helped each other, that many of the locals say got them through the disaster.
"I swear, when Sandy hit, I was like, 'That's it, pack it up,'" said Sohui Kim, who can now laugh about surviving that natural disaster. "But, oh, the resilience of the community."
Kim, a chef, moved to Red Hook in 2002 with her husband, Ben Schneider, a carpenter and actor. Four years later, they opened a small restaurant with old-world charm on Van Brunt St called The Good Fork. "There is a certain type that gravitated to Red Hook," she said. "It's not an easy place to get to. You had to be committed."
That commitment was readily apparent during Sandy's aftermath. Ask anyone who lived here in the storm's wake and they'll tell you plenty of stories about neighbors pitching in to share supplies and pump water out of each other's basements. Durney's restaurant was slammed with 6ft of water, just months before its grand opening. Undaunted, he fired up a smoker right out on the street and cooked thousands of pounds of donated meat to help feed hungry hurricane victims. Scandinavian retailer IKEA, which operates a massive warehouse-like store nearby, donated furniture and space for disaster relief efforts. And a coalition of local business owners and stakeholders, Restore Red Hook, raised nearly $500,000 in relief funds to be shared among its members.
The area didn't always feel so isolated. Through the 1940s, Red Hook's shipping industry was booming, employing up to 60,000 maritime workers at its peak in 1950. But over the next 20 years, the jobs all but disappeared as shipping companies left the port and moved to New Jersey. By the 1990s, the neighborhood was, as writer and former denizen Tim Sultan describes in Sunny's Nights: Lost and Found at a Bar on the Edge of the World, "a place to take garbage and corpses."
Sunny'swas the neighborhood watering hole -- literally (for many years) and figuratively. Owner Sunny Balzano originally only opened Friday nights to give neighbors a place to hang out -- but the energy he brought to the community, as well as the artsy communal vibe, are what brought a lot of newcomers to Red Hook, and ultimately what made some of them stay, like Bait & Tackle's O'Meara, who first came in 1995.
Back then, though, things were different.
"It was cars on fire every night, for insurance," recalled Tone Johansen of her arrival in Red Hook on a cold winter's day in January 1996. Johansen quickly met Balzano, who helped introduce her to the neighborhood, soon after her arrival. She had come to New York from her native Norway on a P.S. 1 art grant and needed to find a cheap room. At the time, a lot of artists had started trickling in after being priced out of neighborhoods like SoHo and Williamsburg. She ultimately married Balzano, helped him run Sunny's -- which is currently open six days a week -- and now owns it since his death earlier this year.
When The Good Fork's Kim was still cooking in Manhattan restaurants, she commuted to work by taking the B61 bus to the train station at Smith and Ninth Streets. Back then, there was a methadone clinic a couple blocks away, and wild dogs would roam the streets. Today the dogs and the clinic are both gone, as are the car infernos, and the neighborhood is now a patchwork of dilapidated buildings and vinyl-sided rowhouses. At the same time, remodeled townhomes are now selling for upwards of $2 million. A lot of the longtime renters are now on the cusp of being priced out of the neighborhood, which Johansen describes as a "piece of country in the city."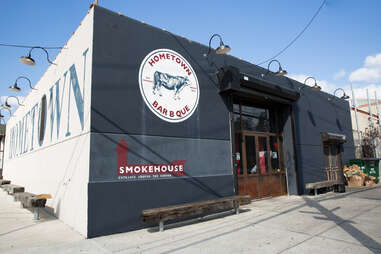 AECOM's plan would surely continue that. The document recommends 45 million square feet of redevelopment in the area, featuring a mushroom-like proliferation of 45,000 new housing units, a quarter of which will be the so-called affordable kind. The framework further calls for three new stops on a subway line extending from the 1 train at Rector St and under the bay through Red Hook to connect with the existing Smith-Ninth Station.
Sitting outside in Sunny's back patio with a cup of Lipton tea on a recent Sunday afternoon, Johansen, who is now in a court battle with family members who want to sell the building that houses Sunny's, reacts to the AECOM renderings. "I understand people are ready to capitalize on Red Hook now," she says. But that doesn't mean she's happy about it. "We need this as much as we need the measles. Development like that is just like a disease."
"People talking about skyscrapers and trains, it's like coming into a little pond and throwing down a tsunami."
It's not just businesses and renters who are feeling the concern. "The front" of Red Hook near the BQE is home to the Red Hook Houses, the largest New York City Housing Authority development in Brooklyn. Over 6,500 residents live in 30 buildings, earning a median $14,000 annually.
"The [correct] process," said Jill Eisenhard, executive director of the Red Hook Initiative, which focuses on youth development, "would be engaging residents to ask, 'What are the needs you see?' What does a community on the waterfront in zone A, like Red Hook, where there's so much proximity to Brooklyn's largest public housing project, what are the needs and what are the challenges? And take that and then develop a plan. Without talking to a single community member is shameful planning."
Eisenhard noted that there's no public high school in Red Hook (there is a charter high school as well as public K-5). The RHI has 75 teenagers who attend 40 different public high schools, from Coney Island to the Bronx, some traveling an hour and a half each way. The AECOM document doesn't make any specific recommendations for a public high school.
AECOM responded via email: "The framework provides a tool for the community and relevant stakeholders to determine how they may want to approach future development opportunities… (and) is just the start of the conversation amongst city officials, residents and other key stakeholders."
Still, not everyone in Red Hook is so opposed to the idea.
"We're just a little torn," said The Good Fork's Kim. "I want it quieter, but from a business standpoint? The more the merrier. Is it a good thing or bad thing that there are no more roaming packs of dogs? Am I glad there's no more crack that's being dealt on my street? Yes, I am. But I also belong to a certain group of people that tend to romanticize the grit."
To hear Hometown's Durney tell it, the impact could really go one of two ways. "If you told me those skyscrapers would make those (small) businesses thrive, I'm for it," he said. "If they're going to price them out, we're going to do our best to make that not happen."
Durney believes his business, which averages between 4,000 and 5,000 customers a week, wouldn't be negatively affected by development of that caliber. Durney is also planning to open a 35- to 40-seat fried chicken restaurant on Van Brunt in the next few months.
Truth be told, most neighborhood businesses could probably use an uptick in foot traffic, especially during the winter months. On a summer weekend day, Brooklyn Crab will serve as many as 2200 customers, while The Good Fork can hit 125 on a Saturday. But as the days get shorter, business drops.
"When it is cold, people don't come down to Red Hook. It's a real Coney Island effect," said Kim, who counts maybe 20 diners on a typical weekday night during winter.
While some neighbors are leaving for more affordable parts of town like Ditmas Park -- "because who can afford these crazy rents?" -- Kim and Schneider, who own their house, are sticking it out, recently signing another 10-year lease on The Good Fork.
On the other hand, too much development could seriously compromise the area's existing charms. Brian Davis, who opened the men's vintage store Wooden Sleepers two years ago, talks about the uniqueness of Van Brunt St, Red Hook's main drag.
Davis had always wanted to be part of a small business community that supported each other -- a place that reminded him of the seaside town he'd grown up in, in the North Fork of Long Island. When he came to Red Hook in the dead of winter, in January 2014, he somehow knew he'd found what he was looking for.
"It was dark and freezing cold," said Davis. But as he drove up towards the waterfront at the top of Van Brunt, first passing the bars like the Ice House and Bait & Tackle on the right, the longtime Kentler art gallery on the left, as well as the warm lights of Fort Defiance and The Good Fork, he could also see ships and smell the salt water. "It felt like home, coastal, like Main Street," he said. "People say hello to you on the street."
Davis also compares it to similar retail strips in Brooklyn, like Franklin Ave in Greenpoint and Smith St in Carroll Gardens. "They all have a point of view," he said. "The stores were interesting. People visited from all over the world. If you go to SoHo, it's like a high-end mall anywhere in the world. Who the hell wants that?"
Valerie Feingold, who moved to the neighborhood in 2011, actually wouldn't mind it. "I didn't think, 'How ugly," said Feingold, general manager at the immensely popular, tri-level Brooklyn Crab on Reed St, just around the corner from Van Brunt. During peak summer season, the restaurant handles about 2,200 guests on a typical Saturday. "I thought, 'How cool.' We'd be getting a subway out of it, and that would be huge. For me, the more people who can come, the better it will be for business.
"You get both: people who think change and the influx of gentrification is going to ruin the charm of Red Hook. Everyone has nostalgia. Remembering their New York from their heyday. And your memory colors what you want out of the neighborhood. Look at Woody Allen movies, especially early films, he's always grumpy. It's always, 'There goes the neighborhood.'"
"We don't have a lot of bankers here… until they can figure out how to get people to Downtown."
But this isn't the first time Red Hook's been targeted for some over-the-top development, and skeptics are saying this latest real-estate fantasy is just that -- a pipe dream.
St. John Frizell, who's lived in Red Hook since 2001 and opened his all-day cafe Fort Defiance in 2009, thinks the AECOM release is a publicity stunt. "I think there's zero percent chance of it happening," he says. "These projects typically don't work out. It's not going to happen in my lifetime." Frizell also says the gentrification hasn't been as intense as it has in other neighborhoods like Williamsburg: "People who work here typically don't work in the city. Filmmakers, graphic designers. We don't have a lot of bankers here… until they can figure out how to get people to Downtown."
In an emailed response, AECOM said, "Extending the subway to Red Hook is a viable option based on a certain level of development that would fund it. This is similar to what was done successfully with the recent 7-line extension." It also stated that there is no time frame as of yet.
Even if the engineers' grand vision for sweeping changes never comes to fruition, Red Hook seems destined for new development. Last year, LA developer Estate Four announced a five-year plan for its upcoming 12-acre, mixed-use Red Hook Innovation District, while Thor Equities kicked off waterfront construction for Red Hoek Point, a 7.7-acre, tri-level office campus earlier this month.
For the Bait & Tackle, the clock is ticking. O'Meara doesn't foresee his landlord renewing his lease at an affordable rate.
"We lose something like the Bait & Tackle, it's like taking part of your heart," says Durney.
O'Meara is more resigned: "It's New York City -- everything changes."
Sign up here for our daily NYC email and be the first to get all the food/drink/fun New York has to offer.