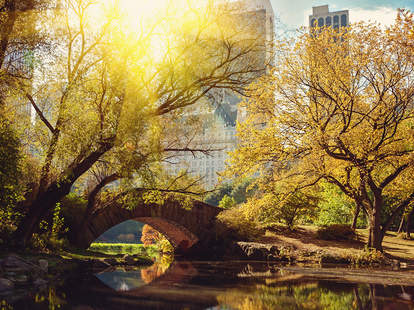 New York City overflows with over-the-top experiences -- there are magnificent Broadway shows, spendy Michelin-starred meals, and $18 coffee -- just to name a few. But as most locals know, it's the little things that make this city so great. There's nothing like the thrill of stumbling across a hidden bakery on the way to the office, that first sip of good coffee on a busy morning, or just being able to walk anywhere, anytime. It's always hard narrowing down a list, but here are our some of our favorite simple things about NYC.
Watch world-class performances for free
Yes, a ticket to Hamilton still costs a pretty penny, but plenty of free shows are held every year, from high-caliber theater productions like Shakespeare in the Park to gratis movie screenings underneath the Brooklyn Bridge. All you need is a blanket, some refreshments, and a picnic to complete the experience -- and this being New York, plenty of shops will pack one up for you.
Delicious food in unexpected places
New York City has no shortage of buzzy restaurants, but they co-exist with another set -- tiny hole-in-the-walls located in the most unexpected of locations. We're talking about the Westside Highway car wash frying up airy cake doughnuts (Underwest Donuts), a Mexican grocery store turning out excellent tortas (Tehuitzingo), and Jackson Heights cell phone shop slinging juicy Tibetan momos (Lhasa Fast Food).
Catch epic sunsets... while simply commuting home
Even jaded New Yorkers stop to appreciate (and Instagram) a stunning sunset. And those who ride the B, D, Q, and N subway lines across the Manhattan Bridge catch the best ones -- the city skyline at golden hour -- simply by heading home.
Stumbling across a Mister Softee truck
Along with leisurely picnics in Central Park (see below), one of the city's best warm-weather joys is stumbling across a Mister Softee truck. The summertime staple isn't just convenient and cheap -- a sprinkles-dipped soft serve cone is sure to bring back more memories than any fancy cup of artisanal ice cream ever will.
Picnicking in Sheep's Meadow
As soon as the first nice day of spring hits, New Yorkers emerge from their winter hibernation and head straight to Sheep's Meadow in Central Park. Even when it's teeming with sunbathing, frisbee-tossing picnickers, the sprawling patch of green manages to remain one of the city's most serene places.
Bodegas. 'Nuff said.
It doesn't matter if you've lived here for two days or two decades, a local bodega has likely swooped in to save the day more than once, whether you needed a pack of gum, late-night groceries, or a beautifully crafted egg sandwich.
Advertisement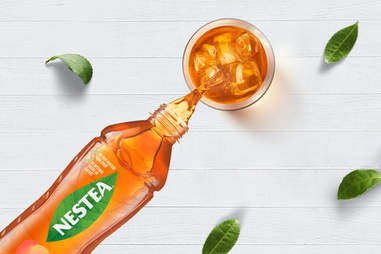 Courtesy of Nestea
The New NESTEA
NESTEA has its own spin on Simple Joys, offering a new recipe including less ingredients and delicious tea leaves from Nilgiri, India. Because less is more.
Travel the world without leaving the city
When you're home to one of the most diverse places in the U.S. -- hello, Queens -- a different country is simply a subway stop away. Want to escape to Northern China? Try Flushing. Craving killer tacos? Head to Corona. It's like taking a vacation, no pricey plane ticket required.
Good coffee no matter where you go
The city runs on caffeine and in most neighborhoods, it's just as easy to support an independent java shop as it is to find a Starbucks. Cafes are constantly finding new ways to impress bleary-eyed New Yorkers with fancy brewing techniques, specialty drinks, and top-notch pastry pairings (our favorites are Bluestone Lane, Gorilla Coffee, and Everyman Espresso). And if we can't get to one? Even the cup of coffee from the breakfast carts are pretty darn good.
Taking a stroll along the high line
Fully completed in 2014 after years of planning and restoration, the High Line, a historic elevated rail line reimagined into a park, is a favorite with locals and tourists alike. Each stretch of the urban playground is unique -- some parts have outdoor art, others boast food vendors -- and though it's constantly packed, there's something relaxing about wandering through the floating promenade, especially in the spring with all the lush greenery. When warm weather finally hits, the seasonal Terroir on the Porch reopens, which means you can sip a glass of rose as the sun sets over the Hudson.
We make damn good bagels
Maybe it is the water, but the quality of Gotham's bagels remains unrivaled. From no-frill shops (Absolute Bagels) to old-school appetizing stores (Russ & Daughters) to fancy cafes (Sadelle's), you don't have to go too far to find the perfect chewy, boiled-then-baked round.