With great freedom comes no responsibility: Let the love-struck or the merely sex-thirsty go through the Hallmark kabuki, but Valentine's is way more fun when you're single. Free from the shackles of monogamy, unburdened by the expense of flowers, jewelry, and candy, unbossed by snooty maître d's pushing mandatory prix fixe menus, the single among us are free to simply enjoy what may as well turn out to be an epic Wednesday.
Now's your chance. Rejoice in your affection for this glorious city, for your sympathetic landlord, for your weed-delivery guy. Take yourself out to a fine meal. Hit a rooftop dance party with your equally unbridled friends. Learn French, write letters, drink Champagne. As the dense pink fog of Valentine's Day settles upon us, prepare to revel in the spectacular happenings that NYC's PDA-free zones have to offer.
Recommended Video
This Therapy Pig Makes Travelers Feel Better About Flying
Lower East Side
It's basically a half-priced date with the best of all company, and what better time is there to dabble in the lost art of dining alone than Valentine's Day? For four nights beginning on February 14, Dirt Candy -- Amanda Cohen's award-winning vegetarian spot for people who hate vegetables -- will offer a special prix fixe for solo diners. For $75, you (and only you) will get a special seven-course tasting, including a glass of "something sparkling." Munch on portobello mousse, carrot sliders, and Brussels sprout tacos while you bask in the envy of unhappy couples paying more for the privilege.
Cost: $75 for seven courses
Greenpoint
Every so-called sext you've ever sent pales beside the intimacy of a single handwritten letter. The Love Letter Station in the lobby of Greenpoint's Henry Norman Hotel will give visitors a chance to write letters on vintage typewriters. The hotel will provide stationery, postcards and postage, and a little letter-writing inspiration by way of a bar cart stocked with complimentary hot toddies. Popbar will provide seasonal treats.
Cost: Free
Financial District
Whether you're celebrating your single status or drinking the pain away, February 14 is a fine time to uncork a bottle of Champagne. Keep it classy at the Institute for Culinary Education's FiDi campus, where you can justify your consumption by learning about bubbly as you imbibe. Following a discussion and a tasting, students will sample from a buffet of luxury foods selected to complement all that sparkles.
Cost: Course is $150, including Champagne and buffet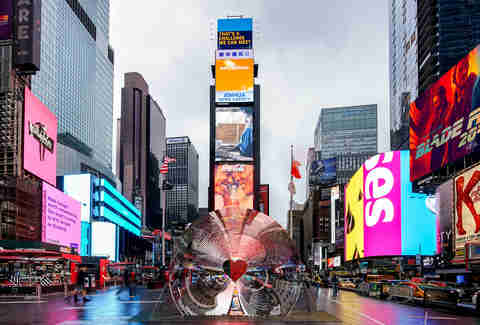 Times Square
If you avoid Times Square like your ex's Instagram, you may not know that every February, Times Square Arts invites architecture and design firms compete for the chance to display their own vision of love in a public art installation at Duffy Square. This year's winner is Window to the Heart, designed by collaborators Aranda\Lasch and Marco Coelho. Fully 12 feet wide, the reflective sculpture is constructed to "distort and capture the image of Times Square, optically bending light -- and attention -- to the heart-shaped window at its center." The intention is for visitors to peer into the window and see what dwells in the contents of their heart. Whether or not you want to see what's lurking in there, the spectacle -- and Instagram post your ex might catch -- is worth a look.
Cost: Free to visit, $12 for the drink you'll need to brave Times Square
Bushwick
Sometimes all you need is a good cry -- or a rainstorm of glitter showered upon you by a band of scantily clad aerial performers. Either way, House of Yes is your spot. The Valentine's Day event, sharply titled "Fuck Love," is just the thing to strike your coupled friends with FOMO. Expect the requisite chocolate and flowers alongside kissing lessons, love tarot and divorce attorneys. So go dance your heart out, flirt with strangers, brood in the corner, or make some friends -- and embrace (or say fuck you to) Valentine's, however you damn please.
Cost: Tickets are free before 11pm with Eventbrite RSVP, $10 after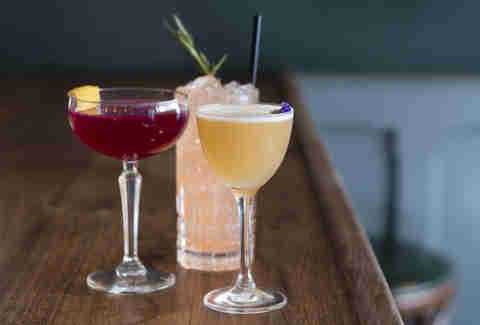 West Village
Whether or not you need a drink especially desperately tonight, the ability to craft an excellent cocktail will last a lifetime. West Village spirits sanctuary Analogue tests your mixology chops with a course focused on pre-Prohibition, ingredient-forward recipes. Head bartender Tre Stillwagon will lead the hands-on workshop, teaching guests how to mix three top-notch cocktails. And yes, you'll get to drink 'em.
Cost: Tickets are $105 a person for two hours of instruction, three cocktails, and light bites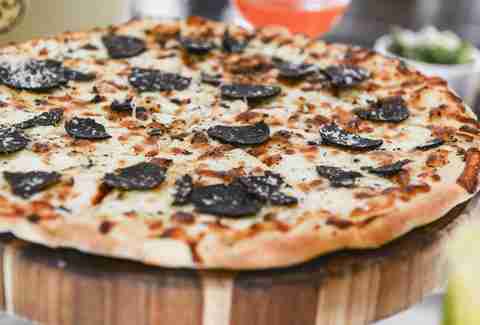 Meatpacking
Rather than stuff your face with chocolate truffles, this Valentine's Day opt instead for truffle pizza. All day at Bagatelle, groups of five or more who reserve a table will receive a complimentary truffle pizza to kick off the evening. Five is an odd number, so no double-daters allowed -- just friends with raging pizza appetites.
Cost: First pizza is free with your reservation, standard menu pricing follows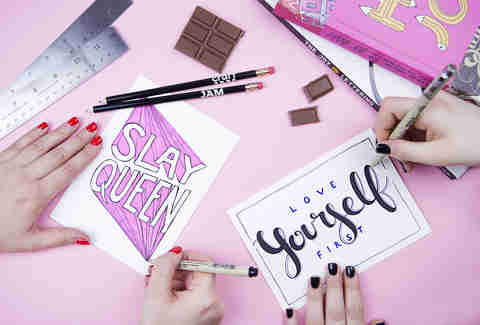 Flatiron
BYOB makes everything better, and this crafting class is no exception. Grab a box, can, or bottle of wine, and congregate with your fellow platonic V-Day revelers to learn the art of leather-smithing. With instruction from the CraftJam leather experts, you'll sew and fold your own leather wallet, affix a clasp, and emboss your initials. Then you can fill it with all the money you've saved on dates this year.  
Cost: Tickets are $55, materials included
Midtown
English! It's no romance language, as evidenced by contemporary love songs, but if you're looking to imbue your next frisky text with that certain je ne sais quoi, treat yourself to 60 minutes of Spanish or French instruction at the Rennert New York language institute. Enjoy complimentary Champagne, fruit, and chocolates, make some new friends, and get a taste of these two melodious tongues.
Cost: The two-hour course is $10
SoHo
Perhaps the most alienating part of being single on Valentine's Day -- even if you love love -- is the smug snuggling couples partake in, everywhere. Avoid the slobber-faced masses at a singles-only rooftop soiree at Bar Hugo, where drinks will be served at happy hour prices all night long and the soaring Hudson-facing rooftop views will be unobstructed by lip-locked losers. Unless, of course, you meet someone there …?
Cost: Admission is free, $8 well drinks, $9 craft cocktails
Sign up here for our daily NYC email and be the first to get all the food/drink/fun New York has to offer.