Why the Redesigned UNIQLO Store in SoHo Will Change the Way You Think of Shopping
Just 10 years ago, SoHo changed for the cooler when UNIQLO opened its global flagship store -- its first United States location -- at 546 Broadway. The concept, "From Tokyo to New York," brought Japanese culture to the already cultured NYC neighborhood.
Now, the store has been totally redesigned, a move that Fast Retailing's President of Global Creative John Jay tells us "shows [UNIQLO's] grit and determination, as well as our sense of direction." The new concept, "A New Tokyo in SoHo," looks toward the future, he explains. "It was inspired by the ongoing evolution of what we make, which is LifeWear, and the constant change that Tokyo represents."
We took an exclusive tour earlier in the week with Fast Retailing's Director of Global PR Aldo Liguori and, man, that is one sleek store. The store reopened September 2nd, just in time for some fall shopping, and even if you're not in the market for a new hoodie, it's worth a trip to check out, for the design alone. Here are a few reasons you'll want to visit the redesigned store (like, now) -- and why the experience is about so much more than just shopping.
Courtesy of UNIQLO
They did it for SoHo
UNIQLO isn't just a place where you can get a quality button-down or Supima cotton tank top (AKA literally the softest cotton money can buy); it's a company that's constantly incorporating new technology to provide its customers with the best products possible. And its become an important part of the SoHo community.
"[This] is an important milestone for us," Jay says. "We want to thank our neighbors and customers through programs we will initiate at the SoHo store and celebrate other businesses in our neighborhood." To name a few, UNIQLO will partner with local stores, restaurants, non-profit organizations like Free Arts NYC, and municipal agencies such as the NYC Department of Homeless Services to make NYC a better place.
So, more than just a redesign, the event marks a solidification of UNIQLO's place in New York, and, as US CEO Hiroshi Taki said in a press release, the company's "commitment to deepen our roots in the community over many years to come."
Courtesy of UNIQLO
It's shopping made simple
Walk through the new store and you'll feel a sense of ease wash over you. You don't notice it at first -- why are you not feeling stressed and rushed and crowded? That's because the store has thought of everything for you. Minimalist signs designating UNIQLO's shop-in-shop areas tell you where everything you need is located.
Looking for activewear? That'd be "Get Moving" which features the tagline "Performance and comfort for life," as well as products like sweatpants and breathable cotton t-shirts. "Living Well" subtly lets you know you're in loungewear, while "Tokyo Men" highlights "Classics remixed, Tokyo style." Not only is the new design expertly organized, but there are more styled mannequins wearing full outfits for #inspo, and each shop-in-shop area has every item you'll need to make a complete look. You can get in and get out in 10 minutes if you want to (but you probably won't).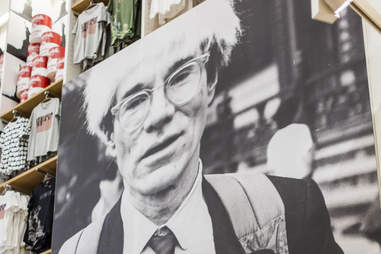 Courtesy of UNIQLO
You can skip the crowds at MoMa
Towards the back of the store is a shop-in-shop area called The SoHo Loft. In a new partnership with MoMa, UNIQLO has gained access to various works of artists such as Andy Warhol, Keith Haring, and Jean-Michel Basquiat, some of whose portraits hang mural-size on the store walls. Because SoHo "has a real place of importance in the history of American contemporary art," Jay says this partnership was a natural fit.
And beginning in November, both up-and-coming and established artists will come to the store to give lectures and seminars. "The spirit of creativity has evolved beyond personal expressions of art to encouraging self-expression by many, through fashion and lifestyle," according to Jay. So yes, UNIQLO is taking their commitment to art very seriously.
Courtesy of UNIQLO
Who doesn't love free stuff?
And if all of that's not enough, there's a boatload of free stuff you can win (if you act fast). This weekend only, the first 1,000 customers each day will be handed mystery gift cards ranging from $5 to $100. There'll also be a Japanese-style vending machine in the store through Labor Day, giving you the opportunity to win anything from candy wrapped like sushi, to a bicycle from tokyobike, a partner of UNIQLO founded in -- you guessed it -- Tokyo. But keep coming back cause MatchaBar will be serving up matcha green tea lattes and other goodies every weekend in September.