Real, Cringeworthy Tales From Upper East Side Nannies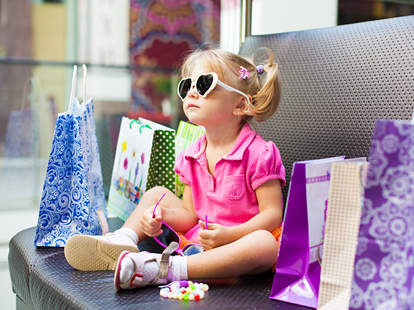 Kids say the darndest things. Especially when those kids are fucking loaded. We found some real-life Upper East Side nannies to give us a glimpse into the lives of children who know much more about the finer things in life than you ever will. Like, ever. These are their stories.
A man needs a signature drink, even if that man is 10
"One time I picked up a 10-year-old from school on the Upper East and asked him if he wanted to get a snack. He told me he wished to go to DAVIDsTEA, which is an artisanal tea place set up like 16 Handles. I asked him if he would rather get a cookie or some ice cream. He then looked me dead in the eyes and said, 'A man picking out his tea is much like a man picking out his Scotch. I need to have a signature drink.'"
 
Your personal upkeep is of the utmost importance
"I was babysitting a little boy whose mother was out of town for the weekend, and she arranged for me to take him to the Hamptons... for the day. I ended up at this sprawling mansion that had a saltwater pool. I was playing with the kids in the pool all day and got pretty tired, so I was sitting on the edge of the pool catching my breath and out of the blue the boy put his hand on my leg and lectured me for not shaving my legs. Later when we got home that night he told me he would like sushi for dinner. He was 7."
Do you even elevator?
"One girl was pretty shocked to learn that I didn't have an elevator in my building."
 
$300 will keep you quiet, right?
"I used to babysit for a family that had younger kids and an older son in high school. One night, while the parents were out and I was babysitting the younger ones, the older brother decided to come home with like five to six friends and several bottles of Dom Perignon. Once I'd kicked everyone out (after getting several insults thrown at me), this kid actually tried to pay me off to not tell his parents he'd had people over. He offered me $300! Which... I almost didn't turn down."
It's just irresponsible to let your kid play outside
"I was instructed to never let the kids go anywhere near a dog park because they were 'filthy breeding grounds for bacteria and disease.'"
 
No, not that kind of doctor
"One of the kids I nannied wanted to play doctor. I thought we were going to do a checkup. She grabbed a notepad and told me to lie down and talk about what was making me angry that day."
Everyone we know winters in Europe
"I was helping a mom get her daughter ready for school one morning. The daughter was excited because the family was going skiing in Europe over Christmas break. They go every year. She asked me how many times I had been to Europe. I told her never. She looked at me dumbfounded and said, 'So then where do you go skiing for Christmas?'"
 
We only shop at Lilly Pulitzer
"A 10-year-old girl I was babysitting for asked me where I got my shirt. I told her I thought it was probably from The Gap, and I kid you not, this child responded, 'Isn't that for homeless people?'"
Sign up here for our daily NYC email and be the first to get all the food/drink/fun New York has to offer.
Meagan Drillinger is a contributing writer for Thrillist and believes children should be seen and not heard.