You've seen them sipping Sancerre at sidewalk cafés in the middle of a summer Friday. Someone's occupying the seats in movie theaters, lolling through SoHo in search of the perfect weekend outfit, sunning themselves on the High Line, or simply waiting in line at the DMV. But you're just on your lunch hour. Who are they, and why aren't they rushing back to the office like you are? They're the Summer Friday set.
Casual Fridays, the outdated tradition that allowed employees to wear jeans (gasp!) or other less formal attire to the office on Fridays during warmer months, have been replaced with partial or complete days off. An informal survey of my colleagues and acquaintances showed that some workplaces allow employees to work four hours on Fridays, and then leave, by say, 11am, if they get in at 7. Others offer floating holidays; some cancel work altogether after lunch.
There's much to be said for the four-day workweek -- a recent study shows workers' increase in productivity, creativity, and overall performance when they get three-day weekends. And, like most things in NYC, Summer Fridays are another way to separate the haves from the have-nots. For those who work hourly jobs, like in the service industry, or anyone whose presence is absolutely essential to their workplace, like at breaking news outlets or hospital, a Summer Friday can feel distant, if not entitled and classist.
Whether your employer sanctions a little end of the week freedom, or you have to seize it yourself, the expectation that you're always working, never 100% off, may linger as you head to the bar at 2pm on a Friday. So at least once this season, fake an illness if necessary, turn on that OOO email, and enjoy what you can of this summer's Fridays in NYC.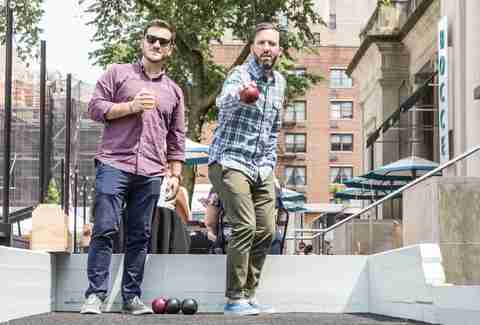 Arguably the most central meet-up location no matter where your friends' offices are (and you know they're dying to get out of Times Square as soon as their boss cancels Friday afternoons), Union Square's centrality is a major draw. Stop by Bocce USQ from noon on Fridays for pizza, spritzes and frozen cocktails on the patio, and a few rounds bocce in the breeze off Broadway.
Maybe you've been avoiding the new "neighborhood" or maybe it's your favorite new Manhattan hotspot, but an enormous building full of air conditioning never hurt anyone on a hot summer day. Use your free afternoon to snack around the new eateries: day drink vermouth and nibble on croquettes atJose Andres' Spanish mercado, or gran corn dog bites and plenty of imported bites from David Chang's Peach Mart, a Japanese-inspired convenience store. Take your goodies to go and wander the development's expansive greenspace, try to score tickets to climb The Vessel, or just enjoy sunset over the Hudson from one of the many viewpoints below.
New York City's beaches fill up on hot weekends. Pack a towel, a swimsuit, cash for Nutcrackers, and skip out of the office by lunch to beat the crowds by a whole half-day. Rockaway Beach is just a few surfboard lengths from the A train, and rich with local bars. Coney Island is also easy to reach via subway. Splash until the sun goes down and hit up the Cyclone before sudsing up at Coney Island Brewing Company.
There are plenty of al fresco tunes to be heard citywide. The free ones draw fans faster than Jimmy Fallon and Maroon 5 busking undercover in the subway. Literally. Stake out a prime spot early on a Friday afternoon and be the hero of your friends-without-Friday-benefits.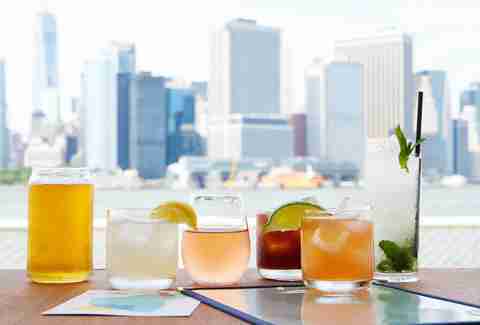 Let the bourgeois have their Hampton Jitney and zag with a Friday ferry ride to Governors Island. Slurp from a tray of freshly shucked oysters at Island Oyster and enjoy skyline views from a safe distance from those soul-swallowing skyscrapers.
Maybe your half-days always turn into seven-eighths days. You can still make the most of that extra hour! Borrow a picnic blanket for free from Bryant Park, pick up snacks from Wafels and Dinges inside the park or one of the multiple chain joints on its periphery, and enjoy complimentary performances by The New York City Opera, Alvin Ailey American Dance Theater, and Accordions Around the World. You'll also find free lawn games like corn hole, giant Jenga, and hula hoops.
Head out to Queens to spend an afternoon at Spa Castle, the Korean spa and bathhouse with rooftop pools, city views, and mandatory nudity in gender-segregated bathing spaces. A Korean cafe inside this palatial spa serves a range of hefty (and good!) Korean classics, like bulgogi, hot stone bibimbap and kimchi soup. Summer Fridays unfortunately command the weekend fee of $50 admission, but Google for coupons before your visit.
Brunch tastes better on weekdays. The Spaniard in the West Village doles out benedicts, pancakes, and chilaquiles, paired with wine coolers and 3-oz lunch-sized martinis (should you need to remain coherent on work email for the afternoon). In Williamsburg, Barano serves a Friday brunch of avocado lox pizza, lemon curd, and berry topped semolina pancakes and bucatini carbonara topped with a fried eggs -- best enjoyed outside with a glass of rosé and a view of Hampton-bound billionaires' private choppers, or their plebeian equivalent.
Grab a sidewalk table at Dante and people-watch over one of several varieties of the most contentious cocktail this summer: the spritz. Or, order something less bubbly, like the bar's famous Garibaldi, a combo of fresh-pressed orange juice and Campari!
The NYC Culture Pass, which grants New Yorkers free admission to 33 museums and attractions, is an admirable public good. But it requires a little planning and it is not without its kinks. Fly by the seat of your pants museum lovers can drop by the MoMa on Fridays for free admission from 4-8pm. The Whitney offers pay-what-you-wish (you can wish to pay nothing) admission from 7-10pm on Fridays.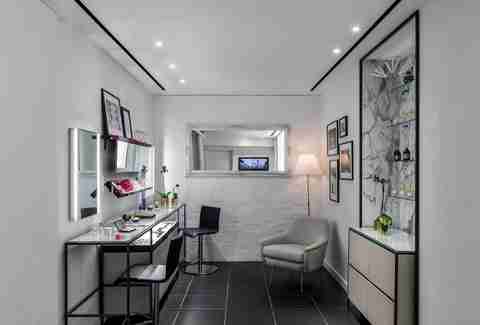 Pamper yourself before the weekend
Elevate your self care beyond hoarding Sephora fragrance samples with some real deal pampering. Many spas take advantage of the wealthy helicopter goblins who fly outta here every weekend to spend their hard-inherited money elsewhere. Guerlain Spa at the Plaza offers 60-minute Radiance Facials, or a Signature Massage for $159, along with complimentary makeup application (Friday night!), And 50-minute facial or massage bookings at the Bamford Haybarn Spa at 1 Hotel Brooklyn Bridge come with a complimentary 30-minute upgrade. Both deals are available on Fridays from noon to 9pm, with the code Summer Friday. Want to stay home? Use apps like Soothe or Zeel to book a masseuse straight to your apartment.
Do the thing
Run errands on a weekend, and before you know it, it's Monday morning and you're back to flacking for the garbage factory. Set aside one Friday afternoon for what the kids used to call adulting and check some of those to-dos off your list. Fill a flask, pack a fun snack, and make an adventure of your trip to the municipal building(s) of your dreams. If you're gonna be drunk on vacation, you may as well be drunk in your passport photo, too.


Sign up here for our daily NYC email and be the first to get all the food/drink/fun New York has to offer.