Break Bread with Strangers at These Under-the-Radar Supper Clubs in NYC
Eclectic tablescapes, home-cooked meals, and cozy apartments.
Back in the 1930s, supper clubs were a concept confined to the Midwest. Patrons draped in cocktail attire flocked to them as a special occasion, indulging in fish fries and sipping on gin and tonics with their families. At their core, supper clubs have always prioritized socializing, and over the years, young New Yorkers have been taking note.
Modern NYC supper clubs, however, deviate from the original concept. Instead of ironed button ups and fine dining, our current iteration features eclectic tablescapes, diverse attendees, and, in classic New York City fashion, tiny apartments. Plus, most of the guests show up to the gatherings alone in hopes of making meaningful connections with strangers. So, whether you just moved to the city and are in search of new pals, or simply just want to attend a cozy gathering without all of the prep work, these supper clubs are perfect for you.
What started as a wine and cheese night in a cramped NYC apartment is now WHEN &WHERE, a supper club hosted by cousins Jessica and Courtney Eu. Thrown in their actual apartment, WHEN &WHERE features weekly dinner parties for 14 guests, who are accepted on an application basis. For the most recent menu, the hosts cooked up "California Chinese'' style dishes, served family-style. WHEN &WHERE, which has partnered with culinary brands like Fly By Jing and Brightland, also throws themed dinner parties, ranging from singles events, and wine Wednesdays to women-only gatherings. The supper club's upcoming Friendsgiving event is already sold out, but you can keep track of their calendar on Instagram.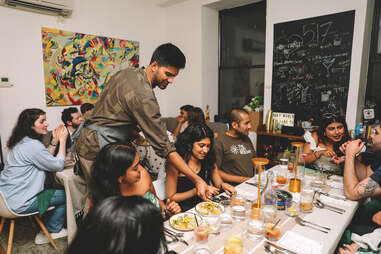 Chefs and founders Akhil Upad and Aditya Mishra are dedicated to curating a Desi-focused dining experience through their supper club, The Sewing Tin. Each 26-seat dinner takes place in a snug apartment in Hell's Kitchen and features six courses that pay homage to the hosts' culture, with dishes like a Pulled Jackfruit Tostada, Blood Orange Fennel Salad, and Paan Crème Brûlée. Their next dinner is December 9, and you can book your tickets here.
While Srishti's Supper Club is primarily based in San Francisco, host Srishti Jain often throws iterations of her dinner parties in NYC at venues like Frog, Sauced, and Honey's. Along with working on a plant-based Indian cookbook, Jain is hosting a series of Thanksgiving dinners at Dinner Party in Fort Greene. She'll be serving vegetarian comfort food from November 23–26, and you can reserve a spot here.
This supper club operates a bit differently from its counterparts. At that dinner thing, tickets are only sold in pairs, so whether you want to invite a friend or a total stranger, just make sure you bring someone. Each dinner is themed and features a seasonal menu with plates like Cantaloupe Gazpacho, Cauliflower Steak, and Stone Fruit Pavlova. Guests are chosen at random through a lottery, and those who aren't accepted are invited to join the waitlist. Follow that dinner thing on Instagram to stay up to date on future gatherings.
In an artist loft in downtown Manhattan, New Yorkers feast on traditional Indian dishes like phool bhaja and biryani at The Salon, a monthly supper club hosted by artists Ananya Chopra and Kritika Manchanda. Inspired by the dishes and gatherings they treasured in their childhood, Chopra and Manchanda prepare, plate, and serve all of the food themselves. However, this supper club is a little less low-key; like the hosts, attendees typically come decked out in their chicest attire and sit at one long table as they feast on their four-course meal. So dress to impress. Join The Salon's mailing list to receive updates and dinner party invites.
Influenced by the Southern hospitality she grew up with, photographer Kate Pauley started a series of dinner parties called Create Dinners. Originally a gathering for women only, Create Dinners has since expanded to include everyone, as well as hosting creative workshops and creating their own zine. Their upcoming dinner party, Sourdough, is taking place at The Knife Factory in East Williamsburg, with bread as the centerpiece. Former French Laundry and Eleven Madison Park chefs Abigail Kirn and Carlos De La Concha will be serving a multi-course vegetarian meal chock-full of fermented foods at a communal table, and meaningful conversation is guaranteed. Keep track of future dinners on Instagram.
After falling in love with the atmosphere of Chinês clandestinos, underground Chinese restaurants that operate out of residential apartments in Lisbon, Anita Michaud decided to host her own series of dinner parties called Dinner with Friends. Michaud believes food is the most accessible way to connect with others, and her dinners spawn a casual, easy-going environment, where the hosts' pets frequently make appearances. Dinners take place in various apartments throughout the city, and hosts, whom Michaud refers to as "passionate amateurs," have free reign when it comes to curating the menu. To keep the dinners intimate, Dinner with Friends accepts guests on a lottery system, which opens on the first of every month. If you are selected, you'll receive an email inviting you to purchase tickets. If you want to become a host, they're currently accepting applications here.
Instagram famous model, author, and oracle Kendra Austin is the pioneer behind Third Cup, a dinner party for women, femmes, and non-gender conforming people. The group aims to help attendees combat loneliness in the city by providing them a third place where they can form fast friendships over cocktails and delicious food. Along with traditional dinner parties, Third Cup also mixes it up with pasta-making classes, vision board workshops, and book swaps. In the past, the group has partnered with beloved brands Skims, Glossier, and Milk Makeup. Keep tabs on their Instagram for upcoming events.
Kelsey Allen is an Associate Editor on the local team at Thrillist.