There's no doubt your job is great because you get TWO full weeks paid vacation AND a full hour for lunch (which you probably eat at your desk). But believe it or not, there are some people in NYC whose jobs are even cooler than yours. We found 11 of them, and can safely say we'd forego our summer Fridays for any one of these super-cool careers.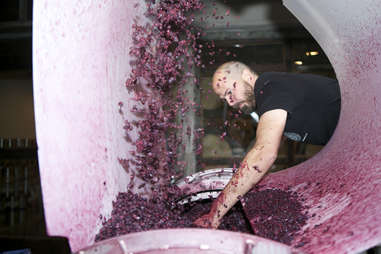 Conor McCormack, urban winemaker
Williamsburg
How he got the job: "I have a background in winemaking because I grew up in Northern California. I connected online with two guys who had the concept to do an urban winery and were looking to open one in Brooklyn. The rest is history."
What he does: "I'm in charge of the entire winemaking process, from sourcing grapes to production to bottling, and then a bit of selling as well. The biggest difference between urban winemaking and regular winemaking is all about space and logistics. For me to get grapes from growers to arrive in NYC in perfect condition is the most important part of production. Normally winers just go to the vineyard nearby. For us it's more involved with handpicking and refrigeration. Other than that it's the same. Great wine can only be grown in the best of locations, but it can be made anywhere."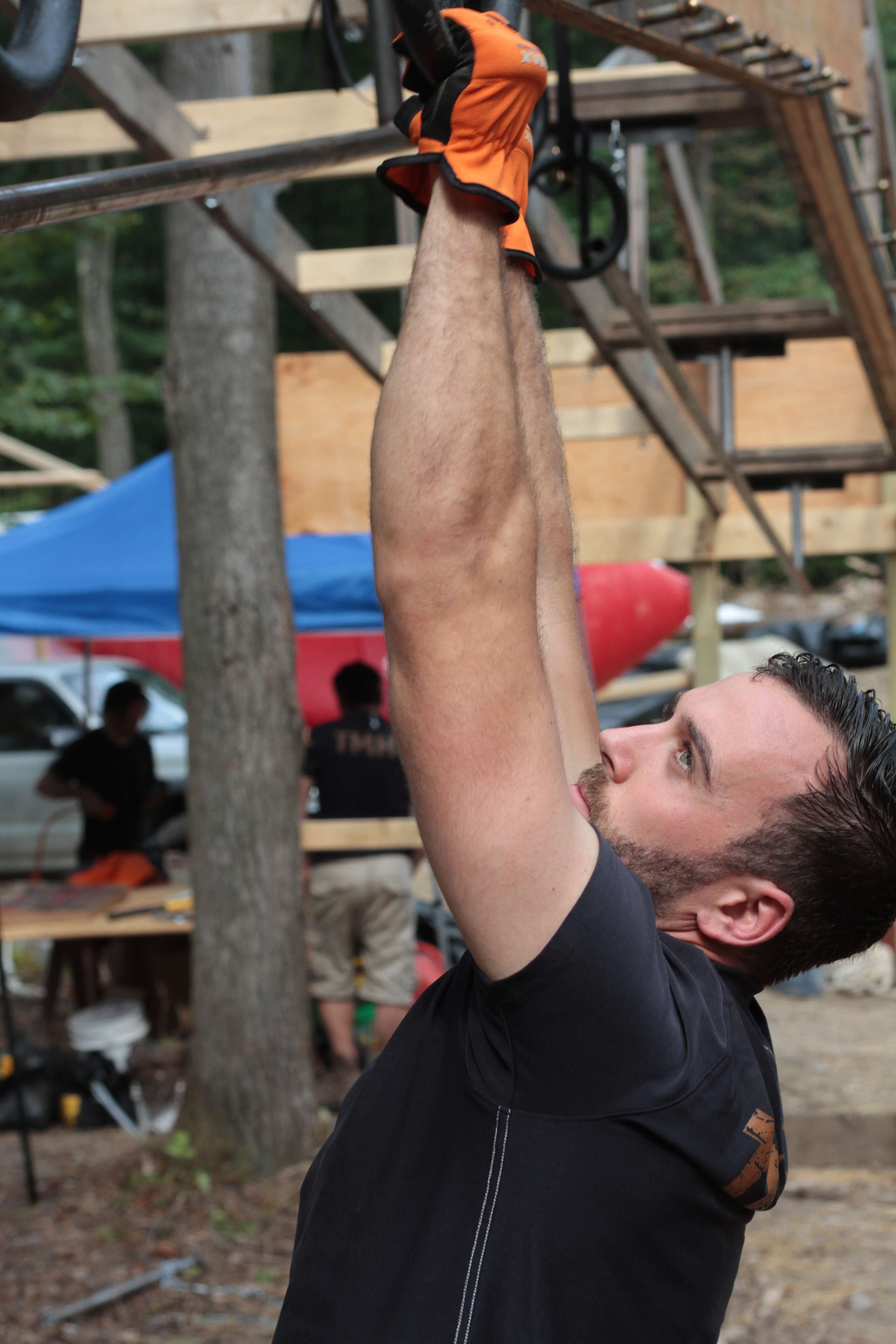 Eli Hutchison, Tough Mudder obstacle course designer
Downtown Brooklyn
How he got the job: Eli first heard about Tough Mudder in 2012 when a friend tried to recruit him as a teammate for the first Tough Mudder event to come to Whistler in Canada. While visiting the website to learn more about the event, he saw that TM was hiring. Looking for a change in his career, and attracted to the opportunity to work for a startup in the outdoor fitness space, he submitted an application. Two weeks later he flew to NYC to interview with the co-founders. Two months later, he was sent to Whistler to design the course for the very same event his friend had tried to recruit him to run.
What he does: Eli is responsible for both dreaming up new obstacles and other event features, but also determining the logistical processes to test and implement all new features you see on a Tough Mudder course. He works internally and with third parties to design, sketch, and blueprint all new elements. He also works with other members of the Product Innovation team to build prototypes and test new features, both in the office and on the road.
Erika Gershowitz, professional matchmaker
Manhattan
How she got the job: "I was a publicist for magazines, and it was a great job. It was all glitz and glamour and incredibly busy, but not necessarily rewarding. I was looking for a career path that made my hours count more. I found out about Three Day Rule and interviewed and it was an organic fit."
What she does: "What I do for a living is I meet people looking to date, see what they're looking for, and go to all corners of NYC to find that for them. I am dating on their behalf. I go on bad dates for them so they don't waste their time. Being a matchmaker, you have to be shameless. I will stop people on the street, and I'll visit all the best events in New York. If I had a client super into music and the arts, then I might go to a jazz concert or an art museum. We try to be pretty direct and target our demographic. There are very few events that I wouldn't go to on behalf of finding a client the right match."
Anna del Gaizo, associate editor content & culture at PROHBTD.com
Williamsburg
How she got the job: "About five years ago I was nannying for a cool family in Tribeca. The parents were music industry lawyers. The job was only six months but we remained friendly afterward. A few months ago I wrote an article for Vice's new women-oriented site, Broadly, on 'the queef.' A lot of people read it and I received a call from the dad I used to babysit for who explained that his good friend, the co-founder of PROHBTD.com, wanted me to write for his site."
What she does: "They give me a lot of free rein to cover whatever I want in the world of fashion, culture, entertainment, and sex as they relate to cannabis. Most of the articles I've done so far I try to relate to that. The last article I did, which will hopefully be seen as satirical, is how to match your manicure to your cannabis strain. Right now I'm doing a round-up of New York Fashion Week trends and matching the mood of the site. There's a lot of room to play. I haven't sampled any cannabis for them yet, but I will try anything."
Vincent Zurzolo, vintage comic book dealer and expert
Herald Square
How he got the job: Vincent's passion for comics began before he could read. He grew up in Queens in the 1970s-80s rummaging in his parent's couch for spare change to buy comics. At 16 he started dealing them. After graduating from St. John's University in 1993, he launched his street dealership full-time on Broadway in Manhattan, selling to stockbrokers exiting the exchange. In 1999, he joined his friend and competitor Stephen Fishler ("the one guy I couldn't beat," he says) as a partner in Metropolis Collectibles. In 2007, they launched their online auction site, ComicConnect, and grew the business through a series of coups. In addition to comic books, they deal in related artwork and memorabilia.
What he does: As co-owner of one of the world's largest vintage comic book dealerships, Zurzolo and his site ComicConnect -- which holds five Guinness World Records for most expensive comics and related collectibles bought and sold -- handled the market's top three deals to date: two copies of the first Superman comic, Action 1, selling for $2.1 million and $1.5 million, and the first Spider-Man comic, Amazing Fantasy, selling for $1.1 million. He was also part of the deal that purchased the market's highest-graded Action 1 for $3.2 million.
Sandra LaMorgese, PhD, professional dominatrix
All over NYC
How she got the job: "I lost my wellness practice in 2011 during the wake of the Great Recession. I was 55 with no prospects, no financial savings, no family members who would help, and friends who seemed to vanish into thin air. Then one day, out of the blue, came the idea to become a professional dominatrix. At first the idea was nothing more than an offhand joke between me and a friend. Slowly, though, the idea took root in my mind.
"At the time, I was working to earn my PhD in metaphysical science, studying female sexual empowerment and researching the transmutation of sexual energy. As a student of empowerment and sexuality, I knew that becoming a dominatrix would truly teach me to 'walk the walk' of authentic, non-judgmental sexuality, but no matter how hard I tried to talk myself into it there was nothing in my reality telling me it was possible. At the same time, I suspected that the experience could empower me as a woman. After weeks of using my most impressive powers of persuasion, I finally convinced a NYC BDSM dungeon to grant me an in-person interview. I started my training three days later."
What she does: "As a practitioner in fetish and domination, my role is to help facilitate a client's authenticity and sexual expression. Many times, I am contacted by men who are expressing their deepest desires and feelings out loud to another person for the first time in their entire lives. The intimate and non-judgmental relationships I have with my clients are built on trust and respect. During our sessions clients may take on a feminine role and dress in lingerie, makeup, nail polish, and wigs to help assist in the expression of being female, while others may have a foot fetish, adult baby fetish, or kidnapping and death fetish. I have a client who takes on the role of a little lamb, and I role-play that I'm going to slaughter him for dinner."
Note: With Sandra's job there is absolutely no sex. No blow jobs, hand jobs, or foot jobs. Her boss tells her, "If we get busted because you had sex with a client, you get charged with a misdemeanor and I get charged with a felony for making the appointment for you. That makes me your pimp and I go to jail. Never, ever show your ass or tits to a client. You are superior to the submissive clients and slaves. If they are lucky you may allow them to lick the bottom of your shoes."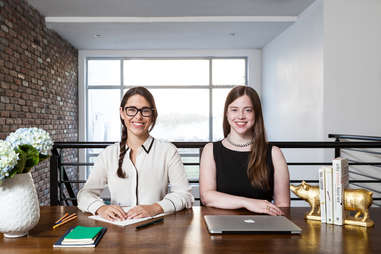 Alex Fine & Janet Lieberman, sex toy inventors
Brooklyn
How they got the job: Alex: "I started down a career path in sex therapy by pursuing a PhD at Columbia University in clinical psychology with a focus on sexuality. I volunteered as a sex counselor for a year and a had a sex talk radio show on campus. I ended up working at a startup and loved the experience. I immediately wanted to have a more entrepreneurial path and a sex toy company was a perfect fit for me."
Janet: "I got my degree in mechanical engineering from MIT in 2007, and have been working in the product design field ever since. While I was working as the mechanical lead for MakerBot's Replicator Mini Compact Desktop 3D Printer, I realized I wanted to make better-engineered sex toys. I didn't think they were being made to the same standards as the rest of the consumer electronics industry, and I thought we could make something better for women. I actually met Alex when we were both trying to start independent sex toy companies."
What they do: Janet: "My days are pretty atypical. Sometimes I spend the entire day engineering in CAD; sometimes I spend the entire day writing. I often create tester and user surveys to gather accurate feedback, and then analyze the responses. I coordinate freelancers, create 3D-printing prototypes or prototype molds, cast silicone, find and manage vendors or all sorts of comments, and executive tear-downs on competitive products. As might be expected, a fair amount of my time is spent thinking about vulva topography and how to discuss it.
Alex: "I spend a lot of my time thinking about marketing. Are we showing enough diversity in vagina drawings? Are we saying the word vagina too often? Not often enough? At this stage, we often get asked to give fun sex facts to a journalist or contribute our thoughts to current sex- or relationship-oriented issues, as we're essentially experts in the field at this point. Then maybe we'll have a gynecologist training associate come in, drop trou, and try out Eva. (Yes, we see a solid amount of labia.)"
Michael Romei, concierge to the stars at Towers of the Waldorf Astoria
Midtown East
How he got the job: "I began my career in 1989 at The Boca Raton Resort & Club, which coincidentally is now part of our Waldorf Astoria Collection. After 4.5 years, I decided to move to New York and noticed an ad in the New York Times about an open house at the Waldorf Astoria New York to meet with the management team about available positions, including concierge for the Towers of the Waldorf. When I attended the open house, I met with the human resources team and the director of the Waldorf Towers before being escorted to the office of our former general manager. He asked me, 'If you can tell me in one sentence who Michael Romei is, what would you say?' I responded with, 'I am the person who straightens the pictures on the walls.' I was hired on the spot."
What he does: "As personal concierge, I act as the guest's primary contact before, during, and after a stay to guarantee every want is met. Once, a head of state and government of a newly formed country came to visit the USA for the first time as a goodwill tour to promote business in their country. They flew on their own private 747 and landed at the private airstrip at JFK where they were then transported to stay with us at the Waldorf Towers. After some time, they realized the vehicle -- which was to transport their luggage separately -- still had not arrived and could not get in contact with the driver, so they asked me to help. I began by calling the private airfield at JFK and was connected to the control tower room director of operations who investigated the situation and discovered that the luggage on board was never unloaded.
"During this time, the 747 had already begun to taxi on the runway to take off for the next destination. When I told the VIP government group, they asked me if I could arrange to have their plane turn around in midair. So I began making further calls via the Pentagon and was connected to a high-ranking colonel at Andrews Air Force Base who informed me that the air corridor between NYC and DC was too short to turn the plane around. At this point it was late in the evening, and the VIP government group needed their clothing for meetings the next morning. I worked with the Air Force to arrange for transport of the luggage from Andrews Air Force Base overnight to the Waldorf Towers."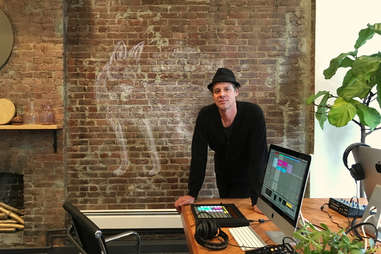 David Maurice & Natalie Lam, co-founders of The Foxgrove
Koreatown
How they got the job: David: "I am a seasoned record producer and songwriter. I've worked with the likes of Jay Z, JC Chasez, and other notable artists for the past 18 years. With the music industry taken over by executive vs. creators, I conceptualized The Foxgrove with Natalie to create the first-ever private electronic music and DJ school."
Natalie: "I am a veteran advertising creative who has worked with some of the world's largest brands including Nike, Adidas, and Spotify. When David and I started planning the space, we were thinking of how great it would be if people could learn to use the most cutting-edge music technology in an intimate luxury boutique hotel environment. With this in mind, all the design elements for The Foxgrove revolve around notions of warmth, relaxed luxury, and organic elements."
What they do: David: "Apart from sessions in the studio with a variety of artists, I am responsible for developing the DJ and music production classes at The Foxgrove, as well as training the teachers. More often than not, people are intimidated by new technologies or things that take them out of their comfort zone, so my job is to create a fun and immersive experience that's as simple and straightforward as possible."
Natalie: "A big part of my job at The Foxgrove is to design the ideal 'school' that I personally would like to learn something in. All the 'schools' I've been to are neither warm nor welcoming, and I wanted to turn this on its head. We don't want to intimidate anyone. We want to disarm people's fear by stepping into a well-curated, cool, and relaxed space that puts people at ease, so they're more open to embrace something new and have fun."
Aisha Sharpe, booze consultant
All over NYC
How she got the job: "I began bartending in 1996 and have worked with a long list of notable New York venues that range from clubs and bars to lounges, including Crobar, Soho House, and BED. Since then, I co-founded Contemporary Cocktails, a global, full-service cocktails and spirit consulting firm, and then founded A. Sharpe & Co., my current consulting firm."
What she does: "I create/created beverage programs for The Breslin, Soho House, Tao Beach at The Venetian hotel, BED, and Ace Hotel in NYC and have consulted for leading spirit companies, including VDKA 6100, Moet Hennessy, Pernod Ricard, Diageo, and Kobrand, to name a few. I love to play between ingredients to best complement a spirit. You often underestimate the importance of a great cocktail. A great cocktail, like food, can take you back in time or elevate an experience into another realm, and I get to watch people have that experience through cocktails every day."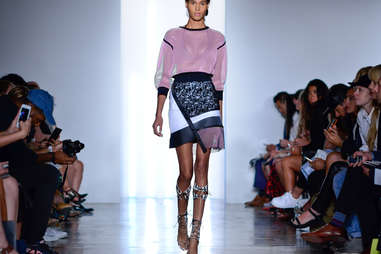 Dawnn Karen, fashion psychologist
Chelsea
How she got the job: "I am the founder of the online institution called Fashion Psychology Institute [and of] the fashion psychology field, a fashion psychologist, and a professor at the Fashion Institute of Technology. I have a MA in counseling psychology from Columbia University, and I am a former model, fashion PR rep, and designer."
What she does: "I provide psychological insight on the many correlations visible in consumer fashion trends, fashion design, and fashion imaging. Fashion psychology is a newly applied academic discipline that studies color/fashion and its effect on human behavior while addressing cultural sensitivities and cultural norms. On a day-to-day basis I have teletherapy sessions with my celebrity or high-profile clientele, as well as conduct webinars for the Fashion Psychology Institute."
Sign up here for our daily NYC email and be the first to get all the food/drink/fun New York has to offer.

Meagan Drillinger is a freelancer for Thrillist and likes to include a nice walk after lunch into her daily work routine. Follow her on Twitter, Facebook, and Instagram at @drillinjourneys.