Nothing against brunch, because we love nothing more than breakfast food paired with booze at any point of the day, but it can, at times, be borderline nauseating. It's crowded, it's loud, it's overpriced, and -- perhaps the worst part -- people actually stress about where to have it. 
Still, it's a New York staple, and we're not here to change that whatsoever. But we are here to remind you New York also has a million other great weekend activities, many of which will leave you far less poor. Here are 15 of them to get you started.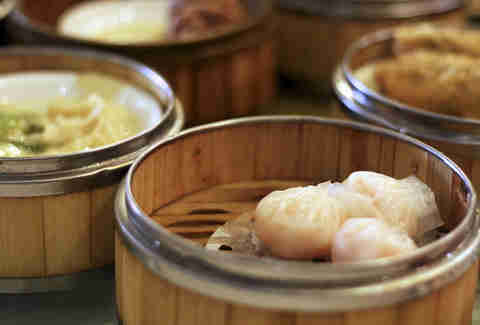 Dumpling your face off in Queens
Flushing
While dumplings are often associated with Chinatown, Flushing is really the ultimate mecca for these little pillows of heaven. Pro tip: the best spots tend to be the most nondescript-looking. Also, don't eat the night before.
 
Cruise the Brooklyn Flea
Multiple locations
Un-IKEA your apartment, or just pick up some new vinyl, from one of the most equipped rummage sales in the game. Even if you just window shop -- or, table shop, because there aren't really windows -- there's plenty of consumer eye candy to go around. In the colder months, you'll find the market indoors in Industry City. 
Get star struck at Hayden Planetarium
Upper West Side
Remember when Ross and Rachel did it in the planetarium? That's because it's romantic! Even if you go by yourself. Plus, unlike Star Wars, at the Natural History Museum's planetarium, you'll actually learn what really happens in a galaxy far, far away. 
 
Attend a book or poetry reading
Multiple locations
Tons of bookstores in the city have free literary readings, but if you really want to see some heavy hitters, The Strand has that cornered with readings from everyone from David Sedaris to Laura Prepon.
Snag Carnegie Hall tickets on the cheap
Midtown West
If one of the items on your "I'll do it eventually" list is listening to woodwinds and strings come together in perfect harmony in one of the most historic landmarks in the city, you'll be happy to know you can do so without breaking the bank. Hit up up the box office day-of for their limited number of rush tickets. 
 
Catch a matinee at Nitehawk
Williamsburg
Despite the rush you feel sneaking in airplane bottles of booze to your local AMC, Nitehawk lets you do it legally by offering a full spread of libations and food with its range of modern (read: 2016 Oscar nominees) and vintage (read: The Shining) flicks. 
Go to a damn museum
Multiple locations
This is New York, we have lots of those. And lots of them are free! So really, quit it with that "I'll go next weekend" excuse. You can even double-header the neighboring Guggenheim and MET if you're feeling motivated. Or, if you want something a little less obvious, the city also has plenty of museums with crazy themes.
 
Ride the Staten Island Ferry
Battery Park/Staten Island
You're on a boat! And it's free, so the $4 Fosters should be justified as you take in the NYC views while humming the theme song to Working Girl.
Stroll along the boardwalk at Coney Island
Coney Island
Who says carnies and hot dogs are only fun in the summer? Probably smart people, because it is a little better. But that doesn't mean you should rule out a daytime stroll on the boardwalk in the cooler months. Plus, Nathan's Famous dogs taste good in any temperature. 
 
Watch hockey in Central Park
Central Park
If you can't score tickets to a Rangers game, you can still watch some Mighty Ducks wannabes go head-to-head in the amateur adult leagues, meaning you can get far better seats (for free!) and even join in yourself... that is, as long as you're not a "cake eater." 
Walk the High Line
Chelsea
Before you groan, "C'mon, it's soooo touristy," consider that actually seeing the things that keep people visiting might remind you why you pay an exorbitant amount of money to live here. Walking along this former railroad track, only to take breaks by sprawling on the wood chaise lounges, is one of those important reminders.
 
Eat your way through The Plaza Food Hall
Midtown West
In the basement of the famous hotel in which Kevin McCallister successfully duped the entire staff in Home Alone 2, lies a 32,000sqft culinary world full of some of the city's best fare. If you're up for spending a little extra $$$, take your time, sample them all, and even go for three scoops because "you're not driving."
Down donuts from Peter Pan Donut & Pastry Shop
Greenpoint
Cronuts are played out, but more importantly, the line here is far less terrible (and the donuts are some of the very best in the city!). Plus the setting is something out of a '50s movie, which means you should also consider splitting an egg cream with two straws. 
 
Peruse the booty at Christie's auction house
Midtown West 
Sure, you probably can't afford anything that is ever auctioned at this famed auction house, but you can still dream. And dreaming only gets more vivid when you can scout the goods for free before the actual bidding begins. 
Bike to The Cloisters
Washington Heights
This is a tad more aggressive in the colder months, but if you're up for the challenge, cruise all the way up West Side Highway until you come close to biking off the edge of Manhattan. Seriously, it's up there, but the medieval European gardens and museum are worth it. And if you really get lazy, you can always take the train back.
Sign up here for our daily NYC email and be the first to get all the food/drink/fun New York has to offer.
Liz Newman is a freelance writer for Thrillist, and clearly has her work cut out for her. Follow her and she attempts to tackle this entire list on Twitter and Instagram at @lizn813.