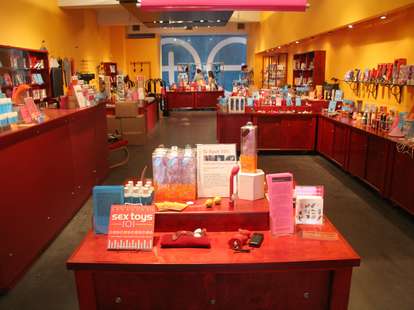 Courtesy of Babeland
Courtesy of Babeland
Adult shops once lived on the fringes of society, along with actually questionable locales, like "massage parlors" and coke dens. Fortunately, you can now buy your favorite high-end, medical-grade, super-sized, or leather sex toy in brightly lit, and proudly managed, stores all across Manhattan. Whether you're looking for butt stuff or buttery leather whips, your bedroom needs to get acquainted with these stores now. Read up on some sex toy buying tips, and get to shopping.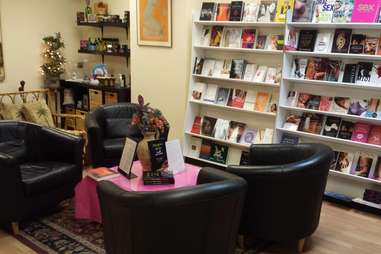 Midtown West
Established in 1974 in response to the feminist movement, Eve's Garden is the brick-and-mortar embodiment of sex positivity. The inventory, comprised mostly of mainstream toys, is curated with women in mind, and the owner is picky about carrying high-quality items free of harmful chemicals and made with with medical grade silicon. She's just as strict about her staff's product knowledge base. "I make sure all employees are educated, and even when I'm off I'm constantly on call," says Kim. "I've already been called 20 times today." As far as the 12th floor space goes, a safe and intimate environment designed to "make you feel like you're walking into someone's living room," is stressed, and probably the reason the store attracts local Sloan-Kettering patients, as well as breast cancer and hysterectomy veterans.
West Village
If you've ever been to the Comedy Cellar, or ever hung out in the West Village really, you've probably walked by Fantasy Party. The 24/7 store occupies precious subway stop-adjacent real estate, and the owner smartly takes advantage by overstocking its walls with everything from fetish products, lingerie, and DVDs, from both ends of the price spectrum. The staff is friendly, and above all, really, really chill. "You're not gonna see a creepy guy on the counter, " says Joy, the store's manager. "A lot of people have been working here for years, and purchase a lot of the items, and they actually want to help you."

Flatiron
Think of A&J as the Target of sex shops: it's family-friendly and affordable, and you always leave with at least two items you didn't come in for. OK, so the former descriptor might not be the most appropriate for an establishment selling fleshlights, but the duo that manages A&J sure makes the store feel that way. The front half of the shop is all lingerie (including bridal lingerie and plus-size outfits), while bondage gear, massage oils, strap-ons, and everything necessary for your next bachelorette party dominate the back half. The Village Voice voted it the best Sex Shop in 2014, which, Jimi Bure, one-half of the managing pair, attributes to the amicable relationship they maintain with all their customers: "We treat everybody like they're a friend, whether they're a call girl or a 19-year-old girl going with her boyfriend."
Upper East Side
A quick peek into Pleasure Chest may have you mistaking this trim spot for a boutique. The store is furnished with mahogany tables and white shelves as befit the most blue blooded of Upper East Side households, and fluorescent lighting illuminates every vibrator with Bloomingdale's clarity. Except, instead of button-ups and home goods, it's warming lube, 11-inch dildos, and leather G string harnesses. The Upper East Side location (the other is in SoHo) is located right next to the consulting district, and the staff's professionalism is right on par with their executive neighbors. Pop your sex shop cherry here between 10am and midnight (most days) -- just don't show up at 11am or 3pm, when hordes of Sex and the City fans, looking to revisit Charlotte's famed adult shop experience, are unloaded from daily Hotspots Bus Tours.
Lower East Side & SoHo
For a look at how far the hole-in-the-wall sex shops of yore have progressed, gaze no further than the pristinely kept, dazzlingly lit floors of Babeland. This Seattle-based chain has four locations in New York, a strong online and social media presence, and shelves that carry everything from cock rings, to couples' toys, to vibrating butt plugs. The super organized look is a refreshing divergence from the floor-to-ceiling crowded aesthetic of most shops, and enforces their no-shame, shop-in-the-open, sex positive mission.

Chelsea
This Chelsea shop runs on zero advertising and has been operating since the early '90s, so you better believe its S&M sex toy game is strong. "We try to not carry a lot of junk or novelties, and make sure that all of our products are well-researched and well made." Sales associates are learned and trained on the inventory and don't work on commission, so you won't find hustlin' neck-breathers here. Also notable is this shop's commitment to supporting local businesses. "Most of our leather products are made in New York, and we try and buy locally in general, who only make enough stock for one store," said Hilton, the manager. "The quality is better, more unique, and you're supporting local craftspeople versus people overseas who don't give a shit." And if you're interested in knowing as much about fetish, rope ties, or BDSM as Purple Passion's employees, you can get that here too, via workshops held at the store.
Chelsea
One of five sex shops located on a five-block stretch in Chelsea, the Rainbow Station is your run-of-the-mill 24/7 sex shop. The store carries standard lingerie and sex toys, perhaps geared more toward the gay crowd, and also comes with a smoke shop section that stocks vape pens, hookahs, and e-juices. Its calling card, however, is likely its extensive, 1,000+ video collection, and eight rear-located video booths that let you view them in private.
Tribeca
The toy and accessories inventory here isn't the most all-encompassing, but this upscale lingerie shop's Fifty Shades of Grey vibes and Wall Street take on paddles and ticklers lands it a spot on this list. Leather belts and beaded lace blindfolds easily sell in the hundreds, and you can expect to pay in the four-figure range for niche items like Restraining Arts Kits. Once you're done looking through the world's daintiest lace, sheer, and beaded garments to ever caress your (or your lady's) bosom, you can flip through their erotic movie and books collection for ideas on how to tear them off. The price points are pretty high, but twice-a-year sample sales make sure hand-washed silk silhouettes are accessible to all.
Sign up here for our daily NYC email and be the first to get all the food/drink/fun New York has to offer.
Michelle No is a production assistant at Thrillist and she never realized how many zoo animals could double as sex toys. Follow her on Twitter at @Michelle_No and Instagram at @MichelleNope.